As a landlord, the thought of renting to families with children may seem daunting. Crayon marks on the walls, toys all over the property, and children screaming at odd hours may come to mind. However, there are simple actions you can take to make your property family-friendly and reduce stress.
Table of Contents
Legalities
First of all, it is illegal to deny tenancy based on children. The Fair Housing Act prohibits discrimination based on "race, color, national origin, religion, sex, disability and the presence of children." It is also illegal to have a limit on the number of children a family is allowed to have or charge higher rent to tenants with children.
Exceptions
In very rare cases, landlords are allowed to deny families tenancy. This would only occur if, for instance, a family has so many children that they exceed the municipal fire code regulations for residents per room. Another exception would be if you own a property that is a senior residential complex that is meant to specifically accommodate the elderly.
Examples of Discrimination
A landlord refuses to rent a one-bedroom unit to a single mother and her young son because he feels children should have their own room.
A landlord puts out an advertisement for their property saying, "SINGLES OR COUPLES ONLY."
A landlord tells a family that he will only rent a specific unit to them on the ground floor because he is worried about noise or damages.
Why Rent to Families?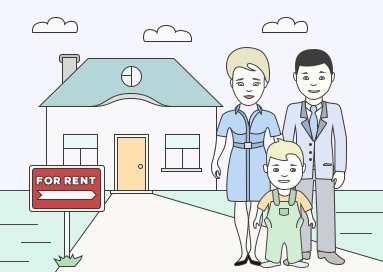 Beyond the legal stuff, it's important to note that not all rental units can accommodate families properly. For instance, there may not be enough room, there may be no schools nearby, or there may be a "No Pets" policy in place. By striving to make your property family-friendly, you'll attract a multitude of potential tenants. After all, families make up a large portion of landlords' target demographic.
Families also tend to be looking for a long-term rental unit, meaning you can be sure if you win them over, they'll be there to stay. This will save you the trouble of having to advertise your property and screen tenants to fill vacancies.
Market Your Neighborhood

When welcoming a new tenant to a rental unit, it's customary to inform them about local grocery stores, restaurants, and so on. (A welcome letter is a great way of doing this! Read about it here.) However, if you want to tailor your approach to families, it's a good idea to dig a little deeper. Do your research and find the real gems in your area. Once your property appears to be a prime location, families will flock to it.
Think about the schools nearby. Look into the best facilities and make a note of them. You don't have to know everything about the schools, but you should have a general idea of what is being offered in your area. Day-cares should also be considered. Don't forget to keep varying age groups in mind; parents will definitely appreciate your knowledge and effort.
Other attractions to think about would be playgrounds, recreation centers, parks, and libraries. Again, make sure to do your research. It's best to make sure that the park isn't a small patch of a grass or that the playground isn't in a sketchy location. Anything else including arcades, malls, movie theaters and the like should be advertised. It's all about putting your property on the map. Try posting about your property on social media or hanging up flyers for extra exposure.
Safety First!
A parent's first priority is going to be the safety of their child. There are particular concerns you should be considering, such as the neighborhood's crime rate, sex-offenders, proximity to busy streets, the safety of balconies, and evacuation routes. It is not legally required for you to disclose all of this information, but you should put a section in your lease that states all tenants have the right to access information about the neighborhood.
Making small updates to your unit can make a world of a difference. You should ensure that there is adequate lighting installed on the exterior of the property. Places like driveways, garages, and turns are where you can expect blind spots or increased movement. Check your smoke and carbon monoxide detectors too. If you have not installed these, make sure you do so as soon as possible. You should also add some outlet covers, especially if younger children will be roaming around.
Properties with backyards and pools are definitely alluring to families, but it's imperative that you assess the safety of these areas. Installing a safety fence around the pool or covering it when not in use is a great way to prevent accidents. Make sure there is a pool ladder or stairs as well.
A fenced-in yard is a must for children, especially if you live on a busy street. Make sure it's nice and grassy and that any holes in the yard are covered in order to keep children from tripping and prevent foundational damage. Balconies and railings should also be inspected; make sure any banisters don't wobble and that there aren't big openings between railings. Windows should be secured and locked; any low windows can be hazardous, so installing child locks is a good idea.
If you want to go the extra mile for safety, a home security system will give both you and your tenants peace of mind. This all coincides with making sure you and your property are prepared for an emergency. For more help on this topic, check out this guide.
Maximize Your Space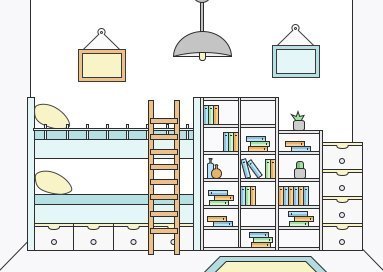 Kids need a lot of room to run around and play. If you have a small unit, it's important to maximize your space and use it to its full advantage. Parents will love you for it and finding a good tenant will be a breeze.
Families will usually be looking for a unit that is spacious and comfortable. Having a laundry room on site and providing adequate storage options will definitely check some boxes on families' lists. Putting closet organizers in all of the bedrooms, adding some built-in shelving units, placing a shed in the backyard, and converting a small space or nook into a study or playroom are all ways you can maximize your unit's space. If you have a room that's a bit larger than normal, consider dividing it into two rooms or purchasing a divider to display the space's potential.
When showing your unit to potential tenants, it's important to stage the property to accentuate its best features. For instance, putting bunk beds in a smaller room will give the illusion of more space. Try to make one of the rooms look like a kid's bedroom; a toy box, fun bedding, and a cute stuffed animal can go a long way. Painting the walls a nice neutral color and opening up all the windows is a great way of doing this too. Put some mirrors on the walls and hang things up on hooks. You should also position your furniture so that it hugs the wall, leaving lots of room for people to walk around. Purchasing a few colorful decorations can really make the space pop and if the kids are checking the place out too, you'll have something to catch their eye.
Preventing Messes
Kids are messy — there's no way around that. However, there a few upgrades you can make to avoid dreaded damage and keep tenants from stepping on a Lego.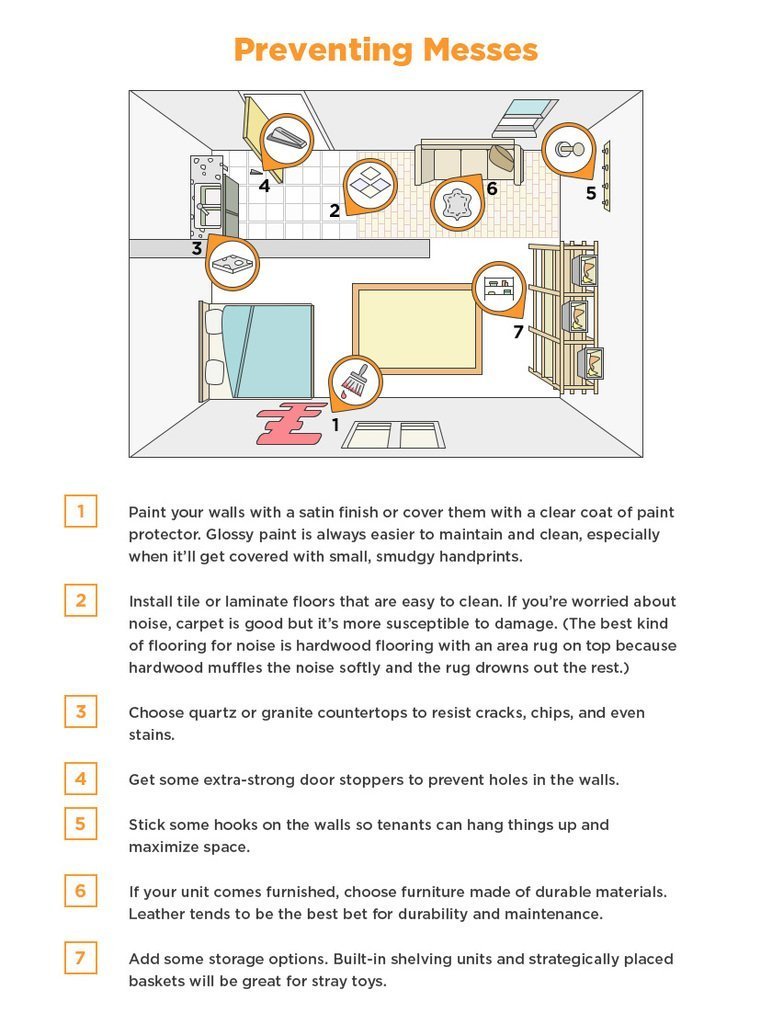 Make it Fun
Rethink your pet policy. Lots of families are forced to look elsewhere for rental units when they find out a landlord has a "no pets" policy. Most people treat their pets like family, so it's a good idea for you to do so too. It'll make your property all the more appealing. For more information on pet-friendly rental units, check out this guide.
Provide some entertainment. If your rental unit has a backyard, you should consider purchasing a sturdy playground set or swing set. If you have a multi-family residential property, you could make the effort of creating a park. It doesn't have to be anything fancy; you can fence off a grassy area and put down a playground set. You may even hold some family events to engage a sense of community. It's a good idea to section off an area for pets too. A designated patch of grass with a clean-up station and water fountain should suffice.
Add a craft station. As discussed previously, kids are messy. They need space to spread out and play. Installing some built-in kid counters or cabinets with a desk will provide a great spot for kids to draw, paint, and create. It'll keep everything out of the way and prevent messes too. Having designated kid-friendly spaces throughout a unit is a smart way of minimizing potential damage.
Tips for Vacation Rentals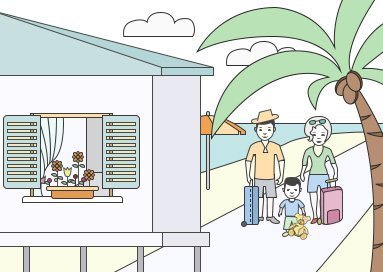 If you own a vacation rental, then families are a big target for you. There are lots of ways you can equip your property to cater to families and make their vacations as fun and relaxing as possible.
Provide adequate supplies. Kids, toddlers, and babies need all kinds of items to keep them happy. Some supplies to consider would be:

Sheets and baby blankets
Crib or travel crib
Highchair
Nightlights
Baby monitor
Bottle warmer
Handheld blender
Bath toys
Indoor and outdoor toys
Children's books
Potty seat or children's potty
Board and card games
Sports equipment
Game console like an Xbox or Wii with video games
Scooters or bicycles
Safety gear

Talk to the parents. Your guests will greatly appreciate the effort you put into helping them plan their trips. You should be very descriptive in your listing and market all of your unit's amenities. Make sure to also note the restaurants and parks nearby. Places like aquariums, carnivals, movie theaters, and other kid-friendly locations should also be considered. Make a list of these places and give it to the family before they arrive to the unit.
Decorate! One of the most attractive elements of a vacation rental is the way it looks and feels. Adding cute, colorful decor will definitely grab the attention of children and their parents. You want to make your property as comfortable as possible. Try to think of some themes for the unit. For example, if your unit is located near the beach, calming pastel blues and soft yellows along with nautical decorations would really capture the essence of the location. Or, if your unit is a cabin in the mountains, it'd probably be best to adorn it with rustic, forest-themed accessories and warm, cozy colors.
To learn more about vacation rental safety, check out this guide.
The Bottom Line
Families are picky when choosing a rental unit because they want to make sure it meets all their requirements for safe and comfortable living. Attracting families to your rental unit will subsequently influence the community around it and amplify its lifestyle quality.
The heads of households are usually a bit older and more grounded — looking to settle down and find stability. You can expect a greater sense of responsibility and steady long-term leases if your property caters to families' needs.