Our data science team analyzed various datasets and market research forecasts to find out how many IoT devices are now connected and what growth we can expect in 2020 and beyond.
The possibilities are endless when it comes to IoT and statistics definitely reflect that. China, North America, and Western Europe make up 67% of IoT's installed base. Morgan Stanley predicts the industrial IoT market size to reach $110 billion by 2020. Industrial IoT makes up more than 17% of the number of IoT projects worldwide. Industrial Internet of Things is often abbreviated as "IIoT."
Even though the technology is already an integral part of our everyday lives, according to Cisco, just 0.06% of the things that could be connected to the internet currently are. IoT connected devices are everywhere, but there's still so much potential for innovation.
Smart Home IoT Statistics
Currently, the most popular use of IoT involves smart home devices, such as smart thermostats, smart fridges, and smart locks. People use devices in their homes for all kinds of reasons. Take a look at this data: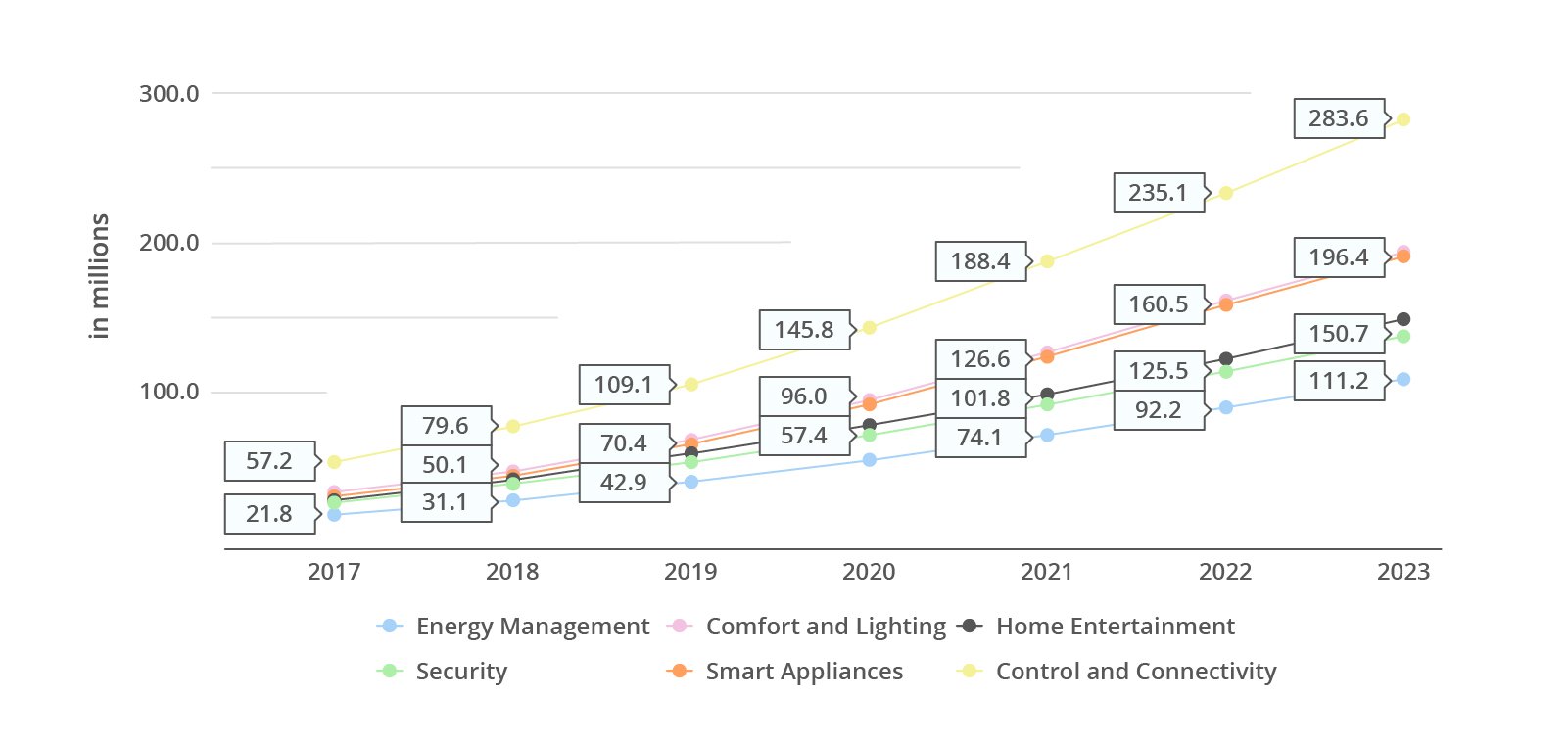 As smart homes and related devices become more and more popular, the security market is also thriving. One of the main concerns that smart homeowners have is hacking. With this in mind, machine and deep learning experts are seeking to create even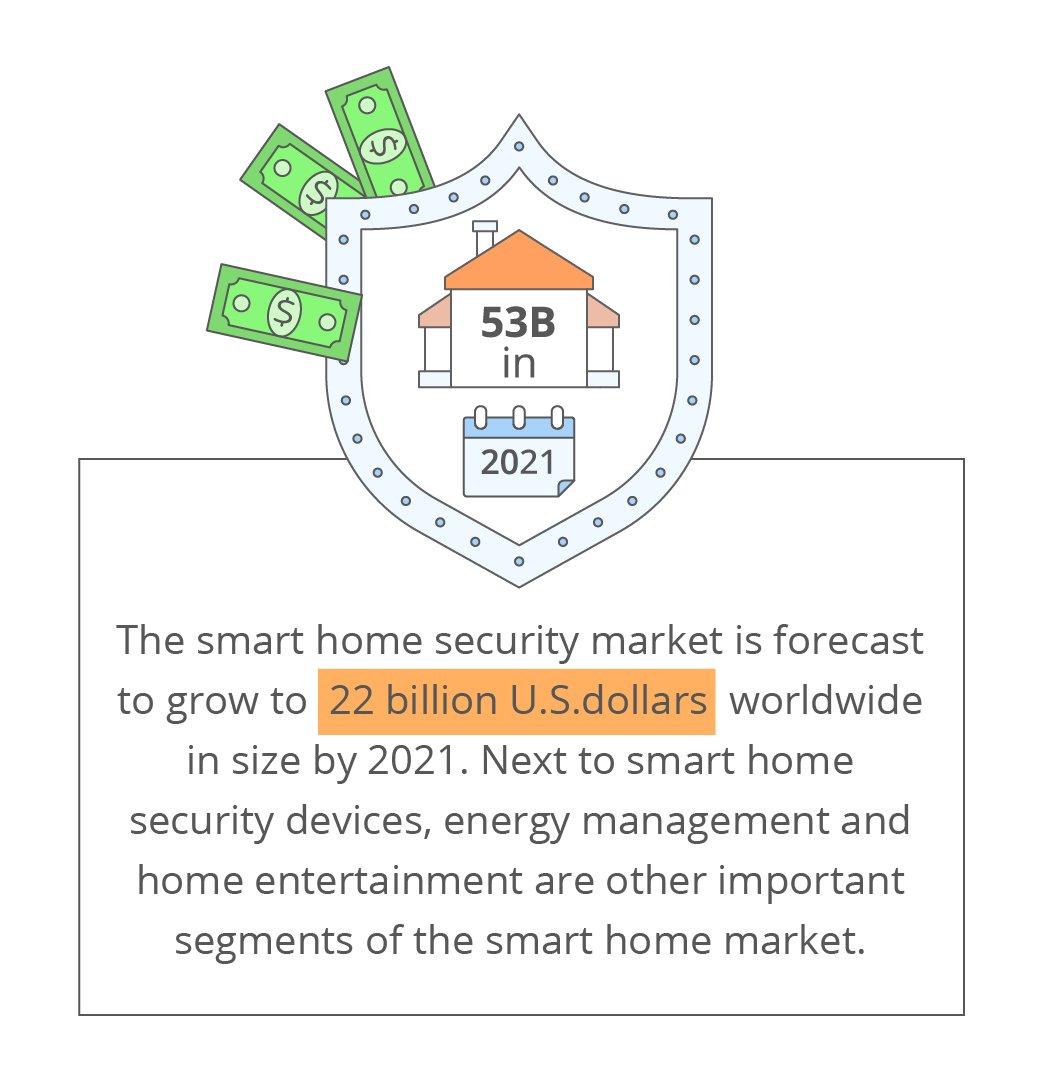 stronger, more capable IoT devices.
Large companies are investing remarkable amounts of money to keep up with the latest IoT trends; they expect to get a cut of the $490 billion profit made on the nearly 2 billion devices that will be sold by the end of the year. Not too long ago, we saw Google buying the famous Nest thermostat for $3.2 billion, and that's not the only company investing, with Samsung acquiring SmartThings for $200 million. With so many new projects in the works, consumers are getting more access to devices that offer advanced security and convenience.
The fastest growing age group of new homeowners, according to Bloomberg, is Millennials. This age group is known to be more respondent to new market trends. While the average homeowner is still 65 years or older, this generation of young homebuyers have grown up with technology, and the convenience and connectivity it provides. Experts agree this younger generation of homebuyers may find home technology as potentially more important than other common features of a new home. Millennials are more attracted to innovation and developing technologies, adding fuel to the IoT fire and stimulating its development.
Amazon and Google are dominating the smart home market, pumping out all kinds of products, from smart thermostats to smart lighting fixtures. Entertainment has also become an important part of life, and IoT plays a huge role in it.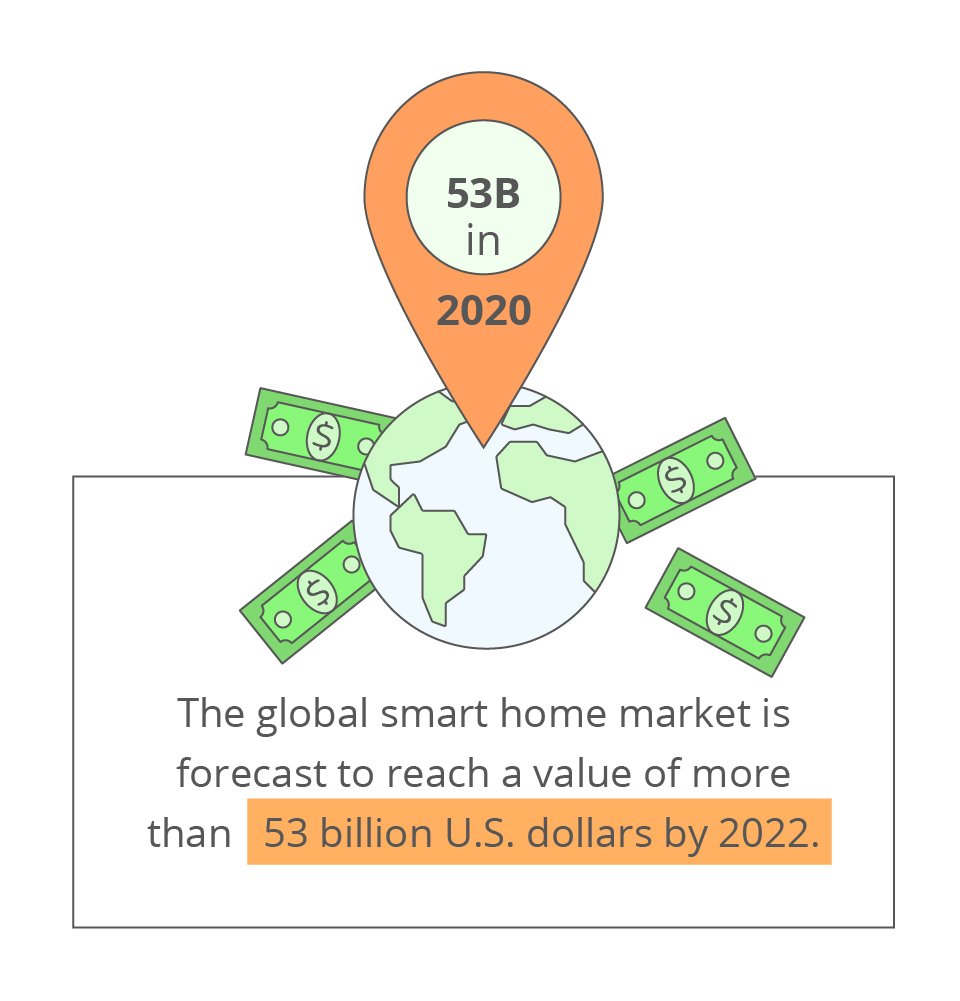 The large market share of this segment can be attributed to the high penetration rate of products such as smart meters and smoke detectors. The increasing cost of electricity is a major concern that drives household consumers toward energy savings. Moreover, the increasing popularity of smart plugs, smart hubs, and smart locks is also fueling the adoption of control systems.
This progress is attributed to a number of factors, including the continuing rise of energy costs, decreasing cost of smart home technologies, current government policies and incentives regarding energy consumption, and increasing customer awareness of the impact of their consumptive activities on the environment. Statistics show that, currently, only 12-16% of U.S. homes own smart devices, leaving entire segments of the market untouched, due to the fact that mass adoption has its challenges.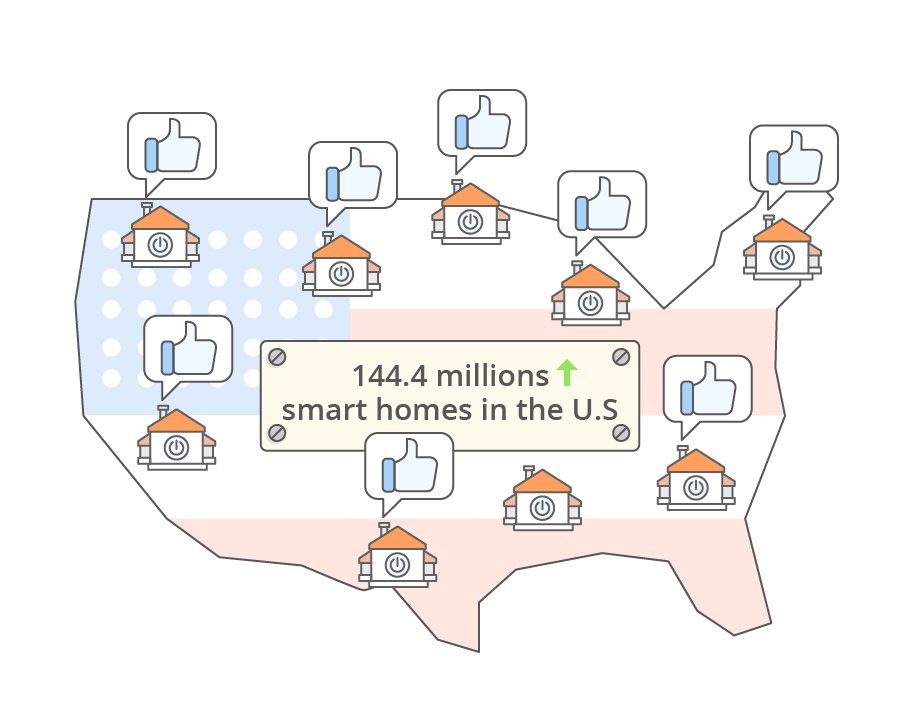 The smart home market size evolution can be attributed to the following factors:
Growing number of internet users
More people buying smart devices
Increasing awareness about fitness
More disposable income among developing economies
Increasing importance of home monitoring in rural & remote locations
More environment awareness
Rising need for energy-saving and low carbon emission-oriented solutions
Cost reduction thanks to efficient smart home devices
Smartphones and other smart gadgets are ubiquitous
Large number of manufacturers expanding their smart home product portfolios
Heightened concern about safety, security, and convenience among people
IoT market's vision of smart cities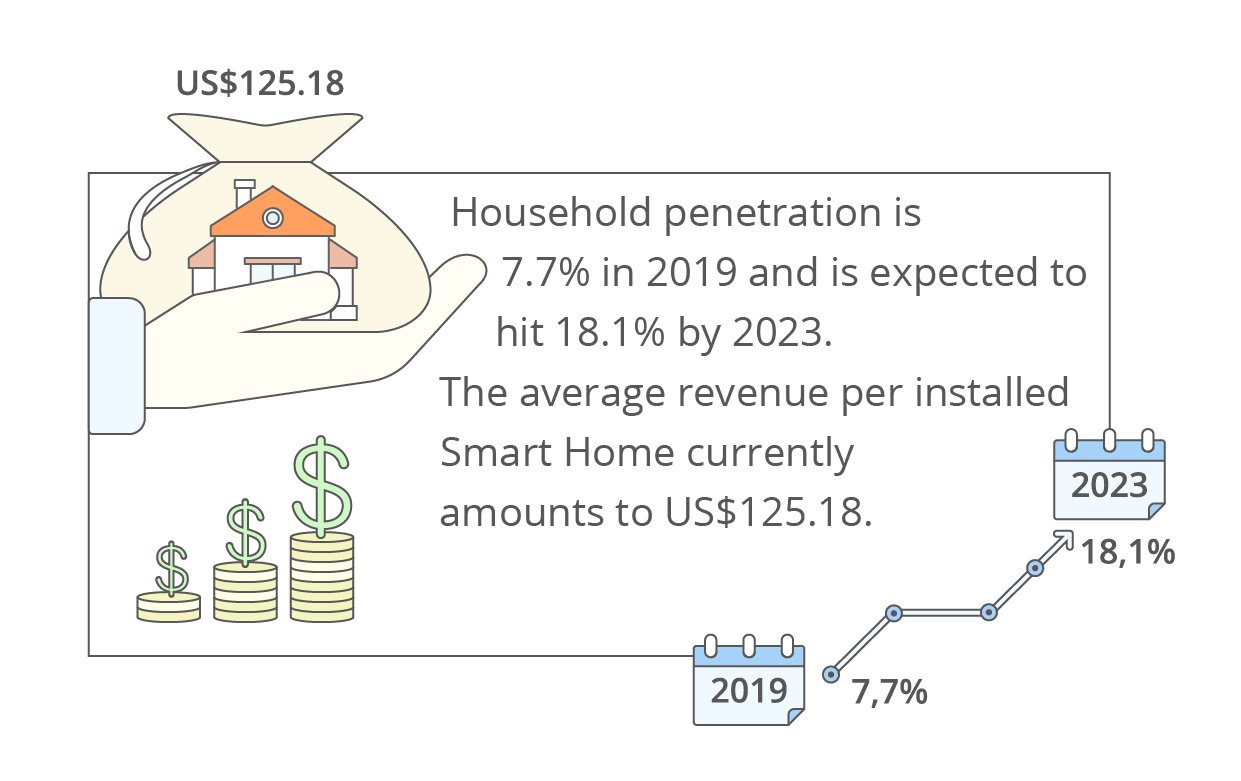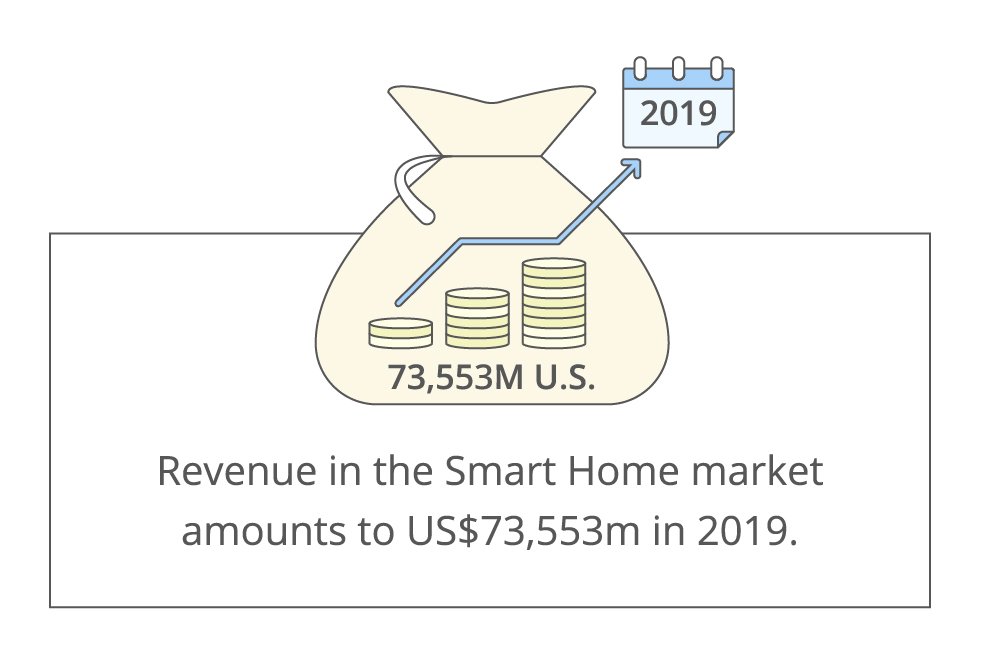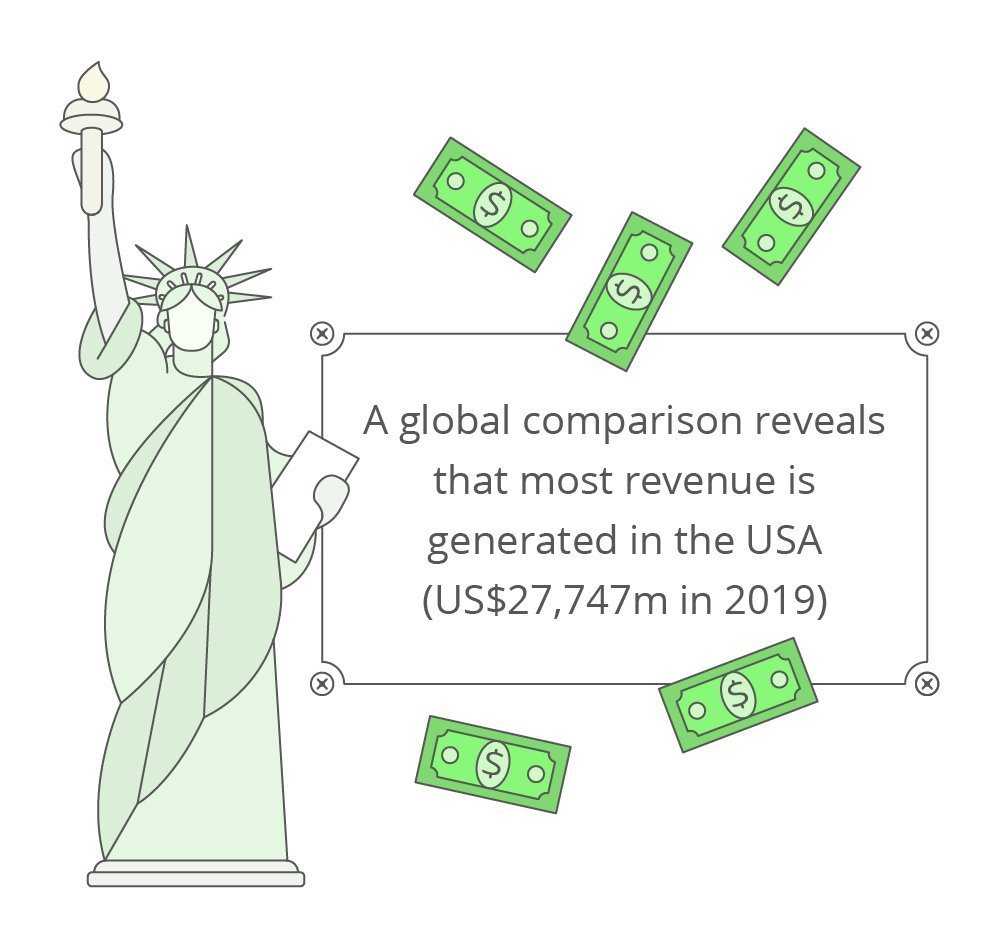 It is forecast that the global smart home market is expected to be valued at more than 50 billion U.S. dollars in the next few years. The use of IoT extends to both commercial and residential buildings, creating not only smart homes, but also smart offices, and eventually even smart cities. Smart cities are the end goal of IoT.
Industry Statistics
Despite the fact that 87% of people don't actually know what "the Internet of Things" means, IoT is helping us be more productive. In one survey, 57% of smart device owners say their gadgets save them time, 45% say the devices save them money, and 72% say the technology makes them feel safer. A fifth of all American consumers is expected to purchase a smart device by the end of next year, IoT statistics claim.
Wearable technology is also becoming wildly popular. The latest fashion features smartwatches, activity trackers, and smart glasses. This particular market is expanding exponentially. As presented by Statista, in 2016, 28.3 million units of IoT devices made it to the market and according to a recent forecast, this number will rise to 82.5 million by 2020, achieving a growth rate of 31%. Additionally, the number of wearable devices sold is expected to grow by 191.5%. Currently, there are more IoT devices in the world than there are mobile devices.
The combined markets of IoT are expected to grow to about $520 billion by 2021. This is more than double the $235 billion spent in 2017. The six core technology and solution areas of the IoT market are system integration, data center and analytics, network, consumer devices, connectors ("things"), and legacy embedded systems. Consumer electronics will account for 63% of all installed IoT units in 2020.
Data center and analytics will fastest growing IoT sector, accomplishing a 50% Compound Annual Growth Rate (CAGR) from 2017 to 2021. Here is the expected CAGR of the other elements:
Systems Integration: 40%
Network: 15%
Consumer devices: 20%
Things: 25%
Legacy embedded: -3%
The biggest user of Internet of Things devices is the business/manufacturing industry. In fact, 40.2% of IoT devices are used in business and manufacturing. IoT devices are usually used to control robotic machinery, provide diagnostic information about equipment, and deliver real-time IoT analytics of supply chains. This information is used to provide actionable insights to optimize workflow efficiency. China is the largest user of industrial robots (over 137,000 units), with Japan in a distant second (over 45,000 units)
According to IDC, in 2016, global spending on the IoT across markets was $737 billion. By 2020, this number is expected to reach $1.29 trillion, accomplishing a CAGR of 15.6%.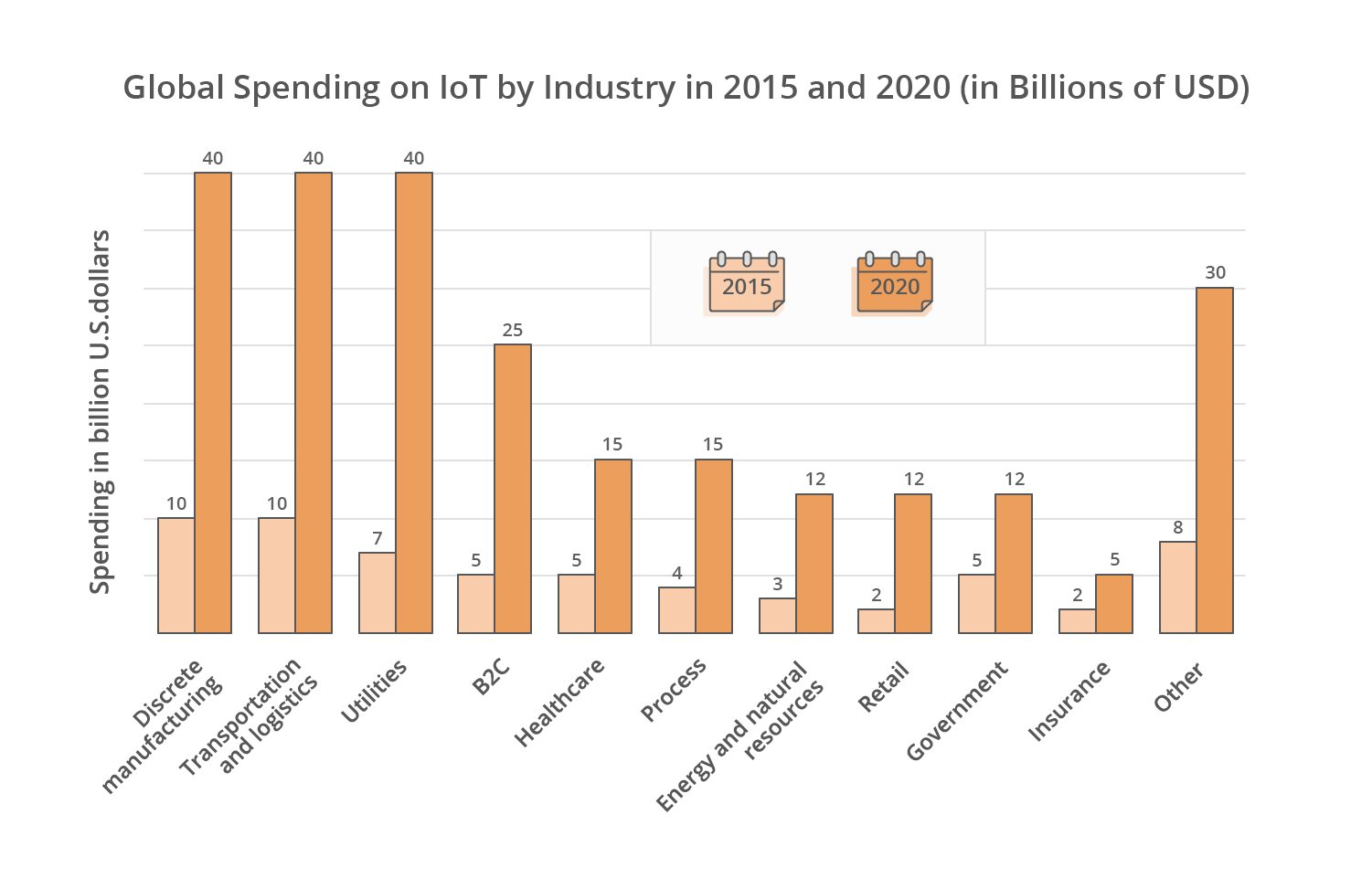 Business Insider predicts that total business spending on IoT solutions will reach $6 trillion by 2021. A variety of industries and markets are being propelled by the power and popularity of IoT. The global IoT market is forecasted to be worth $1.7 trillion in 2019. Hardware will account for 35% of this amount. IoT's economic value also has the potential to increase by $4 trillion-$11 trillion by 2025.
Enterprises are also beginning to run proofs of concept more than they were a couple of years ago. They've discovered that more customers are considering trying out new use cases: 60% in 2018 compared with fewer than 40% in 2016. 93% of enterprises are believed to have adopted IoT technology by 2019.
By 2020, 90% of automobiles will be connected to the internet. The Americas are leading the world in Connected Car IoT projects as well, with 54% of them in effect worldwide. Business Insider forecasts that by 2020, 75% of new cars will come with built-in IoT connectivity. One in five vehicles will have a wireless connection by 2020 and 60% of US customers are willing to share their car's data with the manufacturer. In addition, driverless cars will generate over $5.6 trillion in savings worldwide. Intelligent parking systems will also be introduced, hopefully reducing traffic and the time it takes to find a spot. Smart meters will also become more popular, potentially growing to a number of 1.1 billion in 2022. Vehicle-to-vehicle communication is another aspect of IoT that could help reduce the number of road crashes in the U.S. by 600,000 each year.
Cellular devices, of course, are also a huge part of IoT. The number of cellular IoT connections is expected to reach 3.5 billion in 2023.
In addition, Discrete Manufacturing, Transportation & Logistics and Utilities industries are projected to spend $40B each on IoT platforms, systems, and services. Globally B2C Commerce is projected to invest $25B in IoT systems, software, and platforms within two years. Healthcare and Process industries are projected to invest $15B each in IoT. IoT statistics provided by Intel point out that the second largest IoT consumer is the healthcare industry.
Wearable devices are also noticeably growing. From 28.3 million units sold in 2016, IDC forecasts an increase to 82.5 million units in 2020, a 31 percent growth.
General Electric projects that IoT will add $10 to $15 trillion to a worldwide Global Domestic Product (GDP) growth by 2030. To put that into perspective, that number is equivalent to China's entire current economy.
In 2015, the IoT healthcare market was valued at $24.2 billion. That amount is projected to surpass $33.7 billion by the year 2025. In addition, health-related technology is expected to make up 40% of IoT by 2020. Globally, 60% of healthcare organizations have already introduced IoT connected devices to their facilities. IoT offers the chance for healthcare professionals to reduce errors, increase efficiency, and improve treatment. It can also cut down facility costs by 25%, or $100 billion, each year.
30.3% of IoT devices are used in the healthcare industry. It's the second-largest user of IoT and an essential part of developing new medical devices. IoT can be used to increase diagnostic rates and improve accuracy, allowing for caretakers to make fast, more informed patients. There is a large physician shortage across the world and misdiagnosis rates are skyrocketing. Medical professionals are under more pressure than ever before and IoT can make a meaningful impact on the healthcare industry.
Here is a breakdown of the Global IoT Market Share and the most prevalent industries: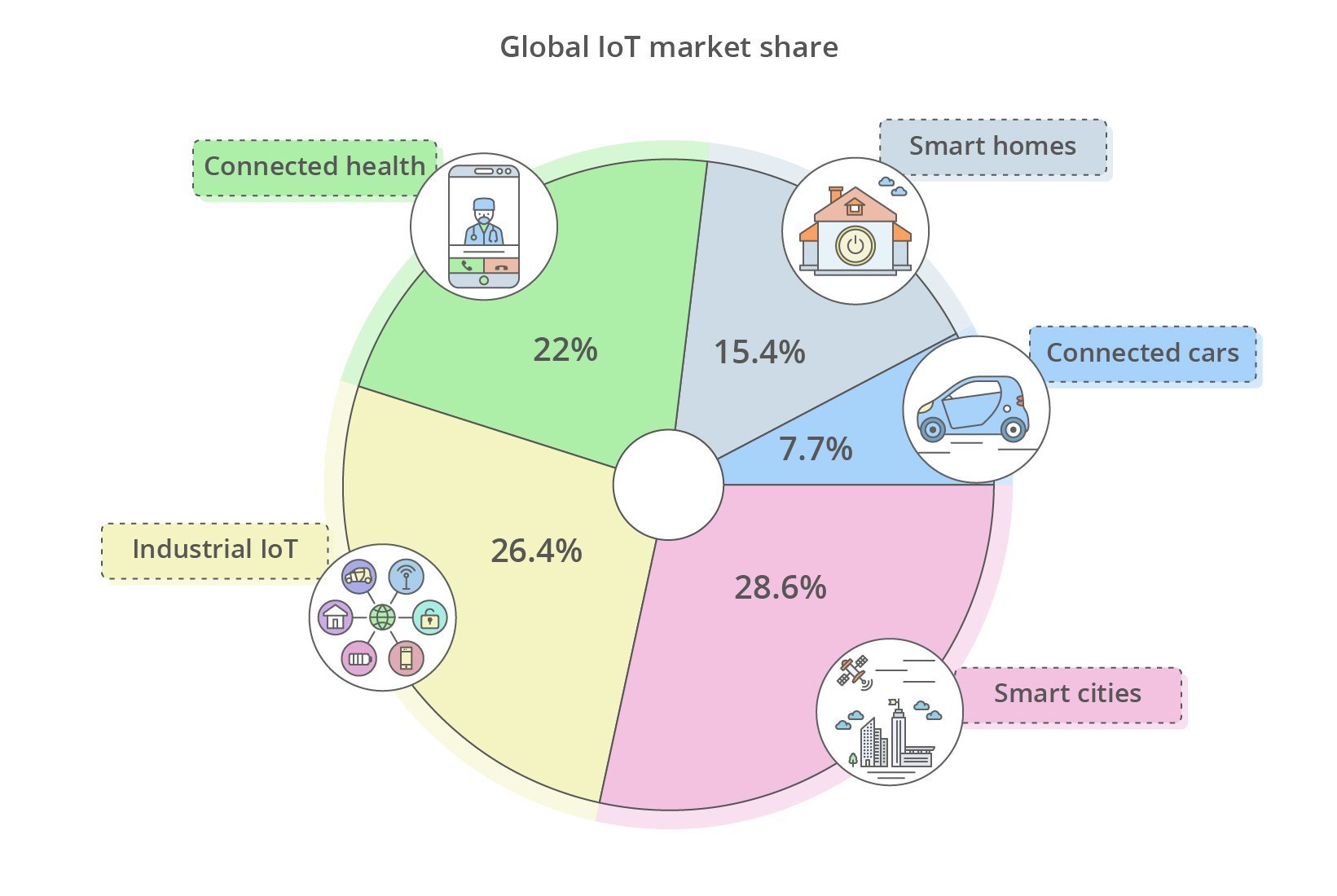 What Prevents IoT Adoption
Some of the main barriers for IoT adoption include:
Data Collection: In 2019, one-third of all developing IoT solutions will be abandoned due to the lack of analytic capabilities and data management. Unfortunately, only about 10% of unstructured generated data is worth salvaging for analysis.
Operational Costs: According to a recent survey, operational costs make up a large part of people's concerns with IoT adoption. 50% cite IoT implementation as a top barrier, 44% cite maintenance, and 43% cite integration of legacy technology. All of these are valid concerns, and many data scientists and deep learning experts are striving to streamline each process. Research across IoT industries expect to see a reduction in operational risks and downtime in the next few years. This will also enable cost savings for companies.
Data Security: Studies show that 30% of Information Technology (IT) professionals cite security as the main obstacle for IoT adoption. In fact, 84% of organizations have experienced some sort of IoT-related security breach. To combat this, IoT security solutions are projected to grow to $840 million by 2020.
Here is a graph depicting the IoT security market spending over time: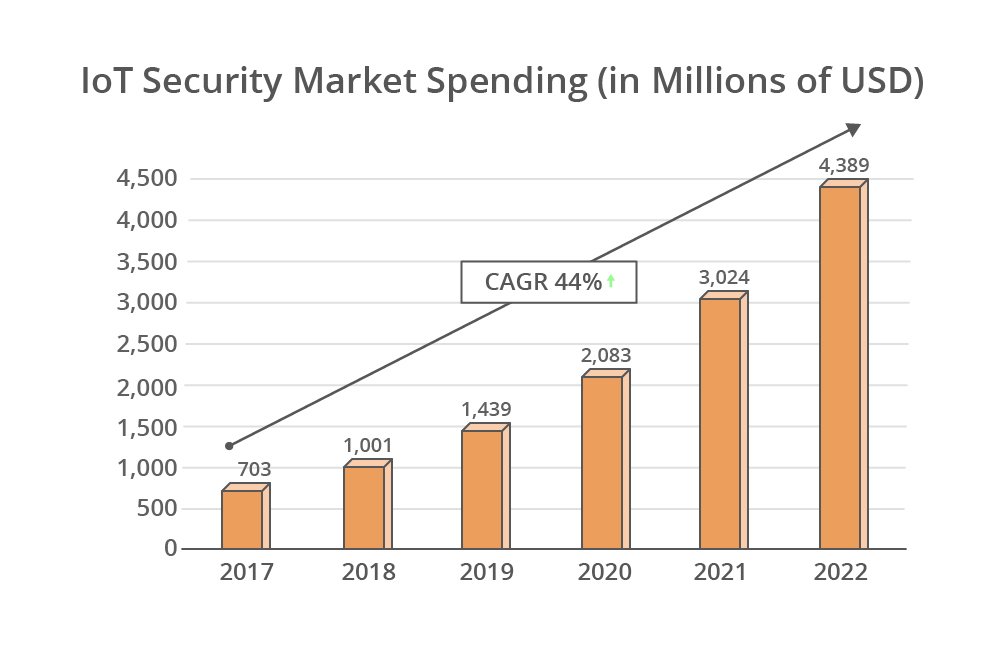 Trends to Watch
In 2019, the following IoT companies are expected to be the most lucrative:
Alphabet
Amazon
Apple
DexCom
GrubHub
Honeywell International
Mastercard
Skywork Studios
Verizon Communications
Visa
Note: Amazon Web Services (AWS) dominates the IoT market, with 34 percent of IoT developers utilizing AWS.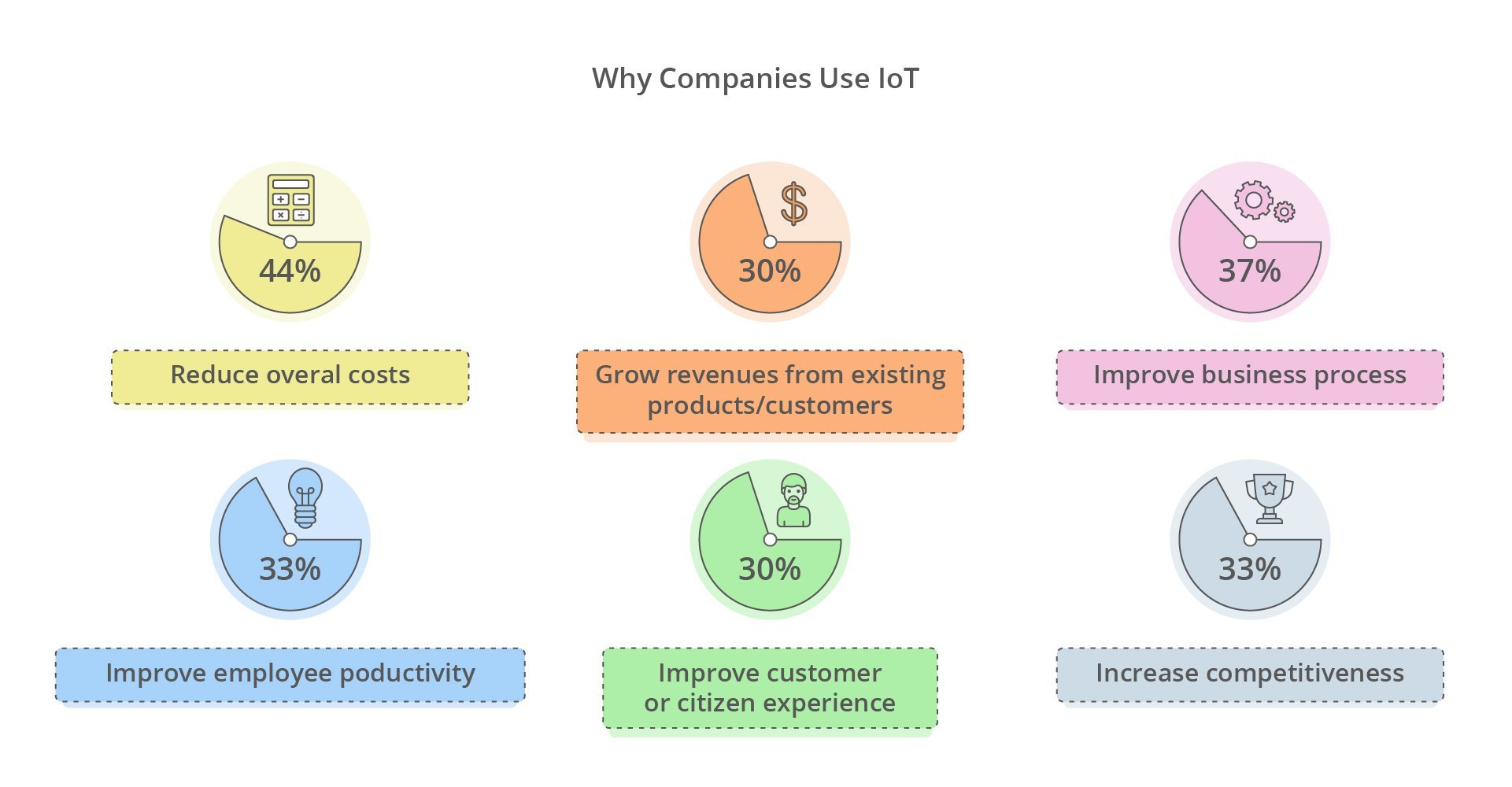 Right now, IoT is experiencing a resurgence in marketing and product development. Some of the changes to expect in the coming years include:
More Human-Device Interaction: Performance management software is a big part of IoT in workspaces. In the coming years, workers will be interacting more and more with automated employee monitoring technology. This kind of software has been a part of workspaces for a long time, but its distinct advantages and disadvantages have yet to be clearly determined.
The Rise of Artificial Intelligence: AI is a key player in the widespread adoption of IoT in all industries and environments. It's what helps us process data in a methodical manner and generate actionable insights, not more analysis. AI is what makes us rethink modern infrastructure and empowers us to save time and optimize efficiency. In fact, AI has had such a big impact that the main cloud vendors (i.e. Google, Amazon, Microsoft, etc.) are focusing more on competing based on AI capabilities. AI goes hand-in-hand with big data and machine learning, which is essential to analyze large data sets and make connections with the real world.
An Introduction of New Terminology: One of the main issues surrounding IoT is its vague terminology. A significant amount of people complain that "Internet of Things" is not descriptive enough, considering its many uses. Certain companies will be setting out to redefine "IoT" to more effectively advertise and market diverse products.
Conclusion
IoT is quickly becoming an integral part of our lives. The number of devices is skyrocketing and huge IoT projects are in effect across the globe. While it may seem like the Internet of Things is taking over the world, it's important to realize that IoT is a powerful tool that can help propel society forward.