If you've decided to hire a property manager, it is crucial that you know who you're working with before you give them the keys to your unit. With so many options to choose from, learning how to identify the right property management company will be infinitely helpful.
Start Searching
Once you've found some prospective managers in your area, it is time to do some digging. This process is much like finding the right tenant; you must be diligent and meticulous if you want your business to prosper. Doing a simple Google search for the company or individual will uncover much more information than you think. A lot of times there will be reviews online where actual landlords recount their experiences. You may even find rants that people have posted, accusing the property management company of "misplacing rent money" or "neglecting tenants and the unit." If these kinds of responses turn up, then it's a sign that the property manager is not dependable. Some key platforms to search for these posts would be Facebook, Twitter, or property management forums. Take a look at this guide if you need more in-depth information on this topic.
There is a wide range of information to be found on the Internet. When looking for a property manager, there are certain cues you should watch out for. If you search for the property management company's name online and bad reviews turn up, keep searching. On the other hand, if you see dazzling recommendations and recounts of great experiences, you should see what the company has to offer. Take a look at the following post examples to get an idea of what you should be looking for.
Bad Signs ?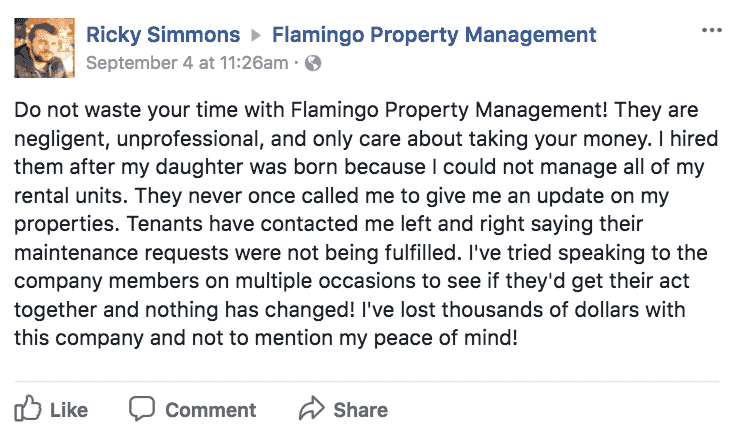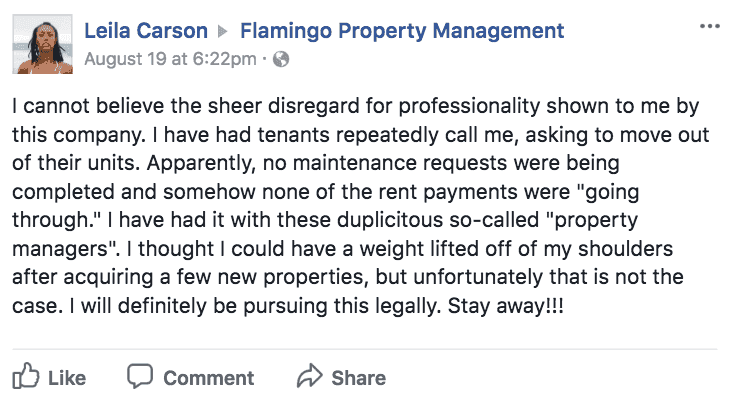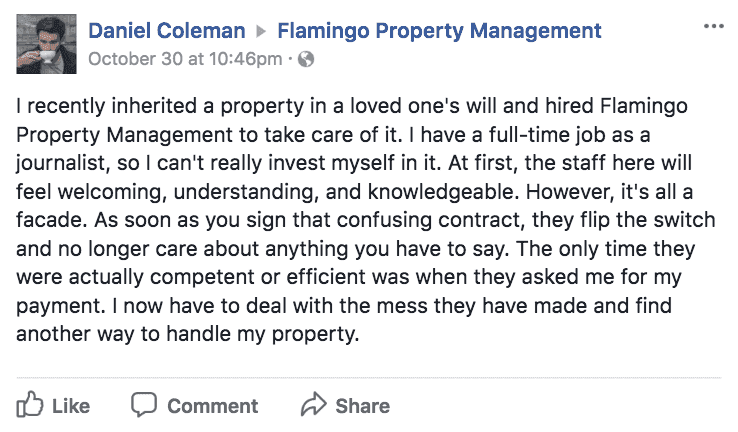 Good Signs ?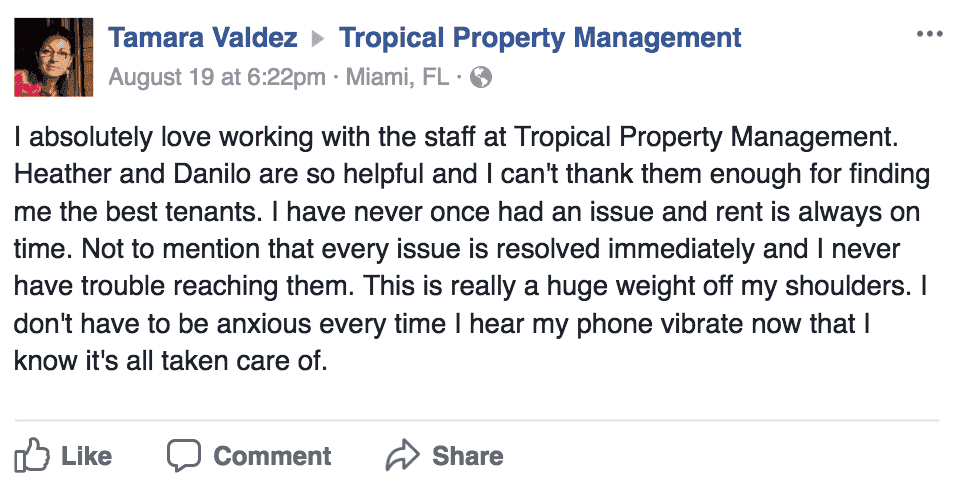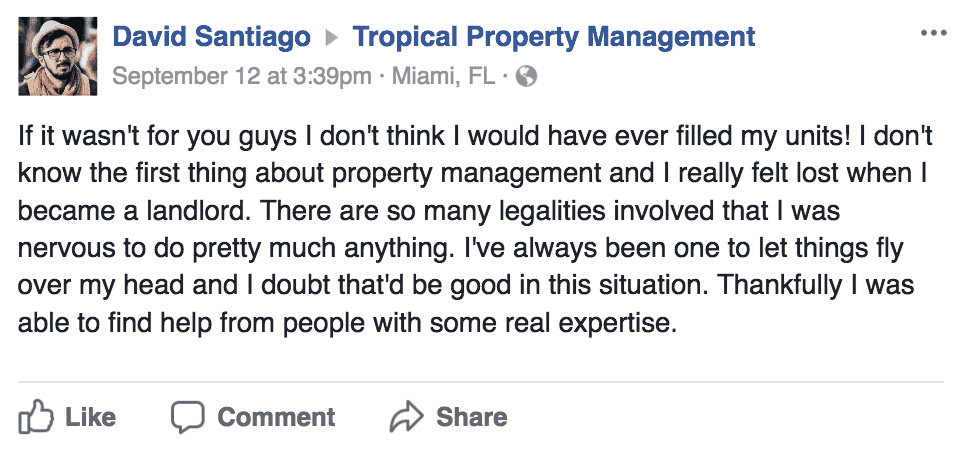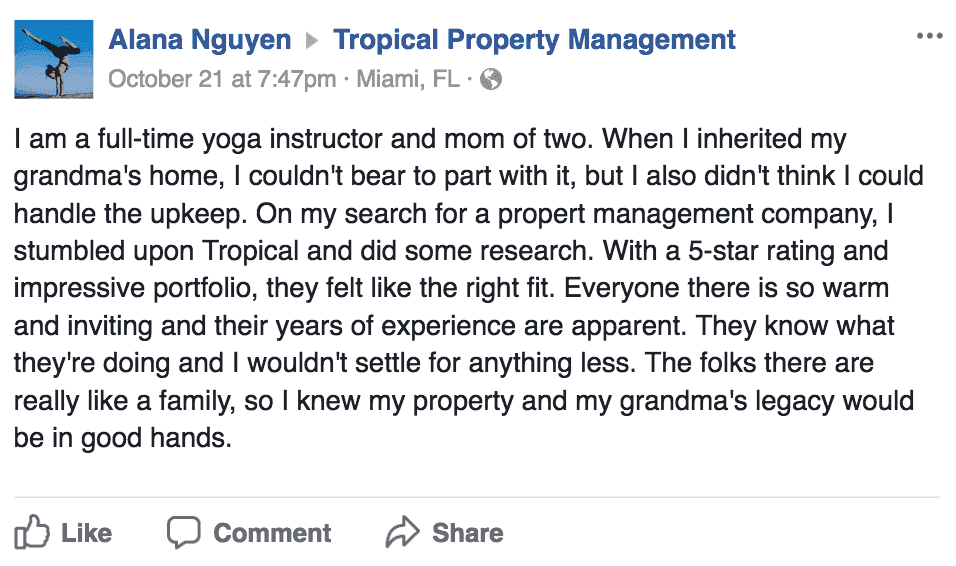 Services & Methods
Not all property management companies will provide the same kinds of services. Some may have packages, depending on what you're looking for. Some may offer a set list of services and some may be ambiguous. This is another reason conducting an interview is so important. You want to be aware of what you are getting out of this investment. There is no point in hiring someone and spending your money if they'll be doing a minimal amount of work. You might as well just handle it yourself. At the same time, some property managers may be offering too much. That means you will be paying for services you do not even need. When looking at property managers, like here for instance (make sure to specify your location to view different managers), you must make note of what kind of services they offer.
Residential Service
Residential service means the managers work with properties that people live in, as well as the people. The property manager will handle all communication with tenants and take care of any issues that arise. Residential tenants have a certain set of problems that a property management company will have to deal with. Additionally, the laws that govern residential tenancies are different in some states than commercial tenancies. A property manager will be completely aware of all the variant legalities. Not only that, but the property manager will be available at all times, as tenants can have difficulties 24/7. So, when a tenant is having a problem with their faucet or they have a question about rent, the property manager will be on call to deal with it. In a commercial property, however, issues will only need to be brought up during regular business hours.
Commercial Service
Managers with this specification work with properties intended for business purposes. These are non-residential properties intended for profit-making purposes. These types of properties include office buildings, malls, stores, and stand-alone properties. Property managers in these areas need to be concerned with increasing traffic. A property manager's priority should always be to minimize expenses and maximize profit. Because of the commercial aspect of this kind of real estate, attracting people to the units is essential to increasing their value. Managers will not only deal with day-to-day tenant situations, but they will also have to figure out which store would drive the most traffic to your location.
That being said, they will provide you with expert consultation on all kinds of matters. They will outline the best choices for your business and walk you through the entire process. Property managers in this field are able to analyze market intelligence and use data relevant to the growth of your business. Market intelligence is the information gathered through keeping track of competition monitoring the state of the industry. This is increasingly important because a property manager will tailor the dynamic of your business to make the investment most rewarding. This eliminates a large portion of the hassle associated with maintaining your unit and keeping track of such a prominent aspect of it. You will have all the time in the world to devote your time to the inner workings of your business while a property manager keeps an eye and all of the variant surroundings and conditions.
HOA Service
HOA Service means that the property management companies work directly for housing associations. Housing association board members usually own property within a particular building. They volunteer their time to help improve their own properties and the properties around them. However, this is an unpaid position. Therefore, many board members don't have the time to put in due diligence every day. For that reason, boards hire property management companies.
The property management companies take care of the day-to-day tasks that the HOA is responsible for. In this case, the unit owners themselves become the tenants of the building. The property management company collects monthly/seasonal/annual dues from the unit owners, handles emergency situations and oversees work done on the building. A property manager assisting you in this field will negotiate contract offers and oversee all of the financial collections and input. Their attention to detail will be of great service when certain rules and regulations are in place. All documents and procedures will always be compliant. The entirety of the events would be carried out by the property manager, allowing you to tend to other matters.
For more information on how to find a property manager, click here.
Fees
Each property manager you consider will charge a different amount for their services. You should show a great attention to detail when reading up on their fees. Some of the fees are extraneous and most of them are negotiable. Be wary of different price packages provided by management companies and always check to see if you're getting what you pay for. A lot of the wording in property managers' contracts is misleading, so it's easy to overlook critical elements. To find out more about property management fees, refer to this guide.
Contracts
Like all legally binding documents, a property manager's contract should be looked over in a methodical and meticulous manner. The contract should outline all the services you will and will not receive, the costs you will be subject to, and what rights you have in the relationship. If you do not read the fine print properly, there will likely be many misunderstandings and unnecessary conflict. The contract can range from 3-10 pages and be simple and basic or complicated and elaborate.
Regardless of how the contract appears, reading it carefully and more than once is essential. This includes services and fees, responsibilities of the property manager, equal opportunity housing, liability, contract duration, and a termination clause. It is your responsibility to maintain a reserve fund in the case of emergencies and to obtain the proper insurance. All of these services are likely to be included in a lease package. This will be discussed more in Market Niche.
How They Differ From Real Estate Agents
It is worth noting that property managers carry out functions much different than those real estate agents. Property managers are responsible for the day-to-day occurrences within the property; they deal directly with tenants and continually work to keep them satisfied. Real estate agents, on the other hand, are responsible for putting a property up for sale and attracting buyers. They take care of the pricing, negotiations, and final documents.
Property managers do something similar. They will also work to market your property but from a rental perspective. That is, they will find prospective tenants who prove to be credible and potentially long-lasting. Once that process is completed, they will handle all of the tenants and everything that occurs on the property. The fees for the two are different as well. Real estate agents collect an agent commission for houses they list for sale. Property managers are paid through a variety of fees based on the distinct services they provide, as mentioned previously in Fees.
Market Niche
Finally, it is absolutely imperative that you choose a property manager that specializes in the kind of property or properties you own. If they only rent out upscale, expensive apartments in downtown Miami and you're trying to rent out an attached efficiency unit some blocks over in Little Haiti, you are probably not going to get the kind of service that is tailored to your business. You should be looking for a functional property management company that fits your needs and shows expertise for your unique unit(s).
Going back to market intelligence, a good property manager will have an efficient way of assessing the value of your property and making comparisons to similar units in the area. Some property managers will use technology as well. There are advanced systems that one can access on technological devices to manage properties. This kind of approach is not for everybody, however. Always read through each property manager's services very carefully, so as to make sure you are getting the kind of assistance that is worthy of your time and money.