So, you've been to a dozen property management websites. They're all shiny and new. They boast great success and little to no loss. However, that can't possibly be true…can it?
Take your research a little bit further than the company website. Those can provide a great deal of information about the services each company provides. However, they cannot truthfully tell you how well they perform those services. Instead, research on social media, ask people who already use property management companies, look at their quality of work, meet with them in person and pay attention to the agreement before you sign it.
Be a Social Investor
Social media gives you the best of the best and the worst of the worst. Customers take to the internet to write reviews for primarily two reasons. (1) They got really great service and they want the world to know or (2) they got really awful service and they want the world (and whoever is in charge of refunds at the billing department) to know. You may find rants that people have posted, accusing the property management company of "misplacing rent money" or "neglecting tenants and the unit." If these kinds of responses turn up, then it's a sign that the property manager is not dependable.
Don't stick to the company's direct pages; companies have more control over their own page. Look at posts they've been tagged in.
Focus on Facebook and Twitter, which are opinion-based platforms. Are there a lot of online horror stories? You may want to steer clear of companies with very negative reviews. There has to be a reason why their clients are so angry. Give the positive reviews less credibility. Employees have their own social media accounts they can use to post nice things. While that doesn't discredit the company itself, it shouldn't be the reason you trust them with your property.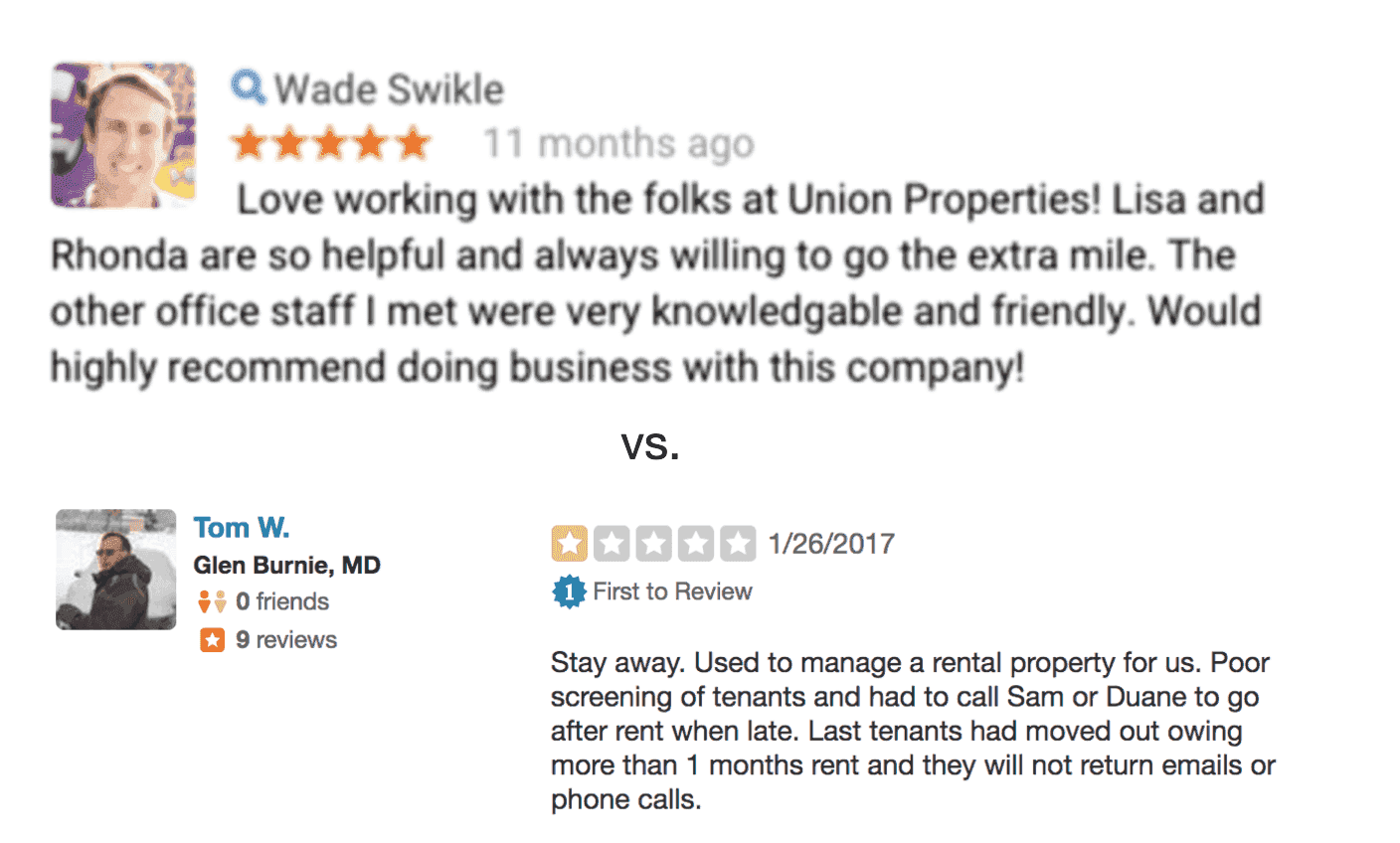 However, looking at their direct pages will help you figure out the level of professionalism they use with their clients. If they don't put forward a lot of effort online while trying to attract new business, they certainly won't put more effort into managing your business.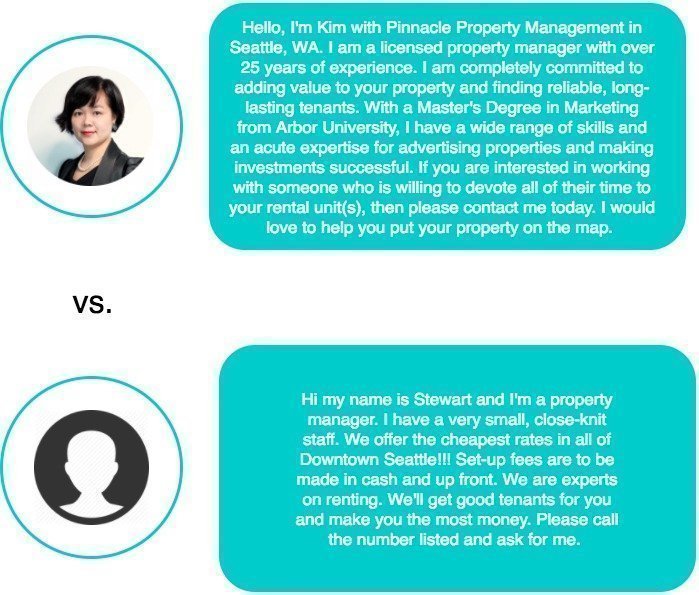 Word-of-Mouth
One of the best ways to find out if a property management company is worth its salt is through word-of-mouth. Most companies can control the information about them on the internet, but they cannot control what other customers say. Talk to other investors, real estate agents, and landlords. Ask them:
Q: What company has worked best for you?
Q: Were there any hidden fees that surprised you after you signed the contract?
Q: What services are you happy with?
Q: What services are you unhappy with?
Q: Who do you think I should sign with?
Q: What companies didn't work out for you?
Q: Why didn't they work out for you?
Talk to multiple people. If you hear the same great thing about a company multiple times, it's probably true. These types of positive reviews are definitely credible. They should have a large impact on your final decision.
Have a Conversation with the Contenders
You've used social media to narrow down your options. Word-of-mouth will probably give you some strong contenders from what is left. Use your narrowed down list to start going the extra mile. Meet with a representative from each of the companies you have left.
Interview the property managers. Ask them questions about:
Their Experience
Q: What kinds of properties are you most experienced in managing? (i.e. single family homes, multi-family, apartments, commercial, etc.)?
Q: How many rental units do you currently manage?
Q: How long have you been active in the property management business?
Q: Do you personally own any rental properties?
Your Property
Q: What are the average vacancy rates in this area?
Q: Do you think this area is improving or declining?
Q: When you look at my property, does it strike you as a good investment for the price I'm paying? Why?
Management
Q: How many people are on your staff?
Q: What portion of your maintenance work is contracted out and what portion of it is done in-house?
Q: How does your tenant screening process work? What steps do you take to find good, long-term tenants?
Q: How does your eviction process work? What is the timeline of events starting on the first day rent is late?
Q: What are the tenants' responsibilities in your lease agreement (e.g. cleaning, furnace filters, yard care, etc.)?
Q: What happens when a tenant does not comply?
Q: How do you plan on adding value to my unit?
Q: How do your fees work?
Q: Can I review a copy of your tenant lease agreement?
Q: Can I review a copy of your management agreement/contract? (Note: it is absolutely crucial that you are aware of every detail in this document.)
Q: Can you give me 3 references? (Be sure to contact them and follow up.)
Other
Q: What kind of accounting statements will you provide me with for my properties and when would I receive them?
Q: How will you deposit each month's rent into my account (direct deposit, check, etc.)?
Q: Are you licensed to be a property manager? If so, can you confirm this?
Q: Do you use contractors who carry their own liability and workman's comp insurance?
Q: How frequently will you be visiting my tenants and properties?
Look at the contracts each company has. Write down the exact language of any fees they charge. Ask to see an example of a monthly report.
Is it well put together? Take notes at your meetings, because you might forget which person said what later on. Don't sign any contracts at these meetings. First, go through all the companies on your list. Strike any property managers you felt uncomfortable with. Did any stand out above the rest? While you should use bad impressions to eliminate some options, don't use good impressions to make your decision.
Compare your notes from the companies that you have left. What does each company do to go the extra mile?
Look at the Property Management Company's Work
Go back to the companies still on your list. Look at the quality of the ads they run. Particularly, pay attention if they are advertising through paid and/or free mediums. Look through your notes about fees. If they're not putting out paid advertisements for their clients, be sure they are not charging an advertising fee. What work have they put out recently? Where are they advertising their clients? Are they professional looking? Do they grab your attention? See if you can talk to any tenants of properties the company manages. Yes, it is a stretch, but if they can find a tenant willing to sing praises for them, they're probably doing a good job of keeping the tenants happy. Keeping the tenants happy is important because that means they'll stay longer, guaranteeing you a steady stream of income. Ask the tenant if their concerns are being met efficiently, effectively, and professionally. What does the building look like? Can you visibly see repairs that need to be made?
Why Go Through the Trouble
While this might seem like a lot of work, it will be worth it for you in the long run. You don't want to be one of the angry people ranting on Twitter about a property management company. So, learn from those angry people instead. You do want to be one of the happy investors, realtors and landlords you spoke to who spoke highly of their respective property management companies. Learn from their mistakes and emulate their success. Ask a lot of questions when you meet with each property manager. You want to know if they'll lose your temper with you or if they seem shady before you've committed to working with them for a long period of time.
Critique the work they've done for others before others critique the work representing you. A sloppy ad can say a lot about your unit to prospective tenants. Sloppy work on an ad means sloppy work when they need a repair done, which translates to them finding another place to live. The work that they do is also correlated with the amount of profit that you make. Happy tenants mean more profit for you. Great ads mean your unit will not be empty for long. An occupied unit can only make you more money. Your property management company will be representing you. Find the one that will represent you right.