Our Review
The Bottom Line: as an option on the more affordable side of the market, in general we liked Naborly's offering. While their source information is limited (especially for evictions), their unique AI-powered predictive scores offer a leg up on actual analysis of said information.
Naborly is a unique tenant screening service that uses advanced artificial intelligence technology alongside specially trained Tenant Analysis to provide you clear and accurate results that help you make the best tenancy decisions possible.
For Naborly's service, you provide them with the name and email of your prospective tenant. Naborly then invites them to complete the application through a secure link. This keeps the credit check as a soft inquiry that won't affect the tenant's credit.

Naborly Sign-Up Process
Once the tenant has completed the process, Naborly returns your report in 90 minutes or less. However, since they have real people active in the process of creating your report, this is only true during the business hours of 10AM to 6PM EST Monday through Friday. Naborly offers a basic package to both U.S. and Canadian users as well as a Pro package to U.S. users or Pro+ package to Canadaian users.
They offer thorough criminal background reports, a full credit report with credit score, employment and income verification, and eviction reporting that comes directly from the credit report. Additional offerings include a pet liability analysis as well as an analysis of if the property is suitable for the tenant. You also get a Naborly Score for each tenant to predict the outcome of the lease. This is based off of highly relevant information known to correlate with the tenant's reliability. The entire report is well-formatted and easy to read and understand.
NaborlyShield is also offered as what is basically insurance to your lease. With each screening, you will get a quote for a monthly fee to get NaborlyShield. The fee is based directly off of the tenant's Naborly Score. NaborlyShield will pay for up to 6 months of your tenant's rent in cases of eviction, early vacancy, or nonpayment. This is designed to give you time to fill the vacancy. It will also cover up to $2000 in property damage caused by the tenant.
Lease Default Prediction
When it comes to lease default prediction, Naborly gets a 9 out of 10. Their scoring system for predicting the likelihood of lease default is carefully designed to focus on key factors that are known to legitimately affect how likely a specific tenant is to complete their lease successfully.
Naborly provides what is called a Naborly Score for each tenant screened through their service. To determine the score, things like a person's rental history, financial situation, and property needs are directly compared to the current local rental market as well as the specifications of the property in question.

Naborly Score Sample
Each tenant receives between 0 and 5000 points based on these factors. Then Naborly simplifies the results for you with a percentage. The fact that the Naborly Score is affected by the actual property that the tenant has applied for is important because the same person could receive a different score depending on the property. The goal here is to ensure that the tenant and the property are a good fit.
You'll also be able to view Naborly's list of key risks to consider for each tenant. They even take it another step further with a break down of specific risk scores. Each score is out of 100 and a stated risk level such as low, standard, or above average is also included for each of the following categories:
Late rent payments
Property damage
Eviction
Early vacancy
Successful term
Tenancy length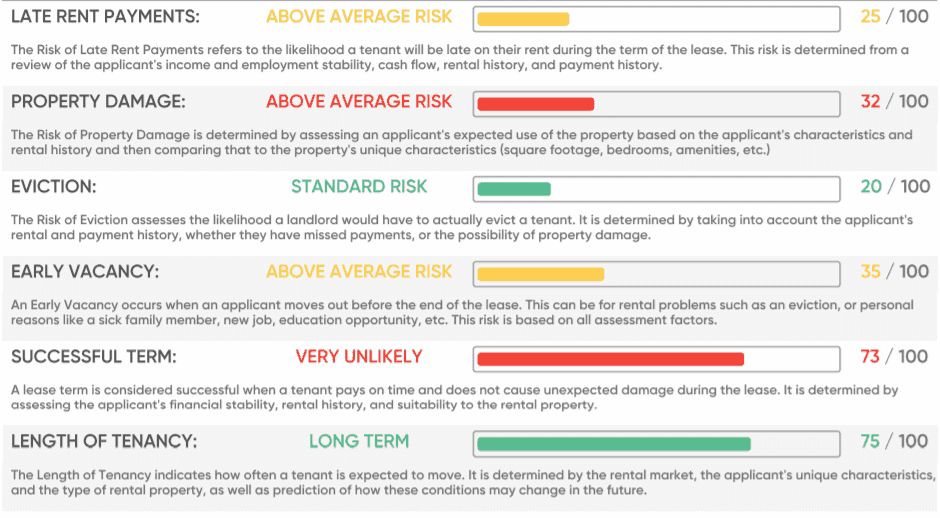 Naborly Tenancy Outcome Risks Sample
Credit Report
Naborly uses Equifax for credit reporting. What you get is a full credit report with all available details including the prospective tenant's Equifax credit score.
This gives Naborly an 8 out 10 for their credit report. They format the report in a very simple and easy to understand manner that is visually appealing.
Additionally, they give you a quick credit summary that simplifies things even further and focuses on the information you want the most like bankruptcies, collections, debt, and monthly payments.
You will also be able to see a list of credit risk notes that help you understand what you should be specifically careful with for any particular tenant.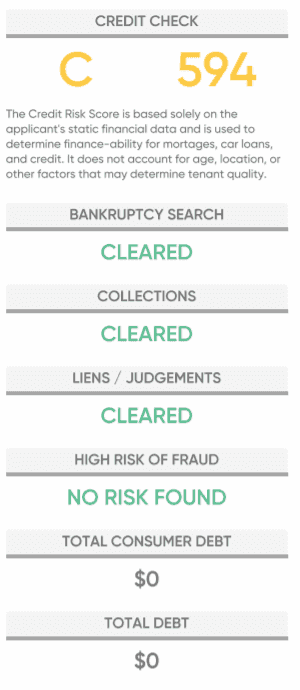 Will the Credit Check Impact the Prospective Tenant's Credit Score?
There are two different kinds of credit checks – what is called a hard credit inquiry and what is called a soft credit inquiry. Since a hard credit inquiry can negatively impact your credit score, it is an understandably common concern about whether a credit check will impact the credit score.
Hard credit checks are generally for things like applying for a loan or a credit card. In the case of Naborly, the landlord provides the tenant's email and Naborly invites the tenant to complete an application with authorization to release their credit information. This makes the inquiry a soft inquiry and therefore, has no effect on the credit of the prospective tenant.
Eviction History
One of the number one predictors of future evictions is past evictions. If a tenant has been unreliable in the past, it is reasonable to expect them to be unreliable in the future. For eviction history, Naborly gets a lower score of 4 out of 10. This is because while they do include eviction information, they are limited in how they collect that information which increases their chance of missing past evictions of tenants.
The main source of their eviction information is directly off of the credit report. It isn't uncommon that something like a past eviction may not ever make it onto a person's credit report, which is why many screening services search court records for the information. They also ask the prospective tenant directly about past evictions with an opportunity for the tenant to explain if they confirm they have been evicted. This is obviously not reliable, however.
Finally, Naborly is in the process of creating their own eviction database with the information they collect including allowing landlords to report evictions directly on their website. This helps, of course, but is still not a reliable way to avoid missing past eviction records. Naborly also provides a list of past addresses and when applicable, provides verification of the addresses with dates of occupancy.

Naborly Previous Address Verification
Criminal Report
It is important to understand who you are renting your property to. You don't want a criminal in your property possibly damaging it, causing issues and possibly even posing danger to other tenants and/or neighbors. The criminal report that you get from most tenant screening services helps you avoid just that.
A thorough criminal background check is performed by Naborly. This covers all 50 states and includes Washington D.C. Not only does Naborly do this national criminal check, they also do statewide criminal checks, and county-level criminal checks on prospective tenants. This helps give you more reliable information and gets Naborly a 9 out of 10 on criminal reporting.
In addition to the regular criminal background checks, Naborly also searches for prospective tenants on a number of other relevant listings. This includes the sex offender registry, the FBI's most wanted list, the INTERPOL databse, and the terrorist watchlist. You will even receive public court records and driving records for your prospective tenant.
Naborly Criminal Report Sample
Income Information
A tenant's income is one of the biggest factors that determines their ability to comply with a lease.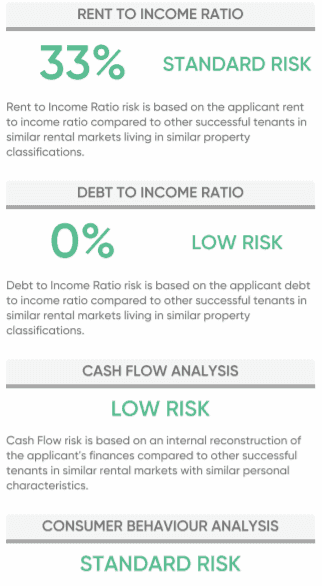 Naborly helps you get a clear and realistic picture of a tenant's income by verifying their employment and income directly with the tenant's stated employer.
Whenever possible, they actually include a letter directly from the employer stating the prospective tenant's employment status with them as well as what their salary or hourly wages are including how many hours they work each week.
This tells you exactly how much your prospective tenant is bringing in to help you know if they can actually afford your rental property.
Naborly also provides a financial summary showing you things like bankruptcies, debts, and fraud risk. They provide you with a prediction on the stability of a tenant's employment and income as well as comparing the income to the cost of rent with a percentage. They do the same with the income compared to the debt to really give you the full picture. Overall, Naborly scores 8 out of 10 for income information.