If you have just recently become a landlord, you are probably beginning to realize that there is a great deal of responsibility that goes along with the title. If you've been in the business for a while, then you are well aware of this already.
To make your investment as successful as possible, you must know how to effectively manage your rental property and deal with whatever may come your way. There are unforeseen events that you will encounter, making the process often very difficult and stressful. The following will be a comprehensive do-it-yourself guide on how to manage your property by yourself and avoid overwhelming complications.
Advertising Your Property
The first step toward success with your investment property is attracting prospective tenants. People looking to rent usually seek properties through a variety of mediums, so it's important that you advertise your unit as much as possible to put it on the map.
Rental Websites
Use the internet to your advantage. Websites like Craigslist, Zillow, Cozy, and Trulia, are easy-to-use and effective. They let you advertise your property exactly the way you want and narrow it down to your specific location. These sites receive a lot of traffic, ensuring your property will get the publicity it needs.
There are also sites that post your ad to all of these providers at once, like RentLinx. This will help you save money and time, while also making the whole process much easier. Sites like these offer a monthly subscription service that will post your property on dozens of websites at once. You won't have to worry about finding credible websites and spending hours plugging in your information.
Social Media
Whether it's Facebook, Twitter, Instagram, or Snapchat, there are people posting pictures and sharing their thoughts 24/7. Making an account for your property or posting about it on your personal account is a great way to let people know you have a unit for rent. Make sure to include photos of the property, the number of bedrooms/bathrooms, appliances or other amenities, and contact information for anyone who is interested. Here's an example of a post you may make on Facebook: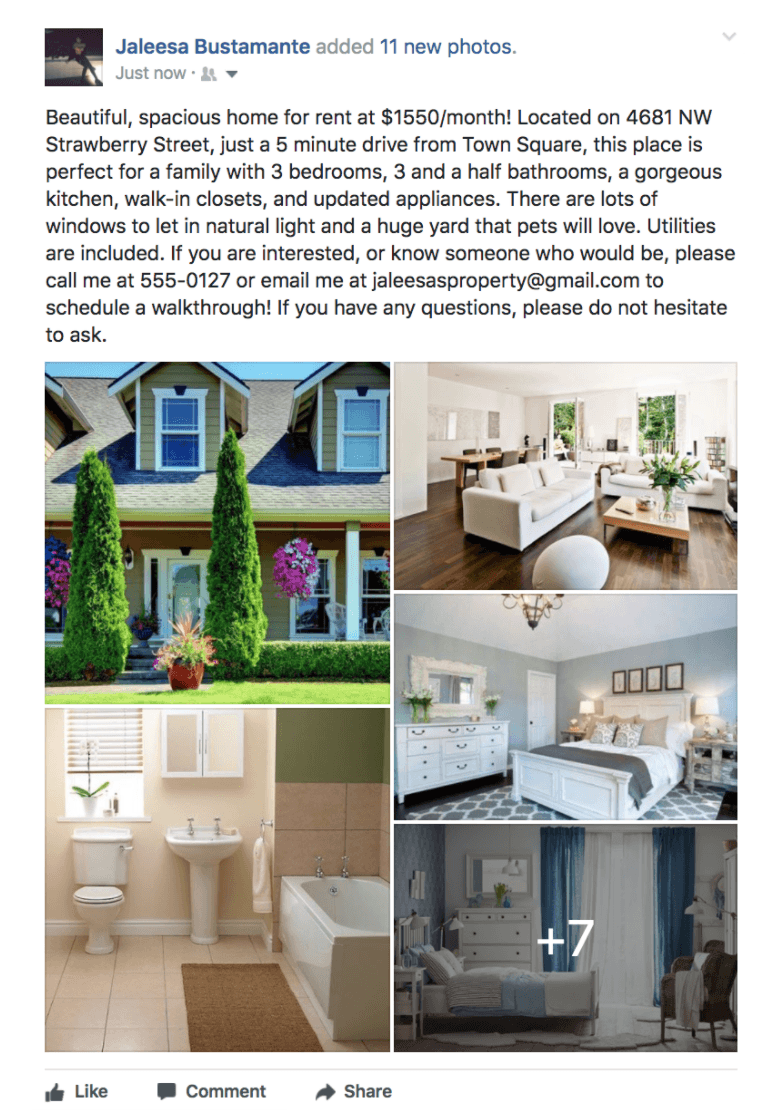 Newspaper Ads
This is a resource that is often overlooked; however, a considerable amount of people turn to print media for property listings. It is ideal to advertise on Sundays, as newspapers are read more often on this day. Have a catchy title that embodies the allure of your home.
Think "Suburban Dream," "Relaxing Ocean Views," "Chic Industrial Loft," or "Cozy Cottage." Adjectives are key. You want to highlight all the great parts about your property and don't forget to include the location. Note that you will only have so many words to advertise your property, so it's important that you grab the attention of your readers. Here are a couple sample ads:
Cozy Cottage: Private and peaceful home tucked away behind Serenity Forest. 2 BR/1BA. $750/month. Pet-friendly. Lush garden and mountain views. No application fee. Utilities included. View pics at cozycottage.com or call Sam at 888-6363.
Chic Industrial Loft: Unique and urban studio apartment in the heart of the city for only $999/month. Just steps away from the lively downtown restaurants and nightclubs. Huge balcony that's great for entertaining. High ceilings and hardwood floors. Newly renovated. No pets allowed. Call Jane at 789-5621.
Refer to this guide if you need more help with newspaper advertising.
Yard Signs
Placing a "For Rent" sign on the front lawn of your property or in a window may appeal to a passerby. Put contact information in a clear, legible font on the sign that will be visible from the street and sidewalk. You can purchase a customized yard sign online at websites like Staples, SuperCheapSigns, and Vistaprint, but you can also get one from a local real estate agency or make one yourself, if you're crafty.
Flyers
Designing a simple, straightforward ad for your property on Microsoft Word, for instance, is quick and easy. Print them out, make a few copies, and hand them out to friends, hang them up on lampposts, and pin them to bulletin boards in your area. People looking to rent in your location will notice the flyers and give you a call, adding to your list of prospective tenants. Here's a sample.
Word-of-Mouth
You'd be surprised at how effective simply telling people about your property can be. If you have other tenants, let them know about your vacant unit. Tell your family, friends, and coworkers too. All of these people may know someone looking for a place to rent and they'll be able to refer them to you. Consider talking to your neighbors as well. You could even put some flyers you've made in their mailboxes, improving your outreach.
How Much To Charge
You want to make sure that you are charging a reasonable amount for rent each month. Figuring out how much you should charge can be tricky and there are a few things you should think about first.
Determining Property Value
You need to ask yourself how much your property is worth. The amount could be different from when you purchased the home, so it's best to do some research and compare to other properties in your area. You can use a website, like <Zillow>, to get an estimate on the value of your unit. However, home appraiser would be much more precise. Consider if you've made property upgrades, for instance. This would impact the accuracy of Zillow's "Zestimate."
Percentages
The amount of rent you charge should be a percentage of your property's market value. Typically, landlords charge between 0.8% and 1.1%. If your home is worth $100,000 or less, it's best to charge rent that's close to 1% of your unit's value.
However, if your property is more expensive, meaning over $350,000, it's a good idea to charge less rent so that you can attract more renters. Setting the rent at too high of an amount will deter potential tenants. Keep in mind that these percentages are what is most common in the rental business — it doesn't mean it will be best for your property.
You should use a resource like Rentometer to assess the payment. You can also use the property calculators here to do some math and get a better idea of what you should charge.
Research
Look at other listings for rental properties in your location and compare the prices. If your tentative rent payment is in the same ballpark, then you can be sure it's probably suitable. If it is much higher or much lower, then you should reconsider. It's also good to consider what nearby properties with similar room/bathrooms and amenities are renting for.
Writing the Lease
Putting a lease agreement into place is crucial for your rental property. It should be easy to read and include all of the rules the tenant must abide by. Use the steps below for help: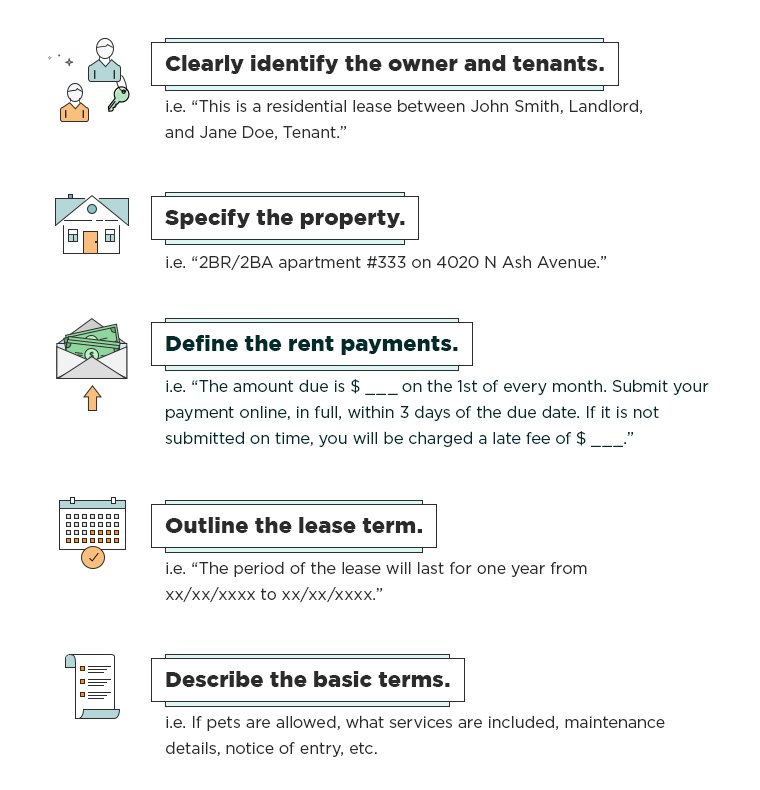 Once you've completed each of these, do not forget to include a page for the tenant to sign. It's important to proofread your lease agreement and ensure it is as detailed as possible to avoid any legal conflict.
Screening Tenants
After you find some prospective tenants, it'll be time to weed out the undesirable candidates. Having a trustworthy, reliable tenant is one of the deciding factors in the success of your investment property. A good tenant will give you the peace of mind you need, ensuring that your unit is in safe hands and that you'll be receiving rent payments on time. Anyone can appear to be a good fit, but looks can be deceiving. For this reason, it's a good idea to screen your potential tenants before actually allowing them into your property.
Rental Application
Have every prospective tenant fill out an application to rent your property. You may make an application yourself, or find a sample one online.
Here is an example. The application should ask for all the details relevant to you and your property. This will include financial information, contact information, the number of occupants, number of pets, and so on. It may also be a good idea to request their most recent paystub, so you can be sure they have a steady flow of income.
It's best to confirm that their income is at least 3x the monthly rent payment to guarantee they can afford it.
Credit Check
Certain state laws allow landlords to charge their prospective tenants for a credit check, although, some don't. Regardless of this, a credit check should be conducted to ensure that your tenant will be reliable with their payments. Consider both their credit history and current debt — bankruptcy, serious delinquencies, unpaid balances, and large loans are all red flags. These are signs that your tenant may have more than a bit of trouble paying their rent. Here's an outline of credit scores and the risk involved:
781 to 850: excellent credit, very low risk
661 to 780: good credit, low risk
601 to 660: average credit, some risk involved
501 to 600: poor credit, risky
300 to 500: bad credit, high risk
Background Check
Background checks follow the same protocol as credit checks do, as far as charging prospective tenants goes. You can order these online without difficulty, using sites like MySmartMove and StarPoint. These checks will give you all kinds of information on your applicant's past, like prior evictions, criminal records, and public records.
A prospective tenant with a string of convictions may pose a threat to you and your property, as well as those around it. In addition to that, prospective tenants with a history of legal issues (lawsuits, court battles, etc.) and past evictions suggest they will be difficult and disruptive.
Contacting Past Landlords
You may contact your prospective tenant's previous landlords to ask a few questions about their reliability. There is no need to ask for the most intimate details, as this would be an invasion of privacy, but you should pose simple questions about their payment punctuality and lifestyle. This will be very helpful in the decision-making process, as you will be able to deduce whether or not this person would be a suitable tenant.
Beware of impersonators too – it is easy for a prospective tenant's friend to pretend to be a landlord. Here are key questions you should ask:
Q: Can you confirm that _____ has rented from you?
Q: What was the address of the property that ____ rented from you?
A question like this is open-ended and requires more information than just a simple "yes" or "no."
Q: What were the start date and end date of the lease?
Q: Did _____ pay his/her rent on time?
If the landlord answers no, ask them how many times this happened and when.
Q: Did _____ take good care of the property?
Q: Was it clean and in good order when he/she left?
Q: Who were the occupants listed on the lease?
Q: Was _____ disruptive to other tenants or neighbors?
Q: Would you rent to _____ again?
If they answer anything other than "yes", take it as a "no."
Listen for hesitation in the answers given. If the person seems to be embellishing their responses, they may be a landlord impersonator, or just trying to get rid of a bad tenant. Try to ask questions pertaining solely to the tenant's renting habits and not their personality. It's probably also a good idea to Google the prior landlord's name and see what you find.
Interview
If the individual looks good on paper, don't stop there. It is essential for you to meet your renter before letting them sign the lease. Schedule a meeting or walk-through of the unit to get to know your prospective tenant. You can do this on the phone, but it is recommended that you conduct the interview in person.
The Fair Housing Act states that landlords cannot discriminate based upon color, disability, marital or family status, national origin, race, religion, or sex: Though, you may ask questions like "how many people will be living in the apartment?", you are not allowed to ask how many children your tenant has, but you should know whether or not you will be renting to a young couple and their dog, or seven fraternity brothers.
Q: Do you have friends or relatives that frequently stay over?
It's important to note this, as there should be a precise number of people officially living in the unit. A good idea would be to include a section in your lease that states no guests are allowed to stay for longer than 7 consecutive days unless written permission is given in advance.
Q: How many pets do you have? Are they housebroken?
You should make your pet policy known from the get-go.
Q: Are you willing to take a background check and credit check?
If the prospective tenant seems a bit reluctant about this, simply move on. It's a sign that they have something to hide.
Q: Do you smoke? If so, do you smoke inside or outside?
Q: Why are you moving?
Look for legitimate answers like "I just started a new job" or "I needed more space." An answer like, "I didn't like my roommates" or "My landlord was very difficult" is a red flag. Be careful if they begin to complain about past landlords, as it may mean they are difficult tenants.
Q: How long are you planning to rent?
You want to see if they are serious about renting and whether or not they're planning to put down roots.
Q: Have you ever been evicted?
Someone who has been evicted is likely to lie about this, but you can gauge their reaction and see how they respond.
Q: Describe your ideal landlord.
This will give you an idea of what they're looking for and whether or not you are what that is.
Q: Can you tell me what your lifestyle is like?
Asking about their work shift hours, if they play a loud musical instrument, how late they stay up, and so on, will give you a good gist of their behavior. Remember to respect the person's privacy, however. You don't need to know their life story.
Q: What date would you be planning to move in on?
Q: Do you have any questions?
When in doubt, remember The Three Cs for an ideal tenant: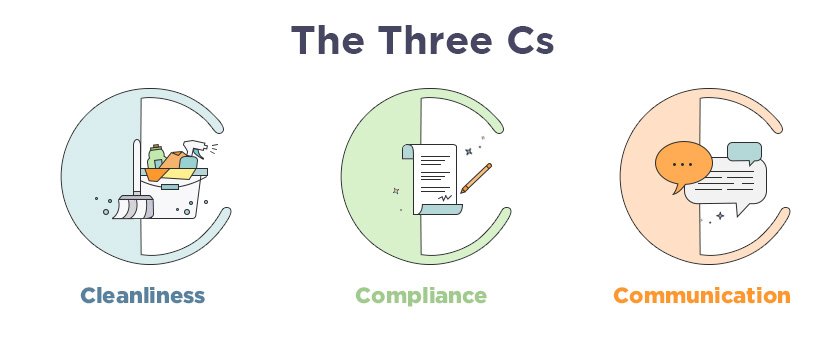 Preparing Your Property
It's important that your property is up to code prior to your tenant's move-in. It is your responsibility to provide a secure place to live. Not to mention ensuring the safety of your unit will also prevent stress and expenses in the future.
Perform an Inspection
Assess your unit for any safety hazards. You may inspect the property yourself, or hire a building inspector to do it for you. Check for clogged gutters, driveway cracks, leaky faucets or pipes, faulty electrical outlets, and but-out light bulbs. Make sure all appliances are running smoothly, including smoke detectors. It's also a good idea to equip the kitchen and each floor with a fire extinguisher.
Take Photos
One should take photos of the property prior to the tenant moving in. That way when the tenant moves out, you can prove that certain damages – beyond normal wear and tear – were the tenant's fault. You wouldn't be required to fix a lot of things if they are broken because of the tenant's misuse of them. The photos will serve as good evidence.
Clean Up
You want to make your property appealing to tenants. A messy, dirty unit may deter individuals, so it's crucial to have everything in order. Shampoo carpets, vacuum, polish hardwood, paint walls a neutral color, clean windows and blinds, scrub appliances, and dust furnishings.
Notify Mortgage & Insurance Companies
You must notify your mortgage company of your intent to rent, as you must meet certain credentials. Make sure you are aware of all the relevant legalities.
Your mortgage company will have certain rights to the property to protect its security interest. You should also consider switching your insurance policy to a landlord property insurance policy. This will cover any losses or damages caused by tenants' negligence, natural disasters, fire, and/or water damage. You should also urge your tenants to obtain their own renter's insurance policies.
Legalities
Confirm that your property meets all safety guidelines and regulations, which may entail things like stairs, railings, blinds, balconies, pools, and windows. Refer to the Residential Tenancies Act to verify if the unit satisfies all current standards.
Keeping Up With Maintenance
Once your property is in habitable condition and your tenant has moved in, it is your responsibility to make repairs and conduct general maintenance throughout the course of the lease. Maintaining adequate heating, water, electricity, and cleanliness are necessary to continually provide a sustainable living environment. Local building and housing codes usually have set regulations in place, so make sure to refer to those in advance.
Preventative Maintenance
There are precautions you should take to avoid a future dilemma. This includes exterminating the property regularly and ensuring the smoke and carbon monoxide detectors work. You should also ensure the property is prepared for any natural disasters.
Walkthroughs
Certain rules apply to entering your property to perform an inspection. You should speak with your tenant to verify what they are most comfortable with. Typically, you should provide at least a 24-hour notice for entry to the rental property. The only exception to this would be in the case of an emergency, such as a fire or serious leak. However, having scheduled walkthroughs of the property (ideally every 6 months) to ensure everything's running smoothly is essential to your unit's preservation.
Requests and Complaints
When a tenant encounters an issue on the property, the first person they will turn to is you. Provide them with a phone number and address where you can be reached. Establishing a default method of communication, such as text messaging or email will help you keep track of things as well. The messages you receive may be about things as minuscule as a broken door handle or as serious as a burst pipe.
In any case, it is important that you treat each problem with the same sense of urgency. Responding to tenants' demands in a prompt fashion is absolutely crucial. You may delegate certain tasks to the tenant and bestow them with a certain level of authority, but you should still keep an eye on it. This is your investment, after all. However, always keep in mind that you should respect your tenant's privacy.
Performing Repairs
Having a good handyman is essential for a landlord. If you're handy, then you may be able to take care a lot of the property's maintenance on your own. However, if you need more help, or a more serious issue arises, then you'll need to have access to an affordable and reliable handyman. Before actually performing the repairs, make sure to check with your tenant for times that work for them.
Hiring a handyman or contractor can be difficult, however resources like Angie's List, HomeAdvisor, Porch, and Houzz can help you find the professionals you need. Remember to keep these things in mind:
What you want done: Make sure you know exactly what needs to be worked on in the property and write a list. Don't alter the plan as you go along or ask for extra things to be done, as a last-minute change of heart can turn into a huge spike in the worker's cost.
Negotiations: Don't be afraid to bargain with the handyman. The costs of repairs add up quickly and most of the time you can come to a consensus that's much better for your wallet.
Price rates: If the individual charges by the hour, then it is best to be present when the repairs are being made. This way, you can make sure that no time is being wasted. If you agree on only certain jobs, then make sure you only have to pay a flat rate for what you need.
Put everything in writing: You should treat your business with a handyman or contractor like that of your rental property. Try to do all communications through text or email so you can have records of what was agreed on and what occurred.
Time: Agree on a time that you want the project done by and implement monetary consequences. One of the main reasons to hire a handyman or contractor is to get the job done quickly and correctly. If the individual does not abide by what you agree on, make sure your contract includes a fee for running off schedule.
Consequences:
If you do not attend to the tenant's maintenance requests, then there are certain actions your tenant can take against you. This includes:
Paying less rent
Not paying rent at all
Calling a building inspector
Moving out — even in the middle of a lease
Issuing a lawsuit
Collecting Rent
The profitability of your business will depend on your ability to manage your cash flow and collect rent on time. Renters can sometimes prove to be financially irresponsible, so it's extremely important to be on top of the rent payment.
Auto-Pay: One of the best ways to guarantee prompt payment from your tenants is to use an auto-pay system. This will completely eliminate the possibility of human error, as your tenants will not be able to "forget" to pay. Some systems will even deposit the money directly to your bank account. Some examples of this online payment method are:
Note that many of the services that provide an auto-pay feature may be property management websites with a variety of other tools. This means you may not be able to use the auto-pay feature without using everything else that is offered, and you also may be paying for much more than you're actually using.
Online Payment
There are several resources like those listed above to have your tenants pay rent online. It does not necessarily have to be automatic, but you may implement certain consequences like late fees to keep your tenants from missing payments. Using an online system will be more efficient and it will be much easier to keep track of everything.
Cash Payment
You should not accept cash payments from your renters. This is because cash is easily lost and leaves no paper trail. Also, if your tenant is carrying thousands of dollars on them at a time, it may suggest that they are involved in some sort of illegal activity. If you notice this, ask your tenant a variety of questions to gauge the situation. Cash can be dangerous and it'll be better for you in the long run if you simply use other payment methods.
Checks/Money Orders
Personal checks are a bit iffy because there is no way to verify their legitimacy. It's best to only accept personal checks on occasion. Certified checks are a bit more secure than personal checks, but cashier's checks are the way to go. In terms of money orders, these are completely fine, though the process to receive the funds may be longer. There is also a small fee attached to money orders.
Enforcing Rental Policy
Make it clear to your renters how much money is due every month, when it is due, if there is a grace period, where payments will be made, acceptable payment methods, and the consequences for not paying. It is okay to cut a tenant some slack if they are going through a rough patch, but being too lax or forgiving will only hurt your business. If they are late with their payment, contact your tenant and ask them the necessary questions:
When should I expect to receive the payment from you?
Where will you be submitting payment?
What is the exact amount you will be paying?
What will be your method of payment?
Let your tenants know that if they continuously miss payments, then you will be reporting them to the credit agency or serving them an eviction notice.
Evictions
Bad tenants are unavoidable. Even if you take all the necessary precautions, there's still a chance for things to go sideways. So, when it comes to the point that you want your tenant out of your property, here are the steps you should take:
Understand Eviction Laws
Refer to Uniform Residential Landlord and Tenant Act (URLTA) for rules and regulations regarding tenant evictions. Here are a few things you are NOT allowed to do:
Change the lock or lock the tenant out of their unit.
Remove the tenant's belongings from the property.
Physically remove the tenant from the property.
Shut off water, electricity, gas, etc.
Harass the tenant.
For more information on landlord-tenant laws, visit this page.
Have A Valid Reason
It's not a good idea to undergo this process if you do not have a reasonable, legal reason to evict your tenant. Suitable reasons include the tenant:
Failing to pay rent
Violating the lease agreement
Significantly damaging the property
Causing health/safety hazards
Engaging in illicit activities
If you decide that you don't really have a good reason to evict the tenant, or if the process doesn't seem to be worth the trouble, try to reason with your tenant. Talk to them and see if you can work something out. It's important to be understanding but stand your ground as well.
Give Them A Notice
If the tenant chooses to not cooperate, then it is time to serve them a formal eviction notice. This is essentially an ultimatum for the tenant to either comply or move out. Make sure to give them a deadline and the amount of fees owed (if any). Consider using state-specific eviction forms found here.
File Your Eviction and Prepare for Court
Once you have decided to fully carry out the eviction process, visit your local courthouse and file the documents. You will need to pay a fee and show proof of adequate notice to the tenant.
Gather all the relevant information and documentation needed for the court hearing. Make sure you are prepared for any arguments your tenant might make against you. If you are attempting to collect past-due rent, you may also need to file a claim with a small claims court. Otherwise, you may garnish their wages or tax refund, or hire a private debt collector.
Evict the Tenant
If all goes well, the tenant will be given a set amount of time to vacate the premises. If the tenant does not leave on time, you have the right to contact the Sheriff's Office so someone can escort them for you.
Tenant Expectations
Your tenant should be aware of all the rules they must adhere to while they rent your property. Again, these obligations may differ from state to state, so make sure to refer to our State Law Guides. The main requirements for your tenant, however, are to follow the lease agreement, maintain the premises, and allow the landlord to enter the residence when necessary.
The Lease
Signing a lease means your tenant has agreed to all of the information outlined in the document. If your tenant fails to meet the corresponding standards, then they will be breaching the lease and you are entitled to take action. As the landlord, you have the right to collect damages or go through the eviction process if your tenant is noncompliant. Your tenant is also expected to pay rent in full at the designated time each month.
Cleanliness
It is the tenant's responsibility to keep the premises clean and dispose of garbage accordingly. The lease should outline who is responsible for what, in terms of mowing the lawn, raking leaves, shoveling snow, and so on. In an apartment complex, this would be maintenance workers' duties. In a home, it would be the tenants'.
Damages
Tenants must repair anything they have broken or damaged on the property. The landlord cannot charge tenants for damage caused by wear-and-tear over the years. It is the landlord's duty to provide a habitable space and they should schedule to regularly check in on the property. Usually, the landlord does not need to make repairs unless the tenant provides a written response. Remember that you cannot regularly enter properties without due cause, meaning it is important that the tenant be aware of the day-to-day maintenance that they must complete. Mowing the lawn and taking out the trash is their responsibility.
Amenities
Tenants must use electrical, plumbing, sanitary, heating, ventilating, air-conditioning, and other facilities and systems, including elevators, properly. 
In addition, they must act respectfully in common areas.
Communication
The tenant should always notify the landlord immediately if dangerous conditions or other severe issues arise and persist.
Tips and Tricks
Read up: It will be extremely helpful to you in the future if you take the time to study the federal, state, and local laws regarding rental properties. Breaking these laws could be very costly and even criminal. It's better to save yourself the trouble and become a legal expert before your rent your property.
Manage your time: Devoting yourself to your property will ensure its success. It's important that you always make yourself available and attend to every issue in a prompt manner.
Be professional: When problems come your way, always aim to maintain a calm and collected demeanor. Establish a good relationship with tenants and always enforce the lease agreement. Respect their privacy, but also make sure they are regularly informing you on the status of your property. Remember that you are running a business.
Stay organized: Keeping track of all your paperwork and expenses can become very overwhelming. You should develop a functional filing system and store all documents so you can refer to them in the future.
Save: Make sure to save some money for a rainy day. Consider setting up a reserve account or obtaining a line of credit to prepare for unexpected expenses.
Network: Making connections with other landlords or property managers can be a great way to gain knowledge and receive help. Taking classes or participating in online landlord communities can help you broaden your network and improve your business.
Choosing to self-manage your investment property is a very significant decision and will present you with many challenges. However, if you take on the right approach to each situation, the experience will be very rewarding.