Property management companies can lift a huge weight off a landlord's shoulders. They possess a specific set of skills that allow them to effectively handle all the ins and outs of the rental business. From tenants to contractors, to maintenance issues and collecting rent, property managers concern themselves with every little detail so you never skip a beat.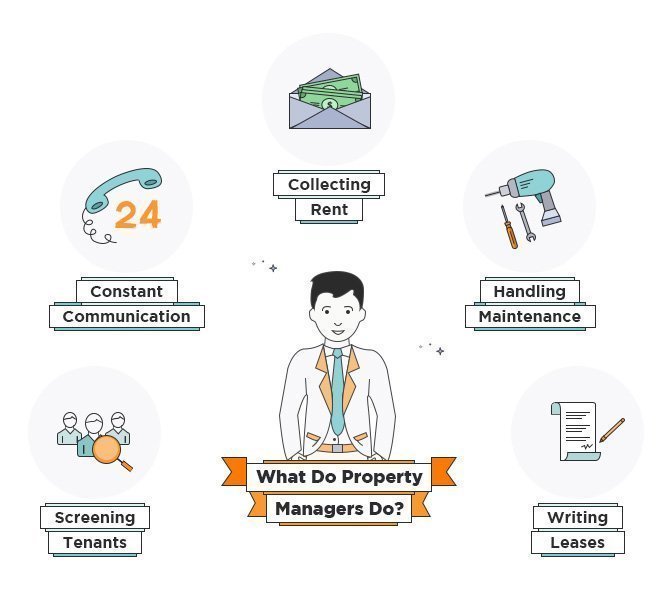 Marketing
Property managers are of great help when you put up a unit for rent. Finding tenants requires a lot of effort. It is a long and tedious process. Developing a strategy and battling competition can be pretty difficult. A property management company would administer the process by:
Preparing the unit: Property managers will make your rental unit as alluring as possible to attract prospective tenants. They will:

Clean the property.
Stage the interior (paint walls, arrange furniture, decorate, etc.).
Work on landscaping and improving curb appeal.
Create ads.
Hang up flyers.
Write newspaper listings.
Make signs.
Post on rental websites.
Post on "Multiple Listing Services."
Networking: Property management companies will be able to communicate with realtors and leasing agents to find potential tenants. Their work with other individuals in the business will draw more attention to your unit.
Comparisons: Property managers will conduct thorough research on your location and other rental properties in it. A property manager will compare your unit and its amenities to others', and figure out how much it should be worth based on what other people are charging.
24/7 communication: You will be able to receive information on a constant basis. Property managers will have a form of 24/7 communication. Even prospective tenants would be able to contact the property management company, at any time. They will schedule viewings and meet prospective tenants, answering phone calls and inquiries, and provide prospective tenants with applications.
Rent
A property management company will take on the crucial tasks of setting the rent and collecting it. Here are some of the procedures:
Documentation: Property managers will take extensive photos of the property (both indoors and outdoors), as well as file and organize important documents.
Assessing the property: A property manager has the resources and abilities to evaluate the unit and determine its value. They'll also identify potential improvements and changes.
Calculations: Property managers will make an accurate calculation of the unit's value and determine the ideal rent rate. They will also determine the accurate rental occupancy rate, which will lead to shortened vacancy cycles.
Optimize the rent system: Property managers will implement the best rent collection system for your property. It will be easy for both you and your tenants to use, so there will be no confusion in the future. Property managers will ensure that tenants are aware of how to utilize the system properly. Even if you end up using a form of online payment, property management companies ensure all of the variables are taken care of. They want to guarantee that payments are being made in full and on time. This also takes care of the awful paper trail, allowing you to store all documents easily on your device.
Late payments: If tenants fail to make a rent payment, then the property manager will take it upon themselves to track down the tenant and receive the funds. They will deal with any of the issues that might arise in this situation and always enforce the lease. In addition, they may issue a standard late fee and continuously enforce that as well. If a tenant regularly misses rent payments, the property manager will send out pay or eviction notices.
Maintenance
Property managers will be able to establish a functional, effective dynamic to tend to all maintenance issues. They will always get issues fixed quickly and sufficiently.
Contacts: Property managers will have credible, reliable handymen in their contacts. Some may even have entire crews that will be on call for any maintenance requests or emergencies.
Time: They will take care of all maintenance problems and demands as soon as possible (with proper notice of entry).
Notice of entry: Tenants will always receive a notification of entry to the property. When a repairman needs to fix something, property managers will schedule a time with the tenant that works best for them. The job will get done in a timely and accurate fashion.
Satisfaction: Property managers will always make sure to fix the property and improve it. Additionally, they will always contact tenants to verify if everything is up to par.
Legalities
Property managers are well-versed in landlord-tenant law. They are aware of all rules and regulations and will always confirm that everything is legally compliant.
Documentation: Property managers will have all proper documents in place and will verify their legal compliance. All lease agreements and notices issued to tenants will be thoroughly proofread. They will also file extensive photos and descriptions of the property as records for future reference. This will come in handy during an eviction or legal dispute.
Tenants' privacy: The professionalism of property managers can ensure your tenants will always feel safe and secure. Property managers have the wide range of knowledge to traverse all kinds of situations, therefore avoiding future issues.
Evictions: In the advent of an eviction, property managers will handle all of the paperwork. They will be able to provide evidence or records in a legal dispute which will help save you money during the process. Many states require for evictions to go to court, so it is very convenient to have someone who knows exactly how to handle that.
Tenants
Dealing with tenants is often the most taxing part of owning an investment property. A property manager will possess the skills needed when communicating with tenants and fulfilling their requests.
Screening tenants: Upon finding some prospective tenants, the property manager will begin narrowing down the list. Having a trustworthy, reliable tenant is one of the deciding factors in the success of your investment property. A property manager will conduct all the necessary research on the individual to ensure they make the best choice for your business. Certain procedures include background checks, credit checks, contacting past landlords, contacting employers, doing online searches, and interviewing the prospective tenant.
Moving in: There are lots of variables involved with the tenant's move-in. A property manager will:

Finalize an official leasing agreement that is legally compliant.
Confirm the move-in date with the tenant and verify the end-date of the lease.
Perform a move-in inspection.
Collect first month's rent and a security deposit or application fee (if any).
Go over the terms of the lease with the tenant.
Complaints and requests: Listening to tenants' complaints and working to resolve their issues can prove to be quite frustrating. Property managers can eliminate this stressor for you. They will be professional, understanding, and authoritative in any situation. Not only will they listen to the tenants' issues and requests, but they will tend to them promptly and efficiently.
Key Qualities
The tasks discussed above are the fundamental services that property management companies offer. Keep in mind that services vary from company to company, so make sure to do adequate research. If you'd like to learn more about how property managers can differ, check out this guide. That being said, there are certain qualities that make for a good property manager.
Leadership: A good property manager will guide you towards success. They should be able to tackle issues head-on and help you understand all the ins and outs of the business. When interviewing prospective property management companies, make sure to ask who your manager will be and who will be working alongside them. It's important to have a well-built team that thrives together.
People skills: Property managers deal with people at every hour of the day, so they should be good at it. From angry tenants to the maintenance man, there are countless people they must communicate with. They must be professional, charismatic, and understanding.
Financial stewardship: You should look for a property management company that has a strong internal financial management team. They should have certified accountants with an acute attention to detail.
Vendor relationships: A company with good connections and long-held partnerships really showcases its credibility. It's also helpful in getting you discounts, as they'll be able to negotiate with service providers and get the best deal possible.
Responsiveness: There's a wide variety of issues that could arise on your property and they should be attended to in a timely, effective manner. Good property managers will always be there to answer questions you have and take care of any and all problems.
Transparency: You want a property manager that is going to be upfront with you about everything. That means taking responsibility for their actions and always keeping you in the loop.