Our Review
The Bottom Line: with 4 report types of varying depths of information, TenantAlert scored highly in all main areas (eviction, criminal, credit and income) while also being in the middle range of pricing in the market for premium reports ($50). As a result, it ranks as one of the services we recommend most.
With TenantAlert's screening service, you get more than with many other options out there. They offer quite a few services including some unique options that are hard to find elsewhere. Their service only requires you to know the name and email address of your tenant. From there, TenantAlert contacts them directly inviting them to complete the screening application.

TenantAlert Sign-Up Process
There are 4 different packages to choose from and some changes that can be made to the packages as needed. You will get to choose if you or the tenant pays the cost of screening. For the credit report, TenantAlert works with all 3 major credit bureaus giving you an average of the 3 scores and letting you choose your preferred scoring model for your report.
The report itself is complete with all available details as well as the actual credit score. Special search technology and advanced SSN fraud detection helps ensure you get accurate results across all aspects of your screening. The criminal report from TenantAlert that is included in the various packages is instant and either nationwide or statewide according to what you choose.
These instant checks exclude 4 states, but TenantAlert also offers repository statewide and/or countywide reports that take a little longer but are more thorough and available in all states. A full eviction report is either statewide or nationwide according to your package choice. It even includes a specific check of all previous addresses alongside a previous landlord verification service by TenantAlert where they directly contact previous landlords for information.
Some of the most inclusive income information in tenant screening comes from TenantAlert. They verify tenant employment, salary/wages, employment dates, bank account information, and more. Possibly the most unique offering of TenantAlert is their LeaseGuarentee service offered for most tenants. For a yearly fee paid by you or your tenant, it provides you with guaranteed coverage on a lease of up to $10,000 for things like lost rent, property damage, and legal fees.
Lease Default Prediction
The lease default prediction report you get from TenantAlert is one of the easiest to understand of its kind. It's called TenantSelect and it has an easy scoring method that is simpler than a credit report. A simple scoring range from 0-100 sets apart TenantAlert's lease default prediction report from others that are more similar to credit scores.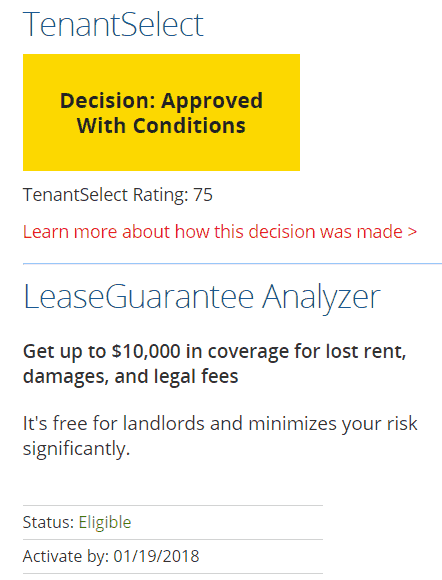 Each prospective tenant starts with a score of 100. TenantAlert deducts points from the score for negative findings on the tenant. This includes things like collections, public data on evictions, and past due accounts. The information taken into consideration for the final TenantSelect score comes from credit and eviction information. Alongside the actual TenantSelect score, you will receive an actual leasing recommendation from TenantAlert.
TenantAlert even takes it a step further with their unique "LeaseGuarentee" service. This service is similar to insurance on your lease. You can choose to pay for the service or require the tenant to pay for the service. In your screening report, you will see if your tenant is approved for LeaseGaurentee or not.
For a yearly fee, you get a certain amount of coverage on your lease agreement. You can choose options with up to $10,000 in coverage against things like lost rent, property damage, legal fees, and more. There is no deductible, each contract lasts a year and is renewable, and it's safer than a security deposit. With an easy-to-understand lease default prediction score, a simple leasing recommendation, and even the LeaseGuarentee service, TenantAlert gets a 9 out of 10 for lease default prediction.
Credit Report
TenantAlert also receives a 9 out of 10 for their credit report. They work with all 3 of the major credit bureaus and you actually get to choose the scoring model that you prefer. Additionally, you'll get to view an average of all 3 scores. The TransUnion reports specifically offer a Rental Screening Score determined with TransUnion's special algorithm designed to take renting into consideration.

TenantAlert Credit Scorecard Sample
From TenantAlert, you will get a full credit report with personal details like the prospective tenant's aliases, current address, previous addresses, date of birth, and social security number. This all helps you get a clearer picture of your tenant while also confirming that they are indeed who they say they are. Advanced SSN fraud detection further helps with identity confirmation.
The credit report is complete showing you all collections, agencies, amounts, and if things have been paid or not. You will also see public records information like tax liens, some monetary judgements, and past bankruptcies. All tradelines will be visible to you with clear details. You can even see the inquiries on the tenant's credit.
To bring it all together and keep it as easily digestible as possible, TenantAlert offers a credit summary for each tenant screened that shows you 17 important factors to consider presented in a clear and simplified way.

TenantAlert SSN Fraud Detection
Will the Credit Check Impact the Prospective Tenant's Credit Score?
There are two different kinds of credit checks – what is called a hard credit inquiry and what is called a soft credit inquiry. Since a hard credit inquiry can negatively impact your credit score, it is an understandably common concern about whether a credit check will impact the credit score.
Hard credit checks are generally for things like applying for a loan or a credit card. In the case of TenantAlert, a soft inquiry is done. TenantAlert sends an email invitation to the prospective tenant to allow them to authorize the release of their credit information. This prevents it from having an impact on their credit.
Eviction History
One of the number one predictors of future evictions is past evictions. If a tenant has been unreliable in the past, it is reasonable to expect them to be unreliable in the future. TenantAlert gets a 9 out of 10 for eviction history offering nationwide or statewide eviction checks based on the screening package you choose to purchase.
The report searches civil data from county level courts to help avoid missing any details. It shows you any time that a judgement for property has been made for your prospective tenant regardless of if the judgement was monetary or not. On the report you will see:
Plaintiff name
Defendant name
Address of the property
Date filed
Date of judgment
Judgement
Case number
County and state
The eviction report even specifically checks all previous addresses of the prospective tenant to provide the least amount of risk possible in missing potentially important eviction data. Any addresses associated with the applicant or found in the previous address search will be checked.

TenantAlert Eviction Sample
Criminal Report
It is important to understand who you are renting your property to. You don't want a criminal in your property possibly damaging it, causing issues and possibly even posing danger to other tenants and/or neighbors. The criminal report that you get from most tenant screening services helps you avoid just that.
TenantAlert gets an 8 out of 10 for their criminal report. They offer instant criminal reports in their packages that are either nationwide or statewide based off of the package you choose. The instant check searches online databases and gives you fast results showing misdemeanors, felonies, sex offender search results, terrorist alerts, and federal crimes.
All aliases known or found for your prospective tenant are also searched with no additional cost. Unfortunately, the major downfall with the instant criminal reports is that they are not available for Delaware, Massachusetts, South Dakota, or Wyoming. This means they are omitted completely even for the nationwide instant criminal check.
Something different about TenantAlert compared to many other screening services is that they also offer repository statewide and repository countywide criminal background checks. These generally take 1 to 4 business days for statewide and varying amounts of time for countywide. They go more in depth searching court records manually to get the most up-to-date information available. You can choose to add these to any screening package.

TenantAlert Criminal Report Sample
Income Information
TenantAlert gets an even higher score of 10 out of 10 for their income information. They provide more insight into a prospective tenant's income than nearly any other screening service available. One of the major things that TenantAlert does to provide you with income information that just isn't common amongst other tenant screening services is verifying employment.
TenantAlert actually contacts your prospective tenant's employer to verify all relevant details of your tenant's employment. This generally has a turnaround time of 1 to 3 business days. The report will not only verify that the tenant is employed with the employer listed but will also tell you other important details such as:
Company name
Employee position
Wages or salary
Employment dates
Employee timeliness
Past promotions
Past pay increases
Verifying employment isn't all that TenantAlert does, though. They also verify the tenant's bank account. They do this by emailing the tenant requesting for them to authorize for the release of the bank information to you through TenantAlert. Once they do so, you will get a bank history somewhere between 60 and 90 days long.
The information shown in the report will tell you the account balance, show you large withdrawals and large deposits (tenant's income), and reveal any late fee charges or overdraft fees that the tenant has had. You'll even be able to view a simple pie chart showing you the tenant's spending categories. Finally, TenantAlert also runs your prospective tenant through a search called Clover Check Acceptance (formerly Telecheck) to determine if they have a history of writing bad checks.

TenantAlert Check Verification