Our Review
The Bottom Line: while pricey in aggregate for all 4 report types (~$60), we were impressed with the quality and depth of information in each and feel comfortable recommending it.
LeaseRunner is a 100% online service that is designed to cover all aspects of online leasing. Their tenant screening service is simple yet thorough. They offer 4 tenant screening services that are all sold individually. This includes a credit report, a criminal background report, an eviction report, and a financial report. All you have to do is provide your request to LeaseRunner with the prospective tenant's name and email. They do the rest.
For all of their reports, they provide you with all available information. With the credit report, this means that you get the credit score as well as all other credit details obtained during the credit check, which is a soft check that has no effect on the tenant's credit. The eviction report shows results from searching over 36 million records over a 7-year search history to show you all matching tenant/landlord cases with full detailing of those cases.
A very thorough nationwide criminal report uses alias searching technology to bring back all possible records of your prospective tenant. It covers all 50 states and Washington D.C. In the report, you receive all available data including traffic records, infractions, misdemeanors, and felonies. Searches are also done in the sex offender registry, most wanted lists, terrorist watch lists, and more.
LeaseRunner's financial report really sets them apart by retrieving solid data directly from the tenant's bank to give you a clear picture of their financial situation. Many other services are offered by LeaseRunner alongside the tenant screening including a free online application service, free rental ad creation, a digital lease for your specific state with e-signature services, and even online rental collection.
Lease Default Prediction
When LeaseRunner does a credit check on a tenant, they specifically use a credit scoring model called VantageScore 3.0. This is important because while all credit score models have the same basic goal of predicting a person's financial trustworthiness, they each work a little differently and provide results that vary from one another.

LeaseRunner Experian VantageScore 3.0
In this case, VantageScore 3.0 is shown to perform better for predicting the risk of a tenant defaulting on a lease. Since they do use this specific model due to its enhanced lease default prediction performance, LeaseRunner gets a 3 out of 10 for lease default prediction. The reason the score is not higher is because they do not provide a score that is seperate from the credit score or that is specifically designed for this purpose as many other screening services do.
Credit Report
LeaseRunner receives a full 10 out of 10 for their credit report. This is because they provide a complete report with all details including, of course, the actual credit score of the prospective tenant. The report is specially formatted to be easy to read and understand.
It shows all the details available from the credit check including things like bankruptcies, foreclosures, and repossessions. The report details out all accounts the client has open or has previously closed. This includes amounts, past payments, creditor names, and more.
Not only do you get the full credit report and score in an easy-to-read format, but the credit report from LeaseRunner also includes additional data found like identifying information and public record details. This means you will get things like a previous address history, for example. The previous addresses found even include sources of how the address was discovered.
What really sets the report apart is that it looks for employer data with timeframes and sources. This includes current employers and past employers of the prospective tenant. You will also get a list of aliases when available and the report even provides social security number verification in a fraud prevention summary.
LeaseRunner Credit Report Summary
Will the Credit Check Impact the Prospective Tenant's Credit Score?
There are two different kinds of credit checks – what is called a hard credit inquiry and what is called a soft credit inquiry. Since a hard credit inquiry can negatively impact your credit score, it is an understandably common concern about whether a credit check will impact the credit score.
Hard credit checks are generally for things like applying for a loan or a credit card. In the case of LeaseRunner, a soft credit inquiry is done. LeaseRunner sends your prospective tenant an email where they are invited to release the credit information to you. Since this acts just as if the prospective tenant had checked their own credit, it counts as a soft inquiry and will not affect their credit.
Eviction History
One of the number one predictors of future evictions is past evictions. If a tenant has been unreliable in the past, it is reasonable to expect them to be unreliable in the future. LeaseRunner gets another high score in this category of 9 out of 10.
They provide a nationwide search with a 7-year search history that is updated daily. Over 36 million records are searched to find any possible matching eviction cases. In the report, you will be able to view all of the details that are available for any matches found for your prospective tenant.
This includes details like the name of the plaintiff, the filing date, the name of the court, the case number, the type of case, and more. You will know if matches for unlawful detainers, property damage claims, or monetary judgements show up for your prospective tenant.

LeaseRunner Eviction Report Example
Criminal Report
It is important to understand who you are renting your property to. You don't want a criminal in your property possibly damaging it, causing issues and possibly even posing danger to other tenants and/or neighbors. The criminal report that you get from most tenant screening services helps you avoid just that.
LeaseRunner scores another 9 out of 10 for their credit report. A huge part of this score is that their criminal report is nationwide covering all 50 states and Washington D.C. Due to the way criminal data is stored and the way it is retrieved by certain companies, this is not a service offered by all tenant screening services. Many services completely omit certain states from their criminal background checks.
With LeaseRunner, there is much less of a chance of missing any criminal data matching your prospective tenant(s). LeaseRunner also utilizes their name and alias search with details like addresses, DOB, and even utility billing records to ensure that even when a record is under a different name, such as a maiden name, that it is still brought up for you.
A multi-jurisdictional court search is done all across the nation on your prospective tenant. Any and all matches that come up will be on display in the report for you to view. This includes everything from the smallest infractions to misdemeanors and felonies. You will even be able to view the tenant's traffic records if there are any.
All incarceration records, prison and inmate records, and arrest data is displayed in the LeaseRunner criminal report. There will even be photos and/or physical descriptions in many cases. This helps avoid false matches. In addition to the regular criminal data from the background check, LeaseRunner includes results from searches in the following:
Sex offender registry
Most wanted watch lists
Terrorist watch lists
Office of Foreign Assets Control (OFAC) watch/wanted list
Records for wants and warrants

LeaseRunner Criminal Report Offense Example
Income Information
The income information available from different tenant screening services tends to vary quite a lot. LeaseRunner is particularly impressive with what they offer as they actually collect solid data directly from the tenant's bank. This gives them a 9 out of 10 score for income information.
LeaseRunner utilizes what is called an Instant Action Verification in order to retrieve view-only information from the prospective tenant's bank directly. To do this, they send an email to your prospective tenant that invites them to securely enter their banking credentials and then authorize the release of the information to you through LeaseRunner.
The information retrieved is returned instantly and automatically formatted into a simple to understand financial report. The report will show you banking data from the last 90 days. In the report you get information like the current account balance, the available account balance, the type of account(s) the tenant has with the financial institution, the name of the financial institution, and the name on the account.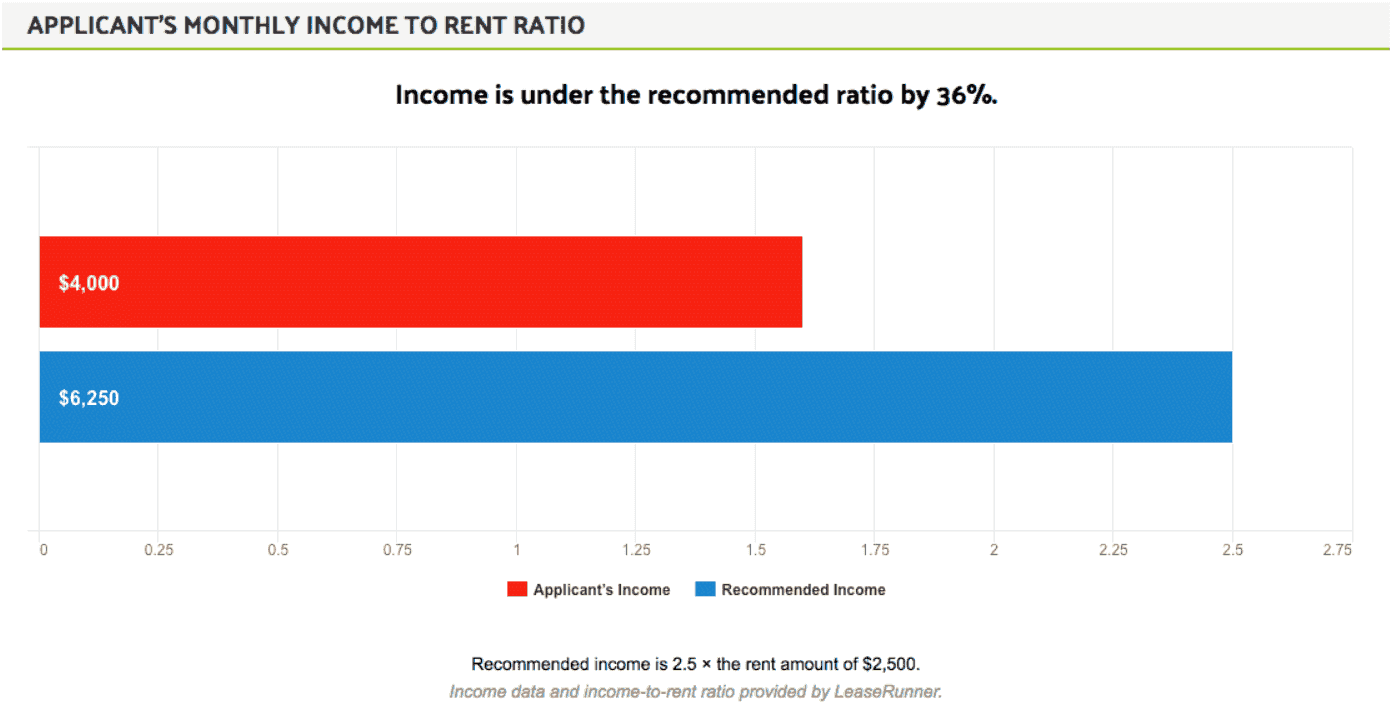 LeaseRunner Income to Rent Ratio Graph
You'll get to see cash trends and deposit details that tell you the amount of deposits, the date of deposits, and where the deposits are made from. This information allows you to verify the employment and income of your prospective tenant which are some of the most important details to consider when making a rental decision.
The financial report is visually appealing and lets you comprehend information quickly thanks to simple charts and graphs that are displayed. This includes a 3-month deposits VS. withdrawals graph as well as a 30-day deposits VS. withdrawal graph. One chart even compares cash trends in the tenant's account(s) with the monthly rent that you've entered for your property.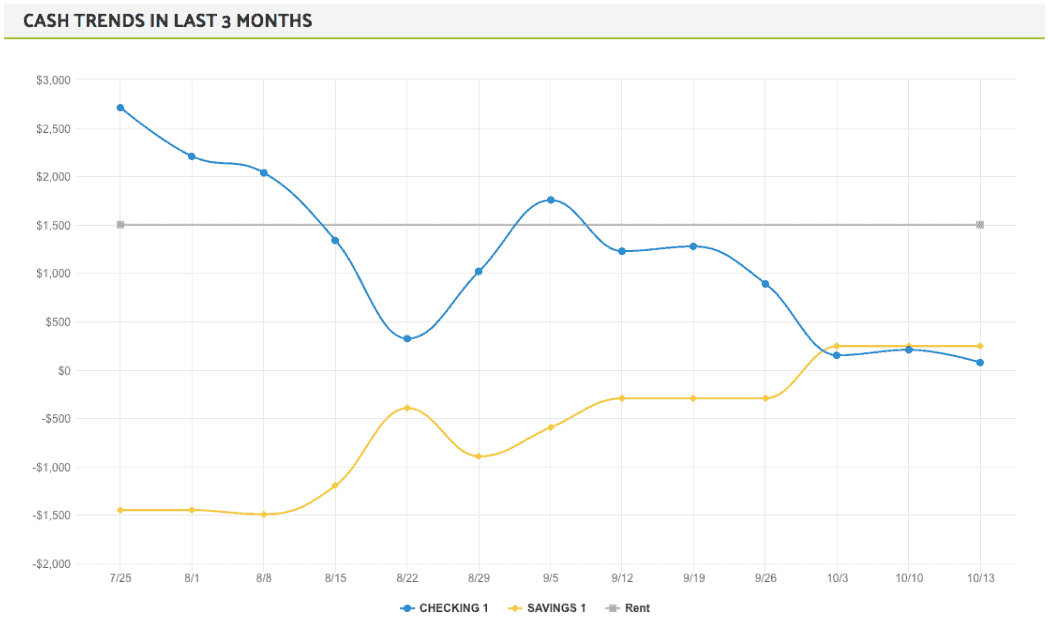 LeaseRunner Cash Trends Graph