Our Review
The Bottom Line: while the quality and depth of information put RentPrep towards the top of our list by rating, we don't love their confusing pricing setup, which costs extra for things that all landlords would want on any report (i.e. an extra $4 for a sex offender search).
The RentPrep screening service is a relatively popular option for tenant screening. They provide 2 packages that are drastically different from each other. Their first package offering is actually a variation of TransUnion's SmartMove tenant screening service. It isn't much different than what you get with SmartMove, other than the fact that you can choose to add a judgements and liens search to your report when purchasing through RentPrep.
The second package option is the RentPrep Background Check. Both packages include SSN identity verification, previous address history, national eviction search, national sex offender search, and bankruptcy search. As far as credit information goes, the SmartMove package is much more thorough and also provides you with what is called ResidentScore to help predict tenancy outcomes.
The RentPrep Background Check includes a Credit Decision Report ONLY if you purchase it as an add-on. It provides you with a pass/fail decision based on the minimum credit rating you want from your tenants. You will also get a list of simplified reasons for the tenant's rating if the tenant fails. There is no score in this case. It is also a hard inquiry that can affect your prospective tenant's credit unlike the soft inquiry done by SmartMove.
For criminal data, the SmartMove package offers an instant criminal check that excludes 4 states from its search due to the nature of instant criminal data searching. The criminal report directly from RentPrep includes all 50 states and Washington D.C. With the SmartMove package, tenant participation is required and results will be received instantly upon tenant completion.
The RentPrep Criminal Check does not require tenant participation and results are usually received within an hour as long as the report is requested during business hours of 9AM-7PM EST Monday-Thursday, 9AM-5PM EST Friday, and 10AM-3PM EST Sunday.
That is because for the Criminal Check directly by RentPrep, your report is generated manually by FCRA Certified Screeners.
RentPrep also offers additional property management tools like free forms, a podcast, a newsletter, a Facebook group, an online course, videos, a blog, and more.
Lease Default Prediction
When it comes to predicting the likelihood of lease default, RentPrep scores a 7 out of 10. If you choose their SmartMove package, you get SmartMove's ResidentScore. This is similar to an actual credit score in many ways. It falls somewhere between 350 and 850 and is based off of the prospective tenant's credit data. What sets it apart from the actual credit score is that a different algorithm is used to calculate the score.
This algorithm was very specifically created for the purpose of predicting the reliability versus risk of any particular tenant. TransUnion, the creator of SmartMove, boasts that the ResidentScore is much better at predicting tenancy outcomes compared to regular credit scores thanks to their special algorithm.
If you choose the RentPrep Background Check package option, you will then also have the option of adding a Credit Decision Report to your package. Within this report, you will receive a leasing recommendation in a pass/fail format based off of the criteria you chose in terms of the minimum credit score you would want to accept.

RentPrep SmartMove ResidentScore
Credit Report
Again, with RentPrep offering two wildly different package options, the credit report information you receive varies based on your package choice. Overall, RentPrep gets a 7 out of 10 on credit reporting. If you choose their SmartMove package, you get a lot of solid credit information with a full report.
The report gives you all available details except for the actual FICO credit score of the prospective tenant. Again, with the SmartMove package, you actually get ResidentScore, though. This is basically a credit score tailored to tenancy decisions, so it is worth consideration over receiving an actual credit score.
When you choose the RentPrep Background Check package, you can choose to add a Credit Decision Report to it. This provides you with some information but is considerably more limited. When you choose these options, you will be asked to choose a minimum credit rating that you want from your tenants.
What you get back from the report is a pass or fail based on your selected minimum credit rating. If the prospective tenant fails, it provides you with credit report summary codes giving you simplified reasoning as to why the tenant failed. You will also be able to view a simple chart showing approximately where your tenant's credit score falls.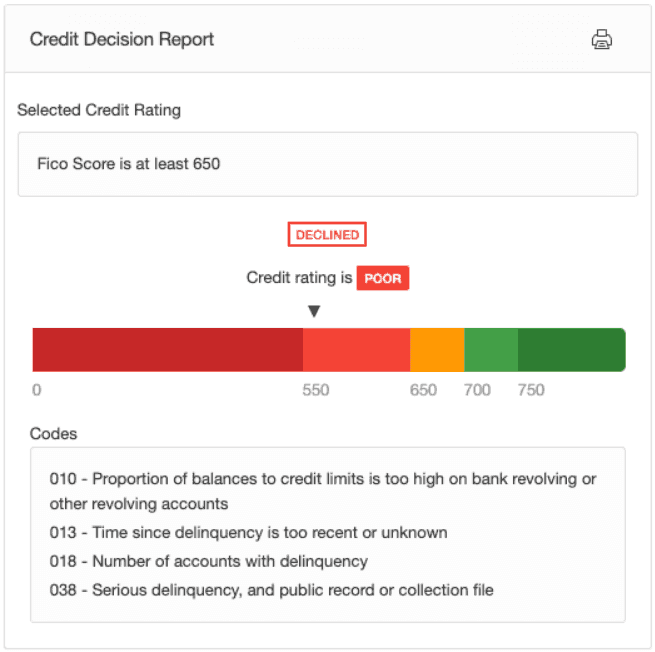 RentPrep Credit Decision Report
Will the Credit Check Impact the Prospective Tenant's Credit Score?
There are two different kinds of credit checks – what is called a hard credit inquiry and what is called a soft credit inquiry. Since a hard credit inquiry can negatively impact your credit score, it is an understandably common concern about whether a credit check will impact the credit score.
Hard credit checks are generally for things like applying for a loan or a credit card. In the case of RentPrep, the type of inquiry depends on the package you choose. With the SmartMove package, the tenant is invited via email to release their information to you. This makes the SmartMove package option do a soft inquiry that will not affect the prospective tenant's credit.
Unfortunately, this is not the case if you choose the RentPrep Background Check option and add the Credit Decision Report to it. Since the tenant wouldn't be releasing their own data in this case, the credit inquiry done would be a hard inquiry. This means that it can have a negative impact on the prospective tenant's credit.
Eviction History
One of the number one predictors of future evictions is past evictions. If a tenant has been unreliable in the past, it is reasonable to expect them to be unreliable in the future. RentPrep gets a high 9 out of 10 for their eviction history. They provide a good amount of helpful eviction data regardless of which package you choose.
The RentPrep Background Check package provides a national eviction search of various available databases. It also includes public records of all judgements and liens against the prospective tenant. With the SmartMove package, you get a national eviction report that comes from searching over 25 million eviction records in one of the world's largest eviction databases.
In the report, you see all available information in an easy-to-read format. For the SmartMove package, you can also choose to pay to add the judgements and liens search to your report. This is not a service offered directly from TransUnion with SmartMove, so it sets apart RentPrep for the SmartMove service. Both packages provide an address history.

RentPrep Address History Sample
Criminal Report
It is important to understand who you are renting your property to. You don't want a criminal in your property possibly damaging it, causing issues and possibly even posing danger to other tenants and/or neighbors. The criminal report that you get from most tenant screening services helps you avoid just that. RentPrep gets a 7 out of 10 for criminal reports. This is another report that varies in a highly relevant way based off of your package choice with RentPrep.
With the SmartMove package, you get an instant national criminal report. The report provided is thorough in terms of the information it gives you about the offense(s) of the prospective tenant. However, due to the nature of instant criminal screening and the way databases are accessed in certain states, the SmartMove criminal report completely omits any data from Delaware, Massachussettes, South Dakota, and Wyoming.
Fortunately, if you do go with the RentPrep Background check, you can add a criminal report to it. This criminal report includes all 50 states and Washington D.C. It is put together manually by the live team of FCRA Certified Screeners working at RentPrep. You are much less likely to miss any possibly relevant criminal records with this option. Both package options include a national sex offender search as well.
Income Information
When it comes to income information, RentPrep scores pretty low with a 3 out of 10. This is simply because the information they provide is pretty limited. Both packages offered by RentPrep will show you any bankruptcies in the past 10 years.
When you choose SmartMove, you will also get employer information if that information is included in the credit report. Sometimes it is and sometimes it isn't. So, this isn't a reliable way to confirm employment or income. When purchasing SmartMove services through RentPrep, you do not get the Income Insights report that TransUnion offers with their largest SmartMove package.

RentPrep Bankruptcy Report Sample