A standard rental application form is a questionnaire or disclosure form that allows a landlord to gather information relevant to picking a tenant. Generally, the information collected includes the tenant's personal information, employment and income information, rental history, household information (i.e., how many tenants, pets, etc.), credit checks and background checks.
Rental Application Forms by State
Click the state for a FREE rental application form.
How to Screen a Tenant
A landlord must take several steps to screen a tenant, below are the following steps a landlord can use to help pick the best applicant for the rental property.
1. Ask pre-screening questions, including:
What date would you like to move in?
How many people will be living in the household?
Do you have pets?
How long have you lived at your current address?
Are you willing to sign a 1-year lease?
Why do you want to move?
2. Show the rental unit and meet the prospective tenants.
3. Provide interested tenants with a rental application.
4. Collect the rental applications and fees. Additionally collect the signed consent/acknowledgment forms to perform background checks. Once the rental applications are obtained the landlord should begin the tenant screening process right away.
5. Perform a credit check and/or criminal background check by using a third-party service such as TenantAlert, MyRental, or LeaseRunner.
6. If applicable, conduct reference checks and speak to the prospective tenant's past landlords or employers. Questions that a landlord can ask past landlords include:
Would you rent to the tenant again?
Did the tenant pay rent on time?
What was the monthly rent?
Was the home maintained in a good condition?
Did you give the tenant any legal notices (i.e., noise complaints, unauthorized occupants, late rent payments, etc.)?
7. Review and analyze the information that was collected. Although most states don't have specific tenant screening criteria laws that a landlord must follow, landlords can base their decision off of the following general criteria:
Rental History – an applicant should have verifiable rent or mortgage history (from a non-relative) of a year or more. If less, it's recommended to require a co-signer on the lease.
Rent to Income Ratio – the rent should ideally be 30% or less of the tenant's income.
Credit Score – 600 or higher is recommended.
Pet Policy
Smoking Policy
False or Misleading Information on Rental Application
8. Respond to all applicants of your decision. Although it is not a requirement, it is recommended that landlords inform applicants in writing if they were approved or denied. It's important to share why an applicant was denied reducing the chance of a complaint or discrimination case.
Rental Application Laws
Some states have specific laws on what landlords must disclose upon receiving a rental application, or how long they should be kept. Below are some state-specific examples:
Colorado – landlords must disclose all costs (including any anticipated expenses) related to a rental application. This includes an itemized list of actual expenses and any screening costs. If a landlord charges an amount based on the average cost of processing the rental application, the landlord shall include information regarding how that average rental application fee is determined. Col. Rev. Stat. § 38-12-903
Delaware – landlords are required to keep applications on file for six months, even if the application was denied.
Texas – landlords are required to provide the applicant with notice of the landlord's tenant selection criteria and the grounds for denial. This includes the applicant's criminal history, previous rental history, income, credit history and failure to provide an accurate or completed rental application. Tex. Prop. Code §92.3515
New Jersey – landlords must disclose to all applicants if the property is in a flood zone (except if the dwelling has two or fewer units or it's owner-occupied with three or fewer units). New Jersey Code §46:8-50
Washington – landlords must provide written notice about the screening process to an applicant. The notice should include: the type of information that will be used for the screening i.e., credit reports, background checks, etc.), contact information of the consumer reporting agency, if the landlord will accept a previous tenant screening report, and what criteria would cause the applicant to be rejected. If this prior notice is not provided, the landlord could be charged with a $100 fine.
Washington, D.C. – landlords are required to make several disclosures to prospective tenants once the rental application has been received, including rent amount, rent control status (or exempt status), any housing code violations, application fee and security deposit amounts, whether there is a pending co-op/condo conversion, ownership/business license information, 3-year history of "mold contamination" or proof of remediation, and a copy of the "D.C. Tenant Bill of Rights."
Consent to Background Check
Landlords may request a background check from prospective tenants. For a landlord to proceed, the prospective tenant must give the landlord permission to obtain the tenant's credit and/or criminal background history. To view recommended tenant screening services, click here.
Criminal Background Check- A tenant criminal background check is performed during the screening process by a landlord to check the criminal history of a prospective renter for previous felonies, warrants, arrest data, prison records, parole/probation records and other relevant public criminal offenses.
Details about past criminal activity are collected from public federal, state and/or county court records across numerous jurisdictions. Depending on the state, an online criminal background check generally takes a few minutes to complete. However, certain states including Wyoming, Colorado, South Dakota, Massachusetts and Delaware make obtaining criminal background checks more difficult and it can take up to two weeks to obtain the information.
If a criminal record is returned, it will often include a description of the individual that committed the crime, their name, and some details about them. This section is included so that the landlord can make sure that the record matches the person in question.
It's important to choose a reputable database that provides accurate and valid information.
For more information on tenant criminal background checks, click here.
Credit Report Check- A tenant credit report check is performed during the screening process to check if a prospective renter is a good candidate financially. Credit reports allow landlords to see the prospective tenant's payment history, credit score and other financial information.
According to the Fair Credit Reporting Act (FCRA), a landlord must obtain the tenant's consent to run a credit report. After obtaining the tenant's consent, a landlord may select a credit check service that follows the FCRA. Depending on the service provider and the tenant's credit history, a credit report can take a few minutes to a week to obtain.
The landlord can choose to obtain a full detailed credit report (i.e., credit score, personal information, credit inquiries, credit accounts, public records, etc.) or a simple pass/fail credit report based on a set of requirements the landlord has provided to the credit report company.
Credit checks are around $25 to $75 per applicant and depending on the state, applicants may be charged a fee to cover the credit check cost.
For more information on tenant credit report checks, click here.
Maximum Application Fee
Some states have a maximum application fee that can be imposed per applicant. The table below outlines state-specific maximum application fees.
State
Maximum Application Fee
Alabama
No Maximum.
Alaska
No Maximum.
Arizona
No Maximum.
Arkansas
No Maximum.
California
Yes. Currently the maximum is $55.58 per applicant. This fee is adjusted yearly.
Colorado
No maximum, but the amount cannot exceed a landlord's actual cost.
Delaware
Yes. 10% of one month's rent or $50, whichever is greater.
Florida
No Maximum.
Georgia
No Maximum.
Hawaii
No Maximum.
Idaho
No Maximum.
Illinois
No Maximum.
Indiana
No Maximum.
Iowa
No Maximum.
Kansas
No Maximum.
Kentucky
No Maximum.
Louisiana
No Maximum.
Maine
No Maximum.
Maryland
No Maximum.
Massachusetts
It is illegal for a landlord to charge ANY amount for a rental application. This rule does not apply for real estate agents or brokers, and they may charge a prospective tenant a fee. The maximum amount is not specified, but a written notice is required that outlines the amount of the fee, how it should be paid, when it's due, and any portion is refundable, the date and signatures of both parties.
Michigan
No Maximum.
Minnesota
No more than the screening service's fee for an application fee.
Mississippi
No Maximum.
Missouri
No Maximum.
Montana
No Maximum.
Nebraska
No Maximum.
Nevada
No Maximum.
New Hampshire
No Maximum.
New Jersey
No Maximum.
New Mexico
No Maximum.
New York
Application fees are limited to the cost of completing the background check or $20, whichever is less. There is an exception for co-ops and condo buildings, and the prospective tenant may pay more than $20. Additionally, the fee may only be collected if the applicant is given copies of the background and credit check paperwork and a receipt or invoice from the company that performed the background check. If the applicant has had a screening report dated within 30 days, this must be accepted in place of collecting a new fee.
North Carolina
No Maximum.
North Dakota
No Maximum.
Ohio
No Maximum.
Oklahoma
No Maximum.
Oregon
No Maximum.
Pennsylvania
No Maximum.
Rhode Island
No Maximum.
South Carolina
No Maximum.
South Dakota
No Maximum.
Tennessee
No Maximum.
Texas
No Maximum.
Utah
No Maximum.
Vermont
It is illegal for a landlord to charge ANY amount for a residential rental application fee, but the landlord may charge the application for a background check.
Virginia
Maximum of $50. Additional amounts may be charged for third-party screening services, background checks, etc. If the dwelling unit is regulated by the U.S. Department of Housing and Urban Development, the fee shall not be over $32 (this does not include any additional out-of-pocket expenses).
Washington
Washington law prohibits landlords from charging any amount higher than the costs incurred in obtaining tenant screening reports for an application fee.
Washington D.C.
No Maximum.
West Virginia
No Maximum.
Wisconsin
Wisconsin does not limit how much can be charged as an application fee, known within state law as an "earnest money deposit." However, landlords may charge up to $20 for a credit check. If the tenant has a credit report less than 30 days old, the landlord must accept it without charge.
Wyoming
No Maximum.
Cities and counties may impose their own maximum application fee, so it's best to check with the laws within your state.
What Landlords Can't Ask For
According to the Federal Fair Housing Act, landlords are not allowed to ask about certain things and cannot discriminate against a prospective tenant based on the following reasons:
Race
Color
Religion
Sex
National Origin
Familial Status
Disability
This means a rental application cannot ask what race, color or nationality a prospective tenant is, what their religion is, their sex, if they are pregnant or have children, or if they have a disability.
Prospective tenants who believe that they have been victims of an illegal housing practice can pursue a lawsuit or file a complaint with the Department of Housing and Urban Development (HUD). Additionally, the Department of Justice can bring forth cases in federal court.
There are also state-specific protected classes. Examples of additional anti-discrimination protections include age, sexual orientation/gender identity, genetic information, immigration/citizenship status, source of income, HIV/AIDS, military status, and ancestry.
False/Misleading Info
Tenants have a responsibility to be honest and truthful in completing a rental application. Some states have legal repercussions or other consequences if a tenant lies on their application.
Alabama – landlords can evict tenants who put false/misleading information on the rental application, even if they correct the information later.
Arizona – a tenant who puts false/misleading information on the rental application regarding: number of occupants, pets, income, tenant's social security number, current employment, criminal record, eviction history, or current criminal activity has ten days to correct the information or be evicted. Landlords can still evict tenants over false information regarding criminal and eviction history, even if the tenant corrects the information within ten days.
Kansas – tenants who falsify information on their rental application may owe fines or face jail time.
Minnesota – landlords can charge a $500 fine for tenants who falsify or omit information on the rental application.
Texas – landlords can deny a tenant's application if they provide false information.
Landlords can provide tenants with a notice to quit for providing false/misleading information on rental application.
Legally Denying Applicants
Most states don't require landlords to put rental application approvals or denials in writing; however, it is recommended to do so. Landlords can legally decline an application for the following reasons:
Rental application form isn't complete.
Poor credit score (must be the same standard for all applicants).
Poor rental history/bad references.
Criminal record (if the landlord doesn't use a "blanket policy").
Sex offender registry status.
Income is too low to pay for rent.
Too many occupants in the rental unit (violating state occupancy laws).
States have their own rental application approval/denial laws, below are some examples:
Colorado – landlords must put denials in writing stating why the application was denied within 20 days of making the decision to deny the application.
Florida – landlords must inform active-duty members of the military and Florida National Guard if their rental application has been accepted within seven days.
Minnesota– landlords must let prospective tenants know why their application was denied within 14 days of making the decision.
New York – landlords may not deny an application just because a tenant has been an involved party to a landlord/tenant lawsuit or dispute action.
Texas – an applicant is considered automatically rejected if the landlord does not provide a notice of acceptance within seven days after the applicant submits a rental application or the date the landlord accepts an application deposit.
Washington – landlords must provide a written notice to anyone whose rental applications are denied or "approved with conditions," explaining why the application was denied, or what conditions are required for the tenant to rent a unit, and why those conditions were added.
Wisconsin – landlords must accept or deny an application within three days of receiving the application fee, unless a longer time is agreed to in writing, but not to exceed 21 days.
Denying a rental application is an important and necessary part of the rental application process. Check out our tenant rejection letter template.
What to Include on a Rental Application
Rental applications are designed to help landlords find the best tenants for their rental property. Rental applications ask questions related to a tenant's financial stability, prior rental experiences, and criminal history. Typically, anyone over the age of 18 who will be living in the rental unit should complete a rental application form.
To view our FREE Rental Application form, click here.
Below we will walk you through a step-by-step process on how to complete a rental application form.
I. Personal Information.
1. Insert the rental property address at the top of the page.
2. Fill in the applicant's name, birth date and social security number. The social security number will be used for a background check and/or credit check.
3. Additionally add the applicant's driver's license number, phone number, and email address.

II. Roommates/ Other Occupants.
4. Insert the full names of any person who will be residing at the rental unit. Additionally add their birth date and the relationship to the applicant. This section is used to ensure that both the tenant and landlord are not violating state or federal occupancy guidelines. Only a certain number of people are allowed per bedroom or square footage amount.

III. Rental History.
5. List the applicant's last three addresses of where they resided. Additionally add the manager or property owners' names and phone numbers. This section alerts landlords if any issues have come up with prior landlords or other tenants.

IV. Income.
6. List the applicant's past two employers and current employer. Additionally add the applicant's job position, dates of employment, monthly income, name of supervisor, supervisor's phone and employment address.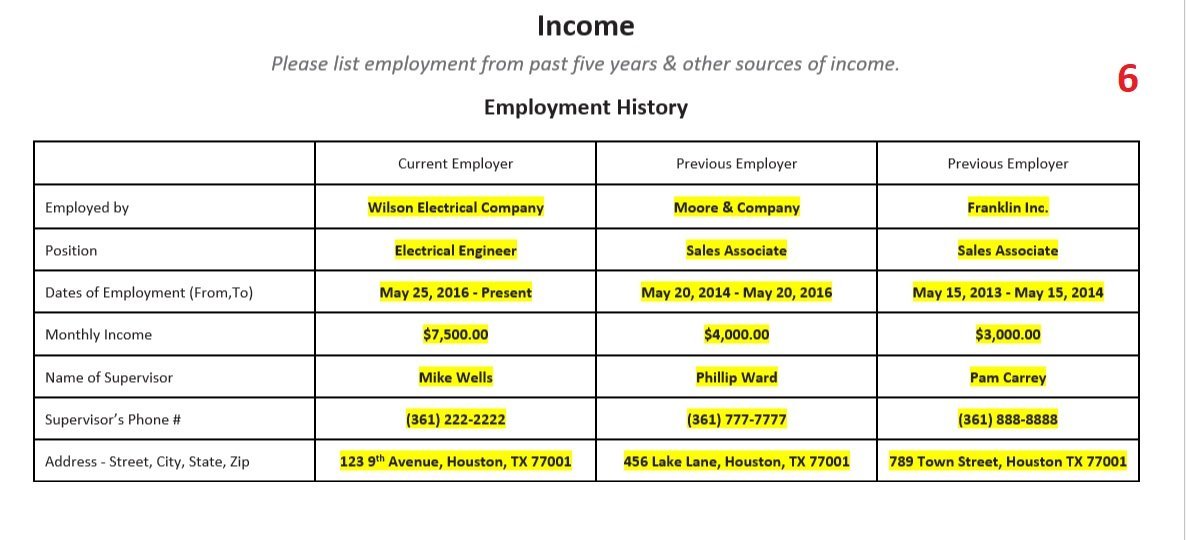 V. Other Income Sources.
7. If the applicant has other source of income (i.e., social security income, spousal support, severance statement, court ordered awards, worker's compensation, pensions, etc.).


VI. Emergency Contact Information.
8. The applicant should provide the name, phone number, address and relationship of their emergency contact.

VII. Vehicles.
9. List the applicant's vehicles. Include the make, model, year, color, license plate and state that the car is registered in. This section is used for rental units with parking lots, to ensure that only authorized vehicles (tenants) are using the lots.

VIII. Other Information.
10. Specify if the applicant has ever been evicted. Check the box marked, "Yes" or "No". If the applicant has been evicted in the past, provide the date of eviction and why the applicant was evicted (i.e., non-payment of rent, lease violation, etc.). Landlords use this section to determine if tenant would follow the landlord's rules, pay rent on time, and/or create issues with other tenants.
11. Specify if the applicant has been convicted of a felony. Check the box marked "Yes" or "No". If the applicant has been convicted of a felony, provide the date and the reason why the applicant was convicted (i.e., drug-related charges, violent crimes, sex crimes, theft, etc.). Many landlords use this information to protect tenants/themselves; however, a blanket policy prohibiting anyone with a prior conviction from renting a unit is discriminatory.
12. Specify if the applicant has filed for bankruptcy. Check the box marked "Yes" or "No". If the applicant has filed for bankruptcy provide the date and the reasons why the applicant filed.
13. Specify if the applicant smokes by checking the box marked "Yes" or "No". Many landlords have "no smoking" policies or designate certain units/areas of the rental property for smokers.
14. Specify if the applicant has pets by checking the box marked "Yes" or "No". If the applicant checked "Yes", list the type of pet, breed, and the approximate weight of animal. This section also informs landlords if they need to charge a pet deposit or if they need to enforce a "no pet" policy. Additionally, landlords cannot refuse an ADA-approved service dog or emotional support dog, even if they have a "no pet" policy, and cannot charge a pet deposit.
15. Include where you found this rental property (i.e., online search, newspaper ad, etc.).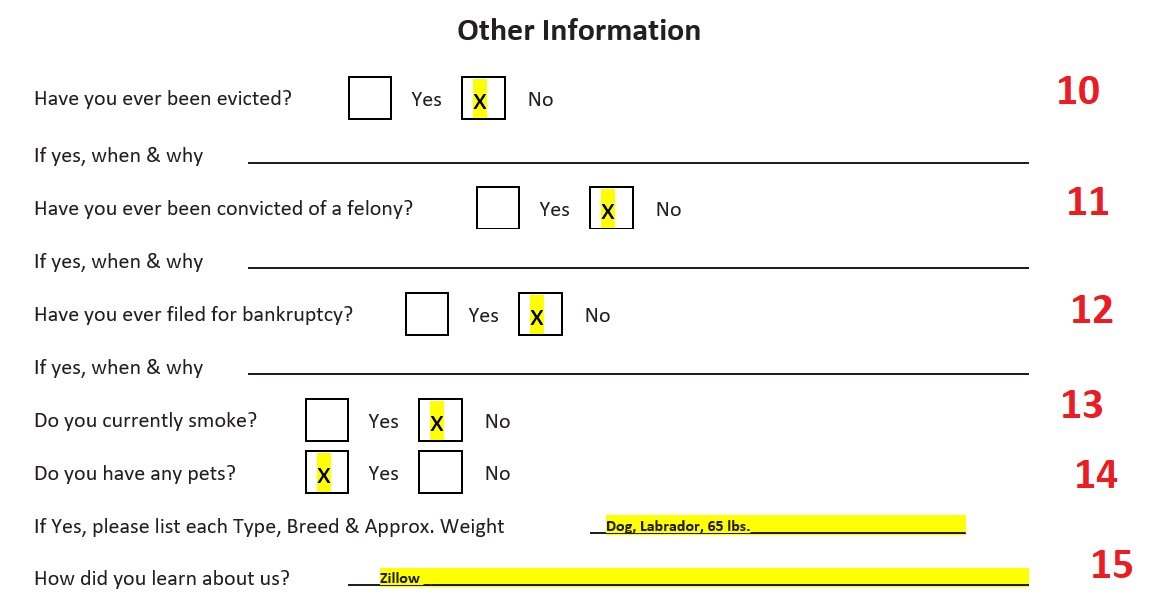 IX. Agreement & Consent to Background Check.
16. For a landlord to proceed with a background check and/or credit check, they will need the written approval of the applicant. The applicant is also acknowledging that there is a non-refundable fee that covers the cost of processing the application and no refund shall be made. If the applicant is ready to proceed, a signature and date is required.

X. Co-Signer.
Some landlords may require a co-signer, who would assume financial responsibility if the applicant isn't able to pay rent/fees.
17. Include the co-signers personal information including their full name, birth date, social security number.
18. Include the co-signer's driver's license number, phone number, email address.
19. Write the co-signer's current employer name and phone number.
20. Write the applicant's full name and the rental unit they are applying for.
21. The co-signer shall sign their name and date to complete the application.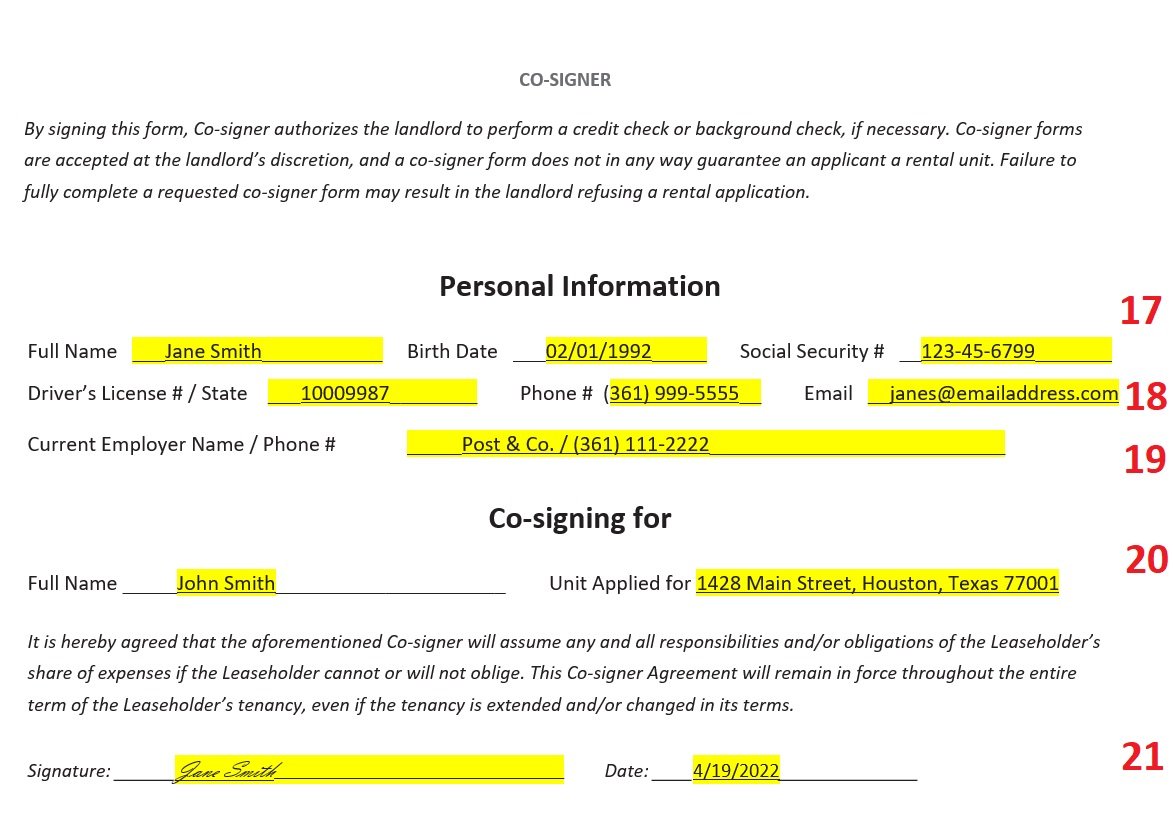 Taking the time to review each applicant can be time consuming but it is an extremely important step to selecting the right tenant for your property. Landlords should be aware of any local, state and federal laws before screening prospective tenants.