Our Review
Editor's Find (September 2020): this webpage offers reports for 20% less than what's offered on the public website.
The Bottom Line: while their $25 Basic report doesn't stack up as well on the low end of the market, MyRental's Premium report rated slightly less than alternatives on the top end of the market at a much lower price. As a result, their $35 Premium Report rates as our best pick for those who care about both price and quality.
The MyRental screening service by CoreLogic features a convenient online platform and offers 3 packages as well as the option to purchase specific reports separately. For the Premium and Premium PLUS packages, you have the option to pass the cost onto the prospective tenant.
When purchasing a credit report either separately or as a part of a package, you will only need the tenant's name and email address. MyRental will send them an email inviting them to complete the process and release credit information to you. This ensures the credit inquiry does not impact the tenant's credit.
If you are purchasing anything from MyRental that does not include the credit report, you will need the full legal name, legal address, DOB, and SSN of the prospective tenant. The largest package from MyRental includes all of their offerings such as their Tenant Score which is a 3-digit number predicting probability of lease default.
You'll also get the benefits of their Tenant Score PLUS, which also compares the score to that of other tenants in the metro area/state, city, and county. Tenant Score PLUS also shows you what percentage of landlords in your area accept a tenant with the score your applicant received.
Other offerings from MyRental are a full credit report with the actual credit score, a multi-state criminal check that covers the entire United States, sex offender alert, terrorist alert, an eviction report carefully filtered for accuracy, and previous address history. Additional tools and resources such as a blog, newsletter, e-books, live chat, and free rental application service all add further to MyRental's offerings.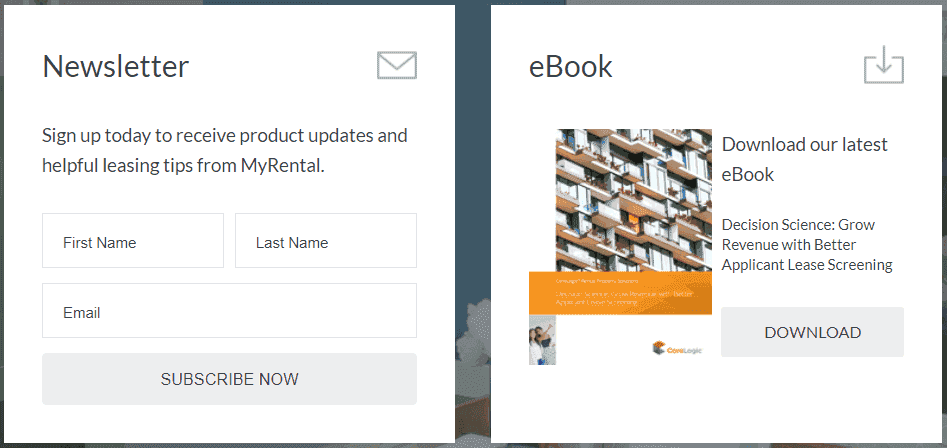 MyRental Newsletter Sign-Up and eBook Download
Lease Default Prediction
To help predict the likelihood of lease default, MyRental generates what is called a Tenant Score. This is similar in many ways to a credit score. However, the algorithm used to generate the score focuses strictly on predicting the likelihood of the prospective tenant fulfilling their lease obligation. It is generated with both credit data and other sources of data including the following:
Application information
Eviction history
Payment Performance
Bankruptcy records
Past due accounts
Credit bureau data
The score that is generated falls somewhere between 200 and 800. A clear and colorful visual depicting the score is delivered to anyone that chooses the Premium or Premium PLUS package options from MyRental. This is not a service that is sold separately and is only available in these package options.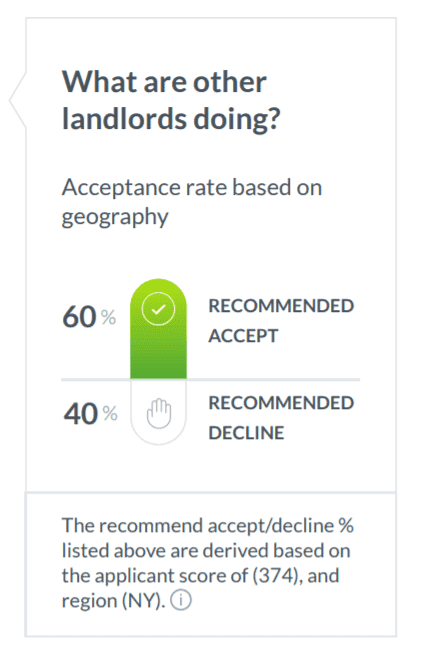 When you choose the Premium PLUS package option, you get what is called Tenant Score PLUS. This provides you with the Tenant Score as well as a chart that shows exactly how your prospective tenant compares to other tenants in your area.
You'll be able to easily view this data for the entire state or metro area, your specific city, and even your specific zip code.
Additionally, you will receive a landlord acceptance rate showing if other landlord's in your area would generally accept or decline a tenant with that score.
Due to the advanced way the Tenant Score is calculated as well as the clear, helpful, and attractive visuals that are used to present the information, MyRental gets a 9 out of 10 for their lease default prediction.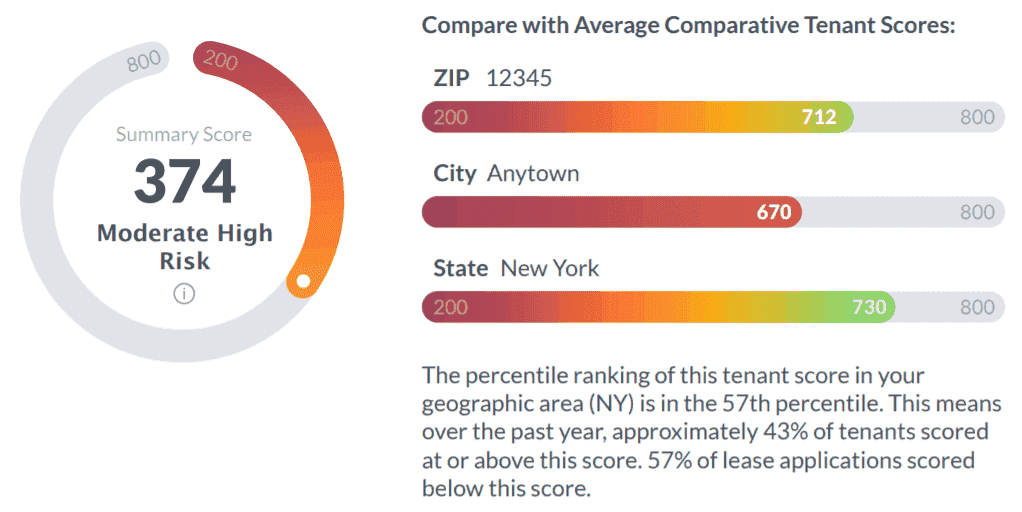 MyRental Tenant Score PLUS Visual
Credit Report
MyRental gets another high score for their credit report at 10 out of 10. They provide a full credit report including the actual credit score of the prospective tenant. This is not something you get with many other tenant screening services which is a really big part of why it gets such a high score. With MyRental's credit report, you get all of the following in addition to the full report:
Social security number validation
Full legal name and any alias
All known addresses
Public record information
Trade-line data
Any previous inquiries
Credit score

MyRental Credit Report Sample with Score
Will the Credit Check Impact the Prospective Tenant's Credit Score?
There are two different kinds of credit checks – what is called a hard credit inquiry and what is called a soft credit inquiry. Since a hard credit inquiry can negatively impact your credit score, it is an understandably common concern about whether a credit check will impact the credit score.
Hard credit checks are generally for things like applying for a loan or a credit card. In the case of MyRental's credit check, MyRental actually sends an invite to your prospective tenant to complete the application and release the credit info. This makes it a soft credit check just as if the tenant checked their own score. It will not affect the tenant's credit.
Eviction History
One of the number one predictors of future evictions is past evictions. If a tenant has been unreliable in the past, it is reasonable to expect them to be unreliable in the future. MyRental by CoreLogic provides a complete eviction report that is easy to understand. They search through public records of landlord and tenant court cases to find their info.
Then they filter records using special identity check software that automatically compares the prospective tenant to any records found. This software uses enhanced identity verification tools such as expanded renter histories. This helps give the most accurate results possible and earns MyRental a solid 8 out of 10 in eviction history.
Criminal Report
It is important to understand who you are renting your property to. You don't want a criminal in your property possibly damaging it, causing issues and possibly even posing danger to other tenants and/or neighbors. The criminal report that you get from most tenant screening services helps you avoid just that.
For their criminal report, MyRental searches multiple databases for crimes related to violence, property destruction, sex offense, and financial crimes. While it is common for screening services to exclude certain states from background checks, MyRental obtains their information in such a way that this isn't necessary. They offer a multi-state criminal background check that covers the entire United States. This is a big part of why MyRental scores a 9 out of 10 for the criminal report.
In addition to the multi-state background check that comes in each of the packages available from MyRental, you can also choose to just purchase a background check separately. If you do so, you can choose a multi-state background check, a statewide background check, or even a county level background check.
MyRental also provides a sex offender search telling you if your prospective tenant is a registered sex offender including details of any relevent cases and convictions. Finally, you will get a terrorist alert report letting you know if your prospective tenant shows up as a suspected or known terrorist or fugitive. To provide this information, MyRental searches a multitude of relevant databases including the following:
Office of Foreign Assets Control (OFAC)
FBI Most Wanted
U.S. Marshals Service Wanted
U.S. Customs Service Wanted
U.S. Department of Justice Wanted
Additional federal wanted lists
Numerous state and local wanted lists
Income Information
MyRental's lowest score is for the income information they provide. In this case, MyRental gets a 4 out of 10. That is because they do not actually do anything to attempt to verify the income of prospective tenant. However, they do get some points here because they do more than some screening services.
On the Tenant Score report from MyRental, you will be able to view your tenant's income next to the monthly rent amount that you've entered for the property that the tenant has applied for. MyRental shows you the percentage that the cost of rent is of the tenant's income to help give you an idea of if the tenant can comfortably afford to live in your rental property.