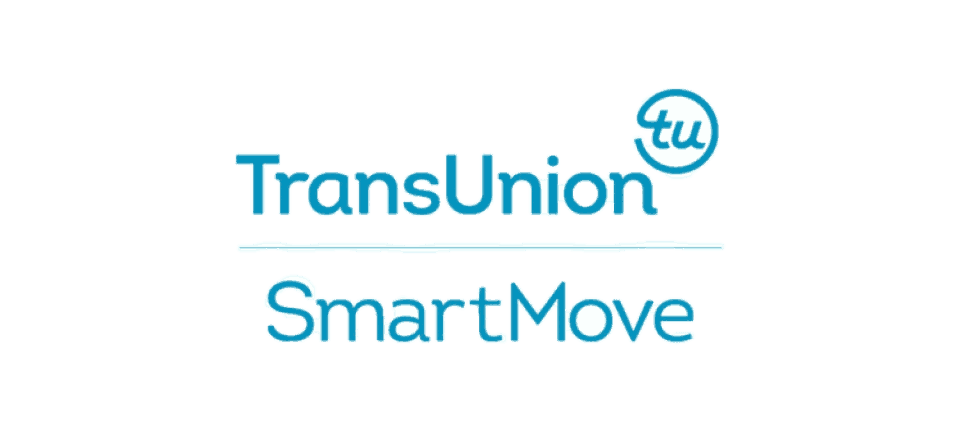 TransUnion SmartMove Review
TransUnion SmartMove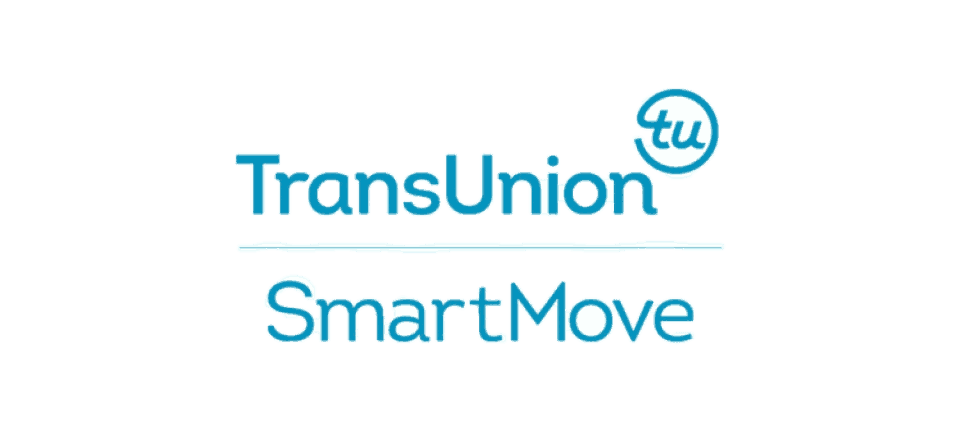 Results within minutes of tenant completion
Landlord chooses to pay or pass cost to tenant
Criminal background check excludes 4 states
Lease Default Prediction
7/10
Our Review
TransUnion's SmartMove is a straightforward tenant screening service that provides mostly comprehensive tenant screening with 3 different package options to choose from. Their complete range of services that you'll find within the 3 package choices includes credit reports, criminal background checks, national eviction checks, income estimates, and SmartMove's trademarked ResidentScore.
ResidentScore is a 3-digit number that is generated by running credit data through a formula specifically designed to predict rental behavior in a prospective tenant. To use the service, the landlord simply provides the prospective tenant's email address and SmartMove invites the tenant to complete the process.
Once the tenant does so, the results are viewable within minutes. The landlord can choose to pay for the service or pass the cost on to the tenant. The major pitfall of TransUnion's SmartMove is the fact that they exclude the states of Massachussetes, Delaware, South Dakota, and Wyoming from the criminal background check due to the illegality of instant background checks in these states.
All aspects of SmartMove are accessible 24/7 online from any device that has an internet connection. SmartMove also offers a rent collection service simply called RentPayment. Other tools offered by SmartMove include templates for acceptance letters, denial letters, and even adverse action letters. They also have a resourceful and relevant blog that is updated regularly.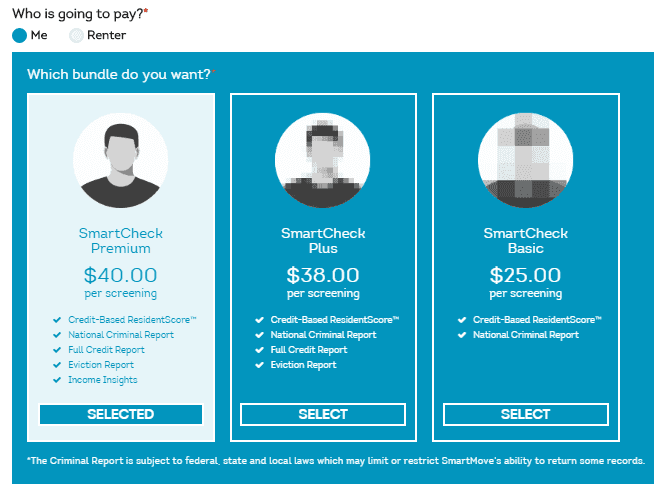 Lease Default Prediction
When screening potential tenants, there is a lot that goes into the process of deciding if a tenant is right for your property or not. It is a big decision that shouldn't be taken lightly and it all basically comes down to predicting the likelihood of the tenant being reliable versus the tenant being a risk to your property and your profit.
TransUnion's SmartMove uses what they call ResidentScore to give you a prediction for the likelihood of lease default. We've rated ResidentScore 7 out of 10 for it's lease default prediction capabilities. Overall, it is well-designed and beneficial to making an approval/denial decision for a prospective tenant. However, compared to some other options it is slightly limited. It also is not very different from a regular credit score.
A tenant's ResidentScore is determined using all of the same information that is used to create a credit score, including over 500,000 real resident records. The credit information of the tenant is simply run through a different formula in order to generate the ResidentScore. It produces a number between 350-850, which is not far off of the 300-850 range that credit scores fall into.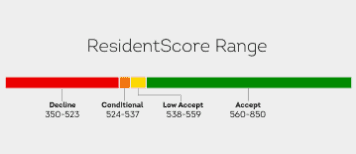 The formula that TransUnion uses for SmartMove ResidentScores is designed to better predict the reliability VS risk of a particular tenant. TransUnion does stress that the two scores are not the same in an effort to sell their product. They aren't the same, but they are more similar than TransUnion might lead you to believe.
TransUnion describes the difference simply with the goal of a credit score being to predict the tenant's reliability to pay back a loan whereas a ResidentScore predicts the tenant's rental performance. They are two different things, so it can be worthwhile to consider the ResidentScore when making a tenancy decision for your property.
TransUnion boasts that the ResidentScore predicts evictions 15% more than a regular credit score and predicts tenants ending the lease early 19% more than a regular credit score. Since ResidentScore is included in all package options that SmartMove offers, you don't need to worry about making a decision to include it when making your purchase. You'll automatically get the ResidentScore at no additional cost for any tenant that complies with your requested screening through SmartMove.
There are a few minor exceptions simply depending on the prospective tenant's amount of available credit info, but SmartMove is able to provide a ResidentScore for 97% of applicants. Once SmartMove generates your prospective tenant's ResidentScore, they will use that score in addition to the property info that you have provided to them to provide you with a leasing recommendation.
The leasing recommendation includes an income:rent ratio for you to consider. Ultimately, though, the decision to deny or accept the applicant is still up to you. The ResidentScore and leasing recommendation are just guides to help you make the best and most well-informed decision possible.
Credit Report
Rarely, if ever, would there be a case where you would want to accept a tenant without a credit check. This is a vital piece of any tenant screening software and can provide you with very important information about a prospective tenant's spending and reliability.
SmartMove is owned and powered by TransUnion, one of the three major credit bureaus. Therefore, the credit report you get with SmartMove is the tenant's TransUnion credit report. SmartMove provides the report with special formatting specifically designed for tenant screening purposes. The formatting is set up to make it as easily digestible as possible and to help make important information quickly and clearly available.
Access to the report is completely online, so you can view it from anywhere you have an internet connection through Wi-Fi or cellular data. It also features mobile optimized formatting for viewing on any device. The credit report gives you a full report to answer any questions you may have about the specifics of a prospective tenant's credit history.
ResidentScore and the SmartMove leasing recommendation are helpful tools, but getting the full credit report helps you to understand those things better. The report will show you when late payments were made, the amount of late payments, and even who the late payments were made to.
Knowing these details has the possibility of swaying an approval decision for specific tenants. Due to the in-depth report you receive as well as specialized formatting, mobile optimization, and a user-friendly design with 24/7 easy online access, SmartMove gets a 8 out of 10 for credit reporting.
Will the Credit Check Impact the Prospective Tenant's Credit Score?
There are two different kinds of credit checks – what is called a hard credit inquiry and what is called a soft credit inquiry. Since a hard credit inquiry can negatively impact your credit score, it is an understandably common concern about whether a credit check will impact the credit score.
Hard credit checks are generally for things like applying for a loan or a credit card. In the case of the SmartMove credit check, a soft inquiry is done to pull the credit report. This means that a credit check by TransUnion's SmartMove will NOT negatively impact the credit of prospective tenants. SmartMove ensures that the credit check done is a soft inquiry by having the tenant release the information themselves.
In other words, it is systematically as if the tenant simply checked their own credit. Since checking your own credit won't impact it, there are no concerns about how a SmartMove report will impact the prospective tenant. Of course, it does mean that the tenant is required to participate in order to receive a report.
So, while you get the results within minutes after the tenant completes their application through SmartMove, the prospective tenant may not do so for days or even weeks. In this case, the results would take that long to be available to you.
Eviction History
One of the number one predictors of future evictions is past evictions. If a tenant has been unreliable in the past, it is reasonable to expect them to be unreliable in the future. SmartMove scores a high 9 out of 10 on eviction history because of full, easy-to-read and easy-to-understand reports on eviction.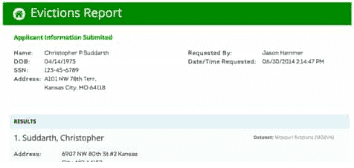 With the use of multiple databases including credit, personal, and address databases, SmartMove is very thorough in their search to find any possible eviction data on a prospective tenant. They search over 25 million eviction records in one of the largest eviction databases in existence. This covers all 50 states as well as Washington D.C.
The results themselves are also very thorough and palatable thanks to simple user-friendly formatting that helps you easily understand what you are looking at. If any eviction findings do come up for the tenant you are screening, the report will answer all common questions that come along with that information.
Within the eviction report, you can see the details of the court case that led to the eviction. This includes the name of the person/company that evicted the prospective tenant as well as when the eviction occurred. The report also shows you:
Tenant judgements for possession/money
Unlawful detainers
Tenant judgements for rent
Failure of the tenant to pay rent
Writs and warrants of evictions
Criminal Report
It is important to understand who you are renting your property to. You don't want a criminal in your property possibly damaging it, causing issues and possibly even posing danger to other tenants and/or neighbors. The criminal report that you get from most tenant screening services helps you avoid just that.
For this particular report, SmartMove gets a 5 out of 10 score. As you can see, this is a little lower than their scores for other reports. This simply stems from the fact that they exclusively offer instant background checks. While the speed and convenience can be nice, it also has one big drawback.
All federal, state, and local laws apply to background checks. The following states do not allow for these instant background checks: Delaware, South Dakota, Massachhusettes, and Wyoming. Since these states do not allow the instant background checks, SmartMove simply does not offer a criminal report for these states.
Obviously, this leaves holes in the information you receive. If your property is not in or next to these states, you may not feel concerned and may feel comfortable enough to move forward with SmartMove. However, for anyone renting property within these states or even neighboring states, it might not be worth the convenience of instant results.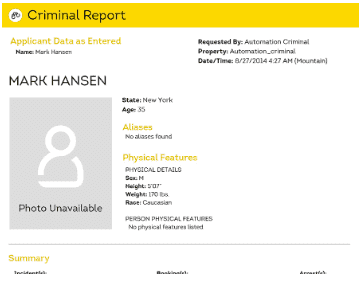 Apart from those 4 states, the criminal background check from SmartMove is very thorough and provides highly useful information for determining if you are comfortable having that person as a tenant or not. The search includes most wanted data bases as well as the national sex offender public registry. Over 370 million criminal records are searched in the process. Credit-bureau-strength record matching technologies also help to reduce the incidence of false positives to give you a more accurate report.
Income Information
When a tenant proceeds with an invite to do the SmartMove tenant screening, they are asked to self-report what their income is. You'll get this information, but unfortunately, not all tenants tell the truth about what their income is. Sometimes, a tenant will purposefully over-report income to make it seem like they can afford the rental when they might not actually be able to.
SmartMove offers a service called Income Insights where they take credit information into account in order to make a well-educated guess about the range of income that the prospective tenant likely brings in. This isn't fully reliable because there is no way to view the tenant's actual income. Instead, it is based off of the tenant's spending, credit lines, and credit behavior over all.
These things are known to give a relatively accurate idea of a person's income. While this service isn't 100% reliable, it is a service that you often don't get with other screening software and it can save some time and trouble in terms of verifying the prospective tenant's information and moving forward with an acceptance or denial.
For these reasons, SmartMove gets a 7 out of 10 rating for income information. The point of Income Insights isn't really to actually tell you how much the tenant makes. The purpose is to compare the tenant's self-reported income with their credit behavior.
In the Income Insights report, you will receive an estimate of if the tenant's self-reported income is accurate as well as an estimate of the difference between the self-reported income and the actual income of the tenant if the amounts don't match up. Additional income sources aside from job-related income are also taken into account. This would include things like child support and alimony.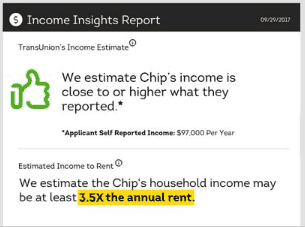 The whole point really comes down to helping you determine if you should request additional verification of a tenant's income. In the case that the self-reported income matches well with the credit behavior, you don't really need to worry about that additional verification. However, when the amounts don't match up, it can really be worth the time and trouble of getting that additional verification before choosing to approve a tenant.
Income Insights is SmartMove's newest tool and it is only available in their largest package. It cannot be purchased separately from this package. This is especially important to note because in the case of prospective tenant's with very little or no credit info, SmartMove may not actually be able to provide an Income Insights report at all.