It's no secret that Airbnb is growing at a rapid rate, attracting hosts and guests all over the world with its competitive prices and unique experiences.
102%
increase in number of senior hosts over 60 since 2017
62.5%
increase in guest arrivals over the past year
153%
global compound growth rate since 2009
45%
increase in United States bookings year-to-year
General Statistics About Airbnb
There are over 4 million Airbnb listings worldwide.
Over 1.9 million listings are instantly bookable.
Airbnb offers listings in over 191 countries.
65,000 cities list homes with Airbnb.
Airbnb averages about 500,000 stays per night.
On any given night, 2 million people are staying in Airbnb rentals across the world.
Airbnb's value worldwide is $32 billion.
The average per-night price for reservations is as affordable as $80.
Only 11% of the nearly 500,000 US listings are reserved on a typical night.
The company is said to be forecasting EBITDA of $450 million on $2.8 billion in revenue for 2017. By 2020, Airbnb's revenue is projected to be as much as $8.5 billion.
In the rare event of accidental damage, the property of every Airbnb host is covered up to a million dollars.
Users
General Demographics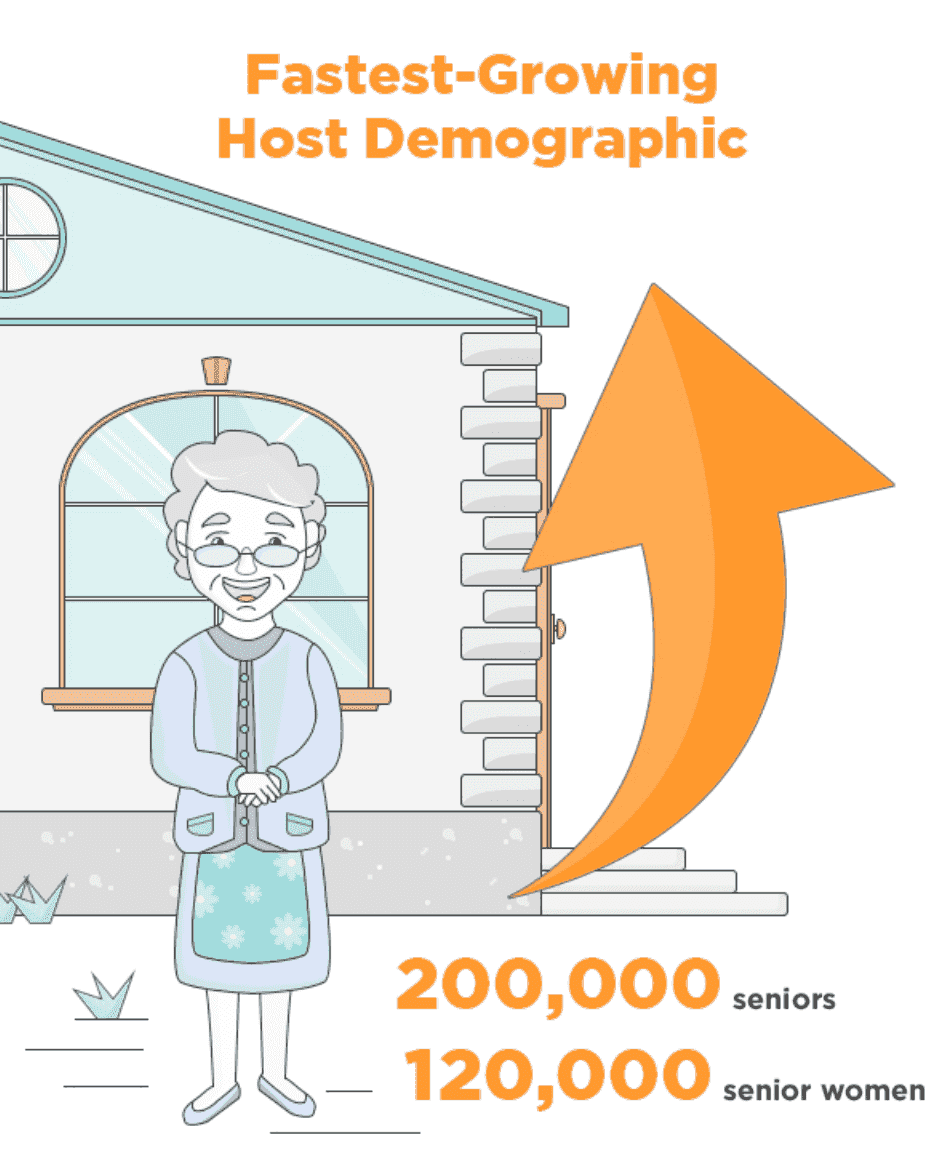 Airbnb has about 150 million users.
54% of Airbnb guests are female.
46% of Airbnb guests are male.
Airbnb's target demographic is usually travelers looking for a spacious and comfortable place to stay that is also affordable and functional. Target guests vary from host to host and space to space.
There have been over 260 million guest arrivals at Airbnb listings since 2008.
The fastest-growing Airbnb host demographic is seniors, with over 200,000 senior hosts and over 120,000 senior women hosts. Senior women are also consitently rated as the best hosts on Airbnb.
88% of Airbnb's reservations are for groups of two to four people and 60% of the reservations were for an entire home / apartment.
7% of the reservations were for single guests and only 11% of the reservations were for one-night stays.
$20,619 is the average expected annual profit of Airbnb hosts renting out a full two-bedroom apartment or house in major cities.
Millennials account for roughly 60% of all guests who have ever booked on Airbnb.
Spaces
Over Airbnb's lifetime, there have been:
570,000+ Guest arrivals in boats
300,000+ Guest arrivals in RVs
140,000+ Guest arrivals in yurts
130,000+ Guest arrivals at treehouses
120,000+ Guest arrivals in castles
100,000+ Guest arrivals in earthouses
Habits By Location
The average San Francisco hotel guest visits for 3.5 days and spends $840. The average San Francisco Airbnb guest visits for 5.5 days and spends $1,045.
Airbnb visitors stay on average 6.4 nights (compared to 3.9 for hotel guests) and spend $880 at NYC businesses (compared to $690 for average New York visitors).
In Paris, Airbnb guests stay an average of 2.9 nights longer and spend €426 ($529.10) more over the course of their trip, compared to hotel guests.
In Amsterdam, Airbnb guests stayed an average of 3.9 nights and spend €792 ($983.68) during their trip, compared to hotel guests who stay an average of 1.9 nights and spend €521 ($647.09).
In Berlin, Airbnb guests spend more time and money in Berlin than hotel guests. Airbnb guests stay an average of 6.3 nights and spend €845 ($1,049.51) over the course of their trip, compared to hotel guests who stay an average of 2.3 nights and spend €471 ($584.99).
In London & Edinburgh, Airbnb guests stay on average 4.6 nights (compared to 3.1 nights for typical visitors to the UK) and spend twice as much over the course of their trips ($1,496 compared to $713 for the average visitor).
Airbnb guests in Sydney spend AUD $1,822 ($1443.57) over the course of their trip compared to average tourists who spend AUD $1,071 ($848.55).
Airbnb guests stay 2.4 times longer and spend 2.3 times more money compared to typical tourists. They also stay in more diverse neighborhoods throughout the city, and 45% of their spending occurs in the neighborhood where they stay.
Destinations
The countries with the most Airbnb listings are:
United States — 660,000 listings
France — 485,000 listings
Italy — 340,000 listings
Spain — 245,000 listings
United Kingdom — 175,000 listings
The top 10 destinations for inbound guests are the United States, France, Italy, Spain, the United Kingdom, Japan, Canada, Australia, Germany, and Portugal.
The top 10 destinations of outbound guests are the United States, France, the United Kingdom, Germany, Australia, Canada, China, Spain, Italy, and the Netherlands.
The most popular cities for booking experiences are:
Tokyo
Paris
Osaka
New York City
London
Rome
Orlando
Miami
Sydney
Lisbon
Unique Spaces
Many non-traditional homes are on the rise. Listings for nature lodges and ryokans (traditional Japanese inns) have been growing quickly recently. Most travelers are gravitating to rustic and unique destinations. There are over 1,400 tree houses and nearly 3,000 castles listed on the site.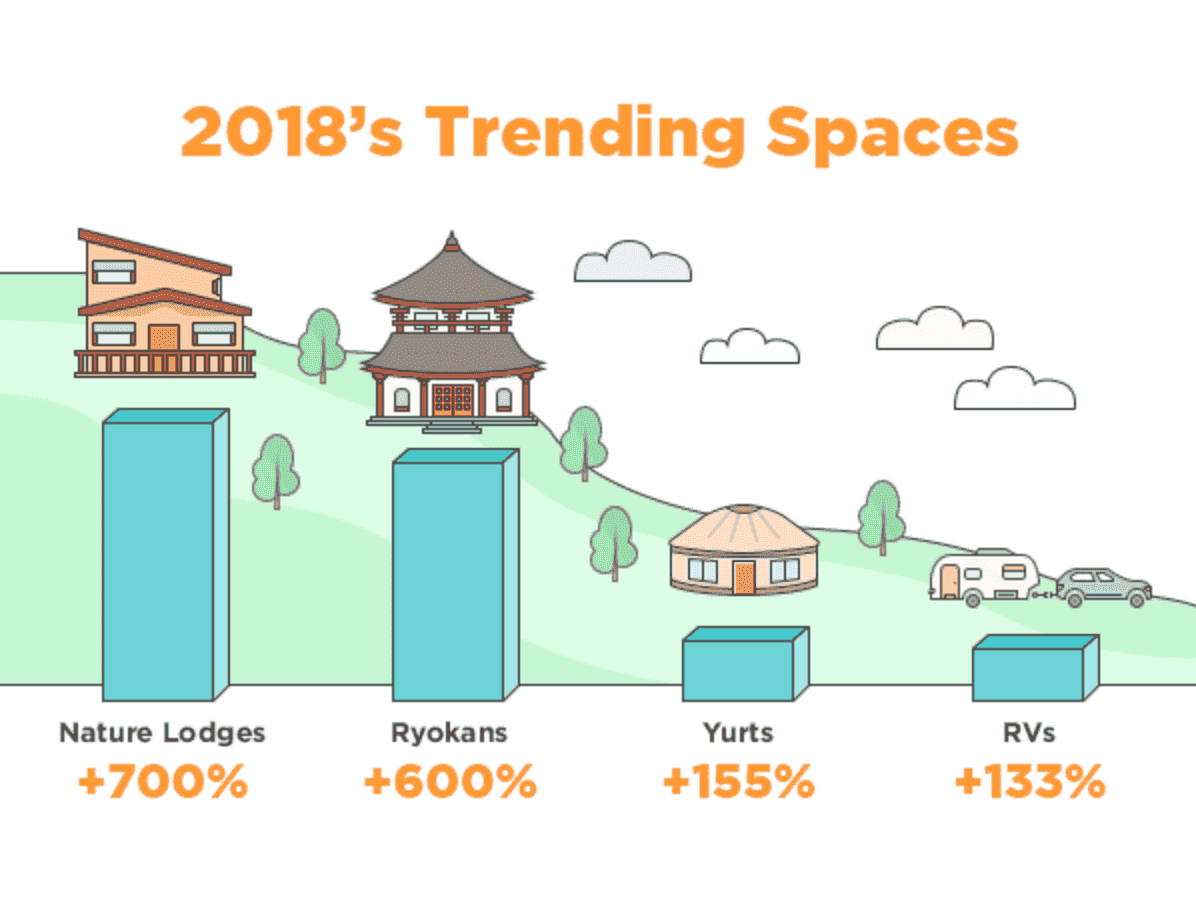 Trending Destinations
According to Airbnb, the following cities are expected to be the most popular destinations this year, based on an increase in booking percentages.
Gangneung, Korea — 2175%
Bournemouth, UK — 353%
Edmonton, Canada — 284%
Indianapolis, IN — 256%
Da Nang, Vietnam — 255%
Columbus, OH — 254%
Gazimagusa, Cyprus — 234%
Bilbao, Spain — 234%
Hanoi, Vietnam — 212%
Matinhos, Brazil — 209%
Cardiff, UK — 206%
Guarapari, Brazil — 205%
Minneapolis, MN — 193%
Oita, Japan — 190%
Dunedin, New Zealand — 185%
Mar del Plata, Argentina — 181%
Fernie, Canada — 179%
Zagreb, Croatia — 175%
Mykonos, Greece — 173%
Mazatlan, Mexico — 169%
The United States is seeing significant growth in Midwestern cities like Indianapolis, IN (256%) and Columbus, OH (254%). The places attracting the most travelers offer wide ranges of nature lodging and close proximity to national parks.
North America has been attracting a growing number of guests to destinations within driving distance of the Canadian Rockies. Cities like the trendy Edmonton (284%), and mountain towns like Fernie (179%) and Kelowna (170%) are quaint and alluring, especially for nature-lovers.
South America is a magnet for travelers looking for oceanside towns with stunning views, not to mention warm and sunny weather too.
In addition, China, one of Airbnb's fastest-growing markets, and cities near Shanghai, which has seen 100% domestic listing growth over the past year, are attracting lots of travelers this year. Suzhou and Hangzhou both offer beautiful old canals and pagodas, with temples, gardens and arched bridges. Xi'an, one of the oldest cities in China, is home to famed archaeological sites such as the Bingmayong (or Terra Cotta Army) and spicy food worth the trip.
Airbnb vs. Hotels
Average rates for an entire home on Airbnb is the same or lower for the cost of a single hotel room.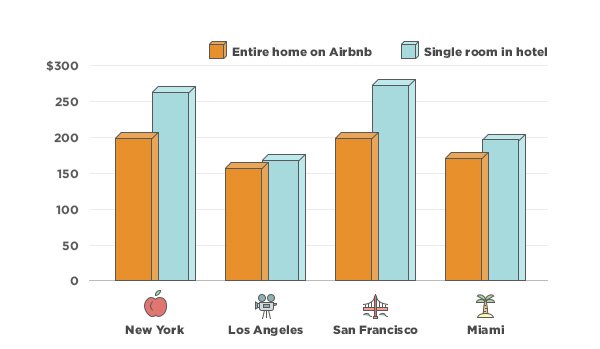 In Europe, Airbnb is anywhere from 8% to 17% cheaper than a regional hotel's average daily rate, while in the top 25 markets in the U.S., Airbnb is 6% to 17% cheaper than hotels in those markets. Studies project that by 2018, overall lodging occupancy in the U.S. and Europe will fall to 66.8% from 67.6% in 2016. And because the hotel industry saw its second-lowest level of nightly rate growth in 2016 in 20 years, Airbnb will likely take over hotels' revenues.
HVS Global Hospitality Services estimated that hotels lose approximately $450 million in direct revenues per year to Airbnb. Between September 2014 and August 2015, 480,000 hotel room nights were reserved while over 2.8 million room nights were booked on Airbnb.
Safety
Airbnb had nearly 80 million stays in 2016; 3% to 7% of stays go awry.
20.5% of issues are caused by hosts canceling guests' bookings (i.e. The host canceling a day before check-in, the host never showing up, Airbnb not helping, or the listing is a scam).
15.4% of issues are caused by scams (i.e. The host demands extra money, host falsifies damages, or fake emails and websites are used).
13.45% of issues are caused by unsafe or unpleasant conditions (i.e. Bug infestations, broken appliances, hostile/intimidating hosts, or hidden cameras placed in the unit).
12.2% of issues are caused by the unit not being as described (i.e. Photos do not match up to reality, location is different, missing amenities, or the unit is dirty/messy).
3.8% of issues are caused by fake listings or fake reviews (i.e. Duplicate or fake listings, modified or censored reviews, fake listing photos and/or address).
1.1% of issues are caused by discrimination.
82% of people who had a problem with their Airbnb stay mentioned customer service as a problem.
57% of those who mentioned poor customer service also said that it was their primary complaint.
References
Related: see our Best Smart Locks for Airbnb article if you're looking at launching an Airbnb property.