Last updated: February 2021
Airbnb Statistics
A curated resource for journalists & consumers on the latest data and insights behind Airbnb's rapid growth.
150M+

number of total users on Airbnb

2M+

people staying in an Airbnb per night

5M+

global Airbnb listings worldwide

$101B

Airbnb valuation after its initial public offering
Note: statistics on entire vacation rental industry found here.
General Statistics
Over 150 million users worldwide
6 guests check into an Airbnb listing every second
The average nightly rent is $185.00
The average stay is 4.3 nights
There have been over 800 million Airbnb stays since the company started
There are 4 million hosts worldwide
There are 5.6 million listings in over 100,000 cities and in more than 220 countries and regions
Airbnb listings constitute 19% of the total demand for lodging in the U.S.
The average U.S. occupancy rate is 48%
In December 2019, 10.4 million guests stayed in an Airbnb for the holidays:

2,574 stayed in castles, 1031 stayed in treehouses, and 121 in windmills

On any given night, 2 million people are staying in Airbnb rentals across the world
Airbnb's value worldwide is $110 billion
Airbnb's main website saw 91 million visits in January 2020 with 50% of traffic through mobile devices
Airbnb's yearly revenue in 2018 was $3.6 billion, increase of 38% from 2017
Airbnb's yearly revenue in 2017 was $2.6 billion, increase of 73% from 2016
Airbnb Corporate Statistics
Airbnb has 34 offices worldwide
The company has over 400 agreements with local and national governments to automate the collection of tourism taxes, collecting over $2 billion in tourism-related taxes through these agreements
Users spend an average of 11 minutes and 31 seconds on the Airbnb app.
The company has 728,000 Twitter followers
14,384 employees work directly for Airbnb

Popular jobs include software engineer, full-stack developer, data scientist
1000 employees surveyed gave Airbnb 3.8 out of 5 stars when scoring career opportunities, salary/benefits, management, culture/values, and work/life balance.
In 2018, Airbnb's workforce was 52.5% male and 47.6%, female
In 2018, engineers working at Airbnb were 77.9% male and 22.1%, female

Only 12.3% of Airbnb's US-based employees are from underrepresented populations
75% of Airbnb employees felt their pay was fair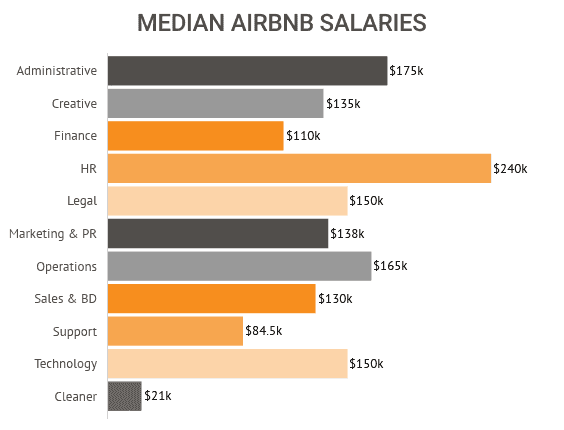 In preparation for an IPO in 2020 or 2021, Airbnb has $6.4 billion in cash raised across 22 funding rounds
400,000 companies directly engage with Airbnb to manage travel

Average stay with Airbnb for work is 5 days but short trips are increasingly popular
Airbnb for Work also offers team-building experiences, offsite locations for meetings and relocations

Top competitors:

Expedia Group
HomeAway
Booking Holdings (formerly Priceline)
VRBO
Trivago
Booking.com

Users

54% of Airbnb guests are female
46% of Airbnb guests are male
In 2018, 58% of hosts and booking guests worldwide were millennials
As of 2016, 44% of Americans have participated in some way in the "sharing economy"
The majority of guests are younger adults:

36% of guests are between age 25-34
23% are between ages 35-44
15% are between 18 and 24
14% are between 45 and 54
7% are between 55 and 64
5% are 65 or older

When guests were asked why they chose Airbnb:

95% wanted ease and security of payment not found on a lot of other short-term rental platforms
86% said the location was more convenient
77% wanted to live like a local
64% feel home-sharing is a better way to take care of the environment

Hosts

The average host;s annual income from Airbnb is $7,900
22% of hosts indicate they chose to host after first being an Airbnb guest
The fastest-growing host demographic is seniors, with over 400,000 senior hosts:

Senior women are consistently rated as the best hosts on Airbnb
In 2016, 320,000 hosts over the age of 60 earned a total of $747 million through Airbnb

Women constitute 56% of hosts and have earned $32 billion since the company began in 2008

Women in Iceland earn an average income of $10,200 hosting on the platform
In 2018, women in the United States made $4 billion hosting on the platform
In 2018, women in France made over $1 billion hosting on the platform

The Airbnb Plus Program

Launched in February 2018 for exceptional in-person verified properties:

Hosts must have min. 4.8 rating and 95% acceptance rate for booking rates in the prior 12 months
Must be "Entire Home" listing or private bedroom with its own bathroom
100 point inspection

Plus homes are available in 41 cities around the world, twice as many since launch
Plus homes earn up to 400% more than standard listings
Plus home listings are more likely to be seen by guests
As of February 2020, there are over 26,000 Plus listings
Creature comforts are important:

43% of guests indicate functionality is their top valued amenity
58% of millennials indicate social media worthiness is a major factor in booking decisions
59% of US guests, 46% of Australian guests and 39% of Italian guests value air conditioning over wi-fi
Guests from the US, Australian and Canadian tend to value free parking over a pool
Spaces
Over Airbnb's lifetime, there have been:
570,000+ Guest arrivals for boats
300,000+ Guest arrivals for RVs
140,000+ Guest arrivals in yurts
130,000+ Guest arrivals at treehouses
120,000+ Guest arrivals in castles
Airbnb vs. Hotels
Hotels such as Marriot International are adding home-rental offerings to their portfolios
Over 50% of Airbnb users in 2016 used Airbnb to replace a traditional hotel stay.
In Europe, Airbnb is anywhere from 8% to 17% cheaper than a regional hotel's average daily rate.
In some U.S. markets, Airbnb can be 6% to 17% cheaper than hotels
The hotel industry loses approximately $450 million in direct revenues per year to AirBnb
Changes in Home-Sharing Trends
Hosts and commercial operators listing multiple properties for rent represent one of Airbnb's fastest-growing segments.
Hosts with 10 or more properties generate a quarter of all multi-host revenue
81% of Airbnb's revenue ($4.6 billion) in 2017 comes from whole-unit rentals where owner is not present during the guest's stay
Revenue growth for whole-unit rentals has increased by an average of 76% each year in most markets except those where cities are enacting strict regulations, the percentage of
Legal Considerations
In 2019, Airbnb became heavily regulated, restricted or made illegal altogether in many cities where it previously had very high numbers of listings and bookings:
Due to increasing regulations, growth is slow or not occurring at all in some of Airbnb's former top cities:

Between 2017 and 2019, listings in New York City fell 7.1% and listings in San Francisco fell 16.7%
In 2020, less than 3% of all active listings were in the top 3: New York City, London, and Paris
In 2015, over 10% of all active listings were in New York City, London, and Paris

Sampling of cities that previously saw high numbers of listings but are now heavily regulated with most listings considered illegal:

Los Angeles, CA– Hosts may only rent out their primary residences (where they live for more than 6 months out fo the year) and hosts may only rent for 120 days a year.
New York City, NY– Only permanent residents may rent for less than 30 days and they may only host while they are occupying the property. Additionally, they should not host more than one home at a time.
Las Vegas, NV– Permits may be issued for primary residents and they must remain present during short-term stays. Real estate agents cannot rent out a property for less than 31 days.
San Francisco, CA- Hosts must be permanent residents and live in the property for min 275 nights a year. They may not have more than one listing or rent out for more than 90 nights each year.
Paris, France– Listings must have a registration number to ensure compliance and apartments may only be rented out for 120 days a year
Barcelona, Spain– Owners must have a city-approved license to rent their apartment
Santa Monica, CA– Owners must live on property during renter's stay, register for business license and pay 14% occupancy to the City
COVID-19 Effect
Airbnb statistics indicate that COVID-19 lockdowns and quarantines took a massive toll on the company's revenue. As a result, the company postponed its IPO.
Airbnb's IPO in December 2020 was record-breaking and valuation topped $100 billion
Earlier in 2020, Airbnb's valuation decreased 48.6%, from $35 billion to $18 billion (an April estimate)
Airbnb may have lost as much as 54% of its revenue in 2020 due to the novel coronavirus
Booking rates dipped by 85% at one point
In August of 2020, the company enacted a global ban on gatherings of more than 16 people at AirBnB listed properties "until further notice"
The company also adjusted its policies to allow for hosts to make last-minute cancellations under "etenuating circumstances" without incurring a penalty
The $1 billion-dollar Airbnb Host Endowment launched in October 2020 with the purpose of providing emergency funds, educational grants, and other support to hosts and their families.
Other innovations designed to keep the company and its hosts afloat include Online Experiences:

Online Experiences offer tours and classes similar to the Experiences program, except all events are hosted via Zoom
Events cost an average of $10 but may be priced as low as $2 or as high as $73
Over 200 experiences are currently available and Airbnb adds another dozen or so each week
56% of hosts use Online Experiences to supplement their income from a part-time or full-time job
More than 80% of Online Experience guests attend from outside the host's home country
With the holidays approaching, Airbnb partnered with Santa Visits USA to launch a special initiative offering Online Experiences with Santa, including Virtual Visit and Story Time with Santa, Sign Language Santa, and Mama Claus Holiday Joy
Destinations
The countries with the most Airbnb listings are:

United States — 660,000 listings
France — 485,000 listings
Italy — 340,000 listings
Spain — 245,000 listings
United Kingdom — 175,000 listings

The top 10 destinations for inbound guests are the United States, France, Italy, Spain, the United Kingdom, Japan, Canada, Australia, Germany, and Portugal.
The top 10 destinations of outbound guests are the United States, France, the United Kingdom, Germany, Australia, Canada, China, Spain, Italy, and the Netherlands.
The most popular cities for booking experiences are:

Tokyo
Paris
Osaka
New York City
London
Rome
Orlando
Miami
Sydney
Lisbon
Trending Destinations
According to Airbnb statistics, the following cities are expected to be the most popular destinations in the coming year, based on a year-over-year (YoY) increase in booking percentages. Popularity often coincides with major national or international events, festivals, and gatherings.
Milwaukee, WI, US- 729% YoY increase
Bilbao, Spain- 402% YoY increase
Buriram, Thailand- 383% YoY increase
Sunbury, Victoria, Australia- 356% YoY increase
Romania- 298% YoY increase
Xi'an, China- 255% YoY increase
Eugene, OR, US- 213% YoY increase
Luxembourg- 167% YoY increase
Guadalajara, Mexico- 158% YoY increase
Vanuatu- 140% YoY increase
Cali, Colombia- 137% YoY increase
Cape Canaveral, FL, US- 136% YoY increase
Aberdeen, Scotland- 119% YoY increase
Courtenay, BC, Canada- 114% YoY increase
Ubatuba, Brazil- 108% YoY increase
Les Contamines-Montjoie, France- 108% YoY increase
Tokyo, Japan- 103% YoY increase
Kerala, India- 95% YoY increase
Malindi, Kenya- 88% YoY increase
Maastricht, Netherlands- 55% YoY increase
Airbnb Experiences
Launched in 2016 with 500 experiences
As of 2019, there are over 40,000 Airbnb Experiences worldwide
Important factors in booking an Airbnb Experience:

94% of guests wanted the security of paying over Airbnb
96% of guests are seeking an authentic experience in their locale
69% of travelers would prefer to spend more money on better activities than hotel rooms
65% want to experience something new vs. relax on vacation
Experience hosts earn an average of $10,000 per year with top-earning Experience hosts earning $800,000 a year
Global Economic Impact
In 2018, the top 10 countries that saw a direct economic impact from Airbnb based on host income and estimated guest spending were:

United States: $33.8 billion
France: $10.8 billion
Spain: $6.9 billion
Italy: $6.4 billion
United Kingdom: $5.6 billion
Australia: $4.4 billion
Canada: $4.3 billion
Japan: $3.5 billion
Mexico: $2.7 billion
Portugal: $2.3 billion

Guests staying at Airbnb properties tend to spend money in the local area.

Guests spent approximately $25 billion at restaurants and cafes in 2018
84% of hosts recommend local restaurants and cafes to guests
42% of guests indicate they spend primarily in the neighborhood where they are staying

The Airbnb platform has resulted in an increase of guest arrivals to the least visited destinations in the world between 2016 and 2018:

Moldova (increase of 190%)
Vanatu (increase of 187%
New Caledonia (an increase of 175%)

In 2016, Airbnb supported 730,000 annual jobs

130,000 in the U.S.
600,000 outside the U.S.

170,000 in Asia
260,000 in Europe
10,000 in Oceania
50,000 in North America/Caribbean (non-U.S.)
100,000 in South America
U.S. Economic Impact- 2019 Regional Profile for New York & New Jersey:
Jersey City, NJ
3,020 listings in Jersey City, NJ

66.9% are entire home/apartment listings
29.1% are private rooms, 1.8% shared rooms
Average price of $163/night

92% of Airbnb listings in Jersey City are located within .5 miles of public transit to New York City, increasing the likelihood that economic benefit of guests will not be realized locally
75.7% of listings are multi-listings in Jersey City and more likely to be owned by a business than private owner

The top 20 "Top Hosts" in Jersey City control 799 listings
9% of Airbnb revenue is generated by the renting or sharing of a home rented by the owner
91% of Airbnb revenue is generated by commercial operators
58% of Entire Home listings in Jersey city are operated by hosts who live elsewhere

In 2019, New Jersey residents who rented out properties received over $175 million

Labor Day and other popular holidays saw approx. 152,000 guests resulting in $50.7 million earned
Airbnb collected and paid New Jersey $21 million in taxes
New York City, NY
48,864 listings in NYC

51.8% are entire home/apartment listings and account for $75% of total Airbnb revenue
45.8% are private rooms, 2.4% shared rooms
Average price of $151/night
Average Airbnb monthly revenue is often nearly $1,000 more than median rent price in NYC

34.1% of listings are multi-listings in NYC and more likely to be owned by a business than private owner

The top 20 "Top Hosts" in NYC control 1725 listings
The top 10% of hosts earned 48% of revenue in 2017

In 2014, the New York Attorney General's report determined that 72% of Airbnb units studied were in violation of the New York State Multiple Dwelling Law or New York City's Administrative Code
13,500 units of housing in NYC have been lost through Airbnb
Airbnb has contributed to raising median rent by as much as 1.4% or $380.00 and in some pricier neighborhoods by as much as $700.00
In 2017, 72% of the population in neighborhoods at the highest risk for gentrification were not white

Airbnb hosts in these neighborhoods were 74% white while the resident white population was 14%
Airbnb hosts of color in these neighborhoods earn $48 million vs $160 million for white hosts
Frequently Asked Questions
How does Airbnb compare to hotels?

There are many variables when comparing the hotel experience to an Airbnb booking but here are some general guidelines:

Expense

While many users tout Airbnb listings as far cheaper than hotels, this may or may not be true depending on the location. Some cities (and hosts) levy steep fees in addition to the nightly rate, and others do not. Long-term stays are typically less expensive in an Airbnb. For larger groups, an Airbnb is likely to offer significant savings on nightly rates.

Amenities can save (or cost) you money. Some Airbnb properties have a kitchen allowing the guest to save money by cooking their own meals vs. having to eat out when staying at a hotel.

Convenience

Most hotels making checking in and out a breeze. Depending on the tech-savviness of the Airbnb host, checking in might be a complicated process. Some Airbnbs have self-check-in, and others require you to meet up with the host who will then give you access to the property.

If something goes wrong with your room at a hotel, it's not hard to get hold of somebody to fix it or move you to another room. If you are in an Airbnb owned by a host living in another country and something breaks or malfunctions, you may not get the problem resolved right away.

Unique Experiences

Most Airbnbs are nothing like traditional hotels or hostels. Most hotels do not offer the range of options that Airbnb hosts do. In fact, hotels that cater to niche audiences or guests tend to be some of the most expensive places to stay in popular tourist destinations.

Consistency

Hotels are usually predictable and large chains go out of their way to make the branding, rooms, amenities and other parts of the stay consistent across all of their facilities around the country or world.  This could lead to your surroundings feeling homogenized and disconnected from the character of the city where you are staying.  For short stays when you just need somewhere to crash between meetings or flights, a hotel is best. Airbnb properties will greatly vary from one to the other and may not necessarily have the same standards as a hotel.

Privacy

In most Airbnbs where you are renting the "whole house" you will not encounter other guests or housekeeping staff knocking on your door at 10 am demanding access. For a more home-away-from-home experience, most Airbnbs will be better than a hotel. Airbnbs are also better than a hotel if you will spending more time in your accommodation whereas a hotel may not be the best place to stay if you want to entertain, telecommute or make your own meals.

What cities have the highest occupancy rates in the U.S.?

San Francisco, CA
Denver, CO
Honolulu, HI
Kihei, HI
Los Angeles, CA
Portland, OR
San Jose, CA
Seattle, WA
Lehaina, HI

How safe are Airbnb guests?

With the millions of stays that occur each year, about 3% to 7% of stays go awry. Airbnb listings are generally very safe, and with a 50% review rate, you can be sure to have adequate information about the listing before your stay. About 13.45% of guest issues are caused by unsafe or unpleasant conditions, such as bug infestations, broken appliances, hostile/intimidating hosts, or hidden cameras in the unit. 12.2% of the issues were caused by a misleading listing. These people showed up to the Airbnb and found it was not what was described on the listing. Other issues are caused by cancellations, scams, or fake listings.

Guests should always read reviews, message hosts if they have questions and protect themselves:
Pay only through Airbnb's secure payment platform to protect financial information
Do not share identifying personal information and utilize the platform to message others
Check public databases and sex offender registries for those you may interact with offline
Share travel plans with a family member and allow your mobile phone to be tracked
Report suspicious activity, hostile users, fraudulent information and other problematic behaviors to Airbnb immediately

The verification process is growing increasingly important for the company. Some hosts are allowed to require their guests to complete identity verification in order to book their experience or property. Airbnb does not specify what may lead them to require hosts to complete the identity verification process but it is done using types of ID, submitting an address. If Airbnb has enough identifying information they will check databases for criminal records and national sex offender registries within the U.S., and to the extent permitted by the law in that host's country. However, the scope of the background checks is limited. When Airbnb does determine a user has been convinced of any of the following offenses they will be permanently banned from the platform:

Sexual violence and exploitation
Human trafficking
Hate Crimes
Terrorism

What should a host consider when purchasing a property to use as an Airbnb?

There are many factors to consider if you are considering purchasing a property to use as a vacation rental.

High rental demand can be understood by assessing the annual occupancy rates and increase in listings for the area you are looking at.
The fluctuations between high and low season are important if you want to have consistent occupancy in your property.
Many cities are cracking down on short-term or vacation rentals due to the effect Airbnb tends to have on the housing market. Look at how regulations could affect your bottom line as far as occupancy- are there constraints on how long or when you are able to rent your property? Are there excessive fees involved in licensing or obtaining a permit?
What are the zoning rules, building/housing standards and taxes like in the area? Are there timeshare, co-op or HOA rules?
If you are looking at a property in another country are there rules about foreign nationals operating there?
Will local laws prevent you from carrying out maintenance on your property or will you have to hire a professional to do so?
Compare the rates vacation rentals are bringing in vs. what the median rent is in the area. While some Airbnb properties are extremely lucrative when rented out short term, some markets do better with long-term tenants than guests.

What are the best places to buy properties to rent as Airbnbs?

Our list of the best (and worst) places to buy properties is based on revenue growth, investment potential, regulation, and seasonal demand.

Europe is a hot market and the money made on vacation rentals there is impressive, even in heavily-regulated areas.

How does Airbnb affect property values and rent?

There are no studies indicating that Airbnb expansion in an area results in increased construction of housing. As more landlords and owners convert their properties to short-term rentals, this takes them off the market for long-term renters or owner-occupiers in an area. The U.S. is facing an unprecedented housing shortage. A 2016 study suggested that a 10% increase in Airbnb listings led to a 0.42% increase in rent prices being asked in that area. In Boston, where the study was conducted, rent had increased by $178.o0 due to Airbnb activity.

Some areas are affected more. In New York the rise in sale prices for residential properties was as much as 11%.

Consider that 13,500 units of housing in New York City have been lost through Airbnb. Airbnb has contributed to raising median rent by as much as 1.4% or $380.00 and in some pricier neighborhoods such as Manhattan by as much as $700.00.

While Airbnb does collect and pay taxes, analysis suggests that illegal listings and improper accounting results in local municipal authorities not seeing the return in lodging tax. In New York alone, it's estimated $110 million should have been paid in taxes but was not collected. While the city has since tightened the regulations around vacation rentals, there are still many countries and cities around the world that are keeping Airbnb on a short leash to protect their stock of affordable housing and reduce the external effects on neighbors living near short-term rental properties.

What should I research when choosing an Airbnb?

In addition to our tips for staying safe online when booking an Airbnb, we recommend taking your time to do some research, especially if you are heading out of the country.

Look for reviews on other booking websites for the properties you are interested in and be sure you are not booking a fake listing that stole images off somebody else's property description. Many properties will also have their own website with more in-depth information, photos, and location.

If you will be driving a vehicle, check to see if parking is available. Is the area where you are staying safe to park a car overnight? Will additional fees drive up the cost of the stay at that property?

Authenticity is overrated. Not all guests are looking for an "authentic" experience or to "live like a local." Hotels offer a lot of conveniences that some travelers prefer. Some neighborhoods are experiencing or are at risk of gentrification due to Airbnb's popularity and the locals can't afford to frequent all the new businesses that are there to cater to tourists. And in some countries, tourists encroach on local neighborhoods and disrupt "local" life. Do your homework on who your hosts are. Are they fronts for a large company with a huge portfolio of properties or are you truly supporting a resident where you're planning to visit?

Taking time to understand the area, its residents, unique challenges and getting to know your host ahead of time can make your Airbnb stay memorable and make a difference in the local economy.

What is Airbnb Plus?

Airbnb Plus, launched in February 2018, is for exceptional properties meeting stringent guidelines and inspected and photographed by an Airbnb representative. Over 26,000 listings are Airbnb Plus.

To qualify for a listing, the Host must have:

Min. 4.8 rating
95% acceptance rate for booking rates in the prior 12 months
Must be "Entire Home" listing or private bedroom with its own bathroom

Plus homes are available in 41 cities around the world, twice as many since launch. These properties earn up to 400% more than standard listings and due to Airbnb's marketing and algorithms, are more likely to be seen by guests.