Report Highlights. Airbnb ended 2020 with a record-breaking $100 billion initial public offering (IPO) after booking rates dropped 85% earlier in the year.
Airbnb's current valuation is $110 billion.
The average host earns $9,600 annually.
Guests have booked over 900 million stays.
Over 4 million hosts have listings on Airbnb.
There are 5.6 million global listings in 100,000 cities and over 200,000 countries and regions
For further context, see our report on the Vacation Rental Industry.
Airbnb Industry Statistics
Since its founding in 2007, Airbnb usership has expanded to over 220 countries as part of the "sharing economy."
Over 150 million worldwide users have booked over 800 million stays.
6 guests check into an Airbnb listing every second.
The average nightly rent is $185.00.
The average stay is 4.3 nights.
There are 4 million hosts worldwide.
Airbnb includes listings from over 100,000 cities.
The average U.S. Airbnb occupancy rate is 48%.
Users spend an average of 11 minutes and 31 seconds on the Airbnb app.
The company has 728,000 Twitter followers.
Airbnb's main website saw 91 million visits in January 2020 with 50% of traffic through mobile devices
Airbnb listings constitute 19% of the total demand for lodging in the U.S.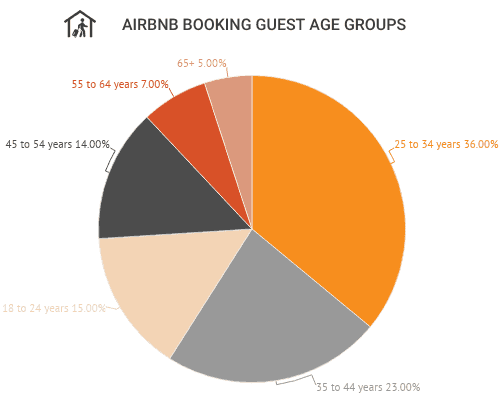 Guests
Guests or users of Airbnb are most likely to be milennials who cite ease and convenience among their reasons for staying at Airbnbs.
54% of Airbnb guests are female.
36% of guests are between the ages of 25 and 34.
15% are between 18 and 24; 13% are aged 55 and older.
95% of surveyed guests choose Airbnb for ease and security of payment.
86% say the location of their Airbnb is more convenient than a hotel.
77% want to live like locals.
64% agree that home-sharing is more ecological or environmentally friendly.
43% indicate functionality is their top valued amenity
58% of millennials indicate social media worthiness is a major factor in booking decisions.
59% of US guests, 46% of Australian guests, and 39% of Italian guests value air conditioning over wi-fi.
Guests from the US, Australia and Canada tend to value free parking over a pool.
In December 2019, 10.4 million guests stayed in an Airbnb for the holidays; 2,574 stayed in castles, 1031 stayed in treehouses, and 121 stayed in windmills.
Among Current Airbnb Listings

| | |
| --- | --- |
| 90,000 cabins | 2,800 yurts |
| 40,000 farms | 2,600 treehouses |
| 24,000 tiny homes | 1,600 private islands |
| 5,600 boats | 300 lighthouses |
| 3,500 castles | 140 igloos |
Airbnb vs. Hotels
As a direct consequence of Airbnb's success, hotels such as Marriot International are adding home-rental offerings to their portfolios.
Over 50% of Airbnb guests choose to stay at an Airbnb over a traditional hotel.
In Europe, Airbnb is anywhere from 8% to 17% cheaper than a regional hotel's average daily rate.
In some U.S. markets, Airbnb can be 6% to 17% cheaper than hotels.
The hotel industry loses approximately $450 million in direct revenues per year to AirBnb.
400,000 companies directly engage with Airbnb to manage travel for their employees.
The average work stay with Airbnb or Airbnb For Work is 5 days.
Airbnb for Work also offers relocation services, team-building experiences, and offsite locations for meetings.
Countries with the most listings on Airbnb

| | Location | Total Listings |
| --- | --- | --- |
| 1 | United States | 660,000 |
| 2 | France | 485,000 |
| 3 | Italy | 340,000 |
| 4 | Spain | 245,000 |
| 5 | United Kingdom | 175,000 |
Airbnb vs. COVID-19
Airbnb's revenue took a massive hit from quarantines and lockdowns throughout 2020. As a result, the company postponed its initial public offering (IPO).
Airbnb's valuation decreased 48.6%, from $35 billion to $18 billion, from January to May 2020.
Airbnb may have lost up to 54% of its overall revenue due to the novel coronavirus.
Booking rates dipped by 85% at one point.
Optimistic investors, contributed an additional* $2 billion to the company's IPO fund after March of 2020.
In August of 2020, Airbnb enacted a global ban on gatherings of more than 16 people at AirBnB listed properties "until further notice".
The company also adjusted its policies to allow for hosts to make last-minute cancellations under "etenuating circumstances" without incurring a penalty.
The $1 billion-dollar Airbnb Host Endowment launched in October 2020 with the purpose of providing emergency funds, educational grants, and other support to hosts and their families.
Other innovations designed to keep the company and Hosts afloat financially include Online Experiences:

Online Experiences is part of the Experiences program, which arranges for guests to participate in host-led activities.
Online Experiences offer tours and classes similar to the Experiences program, except all events are hosted via Zoom.
Events cost an average of $10 but may be priced as low as $2 or as high as $73.
Over 200 experiences are currently available and Airbnb adds another dozen or so each week.
56% of hosts use Online Experiences to supplement their income from a part-time or full-time job.
More than 80% of Online Experience guests attend from outside the host's home country.
Over the holidays, Airbnb partnered with Santa Visits USA to launch a special initiative offering Online Experiences with Santa, including Virtual Visit and Story Time with Santa, Sign Language Santa, and Mama Claus Holiday Joy.
*In addition to the $6.4 billion previously raised across 22 funding rounds.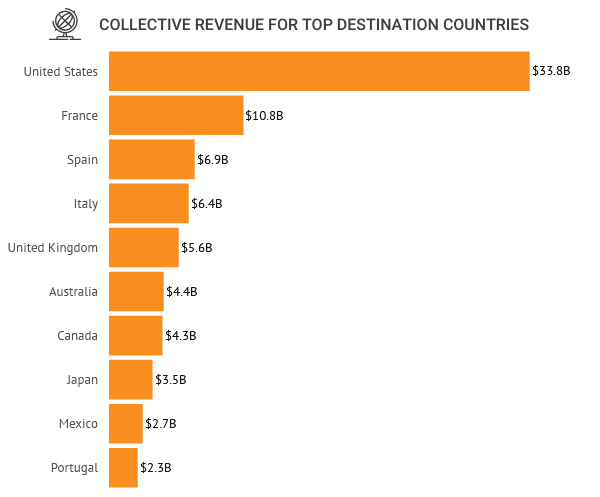 Hosts
Women are slightly more likely to register as Hosts on Airbnb. The fastest gowing age group among Hosts is senior.
The average host earns $9,600 annually.
Hosts have collectively earned over $110 billion.
22% of hosts indicate they chose to host after first being an Airbnb guest.
The fastest-growing host demographic is seniors, with over 400,000 senior hosts.
Senior women are consistently rated as the best hosts on Airbnb.
In 2016, 320,000 hosts over the age of 60 earned a total of $747 million through Airbnb.
Women constitute 56% of hosts and have earned $32 billion since the company began in 2008.
U.S. women earn a collective annual income of $4 billion hosting on Airbnb.
Women Hosts in Iceland earn an average income of $10,200, 29% higher than the average Airbnb income.
Experience hosts earn an average of $10,000 per year.
Airbnb Plus Program
Airbnb's Plus Program identifies exceptional Hosts. To qualify, Hosts and properties have to maintain several status requirements and pass a 100-point in-person inspection.
Airbnb Plus properties have to be verified in person.
In addition to maintaining the Airbnb Hospitality Standards, Plus Hosts must have a minimum 4.8 rating.
Listings must accept 95% of bookings in the previous 12 months.
No reservations cancelled by the Host (except under extenuating circumstances).
Plus listings must either be "Entire Home""" listings or private bedrooms with attached private bathroom.
Over 26,000 Plus homes are available in 41 cities around the world.
Plus homes earn up to 400% more than standard listings.
Airbnb Home-Sharing Trends
Hosts and commercial operators listing multiple properties for rent represent one of Airbnb's fastest-growing segments.
Hosts with 10 or more properties generate a quarter of all multi-host revenue.
81% of Airbnb's revenue ($4.6 billion) in 2017 comes from whole-unit rentals where owner is not present during the guest's stay.
Revenue growth for whole-unit rentals has increased by an average of 76% each year in most markets.
Legal restrictions and regulations may influence trends.
Most Popular U.S. Destinations from Summer 2020

| | |
| --- | --- |
| Big Bear Lake, California | Destin, Florida |
| Miramar Beach, Florida | Myrtle Beach, South Carolina |
| Panama City Beach, Florida | Branson, Missouri |
| Smoky Mountains, Tennessee/North Carolina | Palm Springs Desert, California |
| Hilton Head Island, South Carolina | Port Aranses, Texas |
Regulating Airbnb
In 2019, Airbnb became heavily regulated, restricted or made illegal altogether in many cities where it previously had very high numbers of listings and bookings.
Due to increasing regulations, growth is slow or not occurring at all in some of Airbnb's former top cities.
Between 2017 and 2019, listings in New York City fell 7.1% and listings in San Francisco fell 16.7%.
In 2015, over 10% of all active listings were in New York City, London, and Paris.
In early 2020, less than 3% of all active listings were in New York City, London, and Paris.
Cities where Airbnb bookings declined as a result of legal regulation

| Location | Laws & Regulations |
| --- | --- |
| Barcelona, Spain | Property owners must have a city-approved license to rent their property on Airbnb. |
| Las Vegas, Nevada | Primary residents must have a permit and must remain present during any short-term stay. Real estate agents cannot rent out a property for less than 31 days. |
| Los Angeles, California | Hosts may only rent out their primary residences (where they live for more than 6 months out of the year); furthermore Hosts may rent no more than 120 days per year. |
| New York City | Hosts renting for less than 30 days must be permanent residents. While Hosting, they must occupy the property, and they may not Host more than one property at a time. |
| Paris, France | Listings must have a registration number to ensure compliance, and apartments may only be rented out for 120 days a year. |
| San Francisco, California | Hosts must be permanent residents and live on the property for a minimum 275 nights per year. They may not have more than one listing or rent out for more than 90 nights each year. |
| Santa Monica, California | Hosts must occupy the property during renter stay. They must also register for a business license and pay 14% of their revenue to the City. |
Airbnb Corporate Statistics
The Airbnb workforce includes more than 14,000 employees in 34 offices worldwide.
The Airbnb workforce is 52.5% male.
77.9% of Airbnb engineers are male.
12.3% of Airbnb's US-based employees are from underrepresented populations
14,384 employees work directly for Airbnb.
1000 employees surveyed gave Airbnb 3.8 out of 5 stars when scoring career opportunities, salary/benefits, management, culture/values, and work/life balance.
75% of Airbnb employees felt their pay was fair.
Airbnb's yearly revenue in 2018 was $3.6 billion.
Airbnb's yearly revenue in 2017 was $2.6 billion, an increase of 73% over 2016.
The company has over 400 agreements with local and national governments to automate the collection of tourism taxes, collecting over $2 billion in tourism-related taxes through these agreements.
Airbnb has several top competitors, including Expedia Group, HomeAway, Booking Holdings (formerly Priceline), VRBO, Trivago, and Booking.com.
Sources