If you Google "vacation rental horror stories," you'll find pages and pages of stories that make you question whether you should ever take a vacation again — or if you really should invest in a vacation rental at all. But there are precautions we all can take to make sure everyone has a safe experience.
While the internet is littered with horror stories, most people successfully use vacation rentals to take vacations and earn a profit.
That said, there is a laundry list of things you should be careful about when you're staying in a vacation rental or renting out your own property. This article includes the threats you should look out for and how you can protect yourself from them.
Table of Contents
For Hosts
For Travelers
Vacation Rental Safety for Hosts
Homeowners who rent out their properties can easily make extra money for themselves from extra bedrooms in their home, vacation homes they aren't currently using and/or investment properties.
Basic Tips for Hosts
Hosts want to make money off of their property. The best way to do that is to keep guests happy. Happy guests become repeat customers and leave great reviews.
Hosts should let their guests enjoy their vacations by not meddling and sticking to the things they say they will do. Hosts should also make sure their home is clean, presentable, and durable.
1. For your own safety, lay down a few ground rules.
Having rules in place before a guest arrives might keep some guests from choosing your property, but in the long run, they will protect your property and investment.
Respect our home.
Please keep all food in the living room, dining room, patio, and kitchen.
No smoking inside or around the house.
Illegal drugs will not be tolerated.
The maximum occupancy for the home is 16 guests. Please do not exceed the house capacity at any time throughout the day.
Don't set the A/C below 70 degrees.
We ask that you turn off loud music between 1 a.m. and 7 a.m.
If any property is damaged during your stay, we will deduct expenses from the security deposit.
On that note, charge a security deposit. The guests know they'll get it back if they behave, but this way you have a safeguard in case they manage to turn on the pool heater that you had locked up, freeze the A/C unit, or break something within your unit.
Additionally, if your guest breaks the rules you established up front, you will have a reason to keep their security deposit.
Try to set up an identity verification process so that you know your guests are safe to rent to.
2. Let your guests be.
As a host, you have to be comfortable with letting people stay inside your home. When they are inside your home, give them the privacy they deserve.
If you're staying in the unit while your guests are, do your best to leave them alone. Guests value their privacy. If you're watching to make sure they do not damage your unit or even if you're just trying to hang out, they might get mad and give a bad review.
While it can be nerve-wracking to have someone in your home, you've collected a security deposit for a reason.
3. Buy sturdy furniture.
You're going to have guests with kids and you're going to have guests that act like kids. Every liquid possible will be spilled on your couch and on your carpet. You want to buy furniture that can withstand the most brutal treatment. It might cost more than the cheaper option, but in the long run, you won't have to replace your damaged furniture as frequently.
4. Have a keypad door lock.
Guests will lose your hard keys. You can charge them for lost keys, but it is a hassle for you to replace them on short notice between guests or while a guest who locked themselves out is waiting outside. It's also annoying for guests to have to wait around.
If the key loss is at the end of the vacation between guests. It can throw off your whole schedule as housekeeping needs the key to get in and clean the property too.
Additionally, with a hard key, you have the possibility of guests making copies and breaking in at a later point.
You don't want to have to show up for guest check in and check out. To be honest, your guests don't really want to see you. Additionally, vacation schedules vary and guests don't always show up on time. You could waste a lot of your day waiting around for a guest.
Lock boxes are a convenient way to give guests keys without you being present, but they aren't the most convenient option.
Whether you work remotely or you're present all the time, your best option is to install a number keypad on the door. You can change codes between guests and create codes for housekeeping and maintenance staff.
The keyless entry means that you won't have to worry about a guest getting locked out. The worst that can happen is they forget their code, and you can just resend it to them. Additionally, it does away with needing multiple keys for multiple guests, as all guests can know the code.
That's not to say you should do away with lock boxes. You should keep a lock box on the property in case the power goes out and you actually need a key to enter the property.
5. Allowing pets can open opportunities.
If you're having trouble filling vacant nights, consider allowing pets. Just make sure you charge a pet deposit in case some pets cause damage.
Many people bring their dogs with them on vacation. Dog lovers do not like to be apart from their pet, and they definitely do not trust people to care for them the way they do. For that reason, they go to great lengths to book pet-friendly accommodations.
That means there is a whole market of people who do not even see your listing if you aren't pet-friendly.
You may even want to restrict the size of the pets. Smaller pets cause less damage.
Additionally, you want to put a limit on the number of pets a family can bring. For family reunion trips, you wouldn't want each small family to bring their own pet. You may want to set the limit anywhere between one and three furry friends.
While allowing pets might open up a window for people staying and not claiming their pets, those people will likely take extra care to make their pet's presence scarce – which is what you're worried about anyway. If their pet causes damage that they cannot fix, they'll likely self-report to avoid getting in trouble, but if they don't, you can always charge them the pet fee retroactively, give them a bad review and/or have insurance cover it. (Hosts can leave reviews for guests on some of the major vacation rental websites.) Though it won't help your current situation much, it gives future hosts a heads up before they decide to rent to a guest.
It's important to note that regardless of whether your unit is pet-friendly, you must accept service dogs. Service dogs aren't considered pets, they're "medical instruments" crucial to the success of their owners. It would be like telling someone with asthma not to bring their inhaler, except people who have service dogs need them even more. Denying them is also illegal.
Renting to Families with Kids
Making sure a property is safe and equipped for your kids takes a lot of work. It's harder for families trust that a property owner will proof a home the way that they would. However, families want to go on vacations and hosts want to keep their units occupied. The following will help you get to a happy medium.
As a host, you will probably be booked more often and get better reviews if your unit is family-friendly. Being a family-friendly host is not difficult either.
You can purchase a crib for less than $100 and a highchair for under $50 online. You're not looking for the world's best crib; you're looking for a crib that will get your guests through their vacations. You can make up $150 pretty quickly with an occupied unit.
By having these two simple conveniences, family vacation planners will want to book with you because you have something that most units do not. Suddenly, you have a premium value unit.
Aside from having extra conveniences, you can make your unit child safe. You do not need to go all out to put parents' minds at ease, but a few precautions can help them feel their child is safe. Additionally, these precautions will keep their kids safe. Keeping their kids safe keeps you safe from lawsuits.
If your unit has stairs, put a railing on them. Parents want to be sure their child cannot fall over the edge of the steps. Make sure that the bars that guard the edge are close to one another, a child should not be able to fit their head through the space between bars. A railing protects more than just kids. Adults can easily fall over the edge of unguarded steps too, especially when they're on vacation and drinking a little more than usual.
If you want to be a super host, you can purchase gates to put at the top and bottom of the steps to keep kids from wandering. These are removable, so you would just need to tell guests where they are located in case they need one. While most parents will not worry too much about this when booking, having them present can score you a very positive review.
If you have a pool, put a screened fence around it to keep children from falling inside. The fence should be at least four feet high. You need something to actually fence off the pool area from the house. Screened fences are likely the cheapest, but you can also get a glass fence or a metal one. You can screen in the entire backyard area to protect against mosquitos and bugs, while also keeping your pool clean, but take note: pool enclosures do not keep children from falling inside. Just like the railing on the staircase, fencing off the pool keeps drunk adults from falling in too.
Include a carbon monoxide alarm, smoke alarm and fire extinguisher on every level of the house. These precautions make parents — and all other guests — feel safe in your unit.
If you have a flat screen TV in the unit, mount it on the wall to prevent it from tipping over. Use brackets or wall straps to keep other types of heavy furniture from tipping over.
What to Do About Damaged Property
If you're not visiting your property in between guests, you should have your cleaning service or housekeeper take photos of the room between guests. This way, you'll have a baseline between every guest to prove the need to charge this guest's security deposit. By having photos between each guest, a guest can't claim the damage was there when they arrived.
Additionally, you can spot damage the cleaners won't in the photos. Then you could fix the issue to prevent it from getting worse and keep your next guests from complaining about the damage because it won't be there.
You should take photos of the damaged property before anything else when you notice damage to your possessions by a traveler. Make sure the photos are date and time stamped. Take notes about the damage and write down any information that you know.
Make sure your property managers and cleaning crew know that the first thing you want them to do when they notice damage is to call you and then take photos. It's important they don't try to repair the issue themselves.
Just because the issue is something you could deduct from the traveler's security deposit doesn't mean you should deduct it from their deposit.
You want to consider two things first.
First, was the damage caused by malicious intent or negligence, or was it just an accident?
If the guest caused damage by accident but was otherwise a great guest, you might not want to charge them. That guest might end up being a return guest. If they return or recommend you to family and friends, you might make more money than you would have otherwise lost.
If the guest maliciously caused the damage or was negligent, you might not want them to come back or invite their friends. Guests like that can cause trouble. So, you should charge their security deposit, right? Maybe.
The second thing to consider is the possibility of receiving a bad review. Even if the guest purposefully caused the trouble, other guests reading the reviews might be inclined to believe the guest they can relate to, as opposed to you who they are trying to make a decision about. A bad review is enough to convince a guest to look elsewhere.
If the guest caused trouble and the damage will cost you a significant amount of money to repair, take the risk and charge the security deposit. The guest might leave a bad review, but they also might not. However, you can always comment on the review to explain to other viewers why this traveler is giving you a bad review. And if the guest shares negativity with friends, no they won't stay on your property, but did you want them to? Birds of a feather flock together and they could be trouble too. You would be losing money by paying for the repair, at least this way you cut your possible losses.
Clean Room = Happy Guest
Housekeeping is a two-way street. It's the host's job to make sure the unit is clean before guests arrive. It's the guest's job to double check the host's work.
Having a clean home free of clutter makes a great impression on guests. It's important they feel comfortable during their stay. The easiest way to become uncomfortable is if you have an unclean unit.
It does not matter how good your price is or how many amenities your unit has if a guest finds a dead roach in a cereal bowl or a stain on the linens. A guest that sees a dirty unit will likely leave a bad review and definitely not come back.
Whether you hire a cleaning service or do the job yourself, cleaning your unit is not something to skimp or cut corners on.
The Cleaning Service v. The Individual
The first decision to make is whether to use a cleaning service or an individual.
A cleaning service is great for when you're managing a property remotely and you cannot build a strong relationship with the person who will be cleaning the property. Cleaning services also work with vacation rental clients more often than an individual housekeeper would. Therefore, they know what is important to clean in between guests. However, cleaning services have lots of employees and you won't likely get the same people each time. The cleaning service won't have a way to know if something has been moved or how you like things done.
An individual usually works with residential cleanings; however, it could surprise you how many work with vacation rental sites. If you're able to work with an individual, you will develop a relationship and the housekeeper will know exactly what you're looking for in each job. The housekeeper gets to know you and your property. If a guest moves something, the housekeeper will know where it should be. The housekeeper also knows your home and where it gets the dirtiest.
An additional benefit to cleaning services is that if you have a last-minute booking, they have a lot of employees. They will likely be able to send someone short notice. However, an individual housekeeper might be busy when needed.
Helpful Housekeeping Software
If you choose to hire a service, one Airbnb host created an app called Properly that you can use to give cleaning staff a visual checklist of what to clean and how to clean it. You take pictures of every room in the house and you label locations with instructions. It's a convenient way to make sure the staff you hire does the job…properly.
A big issue with using cleaning services is that they send different people to clean your unit every time. Therefore, these people don't know when something has been moved, but since the Properly app includes photos, they'll be able to figure out if something is out of place.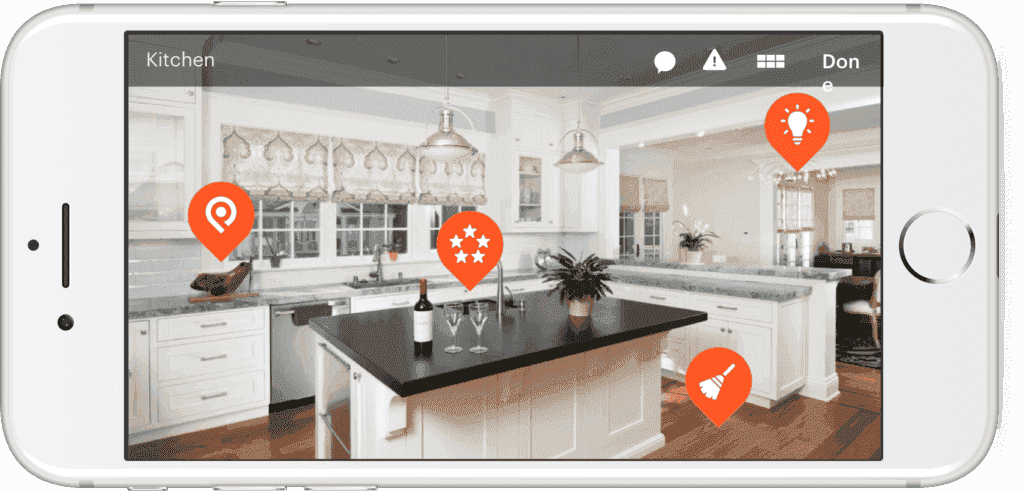 The service has other features that help you hold the cleaning staff accountable. For example, it checks location services on staff phones to make sure they are at your property during the times they say they will be. The app allows cleaning staff to communicate with you when guests left behind unreasonable messes, schedule their visits and more.
Insuring Your Property
As a host, homeowners insurance typically does not cover damage to a property you used for a short-term rental. Some websites offer insurance policies because you list with them. For example, Airbnb offers a $1 million insurance policy.
However, make sure their insurance policy covers you for everything you need. Otherwise, you might need to purchase your own insurance.
Additionally, the website you use may not have insurance coverage at all. In which case, you'll need to purchase vacation rental insurance.
Personal Safety Concerns for Hosts
You should remove things you truly value from areas that guests can access. A lot of hosts have rooms or closets where they keep everything they wouldn't want a guest to get their hands on.
If your concern is the guest sneaking in extra people or pets, install a security camera that points toward the front door – possibly other doors too. If you can only see outside of the home, you won't be invading the guest's privacy, but you will have a record of anyone who comes and goes from your home.
While it's definitely your choice if you want to rent out your extra bedroom to guests, be aware of the safety concerns of letting someone have access to the home you're living in. Your belongings are likely spread out in the common spaces and, more so, you are present in them too. Always check out potential guests on social media and read reviews other hosts have left about them.
Additionally, lock your bedroom door at night. You may want to have cameras in the common spaces if you're renting out a room in a home you occupy.
How Hosts Can Prep Before Emergency Situations
A meteorologist cannot tell an owner if down the line an earthquake will bring down the walls of the beautiful cottage they just purchased in Vermont.
The best thing that travelers and hosts can do to protect themselves from the weather is to be aware of it and certain safety precautions that need to be followed in case of emergencies.
You want to have access to all of your insurance information at all times. You may want to add a photo of it to your Google Drive, or some other type of online cloud. For a complete guide to protecting your property from intense weather, read through our Emergency Preparedness Guide.
Hurricanes
There are a lot of things you can do to protect your property in the future.
Purchase shutters to protect the windows. Protecting your windows keeps the inside of your house, the roof, and the window itself safe from objects that tend to fly during hurricanes – like the coconuts falling off palm trees or your neighbor's lawn gnome.
Speaking of coconuts, if you have coconut palms in your backyard, you should have them taken down whenever they grow for three reasons: (1) You don't want one smashing through your window during a storm. (2) They can easily fall from the tree and knock someone in the head. In this situation, you can run into legal trouble and that person can have a concussion. (3) You get to enjoy the coconut water. Additionally, you should have any debris or damaged trees removed too.
Buy and use surge protectors. In areas that frequently get hurricanes or even extremely stormy weather, surge protectors are a good investment. They keep power outages from short-circuiting your major appliances.
Communicate the above tips to your guests. They can help you protect your property, but don't expect them to if you don't reach out to them about it.
Make sure the home is up to code. Miami and New Orleans have heavily suffered through hurricanes in the last few decades. During Hurricane Andrew, many neighborhoods in Miami were completely destroyed. As a result, building codes changed. Even if your property isn't in Miami, you should look into the types of homes people in Miami are constructing today. If you're in an area that experiences heavy hurricanes, that is the type of home you want to purchase.
Tornadoes
You can secure your home in advance by insulating concrete forms or by adding concrete cloths to sections of your home's structure. You should also secure your roof to ensure the foundation of your home is properly grounded.
Earthquakes
You can prepare by strengthening crawl space walls, unbraced foundations and masonry walls that are not enforced. Don't keep objects that can easily break or fall from high spaces. At least, keep them away from high spots where they could fall on seats, beds, or through windows.
Winter Storms
Prepare for a winter storm or blizzard with the following tips.
You need to make sure that your guests have shovels on hand to shovel snow out of the driveway or away from the doors.
Your guests need to have enough fuel to keep themselves warm. That means they need dry wood to burn in a fireplace or wood-burning stove.
You should check your property's pipes at the beginning of the season to make sure they are well insulated. Though you can insulate them with newspaper or plastic.
It's important to have a carbon monoxide detector in the property because carbon monoxide fatalities are common during blizzards.
Fires
Hosts can take certain precautions to protect travelers. For a detailed list see the How to Prepare for Fires segment of our Emergency Preparedness Guide.
Mudslides and Landflows
Talk to an insurance agent before a landslide happens. Flood insurance policies might cover landflows too.
Should the property you own be damaged, you should take pictures of the damages before you start trying to make repairs. Fully document the damage with photos and videos. You want the insurance company to have all the proof it needs to make the decision to help you. If you start making repairs beforehand, you could decrease the amount they will cover because they see less initial damage in the photos.
Tsunamis
You should inform the traveler of the height of the street above sea level and the home's distance from the coast. Evacuation orders might depend on these data. You should provide every traveler with access to the evacuation routes relevant to the property.
Vacation Rental Safety for Travelers
Vacation rentals are typically a lot cheaper for tourists than traditional hotel stays. They come with a lot more space and they have kitchens you can use to cook for yourself, which can end up saving even more money.
Basic Tips for Travelers
Your goal is to have a fun and exciting vacation that goes according to plan. The best way to make a safe investment is to read everything. Read the reviews, the full description, the cancellation policy, the house rules and the fees. Then, confirm what you read by talking to the host directly.
1. Read reviews before you rent.
Whether you're staying at a luxury hotel or someone's vacation home, it is important to read reviews before you book somewhere.
Sometimes companies and people do bad things and get away with it legally. A consumer's only recourse is sharing their negative experience. Luckily for future consumers, the internet has transformed word-of-mouth from a handful of close friends to a global audience.
Through the reviews, you might learn that the "luxury" hotel you booked in Los Angeles has cramped rooms or charges $15 a day to use the gym, even though there was no mention of added costs on the website.
Or, you could read that the house in Orlando for your family vacation smelled of cigarette smoke.
For example, a listing with photos of a relatively nice apartment in New York City received this review on Airbnb:

A bad review doesn't necessarily mean that you shouldn't stay at this unit. The reviewer is probably correct about it being the cheapest pet-friendly unit in the area. However, if you do rent this unit, you'll know to ask the host about the door code before you arrive and you might also bring a can of Raid.
And while this apartment in Seattle did not necessarily get a bad review, you might decide against it after reading the conditions of the unit:

On the other hand, reading the reviews can help you filter through options and find a really great place to stay.

And large hotel chains are no different than individual people renting out their spare bedrooms. You should read hotel reviews before you spend a lot of money on one. They can help you decide between the Marriott, Hilton, and Sheraton hotels that all seem to share a parking lot at your final destination.

Take all reviews with a grain of salt. Do not let one terrible review influence your decision. Instead, look for general patterns and trends throughout the reviews.
If all the reviews mentioned the property smelled like tobacco, it's a worthwhile critique. However, if just one review said bad things about the property, you should consider it an outlier. It could possibly be a guest that behaved poorly in the unit and was charged an additional fee for damages. Guests that are charged extra fees may want to retaliate against the owner by leaving a bad review.
So, if an overwhelming amount of reviews are good and one is bad, trust the good ones. If they're overwhelmingly bad, avoid the good ones, which could be family or friends.
Additionally, make sure to leave reviews for future guests to read. Your good or bad experience can help future travelers.
2. Read! Read! Read!
Read through the house rules. While a pet-friendly unit is a bonus for a lot of people, you might want to rethink the house if someone in your family has a dog or cat allergy. The place could also smell a little funky if they allow pets.
On the other hand, you might want to bring a pet. However, you should still read the house rules because some properties strictly do not allow them.
On Airbnb, you can filter based on what type of house rules you're looking for, like a pet-friendly unit.

Additionally, you might be taking a red-eye flight that arrives at 1:15 a.m. Does the property you are staying at offer 24-hour check-in? Not all places do. Some even charge extra for you to check in later in the day.
3. While you're at it, read the cancellation policy too!
Plans change – for both travelers and the people renting out the unit to them. While some hosts have flexible policies regarding cancellations, others have very strict policies that can leave you feeling trapped.
A policy that allows you to cancel within 24 hours with a full refund is ideal, but that doesn't mean stricter policies are deal breakers. Cancellation policies with full refunds in 24 hours are bad deals for the person renting out the property.
A good cancellation policy gives you a full refund anywhere between three days to a week before your vacation.
A bad policy makes you cancel 30 days or more in advance for a full refund.
Anywhere in between these two policies is okay. So, use your discretion when booking.
Some booking websites allow you to filter based on the host's refund policy.
It's also important to know your host's policy for canceling on you. How are you informed of cancellations? How far in advance will you know for sure?
While it's unlikely for a hotel to cancel your reservation, when you're renting from actual people on vacation rental websites it's possible for them to cancel on you in emergency situations.
Before you rent, see if your host has a listed cancellation policy for themselves. If they do not, ask them for one before you rent. Contact them about this type of policy through the app itself for further protection.
While emergency situations, like hurricanes and floods, are okay reasons to cancel at the last minute, you should aim to find a property with a minimum one week cancellation period.
A week should give you enough time to find another place to stay.
The owner needs to understand that you've already booked transportation to their property and tickets to events nearby. Without a place to stay, your trip will be ruined.
For that reason, the fewer circumstances your host can cancel under, the better.
4. Google the area you're staying in.
A popular tourist area could be a few blocks away from a heavy crime area. Therefore, a property 0.7 miles away from the city center could be a very dangerous place to stay, especially when you're staying in a residential area away from the busy tourist area.
The sheer fact that more people are outside walking around in heavy tourist areas makes them safer.
This doesn't mean that you have to stay in a hotel to stay safe. It is just important for you to check out a neighborhood online.
Tons of websites log arrests and allow you to look up how many have taken place around an address. Many even tell you what the arrest was for.
Crime rates could be how you decide between one unit and another.
Even if the crime in an area doesn't deter you from staying there, it's important to know about it. Maybe you'll get rides back to where you're staying instead of walking back late at night. Or you might buy some pepper spray at a convenience store to keep on a keychain.
5. Confirm the basics
Prioritize this list of basic questions. Which amenities can you live without and which are must haves? Look online for the answers. If the answers are not online, contact the host for them:
What floor is the unit on? Is there an elevator to get to a non-first-floor unit?
Is there wifi? Is it free? Is there a limit to the number of devices I can connect?
Is there air conditioning? If yes, is it in all of the rooms?
Is there a security deposit? How will the security deposit be returned to you?
Is there parking? If so, for how many cars?
Traveling with Kids
Traveling with young kids can be a fun – at times – and a nightmare – at other times. While lots of parents try to find kid-friendly properties on home sharing websites, unfenced pools, stairs without railings and other horrors seem to be present in most options. Not to mention, worrying about finding a crib for infants. You cannot necessarily pack one in your suitcase, and it certainly is not affordable to buy one once they reach your property.
While staying in a hotel is a guaranteed way to get a crib and keep your child safe from stairs and pools, they are more expensive and it's easy for your child to get lost in the hustle and bustle.
As a traveler, your best bet is to search for properties labeled as "family-friendly" and properties that include a crib as one of the bed options. Additionally, there are actually websites dedicated to family-friendly property rental. For example, Kid and Coe boasts cribs, high chairs, and toys in its units.
When You or Your Family Has Caused Damage
Damaged property is upsetting for both parties. While the owners are upset to have to pay for repairs, the guests are disappointed about the damage they caused and worried about how much the owner will deduct from their deposit.
While it's enticing to maintain plausible deniability, you should tell an owner when you cause damage. The owner might be angry or deduct the expense from your security deposit. However, if it was your home, wouldn't you want the same courtesy?
The damage could get worse if it isn't taken care of soon. In which case, it will be more expensive for the owner to fix.
Additionally, if your host discovers the damage and you weren't the one to speak up, they will be angrier. It's more likely they will want to deduct from your down payment and leave a bad review about you for future hosts to see. Whereas had you told the host about the damage, they might have been appreciative of your honesty and not charged you.
Clean Room = Healthy Vacation
While the responsibility lies with the host, a guest staying in a dirty unit helps no one. That's why a guest should do their part to make sure the unit is hygienic. If not, the guest should contact the host and/or leave a bad review.
As a guest, you should be wary of how good of a job the person who cleaned your unit did. Regardless of whether you've found dust bunnies on the closet shelves, sand underneath the carpets, or hairballs under the bed, there's hidden filth that the housekeeping team probably didn't get to and you should protect yourself and your family from it.

Insuring Your Vacation
Insurance protects your pocket when mistakes happen. However, there are tons of different types of insurance. Which do you need to protect your vacation?
As a traveler, you do not necessarily need to purchase insurance. Purchasing it is on a trip-to-trip basis and is up to you.
There are two types of insurance a traveler might get: medical travel insurance and trip cancellation insurance.
Medical travel insurance is a good idea if you're going out of the country you have insurance in. Reason being, if something happens to you while you're away and you don't have insurance coverage, bills can be astronomical.
Trip cancellation insurance covers expenses you incur when you have to cancel a trip. Whether you missed your flight or got sick at the last minute, cancellation insurance will take care of the nonrefundable costs associated. This makes sense for a vacation with a lot of nonrefundable expenses, not so much for a vacation with very few.
Additionally, the companies that offer trip cancellation insurance often have a 24-hour hotline to help you get around trip related disasters. Think of it as a concierge trying to get you back on track. Usually, the representatives will be really helpful because getting you booked on the next flight is cheaper for them than refunding you the entire vacation.
Personal Safety Concerns for Guests
Your primary concern when renting a place to stay while on vacation should be your safety. The easiest way to protect yourself is to keep yourself out of harmful situations by paying for your vacation rental through a secure method and making sure you have the unit to yourself.
The big difference between vacation rentals and hotels is anonymity. At a hotel, guests stay in a room that belongs to the company – it's impersonal. At a vacation rental, you're staying in somebody's home. That's scary because you don't know each other, but yet you're going to be up close and personal with someone else's belongings or someone is going to be up close and personal with your belongings.
Privacy
Some vacation rental sites give you the option to rent a shared room, a private room, or an entire home.
You share a shared room with a stranger.
When you have a private room, you get your own bedroom, but you share common areas with other guests or the host. These common areas might include the kitchen, living room, dining room, bathroom, etc.
When you rent the entire home, you have complete privacy throughout the unit and you are the safest.
When you share parts of the home with others, you have to realize that they have not been screened. Therefore, there is no guarantee that it is safe to sleep near them.
When you're using a vacation rental, even if you book the full unit, you might run into unexpected house guests. While it is rare, make sure the unit is empty when you enter it. It might be a good idea to carry pepper spray to protect yourself during the vacation.
If you see anyone inside the unit who shouldn't be there, leave immediately. Contact the host and the company you booked the rental on to try to work out the issue.
Payment Safety
Popular sites, like HomeAway and Airbnb, take payment through the site. This way the host never sees your credit card information, which helps keep travelers safe.
One site, called Roomarama, will not give the host your money until you have checked into the unit. This service helps you avoid having to fight for your money back if something goes wrong and the host cancels.
If you're using a site that you do not trust or one that doesn't take payment for you, make sure to pay through a secure medium.
Credit cards typically have services to protect you from fraudulent charges. They usually refund you any money that you have been wrongfully charged.
Online money transferring sites like PayPal, Venmo, and MoneyBookers are also secure. You have to approve payments through your account and anyone who collects payment from you can be traced.
Avoid paying with a check, money order, or cash because it is more difficult to get your money back through these services.
How Guests Can Manage Emergency Situations
As hard as meteorologists work to predict the weather, they cannot forecast what the weather will be like six months from now when you take your family vacation to Miami.
In their defense, Miami weather is a little crazy. Out one car window you might see a beautiful sunshiny sky, but when you look through the rearview window, you might see what looks like the storm that landed Dorothy far from Kansas and in the land of Oz.
Regardless, natural disasters are scary for locals and more scary for travelers who are far away from their homes and unfamiliar with how to handle the disasters.
Your best bet is typically to evacuate the property; however, when emergencies are impending, that's not always an option. Roads are jammed, flights are canceled, and it is hard to get away.
Hurricanes
As a traveler, if you're on vacation and discover a hurricane is about to hit follow these tips:
Secure all outdoor furniture and decorations early in the day before the storm gets too strong. Anything the owner keeps outside can fly in through a window during the storm. You do not want the windows to break because the wind pressure could lift the roof off if they do. Dump large pieces of plastic furniture in the pool – with the owner's consent, of course. This will keep the furniture from being lifted during the storm.
If the owner has storm shutters, put them up, protecting the windows is an essential thing to do during a hurricane.
Duct tape an X on the windows on the inside. Tape more of the window if you can. This will keep the windows from shattering if impacted.
Get food that will last you for at least two days. The food should last the rest of your stay in the unit, as grocery stores won't have much to offer the next few days. Stock up on bottled water, canned foods and anything that you can eat that does not need to be heated or refrigerated.
Fill up your tank. If you're planning on leaving town after the storm, fill your gas tank before the storm. Most gas stations run out of gasoline because of people trying to get away from the storm. Also, because of the storm, the gas stations will not be able to restock for a while.
Wait the storm out in a safe place with no windows, like a closet or bathroom, on the first floor of the home. Some families like to wait inside of the car in the garage; however, do not leave your car on while you are inside of the garage.
If you have food in the freezer, either eat it before the storm or be prepared for it to go bad should the power go out. Prior to the storm, freeze a cup of water. Put a quarter on top of the frozen water. If after the storm, the quarter is not on top of the cup, you know that the groceries unfroze and refroze. Therefore, they are not safe to eat. If the quarter is at the top of the cup, the food is safe to eat.
Charge up your electronic devices before the storm and unplug them during the storm. Your tech could be ruined if the power goes out. It would make sense to unplug all major appliances except for the refrigerator. If the power surges, it could fry their software and ruin them. While this is not your property, it would help the property owner. At least be sure to unplug your own phones and computers.
Talk to the owner. Run all of these tips by the owner and get approval. The owner will likely say yes and can probably offer more guidance.
Tornadoes
Tornadoes can cause serious amounts of damage to properties. The damage they can cause is scored on the Enhanced Fujita Scale from EF-1, the weakest, to EF-5, the strongest. The higher the tornadoes "EF" score, the faster the wind speeds and the more damage it will cause.
If you're stuck in a tornado, get to the lowest level of the house possible, like a storm cellar, a basement or an interior room with no windows. Reinforce all of the doors by moving the furniture against them or through other methods.
Earthquakes
Earthquakes are difficult if not impossible to predict. As a traveler, there isn't a lot that you can do to prepare for one other than knowing how to react when one happens.
The best thing you can do is stand in the arch of a doorway. The door frame is the strongest piece of construction in the home, so nothing will fall on your head. Otherwise, getting underneath beds, desks, and tables is a good idea. The point is to protect your head from anything that might fall, like debris, frames, vases, etc.
Winter Storms
If you're a traveler, follow these tips to stay safe before and after the storm.
Leave the water running at a trickle during the storm. While this sounds wasteful, it will keep the water pipes from freezing and bursting, which wastes much more water. Of course, let your host know that you plan to do this. Your host might have other recommendations.
Cover windows with plastic during the storm in case they freeze and shatter.
Get food that will last you for at least two days. The food should last the rest of your stay in the unit, as grocery stores won't have much to offer the next few days. Stock up on bottled water, canned foods and anything that you can eat that does not need to be heated or refrigerated.
Shovel outside the door whenever possible. You do not want to be trapped inside the property by piled up snow.
Charge up your electronic devices before the storm and unplug them during the storm. Your tech could be ruined if the power goes out. It would make sense to unplug all major appliances except for the refrigerator. If the power surges, it could fry their software and ruin them. While this is not your property, it would help the property owner. At least be sure to unplug your own phones and computers. Try not to use your phones during the storm. It's important for them to have battery in case you need to call for help
Fires
You won't know that a fire is coming in advance. The best thing for a traveler to do in case of a fire is to evacuate the property.
Sinkholes
Typically when a sinkhole is at risk for swallowing a property, the people inside have only minutes to get out. The best way to prepare for a sinkhole is to prepare to get out of the home quickly.
Keep things that you need with you in one place so you can grab them and go (i.e. credit cards, car keys, dog leash, etc.). When you find out about a sinkhole, the best thing is to get out as quickly as possible. Emergency professionals may be able to guide you back into the property to recover more of your possessions, but there is really no guarantee.
Floods
Under typical flood conditions, you have plenty of time to prepare for a flood. It takes hours and even days for the water to rise. However, flash floods are not like most floods. They happen rapidly and without warning.
To protect yourself while vacationing in a home that could suffer flooding, you should:
Barricade the doors, vents and anywhere water could enter with sandbags. The sand will absorb the water and stop it from entering the home.
Move all appliances to the highest level of the home or outside. They could send electric pulses through the water should your space flood and electrocute someone. Moving them high protects them and could stop that from happening.
Do not step in the water. As difficult as that might be, it is very easy to get electrocuted if you do step in the water.
Plug basement floor drains to prevent toxic sewage from backing up into the home.
If it is not a flash flood, you will have time to prepare. You should head to the grocery store and purchase water bottles and gallon water. Tap water will be unsafe to drink after the flood until you are notified otherwise by the news.
Throw away any food that comes in contact with flood waters. That food is likely contaminated and unsafe for you to eat.
Wear rubber boots and gloves when interacting with flood water. It is toxic and you want to avoid skin contact with it.
Once the risk of water flooding in is gone, open the doors and windows. You want fresh air to flow into the unit to circulate out moist air that could cause mold.
Mudslides and Land Flows
Landslides occur in all U.S. states and are caused by earthquakes, storms, volcanic eruptions, fires and human changes to the land. They happen fast; therefore, there is not much a traveler can do to prepare.
Land flows can move for miles and miles, and they grow in size as they move and pick up trees, dirt and even cars.
As a traveler, it's important to follow these tips to stay safe.
Stay awake during the landslide. Many of the deaths that occur during mudslides happen to people who are sleeping and cannot react.
Find out if you are close to a stream or channel. If you are, be alert for changes in the water flow. For example, the water might change from clear to muddy, meaning that the debris could be flowing towards you. If the debris is coming toward you, you might need to move quickly.
Charge up your electronic devices before you need to evacuate. Your tech could be ruined if the power goes out. It would make sense to unplug all major appliances except for the refrigerator. If the power surges, it could fry their software and ruin them. While this is not your property, it would help the property owner. At least, unplug your own phones and computers. Try not to use your phones during the landslide. It's important for them to have battery in case you need to call for help
Listen to local news on a battery-powered radio or on your phone.
If possible, get to a location that is at a high elevation. It is difficult for mud to flow upwards – though it is possible. Avoid valleys and other low areas.
Listen for any strange noises, as they can indicate if the mudslide is coming your way.
If you need to evacuate the home you are staying in, it is best to go to a shelter. To find one in your area text SHELTER and the zip code you are into 4FEMA or 43362.
After the landslide is over, you should still stay away from the area because there can be additional slides.
For more information about mudslides, land flows and how to see them coming, the Department of Homeland Security offers this resource.
Tsunamis
If you're staying on a property that is near the water and also a fault line, there can be a tsunami while you're on the property. Tsunamis cause mass destruction and you will not know about one too far ahead of time.
A Tsunami Warning means that dangerous tsunami conditions are present. These are used when a high magnitude earthquake has hit underwater.
A Tsunami Watch means that there might be a tsunami. A Tsunami Watch is not a verified tsunami, but it does mean you should evacuate as one might reach land within the hour.
The best way to protect yourself from a tsunami is for hosts and travelers to work together.
Volcanoes
Volcanoes are a combination natural disaster. That means when a volcano erupts, there are usually earthquakes, mudflows, landslides, flash floods, acid rain, fire, and tsunamis. Therefore, be aware of the safety precautions regarding those natural disasters, as well.
In the case of a volcano, you should turn off gas, electricity, and water, if possible. Stay aware of evacuation orders issued by officials in your area.
Start Your Vacation Rental Journey
Armed with a guide to everything vacation rentals, you can embark on your journey. From volcanoes to security deposits, this guide has covered the ins and outs to renting out your home and to stay in someone else's home.