Report Highlights.The best home improvements for resale maximize your return on investment (ROI). Costly remodels add little value while the highest ROIs come from strategic minor upgrades, such as garage door replacement.
A deep clean has the highest average ROI at $15,000 or over 3,000%.
The average landscaping project recoups 100% of expenses at resale.
Smart home features can boost a property's value by as much as 10%.
Green home updates can boost property values by as much as 23%.
Most Cost-Effective Renovations – National Averages

| Renovation | Cost | Added Value | Gain/Loss | ROI |
| --- | --- | --- | --- | --- |
| Deep Cleaning | $400 | $15,000 | +$14,600 | 3,650% |
| Minor Landscaping | $4,000 | $4,000 | $0 | 0% |
| Garage Door Replacement | $3,907 | $3,663 | -$244 | -6.2% |
| Manufactured Stone Veneer | $10,386 | $9,571 | -$815 | -7.8% |
| Minor Kitchen Remodel | $26,210 | $18,930 | -$7,280 | -28% |
| Siding Replacement (Fiber-Cement) | $19,385 | $13,620 | -$5,765 | -30% |
Best Improvements for Resale
Most improvements with high ROIs are minor, including many projects homeowners can do themselves. While DIY home decor is gaining popularity, always consult an expert before attempting home repair or renovation.
Cleaning offers the highest ROI by far, up to 9,900%.
Buyers' top priorities are cleanliness, functionality, and energy efficiency, in that order.
According to a study conducted by Sopher Sparn Architects, environmentally sustainable homes sold for 23% more than homes without energy efficient features, adding up to $50,000 in value to the average home.
Smart homes and designs that integrate technology will continue to gain popularity for years to come.
Modest updates and designs leave prospective buyers with plenty of options to customize the home to their liking; personalization and self-expression are increasingly important to homeowners.
Functional upgrades offer much higher ROIs compared to luxury upgrades.
Multipurpose or "flex" spaces are popular, especially among younger buyers.
Desirable designs are simple and easy to clean; prospective buyers know this will save them valuable time.
DIYers and amateur designers can easily make effective use of line and form (shape), the most important elements of design.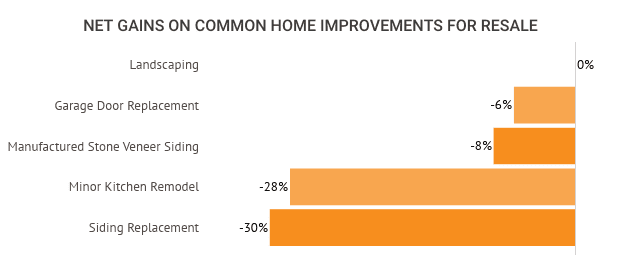 Clean
Cleaning is a homeowner's top priority. Prospective buyers don't feel comfortable in a dirty home, and a deep clean increases a home's value in the eyes of the buyer.
Clean homes fetch an average of $10k-$20k more than houses that haven't been cleaned well.
A professional deep clean costs between $200 and $600 depending on square footage.
According to 87% of realtors, the most important thing for a homeowner to do is clean.
Cleaning is an easy DIY; water with vinegar is a natural, all-purpose cleanser while old clothes make fine wash rags.
Cleaning is the safest home improvement to DIY.
Wash Windows
Washing windows should be a top priority. Dirt on windows stands out prominently; it can be seen from both indoors and out, making it one of the first things potential buyers notice about a home.
Potential buyers concerned about energy efficiency are likely to examine a home's windows.
Cleaning windows instantly brightens a room, allowing more natural light into the house.
Cleaning makes windows look fresh as though they were recently installed.
The necessary expenses for cleaning windows – rags and window cleaner – average a total of less than $10 in any market.
Pressure washing, which is speedy and thorough, is also an option for windows.
Clean Shelves and Cabinets
Prospective buyers are interested in storage space. Most will check cabinets and closets for dimensions.
Deep cabinets and closets gather lots of dust and other allergens.
Scrubbing the far end and corners of a cabinet highlights storage space.
Likewise, clean shelves show off storage and display options.
Prospective buyers are more willing to imagine their belongings in a clean space; this helps them visualize living in your home, which makes them more likely to buy.
According to a study published by the National Library of Medicine, a clean space may reduce the stress hormone cortisol; buyers are naturally less receptive to homes that make them uncomfortable (i.e., stressed).
Scrub Counters and Tiles
Dirty tiles look old and unkempt. They are especially unappealing in kitchens and bathrooms.
Shining up tiles makes them look new and resilient, as though they won't need to be replaced any time soon.
Scrubbing grout creates a starker contrast between tiles, making colors more vibrant.
Buyers like the idea of a clean, ready-to-use kitchen, without any grease and grime from previous owners.
If your counters are stain free and in good condition, you can forgo spending a small fortune on fancy new countertops.
Correspondingly, buyers looking for quartzite in the kitchen may be more willing to overlook modest countertops that have been well-maintained.
Scrub Floors and Shampoo Carpets
It can be tough to keep floors clean, especially when welcoming strangers into a home for viewing. A deep clean to remove stains makes daily cleanings much easier, keeping a home in peak condition for every potential buyer.
Cleaning wood floors highlights what buyers may consider a selling point.
Clean carpets signal that the home is move-in ready.
Cleaning floors reduces the appearance of worn spots.
Buyers know that replacing carpets and flooring takes time and money up front since no one wants to move their belongings into a dirty home.
Floors take up the entire area of the home; an unclean floor in an otherwise clean room makes the whole room appear dirty.
Most Cost-Effective Improvements – Regional Averages

| Region | Renovation | Average Cost | Gain/Loss | ROI |
| --- | --- | --- | --- | --- |
| New England | Garage Door Replacement | $3,960 | -$180 | -4.5% |
| Middle Atlantic | Garage Door Replacement | $3,980 | -$280 | -7.0% |
| South Atlantic | Manufactured Stone Veneer | $10,100 | -$700 | -6.9% |
| Eastern Midwest | Garage Door Replacement | $3,900 | -$200 | -5.1% |
| Western Midwest/North Central | Manufactured Stone Veneer | $10,070 | -$590 | -5.9% |
| East South Central | Garage Door Replacement | $3,790 | -$250 | -6.6% |
| West South Central | Garage Door Replacement | $3,840 | -$260 | -6.8% |
| Mountain | Garage Door Replacement | $3,885 | -$245 | -6.3% |
| Pacific | Garage Door Replacement | $4,050 | -$190 | -4.7% |
Update Exteriors
Some of the best home improvements for resale are exterior and landscaping updates that enhance "curb appeal." Among property owners preparing for resale, landscaping is the most common of all home improvements.
Consumer Reports recently found that improving a home's curb appeal adds 3% to 5% to the property's overall value.
Landscaping projects average a 0% ROI.
Basic landscaping projects are easy to DIY and cost as little as $300.
New siding improves the appearance of the home from every angle and can make a home more energy efficient.
27% of sellers landscape their yard before they put their home on the market.
Property owners spend 20% of home improvement funds on exterior replacements.
Manicure the Lawn
This is an improvement that may take even less time and money than cleaning. A freshly mown lawn makes a huge difference in curb appeal, and it doesn't take long for a neglected lawn to grow out of hand.
Irregular mowing can potentially damage grass.
Use a lawn edger to make clean lines and keep any part of your lawn from looking overgrown.
Get rid of any dead patches by cutting them out and replacing them with sod; time permitting, you may also use grass seed.
A tidy lawn makes it easier for prospective buyers to imagine their own landscaping projects.
A professional mowing service can cost as little as $30 per visit.
Mowing is another relatively safe DIY and a perfect summer gig for a trustworthy teenager.
Replace Doors and Windows
Energy efficiency is a key factor when replacing doors and windows; some buyers may ask to see utility bills, so getting this done early can showcase utility savings from one season to the next.
Replacing a garage door offers a national average -5% ROI.
Purchase and installation of energy efficient windows can earn you a 10% tax credit up to $200.
Doors and skylights can earn a 10% tax credit up to $500.
Replacing windows and doors may reduce drafts, improving energy efficiency and homeowner comfort.
New doors and windows are more likely to be adaptable to smart house technologies, such as remote locks.
Landscape
Landscaping doesn't have to be expensive. Professional and DIY designers have used chicken wire, old bricks, rusted steel, and other such materials to build desirably rustic walls and borders.
A nice-looking yard gives home shoppers a good first impression.
A little creative outdoor decor inspires potential buyers to imagine additional landscaping projects, which jump starts their personal investment in the property.
Choose features that make for easy upkeep.
Use basic materials and simple designs to create clean, attractive lines.
Strategic design can make mowing easier.
Plant and Trim
Healthy plants improve the appearance of a yard. They evoke permanence and vitality, giving the impression of a healthy home conducive to an active lifestyle.
Prune trees, bushes, and hedges.
Get rid of any dead or dying plants.
A variety of plants makes your yard look lush and well cared for.
Flowers give your yard color and texture – two key elements of design.
Shrubs, bushes, and small trees create texture and add vertical features to your landscape.
As with interiors, keep designs subtle and simple for ease of upkeep.
Improve Energy Efficiency
Younger homeowners are especially interested in environmental benefits of energy efficient upgrades, but it's the financial benefits that turn home shoppers into home buyers. The best home improvements for resale offer long term gains.
In colder climates, add insulation; Boston University reports that 90% of U.S. homes are underinsulated, which accounts for 40% to 70% of their heat loss.
In warmer climates, add ceiling fans to decrease air conditioner dependency.
Improvements to attic vents are universally recommended for strategic release of heat and moisture.
Purchase and installation of energy efficient windows and doors may qualify you for tax credits.
Energy efficient lighting saves money and allows for additional fixtures, such as illuminated staircases and shelving.
Replace any appliances that need upgrades with energy efficient options.
Install a tankless water heater at an average cost of $200 and improve energy efficiency by as much as 99%.
Energy efficient updates can add up to $50,000 in value to homes worth over $250,000.
Improving energy efficiency reduces utility costs and may qualify owners for tax credits.
Updating electrical systems also lowers homeowner insurance rates.
Most Cost-Effective Green Improvements

| Renovation | Average Cost | Added Value | ROI | Gain/Loss |
| --- | --- | --- | --- | --- |
| Smart Outlets | $44 | $250 | 468% | +$206 |
| Smart Thermostat | $250 | $500 | 100% | +$250 |
| Added Insulation | $2,500 | $2,775 | 11% | +$275 |
| Tankless Water Heater | $200 | $200 | 0% | $0 |
| Upgraded Windows | $2,800 | $2,100 | -6% | -$700 |
Renovate Baths
The key to a successful bathroom renovation is functional simplicity. Luxury remodels offer a very low ROI. Use caution with DIY bathroom projects; this is a room where the electrical system and plumbing (i.e. water) are within close proximity.
According to some studies, minor bathroom renovations have an ROI as high as 171%.
The most important thing about a bathroom is that it's functional, so fix anything broken.
Replace any fixtures with energy efficient upgrades.
Maximize storage space.
Replace any stained tile and/or flooring; again, bathrooms and kitchens are the worst rooms to leave dirty.
In some markets, kitchen and bathroom improvements offer the highest ROIs.
According to the Centers for Disease Control and Prevention, someone is hospitalized every 16 minutes due to an injury that took place in a bathroom; always hire professionals and allot for extra time when making bathroom renovations that involve electrical work or plumbing.
Renovate the Kitchen
Prospective home buyers tend to look at this room closely for any potential updates they'll have to make to suit their own lifestyles. Over the past decade, for example, meal preparation has become more popular as a social activity. A few minor, inexpensive improvements maximize space to make the room appear larger, brighter, and more inviting.
Minor kitchen renovations of $5k-$15k average a 100% ROI at resale.
The University of Central Florida's College of Business reports homeowners who made $20,000 kitchen renovations recouped an average of 82% of the cost when they sold their home.
In some markets, a minor kitchen renovation is the best home improvement for resale.
Sand and paint cabinets; there is no need to buy new unless the existing cabinets are trashed.
Painting cabinets a light, neutral color makes a kitchen appear larger and brighter.
Maximize counter space; islands and peninsulas have become popular methods of both increasing counter space and providing a place to be sociable.
3 or 4 additional square feet of counter space can make a tremendous difference to prospective buyers.
$50 to $100 per square foot is an average price range for countertops; high quality materials, such as granite, can run as high as $200 or more per square foot.
Install sun tunnels – capped skylights that use mirrors to reflect sunlight – to bring more natural light into a room from above.
Modern homeowners expect lighting beneath and/or inside cabinets.
Incorporate Smart Technology
While making upgrades, be sure to allow for smart home evolution. Among technologically dependent home buyers, smart home technology is essential.
A survey from T3Sixy researchers found that installing smart home features can boost a home's value by as much as 10%.
40% of realtors believe smart homes sell faster at every economic level.
Add USB and mini-USB ports to outlets.
Install a remotely programmable thermostat as a smart money-saver that's also eco-friendly.
Built-in ports for vacuum cleaning robots are space savers with adaptability.
Smart systems may lower homeowner insurance rates.
Every smart feature needs a "dumb" back-up.
Worst Home Improvements for Resale
The worst thing a homeowner can do is attempt a full remodel. Major renovations or remodels rarely, if ever, offer a decent ROI. Elaborate home features, though popular in some circles as status symbols, are generally undesirable.
Avoid luxury upgrades, which have a low ROI in most markets.
Buyers still want to customize homes to their liking, so extensive or highly customized renovations are not recommended.
Don't price yourself out of your market or renovate a home that is unlikely to appreciate in value.
Elaborate designs collect dust and are more difficult to clean.
The Remodeling Cost vs. Value Report, which some professionals consider the home improvement bible, figures a 77% ROI on kitchen upgrades exceeding $23,000.
Homeowners who make upscale or luxury renovations prior to resale stand to lose upwards of $50,000.
Least Cost-Effective Renovations – National Averages

| Renovation | Average Cost | Added Resale Value | ROI | Loss |
| --- | --- | --- | --- | --- |
| Upscale Master Suite Addition | $320,980 | $153,000 | -52% | -$167,980 |
| Upscale Bathroom Addition | $103,610 | $54,700 | -47% | -$48,910 |
| Midrange Bathroom Addition | $56,950 | $30,240 | -47% | -$26,710 |
| Upscale Kitchen Remodel | $149,080 | $80,280 | -46% | -$68,800 |
| Midrange Master Suite Addition | $156,740 | $85,670 | -45% | -$71,070 |
| Upscale Bathroom Remodel | $75,690 | $41,470 | -45% | -$34,220 |
Additions
At the turn of the 21st century, room additions were the biggest trend in home improvements, with 18.2% of owners adding at least one new room to their existing home. In terms of resale value, however, room additions are a terrible investment.
An average room addition may cost homeowners upwards of $60,000 after resale.
Additional space requires more cleaning as well as heating and cooling.
A new addition is the quickest way to price your property out of its market.
Added rooms often appear out-of-step with the rest of the home in terms of design and/or material.
Added rooms decrease exterior space, which may be undesirable in warmer climates.
In some markets, adding a home office may have an ROI as high as 48%.
Backyard
Backyard gatherings are popular, leading some homeowners to think a backyard redesign will attract potential buyers. In practice, buyers prefer a backyard that's adaptable to their favorite outdoor activities.
Elaborate outdoor kitchens have emerged in some markets as a desirable, high-end feature, but their ROI can be as low as -55% in some markets.
Projected ROIs for backyard projects vary widely from one market to the next, but for the average property owner, they are a highly risky investment.
The backyard is typically the last thing homeowners look at.
Home shoppers usually have their own plans for a backyard in mind.
Unwanted backyard features are costly for buyers to remove.
Baths
A common mistake among home sellers is assuming luxury additions will attract wealthier prospects. In reality, upscale renovations are worth less dollar-for-dollar than simply replacing windows.
Many luxury bathroom fixtures, such as heated tile and extra large tubs, drive up utility costs.
Most people are uninterested in luxury tubs, and in fact, removing a large bathtub has a much higher ROI than installing one.
Luxury updates also tend to be more difficult to keep clean.
The bathroom is the one place where a great deal of space isn't desirable; in addition to the added cleaning, most home buyers would rather have that square footage added to the kitchen or family room.
Bedrooms
A master suite is one of the least cost-effective additions to any home. The best home improvements to make in bedrooms are those that improve energy efficiency and integrate smart home technology.
Enlarging a bedroom makes it seem less "cozy".
Adults don't spend a lot of time "hanging out" in their rooms and have little need for the seating master suites often include.
Master suites also traditionally include attached master bathrooms; many home buyers are uninterested in the additional privacy.
Buyers know they're going to be asleep for most of the time they spend in their bedroom, making amenities there less appealing than those in high traffic areas, such as the kitchen.
A master suite is difficult to repurpose, leaving a large portion of the home domestically inflexible.
Basement
Some guides recommend finishing a basement to add more heated square footage to a home. It makes sense in theory, but in practice, finishing a basement doesn't have the best ROI.
Finishing a basement costs between $10,000 and $90,000.
Most people don't spend a lot of time in their basements due to a lack of natural light.
Basements also tend to be cooler than upper floors, which can be uncomfortable, especially in cold climates.
An unfinished basement is rarely a deal-breaker.
Most people use basements primarily for storage even when the basement is finished.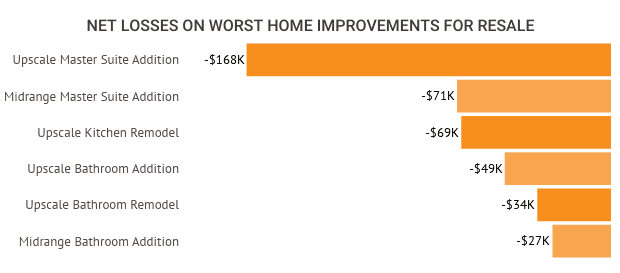 Renovate with Caution
Regional markets vary, so some projects that offer a high ROI on a national level may not be as lucrative in your area. For example, Midwestern home buyers pay more for updated kitchens but are less impressed with investments in exteriors.
A new deck has an average ROI of just under 75%; in some markets they're an advantage and in others, a liability.
Updates to finished basements with walk-out glass doors and windows average a better ROI than improvements to traditional basements.
Steel front doors are desirable in some markets, but overall, they have a low ROI.
In warm climates, such as the American Southwest, outdoor kitchen additions average between a 0% and 100% ROI.
Adding a bathroom may offer a decent ROI under certain circumstances, such as when surrounding homes have an additional 2 or 3.
New Appliances
Always use caution when updating appliances.
New appliances can easily become the most expensive part of a renovation, rapidly reducing ROI to as low as -50%.
Most major appliances are now highly customizable; features that seem ideal to you may be counter to your buyer's needs.
Unwanted appliances take up valuable space.
Major appliances lacking in energy efficiency can be deal breakers.
Energy efficient and smart appliances may add value to a home.
Why Make Improvements Now?
The housing market is the most active it has been in decades, outperforming every other leading market indicator worldwide. Even if you don't plan to take advantage of the current seller's market, it's never too early to think about resale value. Making regular updates and keeping up with routine maintenance is the best thing a property owner can do for their investment.
Home prices increased 17.8% in 2020.
From 2016 to 2019, home prices increased at an annual rate of 5.9%.
99% of agents say their local housing market is either balanced or favors sellers.
46% of realtors expect current trends to continue, with demand outranking supply into the next peak season.
The average homeowner spends over $1,100 each year on home improvements.
The average household size is on the rise for the first time in 160 years.
Multigenerational households are on the rise, increasing at an annual rate of 3.5%.
The average cost of rent has increased, making property ownership and rental appealing to investors.
A Brief Analysis of Resale Trends
Suburban housing makes up more than half of the national housing market, though that rate may increase. Statistics indicate that COVID-19 has led many prospective home buyers to seek suburban housing. As a result, the price of single family homes, both for sale and for rent, has increased sharply.
Home improvements and upgrades are an important part of resale. Over half of all U.S. homes were built before 1980, when the average home buyer had different values and priorities than buyers do today. Today's potential homeowners are more concerned about energy efficiency and waste. Moreover, as a reaction to the cookie-cutter homes and McMansions of the '90s and '00s, modern homeowners place more value on individuality and opportunities for self-expression.
New trends in household size and makeup – 20% of Americans now live in multigenerational households – may further drive demand in housing and home improvements markets. In the last 25 years of renovation spending as a portion of residential investment, the home improvement market hit its peak in 2011; it is still the highest it's been since before the 2008 recession. With so much of the economy dependent on these markets, recent years have seen advances in home improvement products as well as increased competition among professionals and buyers.
Sources