The property management industry is extremely lucrative and is becoming more and more popular with the rise of renters. Let's take a look at some of the top statistics from 2018 below.
280K+
total property management companies in the US
$88B+
property management industry revenue
16%
percentage of US GDP made up by real estate
67%
percentage of US renters aged 35 and under
Have you ever thought about renting your home or becoming a property manager? You've seen the job postings and thought, "I could probably do that!" But do you know the difference between property management and simply being a landlord? What type of market is there for property managers today, and what resources are available to you? We explore all that plus the current state of today's rental market in the article below.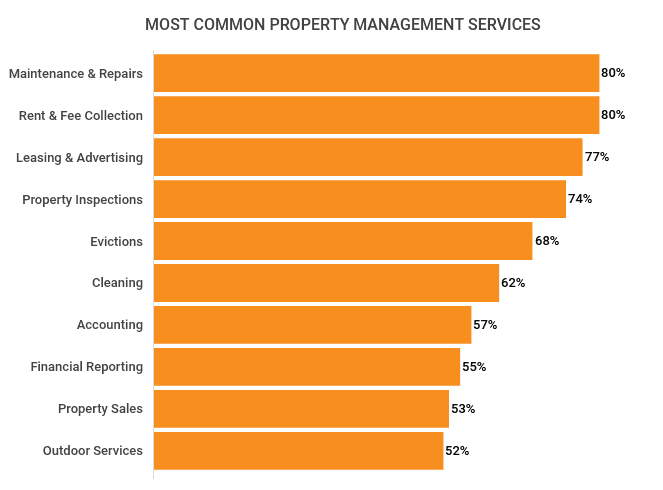 Property Management Defined
The main difference between a property manager and a landlord is that the property manager doesn't typically own the property(s) they are managing. Property managers can manage everything from single-family residences to apartment complexes, shopping malls, and private business buildings—basically any type of building that the owner doesn't have the ability or desire to look after in person.
Property managers are still responsible for ensuring any necessary repairs and upgrades are taken care of, though these may be coordinated by the property manager and performed by a custodian or on-site maintenance technician, especially in a multi-family unit or business office.
In addition, they are also often responsible for overseeing and setting up new leases, ensuring rent is received from each tenant on time and deposited in the correct bank account, giving prospective tenants tours of display units, handling tenant concerns or complaints, reconciling the property's accounts, and advertising vacancies.
On top of all that, the property manager must regularly communicate with and keep the property owner in the loop about any and all issues that come up with tenants or the property itself, and are sometimes asked to advise the property owner on the local rental market and how to stay competitive. A property manager must wear many hats: accountant, mediator, marketing strategist, and advisor to name a few.
80% of property managers are involved in the coordination or performance of maintenance/repairs as well as rent and fee collections.
More than 70% of property managers also perform property inspections, advertise vacancies, and facilitate leases.
The American property management industry generates around $88 billion in revenue each year.
2.5% has been the industry's annual growth rate for the past five years.
Over 847,000 people are employed by the property management industry.
There are roughly 281,345 property management companies in the United States.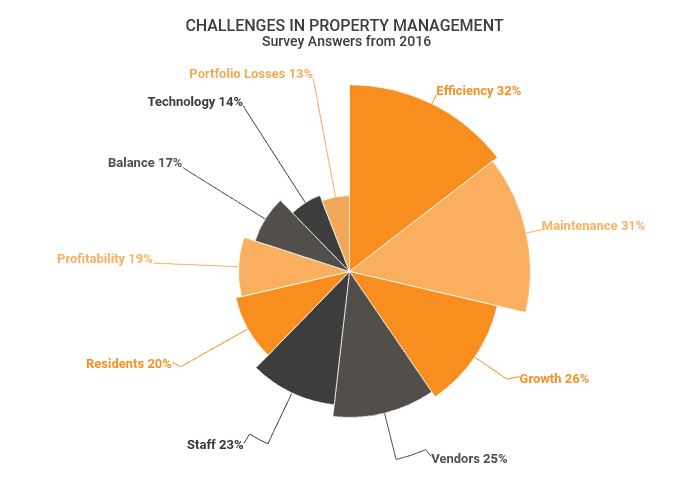 Statistics & Trends
Property managers in general do not prioritize tenants, nor are they concerned about adopting new technology. Rather, property managers are increasingly preoccupied with expansion and profitability, though data does not indicate that property management is becoming less profitable. Data also indicates that the more property owners grew their capacity for new tenants, or added new properties to the mix, the harder it was for property managers to find good vendors to reliably and quickly fix property issues and keep the properties in good working order.
In 2020, property managers selected multiple top priorities; 48 percent of property managers considered growth a top priority.
45 percent also expressed a desire to improve efficiency.
Profitability was prioritized third, with 31% of property managers citing it as a top concern.
Fewer than 1-in-4 managers called the property owner a priority
Still fewer (23 percent) prioritized communication.
only 11 percent of property managers were concerned about technology (not having the right technology/access to technology/outdated technology).
Fewer than 1-in-5 property managers call tenets a priority, down 40% from the previous year.
There was no mention of maintenance concerns.
81 percent of property managers surveyed stated that their revenues had gone up over the past two years.
5 percent of managers saw a decrease in revenue.
88 percent of survey respondents expected their revenues to go up in the next two years.
The Current State of the U.S. Rental Market
Is today's rental market still strong? Is there still enough demand for property managers to make it worth pursuing? The short answer is, "Yes!" In the past decade, vacancies have drastically decreased. In 2020, the national vacancy rate (the number of empty units just waiting for someone to move in) hit its lowest point since the 1980s.
Between 2009 and 2020, the rental vacancy rate decreased by 85 percent.
The current vacancy rate is 6 percent.
If trends from the last decade continue, vacancy rates should drop below 4 percent by 2025.
In 20 years, the vacancy rate could drop below 1 percent.
42 percent of all U.S. renters live in single-family homes.
Between 20 and 43 percent of renters cannot afford to buy a home or unit where they live.
In order to afford a two-bedroom apartment, the average American must make almost $24 per hour.
Monthly rent for a two-bedroom averages $1,588.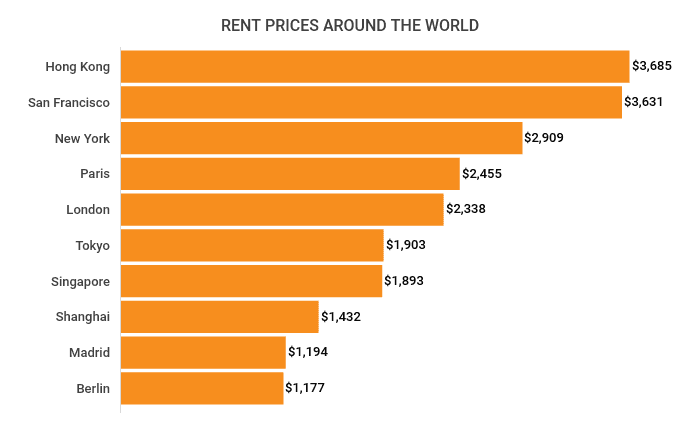 Rental Markets Vary by Country and Region
Markets differ from one place to the next, so renters around the world may have very different experiences. In Hong Kong, it's common for people to live in subdivided spaces, some of which are as small as 50 square feet; that's smaller than the average American bedroom. San Francisco isn't far behind Hong Kong in monthly rent, and is the second-most expensive city on our list, beating out both Paris and London. While New York City is the third-most-expensive city, some data suggests New York has the highest rent for a one-bedroom or studio apartment than anywhere else in the world.
In the U.S., the average two-bedroom housing wage is $23.96.
The least expensive markets are in West Virginia, Kentucky, Arkansas, and Mississippi.
In the cheapest market, renters need to make $14.19 to afford a two-bedroom apartment.
The most expensive markets are in California, Hawaii, New York, and Massachusetts.
The most costly market requires a $38.76 per hour wage to afford two bedrooms.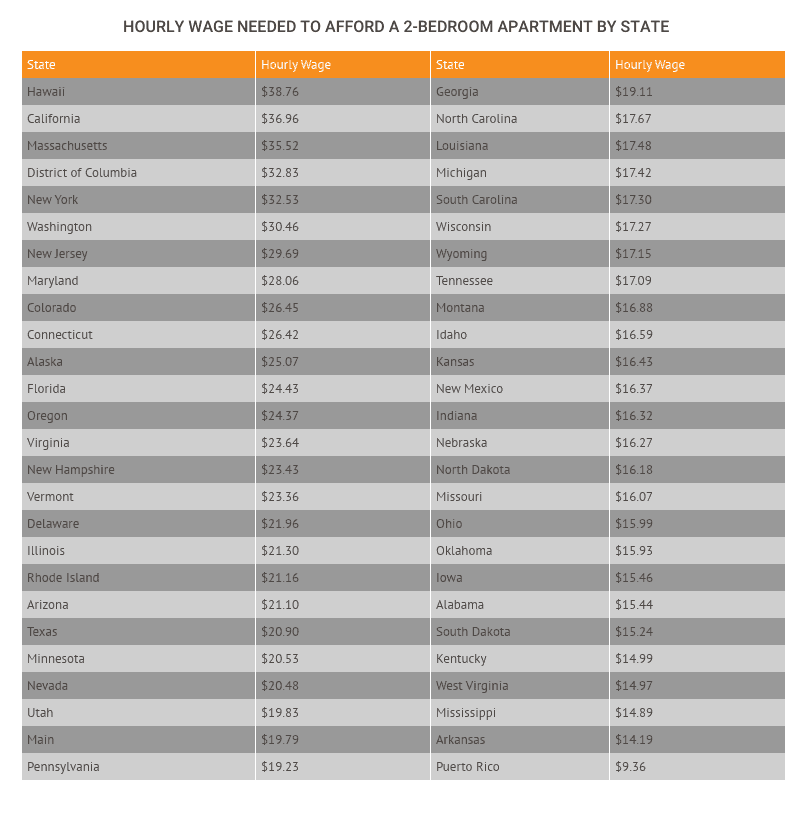 Renter Demographics
In the past few years, rentership has stabilized in the United States. Demographic distribution among renters, however, continues to shift. In the 2020s, renters are increasingly more likely to be older, minority, and nontraditional households.
Rental affordability declines by as much as 10% each year.
In one decade, the number of renters increased by 25%.
During that same period, the number of homeowners decreased by just over 1%.
The total market size for renters is 34%.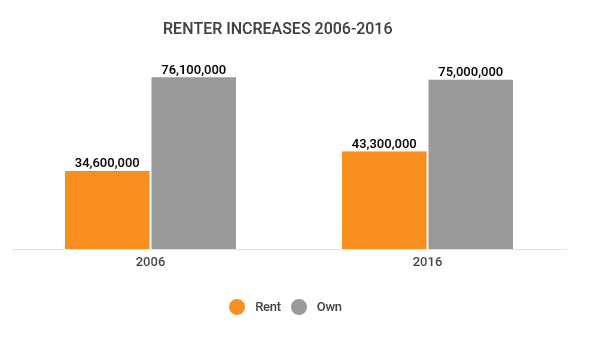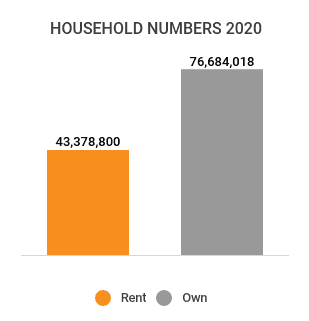 Renter Demographics by Age
The oldest millennials are approaching 40, which is the average age of first-time homebuyers. Affordability continues to decline, however. Consequently, an increasing percentage of renting households are high-income earners as homeownership is out of reach for more Americans every year.
Millennials who put off homeownership or forego it altogether do so for a variety of reasons, including dealing with high college debt, which hurts their chances of qualifying for a good mortgage rate. In spite of lower vacancy rates and fairly high rental costs, as many as half of renters are under the age of 35. Comparative data from 2006-2016 is representative of industry trends from the dawn of the 21st century through the end of the 2010s. In the 2020s, trends are expected to continue, albeit at a slower rate.
35 to 49% of renters are under the age of 35; this age group did not see the biggest increase in rentership, however.
Renters aged 35-44 saw the highest percentage increase of any age group at 10%.
Renters over 65 grew by just 2% but are expected to increase at greater rates in the next decade.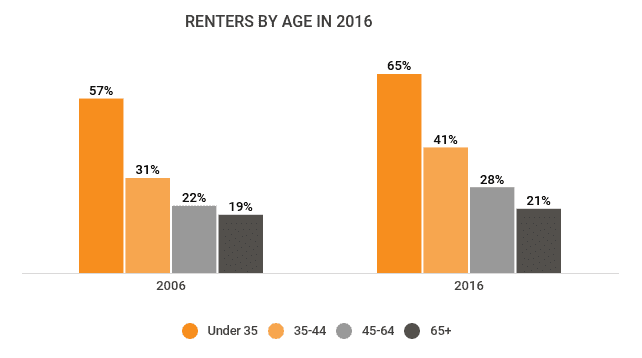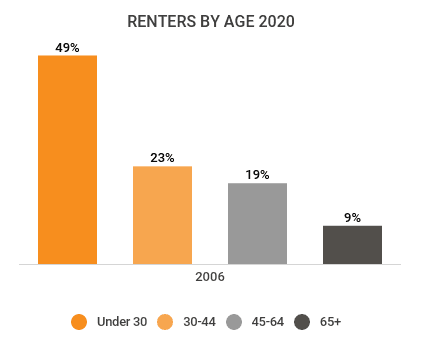 Renter Demographics by Race
While the number of renters has increased across all categories, certain subgroups of renters make up a larger percentage of the population than others. The ups and downs these groups face in the marketplace do not reflect the overall trends of the industry. The very nature of these data reflects socioeconomic disparities between racial and ethnic groups.
58% of renters are Black; 13% of Americans are Black.
28% of renters are Caucasian; 60% of Americans are Caucasian.
54% of renters are Hispanic/Latino; 17% of Americans are Hispanic/Latino.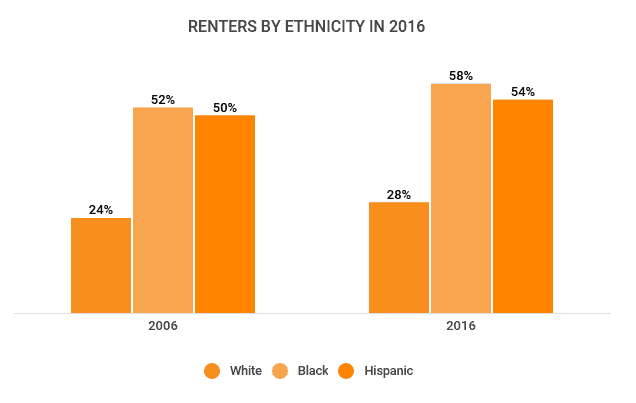 Renter Demographics by Income
The value of the average American income has remained stagnate since 1989. The buying power of the average American income, however, has decreased each year as inflation outpaces wage growth. Data on rent and homeownership appear to reflect the reality of the so-called "wage gap." Low-income earners are more likely to live in rental properties with more than 5 units.
The largest economic group among renters are those making less than $20,000 per year.
Low-income earners spend an average of 40% of their income on rent and 60% of their income on monthly household expenses.
High-income earners spend about 20% of their income on monthly household expenses.
The largest economic group in the United States, accounting for over 40% of households, are those earning more than $75,000 per year.
The average income of homeowners is over $77,000.
The average income of renters is roughly $40,000.
The average American income is roughly $65,000.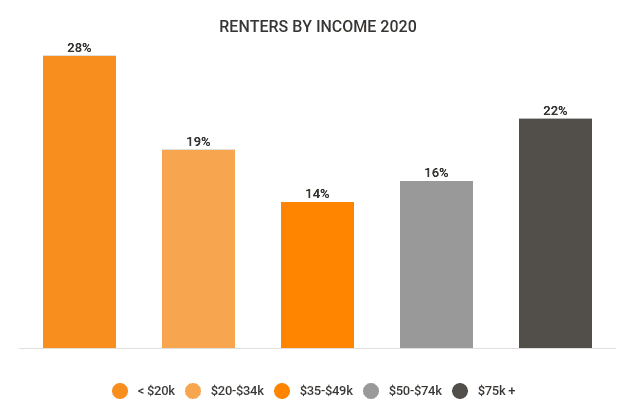 The Average Renter
Taking into account the most recent demographic data available, the average renter is most likely to be a single Black female earning $20,000-$35,000 per year. The average renter lives alone in a single-family unit and owns one vehicle. The average renter has comparatively little income leftover after household expenses, making them less likely to be out of debt or have any savings.
Property Managers Respond to Statistics & Trends
What are property managers doing to make the rental properties they manage to stand out to this group of renters? Their top strategies to improve renter satisfaction include improvements in customer service and an increase in services in general; this is ironic considering trends reveal that the average property manager's interest in these aspects of their role is on the decline.
More than 55% of property managers state they want to improve customer service, providing a more social face to the business.
43% of managers plan to update the properties they manage, including the services they provide to their renters.
Only 9% of property managers planned to offer financial concessions to potential tenants or existing tenants.
42% of property managers say that they want to adopt new technologies to keep their properties relevant to today's market.
Technology and Property Management
New technologies aren't just for the renters living in a rental property. They're also being used by those in the property management business more than ever before.
There are many new property management software programs on the market, which help with efficiency. (One of property managers' top concerns in 2018.)
These new products are offered by several newer companies, such as Buildium, AppFolio, Rentalutions, and VTS. These programs streamline and automate many previously paper-heavy functions, such as paying bills, collecting rents, and tracking maintenance performed.
Several artificial intelligence programs are also making their way to the forefront, ushering in a wave of virtual property management. Almost everything can be done with these programs without ever stepping foot on the property.
For example, programs like ZenPlace use AI and machine learning to calculate things such as water-heater life and can send automated messages to the property owner suggesting when to replace the water heater. ZenPlace also uses chatbots to answer tenants' questions 24 hours a day.
In addition, services like ZenPlace integrate with Google Home or Alexa, making it possible for renters to share concerns about the property any time day or night—such as needing an emergency plumber to fix a water leak at two in the morning.
One Australian company, Happy Inspector, has recently released several mobile property inspection apps and is working on expanding its market. With these apps, the inspection process becomes much faster and easier—efficiency coming into play again.
Even insurance companies are beginning to invest in property management technologies since they've seen the value they provide to the property management industry.
So who's leading the pack when it comes to property management companies? We find out below.
Top Property Management Companies
According to research conducted by Commercial Property Executive and Multifamily News, the top ten commercial property managers in 2018 (in ranking order from top to bottom) were:
JLL
Cushman & Wakefield
Colliers International
CBRE Group, Inc.
Hines
Heitman
Newmark Knight Frank
SVN
TCN Worldwide
Lincoln Property Company
According to that same report, the top ten residential/multi-family property managers for 2018 (in ranking order from top to bottom) were:
Pinnacle Property Management Services
Lincoln Property Company
Greystar
TCN Worldwide
Alliance Residential Company
Bozzuto Management Company
Balfour Beatty Communities
WinnResidential
Edward Rose Building Enterprise
Related Companies
You'll notice that two companies (Lincoln Property Company and TCN Worldwide) made both top-ten lists.
Commercial Property Executive and Multifamily News have provided this data for the past several years, and you can see how the rankings have changed over the years by checking out their website, which offers the results for all years for free.
How can your company move up the ladder? Check out some trends to watch for below and try to incorporate strategies that embrace these new opportunities and challenges.
Trends to Look Out For
What's on the horizon for the property management industry? We take a look at five things to keep an eye on below.
As noted above, new tech is on the rise, and cloud services, artificial intelligence, and integrated devices are making it easier than ever before to be connected to tenants, vendors, and to provide high-tech options, like free Wi-Fi in all rental units or smart home systems for renters.
This trend is not going to go away, as younger tenants demand the conveniences of connectivity from their landlords/property managers.
We also noted the Millennial push toward technology; not only do they expect you to provide them with things like free Wi-Fi, but yes, they're judging your websites, mobile apps, and overall online presence.
How are you marketing your company's properties? Are you with the times or woefully behind when it comes to your online marketing? Mobile apps and a strong social media presence may be the way to go if you want to attract that large Millennial market share.
Rent Controls may be coming to a city near you in the near future, as rental demand continues to drive rent prices higher in high-demand locations. Legal intervention may be in the future. What strategies do you have in place to combat this potential loss of income and offset operating costs?
New construction seems to be trending toward large multifamily units to meet the demand of low rental inventory. If you aren't in the multifamily property management business now, you may want to expand your company's reach to take advantage of this soon-to-be-booming market share.
Consolidation may be the future. Many companies are taking note of the lucrative nature of the property management industry and jumping in. They don't necessarily want to start from scratch and are more interested in acquiring and combining existing companies that offer great service to their clients.
And smaller companies may be looking to join together to handle a larger market share, broaden their demographic reach, or expand into locations they haven't been able to on their own.
In Summary…
Property management is a multi-billion dollar industry, with plenty of growth opportunities for those companies that are willing to dive head-first into technology and embrace the Millennial market.
With renting at a high not seen in decades, and demand up due to lower inventory, the property management industry is expected to continue to grow for the next several years.
New innovations in technology, including the use of AI to increase availability and efficiency are streamlining the industry like never before, making it easier to take care of client needs and keep property owners up-to-date on the day-to-day operations of their properties.
All signs point to it being a good time to be a property manager.
Sources