Last updated: February 2020
Opportunity Zone Statistics
Facts and figures on Opportunity Zones, the census tracts composed of economically distressed communities that qualify for tax incentives under the Tax Cuts and Jobs Act of 2017.
29%

Collective poverty rate of Opportunity Zones.

31.5M

Number of Americans living in Opportunity Zones.

8,766

Number of census tracts designated as Opportunity Zones.

$347m

Grant money invested into Opportunity Zones by the Economic Development Administration
General Statistics:
In 2018, the U.S. Department of the Treasury certified 8,766 Qualified Opportunity Zones in:
All 50 states
District of Columbia
US Territories (Guam, Northern Mariana Islands, Puerto Rico, Virgin Islands, American Samoa)
Designation process allows for approximately 25% of each state's low-income census tracts to be certified as Opportunity Zones
31.5 million people live in Opportunity Zone areas
24 million jobs are located within Opportunity Zones
294 Opportunity Zones contain Native American lands
Nearly 380 universities and colleges located within Opportunity Zones
Nearly 480 airports near or adjacent to Opportunity Zones
3.7% of Opportunity Zones showed signs of gentrification at time of nomination:

Population growth at least 7.8% or higher
Median family incomes growing 11.1% or higher
Initial poverty rates at least 1.5 times national level

96% of Opportunity Zones do not show signs of gentrification
Real Estate Statistics:
13% average housing vacancy rate
47% of Opportunity Zones saw housing vacancy rates rise between 2006-10 and 2014-18
45% of Opportunity Zone residents are homeowners
Most properties in Opportunity Zones were built at least 50+ years ago
Median home value in an Opportunity Zone is $160,000 compared to nationwide values of approximately $205,000
46% of Opportunity Zones saw median home values decline between 2006-10 and 2014-18
43% of Opportunity Zones have a median home value lower than $100,000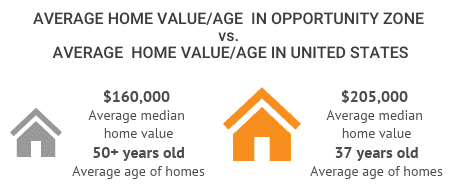 Housing Statistics:
Nearly 2.4 million (27% of Housing & Urban Development (HUD) residents) people live in HUD-assisted housing within Opportunity Zones
371,000 public housing units (38% of HUD's total inventory) are in Opportunity Zones
738,000 people live in public housing within Opportunity Zones
465,000 (22% of HUD total) Housing Choice Voucher (HCV) or Section 8 units are in Opportunity Zones
62,000 Project-Based Voucher (PBV) units are in Opportunity Zones
Economic Development Administration (EDA) Grant Funding for Opportunity Funding:
Beginning in 2018, Opportunity Zones became eligible for EDA funding via grants.
Since January 2018, EDA has invested $347 million in 239 projects in Opportunity Zones.
Awards are minimum $100,000 and a maximum $3 million
What does an average Opportunity Zone Look Like?
71% of Opportunity Zones meet the U.S. Treasury Department's definition of "severely distressed with a poverty rate of 30% or median family income no greater than 60% of the area benchmark
8.5% have a transit station
83% of Opportunity Zones have a lower average life expectancy than the national average
28% of Opportunity Zones qualify as food deserts (without a full-service grocery store within a 1-mile radius in urban areas and 10 miles in rural areas)
31% of adults aged 25-54 are not working vs. 22% nationwide
Poverty Levels in Opportunity Zones:
7.9 million Opportunity Zone residents live in poverty
28% average poverty rate compared to 14% in U.S.
More than 1 in 5 Opportunity Zones have a poverty rate over 40%
55% of renters in Opportunity Zones are rent-burdened (spend more than 30% of household income on rent)
Opportunity Zone residents spend an average of 53% of income on housing and transportation
Opportunity Zones cover 38% of census tracts that have been consistently poor since 1980
Opportunity Zones cover 49% of concentrated persistent poverty (census tracts where 40% of the population has lived in poverty since 1980)
Poverty rates rose in over half of Opportunity Zones between 2006 and 2018
The average family living in an Opportunity Zone saw half of the buying power of their income decrease between 2006-10 and 2014-2018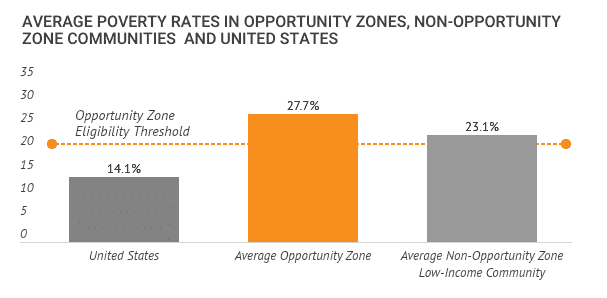 General Demographics:
$33,345 Median Family Income
Average Opportunity Zone demographics by race:

39.5% White
24% Black
29.9% Hispanic
2.9% Asian & Pacific Islanders

Average Opportunity Zone demographics by age:

23.6% younger than 18
13.61% older than 64
35% of residents in Opportunity Zones are obese
21.1% of adults lack a high school diploma
18.1% of adults have a bachelor's degree or higher
Environmental Statistics:
In 2019, the EPA announced they would be investing $65 million on brownfield grants within Opportunity Zones:

108 communities within Opportunity Zones selected as recipients
40% of communities receiving funding are first-time assistance recipients
Property values of homes near brownfields sites increase between 5% and 15% after brownfield clean-up
Frequently Asked Questions
How do private investors benefit from Opportunity Zones?

Taxpayers can defer tax on capital gains after investing in a Qualified Opportunity Fund (QOF) and meeting certain requirements. Tax on any prior gains invested in a Qualified Opportunity Fund can be deferred until the date that the investment in the QOFis sold/exchanged or December 31, 2026, whichever is earliest. As shown below,  the government anticipates a significant revenue gain in 2026 when most deferrals will end.

For QOF investments held longer than 5 years, a 10% exclusion will be made for the deferred gain. For 7 years, this exclusion increases to 15%. If the investor holds the investment in the QOF at least 1o years, they are eligible for an increase in basis of the QOF investment equal to its fair market value on the date the QOF investment is sold or exchanged.

How are Opportunity Zones designated?

Areas/census tracts that are eligible for designation as Opportunity Zones typically meet the following criteria:

A poverty rate of 20% or more
Median family income of less than 80% of statewide or area median income

These areas qualify as an Opportunity Zone if the Chief Executive Officer of their state they are in has designated them as such. They are then certified by the Secretary of the U.S. Treasury and retain the Opportunity Zone designation for 10 years.

Up to 5% of census tracts in each state that don't otherwise meet the requirements can be designated as Opportunity Zones if:

They are contiguous with a qualified Opportunity Zone
They have a median family income of no more than 125% of the median family income of the adjacent qualified Opportunity Zone

What investments are not permissible Opportunity Zone projects or properties?

A Qualified Opportunity Zone Business Property must have at least 50% of its total gross income derived from actively conducting trade and business. Services performed for such business must be by employees, independent contractors (and their employees within the qualified opportunity zone. The IRS can utilize the "general anti-abuse rule" to determine if an investment has not been in line with the purpose of the Opportunity Zone program.

Additionally, the following types of business are not eligible:

Racetracks or other gambling facilities
Liquor stores or businesses selling alcohol for consumption elsewhere,
Suntan, massage, and hot tub facilities,
Country clubs and private/commercial golf courses.

What about real estate investing in Opportunity Zones?

Opportunity Zones near neighborhoods growing due to urban expansion offer significant potential benefits from real estate investing.

Qualified Opportunity Funds (QOF) may invest in construction of new buildings and extensive rehabilitation of unused existing buildings. The QOF has to invest more in the rehabilitation of the structure than what it paid to buy the property. Construction or rehabilitation must be complete within 30 months of the property's purchase.

Most successful long-term investment strategies for real estate include buying up properties for cheap in neighborhoods that are undergoing renewal or investment, rehabilitating/repurposing properties and either renting or selling them as neighborhoods grow. Much of the population of the United States has migrated to urban areas and properties in these areas usually see high appreciation in value and demand. Opportunity Zone tax incentives can make real estate investing more profitable than ever.

Who is eligible for EDA grants for Opportunity Zones?

The 2019 Grant Opportunity Announcement indicated that eligible applicants for these grants were:

Private institutions of higher education
County governments
Special district governments
Native American tribal governments (Federally recognized)
City or township governments
State governments
Others
Nonprofits that do not have a 501(c)(3) status with the IRS, other than institutions of higher education
Public and State controlled institutions of higher education
Nonprofits having a 501(c)(3) status with the IRS, other than institutions of higher education

EDA is not authorized to provide grants or cooperative agreements to individuals or to for-profit entities.

Can Opportunity Zone investing help the environment?

Many of the most severely distressed Opportunity Zone communities include brownfield sites, where expansion, reuse, or redevelopment is limited because of the presence of pollution, industrial contamination, or other hazardous substances. These areas have struggled to find investors willing to take on the burden of environmental remediation and land improvement before they can even begin redeveloping an area.

In 2019, the IRS provided clarification to the Environmental Protection Agency (EPA) on brownfield site development, clearing the way for redevelopment provided the Qualified Opportunity Fund or Opportunity Zone Businesses invest in these brownfield sites to ensure safety and compliance with environmental standards.

Opportunity Zone investing can augment and overlap the EPA's Brownfields Program. The environmental and economic benefits are significant. The EPA invested $12.4 million in 48 brownfields sites. In the year after clean-up, an estimated $29 million in tax revenue alone was generated in one year after the clean-up.