Last updated: February 2020
Homeowners vs Renters Statistics
There are more renters today than at any other time over the past 50 years. People are becoming curious about how renting compares to homeownership. This post features the most noteworthy statistics surrounding renters and homeowners.
64.4%

current homeownership rate

36.6%

percentage of households renting their homes

7.2%

is the rental vacancy rate

1.6%

is the homeowner vacancy rate
General Statistics
The housing industry represents more than a quarter of our nation's total investment dollars and about 5% of our total economy.
There are currently over 136.57 million housing units in the U.S.
In 2018, the total number of homeowner households hit an all-time high of 76.2 million.
36.6% of households rent their homes
In the first quarter of 2020, 88.6% of housing units in the U.S. were occupied and 11.4% were vacant

6.6% of rentals were vacant compared to 1.1% of homeowner-occupied housing

As of the first quarter of 2020, the homeownership rate in the US was 65.3%, an increase of 64.2% from the first quarter of 2019
Cities Where Renters are the Majority:
Toledo, OH
Memphis, TN
Tampa, FL
Hialeah, FL
Stockton, CA
Honolulu, HI
Anaheim, CA
Baton Rouge, LA
Santa Ana, CA
Columbus, OH
Detroit, MI
Cleveland, OH
Baltimore, MD
St. Louis, MO
Minneapolis, MN
San Bernadino
Types of Structures Renters Live in: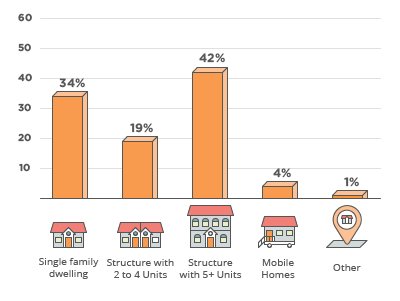 Financial Statistics
The Consumer Price Index for rent is 3.2%.
The average renter credit score in 2017 was 620; statistics show that the average credit score decreases year after year.
91% of 100 U.S. cities have seen a rent increase recently.
Real home prices have risen in most markets (as much as 6.9%), making housing less affordable in the U.S.
Income growth has been strong in the past years, among all age groups, but especially among people most likely to move into new households. Younger adults are more likely to be searching for a new home; median incomes are up 12% among 25–34-year-olds and up 11.5% among 35–44-year-olds.
Individual investors account for 74.4% of rental properties
More than 38 million US households have housing cost burdens.
In 2016, 1/3 of U.S. households paid more than 30% of their income for housing; for tenants alone, that percentage is 47%.
There is nearly a 40% difference in the median renter income and the median renter payment.
Households making at least $50K annually make up 36% of the rental market.
The median rent payment rose 61% between 1960 and 2016 while the median renter income grew only 5%.
For homeowners, the median home value increased 112% and the median owner income rose only 50%.
The number of severely burdened tenants rose by 3.6 million between 2001 and 2016. This leaves a lot of renters thinking they may never be able to own a home. However, a significant percentage of tenants from all backgrounds showed interest in owning a home in the future.
About Renters and Homeowners
The residential mobility rate is at a historic low: 11% of the population in 2017 moved to different homes within the preceding year.
Even though the number of people living in rental housing rose from 72.5 million in 1996 to 83.2 million in 2017, the number of renter-movers declined from 24.2 million to 17.9 million. This is most likely due to high rental costs.
Renters are getting older. Almost 40% of renters are aged 45 or older.
Here are the influential factors when renting:

Rent Price & Other Costs: 87%
Lease Terms: 76%
Unit Size: 73%
The Neighborhood/Area: 73%
Building Amenities: 66%
Unit Amenities: 62%

54% of apartments experience turnover every year.
The average number of screened rental applicants is 2 applicants per rental property.
7.28% of SmartMove applicants have a criminal background.
Buying is more affordable than renting in about 64% of U.S. housing markets.
Households 65 and over are the only age group with higher homeownership rates today.
The average homeowner's insurance premium rose by 3.6 percent in 2015, following a 3.3 percent increase in 2014.
The total number of households in the United States grew by 7.6 million between 2006 and 2016. But over the same period, the number of households headed by owners remained relatively flat, most probably due to the unrelenting housing crisis.
In 2017, 70 million people in the U.S. resided in an HOA. That same year, there were 344,500 HOAs.
Renters Per Household: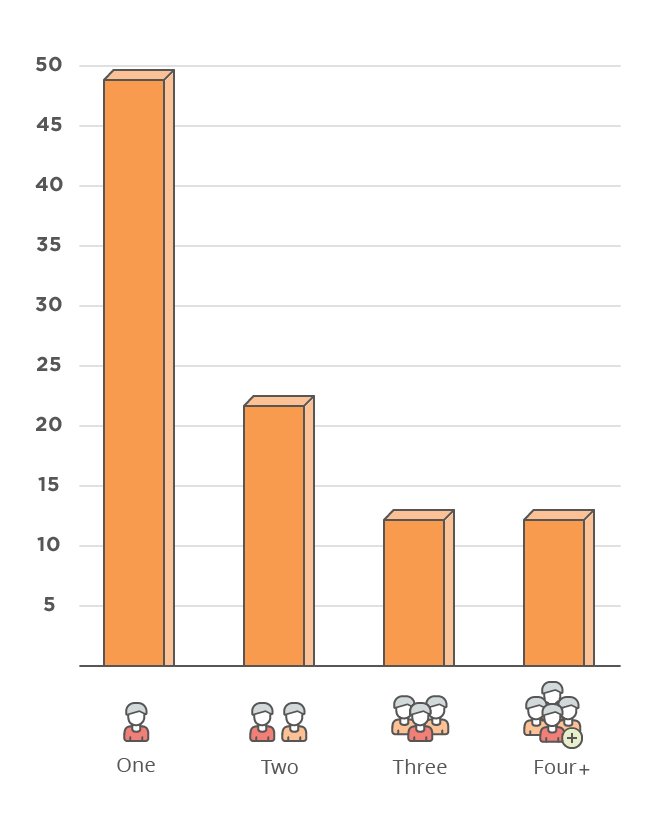 Number of Renter-Occupied Housing Units from 1975 to 2017 (in millions):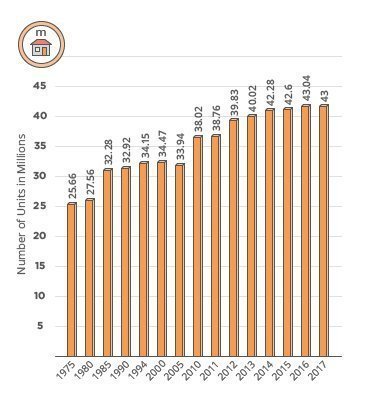 Number of Owner-Occupied Housing Units from 1975 to 2017 (in millions):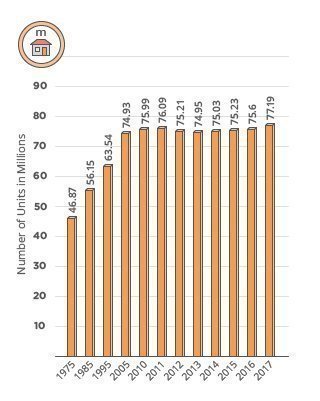 Frequently Asked Questions
How has the market been impacted by the Great Recession of 2008?

The great recession of 2008 has left a great impact on the housing market. As a result, renting has skyrocketed in popularity across the nation. Data show that the total number of households in the United States grew by 7.6 million between 2006 and 2016. Over the same period, however, the number of households headed by owners remained relatively flat, partly because of the unrelenting housing crisis.

Meanwhile, the number of households renting their home increased significantly during that span, as did the share, which rose from 31.2% of households in 2006 to 36.6% in 2016. The current renting level exceeds the recent high of 36.2% set in 1986 and 1988 and is approaching the peak percentage of 37.0% in 1965.