The decline in homeownership in the United States has not been seen since the 1930s when the country was in the grips of the Great Depression. During the time between the 1930 and 1940 census, homeownership declined 4.2%, and during the recession in the 1980s, the rate declined around 1.8%.
8.17 years
average length of homeownership
*Only 37% of Americans have lived in their homes for 10+ years
$6 trillion
average homeowner equity in the U.S.
*$6,400 is the average gain in equity for homeowners in the past year
Alongside the historic low of homeownership rates is another occurrence — an unprecedented uptick in the average length of ownership for the average American. Homeowners have never remained in one home or their first home this long before. In the second quarter of 2019, the average tenure of American homeownership reached 8.09 years, a record high. It's not hard to see why it's more attractive to stay put these days.
In the past, it was common for homeowners to move fairly frequently. This might be a "trade up" to a bigger, better home as incomes increased and circumstances improved or a downsizing move for empty nesters. In the seven years before the housing market crash in 2007, the average time homeowners remained in a home was close to 4 years.

However, since the Great Recession, the market has changed. Economic uncertainty, the recent memory of the housing market collapse, and changing demographics all contribute. Initially, homeowners were remaining in their homes during the housing crisis out of necessity- they may have suffered a job loss or other diminished income, and negative equity. Negative equity describes a home worth far less than what is owed to the bank, leaving these homeowners "underwater" on their mortgages. The market and home values have come back from those abysmal circumstances for most, but not all. In the second quarter of 2018, 2.2 million homeowners were still experiencing negative equity.
Average Length of Ownership Rates
The average length of ownership rates have stayed historically high, but not in all areas. As the economy has improved, a rise in interest rates has come with it. If rates continue their climb towards 5% or more, the length of homeowners' tenure is likely to continue to increase. In this economy, it's not surprising that nearly 50% of homeowners in the U.S. presently live in the first home they purchased. Even as the equity in American homes increases, the number of homeowners that choose to stay put remains high. In the fourth quarter of 2018, the average time most homeowners remained in their home was at a record 8.17 years.
Existing homeowners typically find it easier to finance a new home. According to the National Association of Realtors, first-time homebuyers financed 93% of the home purchased in 2018. In the same year, buyers with an existing home funded typically only 84% of the home. Down payments were easier for existing homebuyers as well, with 40% of buyers utilizing the equity from the sale of their current home as a down payment on their next residence. Equity in the first home can make all the difference in affordability and options for purchasing another. Last year the Federal Reserve indicated that the rates of home equity were at a level not seen in the United States since 2002.
The prospect of financing a new home under current rates and restrictive conditions is a significant disincentive for existing homeowners. Rising interest rates also make the idea of selling and moving unpalatable for homeowners who may be locked into lower mortgage rates. Higher mortgage rates and origination fees can make moving to another home prohibitively expensive, even for homeowners with substantial equity. Additionally, selling a home can necessitate additional expenditures such as agent commissions, and upgrades/repairs required as a condition of the sale.
Homeownership and Equity
Many homeowners have seen a significant increase in their equity as median home prices across the nation climb. In 2018 it was estimated that American homeowners have a record high of $6 trillion in equity in their homes, marking an increase from 2017 by 12.3%.
Even so, the profit from selling a home with high equity may not be sufficient enough motivation for a homeowner to get into another residence with a similar mortgage rate and payment. Instead, many homeowners choose to take advantage of their equity with a HELOC loan (home equity line of credit) to make improvements to their existing home. Once homeowners have lived in their homes for six years or longer, as many as 61% prefer to remodel or renovate their home instead of transition to another property.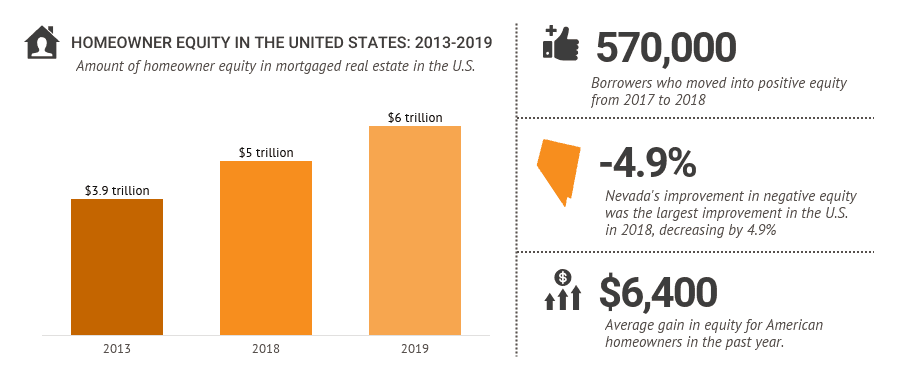 Homeowners who want to move but do not have a lot of equity in their homes are also feeling the squeeze. In order to qualify for affordable mortgage rates, a hefty down payment is usually required. In the past, some homebuyers were able to qualify for a home loan with very little money put down. For those homebuyers without a nice chunk of equity that they could roll over into a down payment on a new home, a down payment could be one of the biggest deterrents to moving. Just over 13% of buyers indicated the down payment was the hardest part of buying a home.
The Housing Market
Another considerable factor affecting homebuying activity is an abysmal lack of available housing to buy. There just aren't enough houses to meet the demand. The national housing market in the U.S. is seeing a shortage of housing and increasing median home prices. Together, these factors have been a direct influence on the average length of homeownership. Construction has not kept pace with the demand for new homes. Competition among American homebuyers for both new and existing homes has become fierce in most real estate markets. In hot markets, homes go under contract within hours of hitting the market. Bidding wars sometimes put homebuyers in the awkward position of trying to find and purchase a house while selling their current home.
And the affordability of homes has declined as well. With high demand, homes cost more than ever. Median home prices have shot through the roof, increasing to record highs. In many parts of the U.S., home prices are remaining far above what they were before the Great Recession. Facing higher home prices and climbing interest rates, it makes more sense fiscally for many homebuyers to stay put.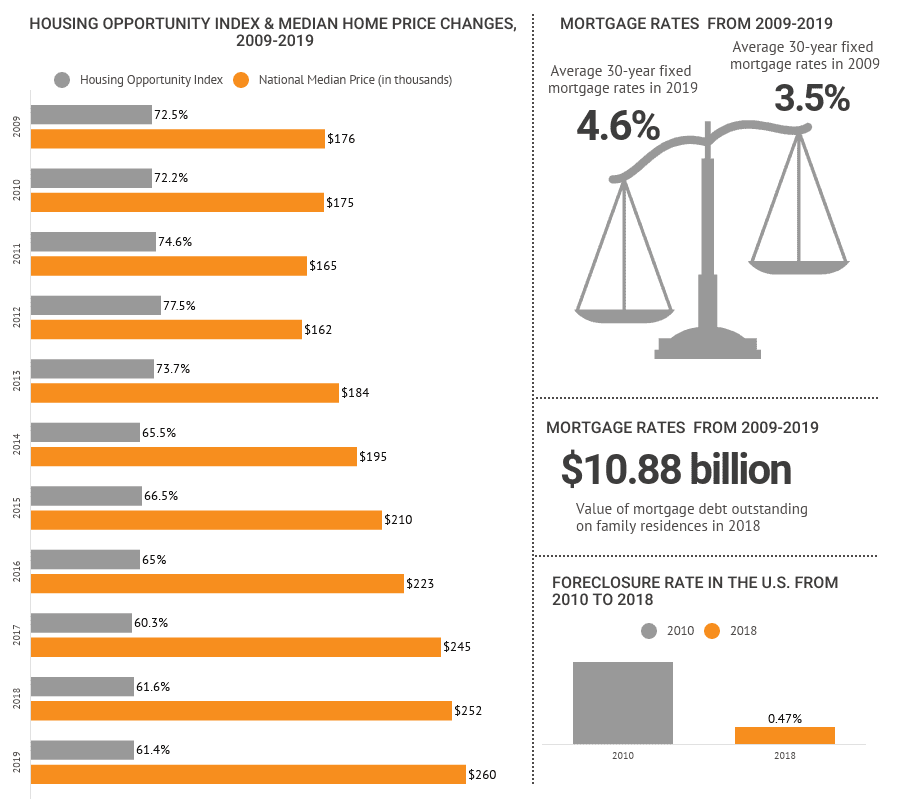 If the crazy market conditions weren't enough, homeowners often find themselves competing against corporations scooping up thousands of properties to add to their stock of single-family home rentals. These institutional investors hastened the recovery from the nation's housing market collapse. Many landlords and property management companies today are successful due to being able to buy homes during the recession.
But in the long run, the hedge funds and giant corporations who jumped into this scheme harmed more than they helped. Both smaller scale landlords and prospective homeowners have been affected. Many of these institutional investment/rental companies ended up merging and growing into massive entities that own entire neighborhoods. However, long after the market began to recover these entities continued to purchase unbelievable quantities of real estate at rock bottom prices with government incentives and loan backing. Their buying habits and the government continuing to give them unfair advantages in the housing markets have in the long run harmed American homebuyers nearly as much as the resulting recession.
A homeowner selling their property with the intent to upgrade to a new home will need to close quickly on their current home to then purchase the new house. These sellers may be more inclined to take a cash offer for a property from a large corporation than run the risk of an independent buyer's financing falling through.
The ability to make cash offers gives institutional rental companies the advantage when buying homes. They enjoy better odds at winning a bidding war as they typically have tremendous government-backed resources to make cash offers on starter and mid-sized homes and turn around and offer them to renters.
Owning vs. Renting
The Great Recession saw a steady increase in single-family home rentals. In 2005, single-family home rentals were around 12.7% of total housing units, and by 2016 that number had grown to 19.2%. In regions where the most significant increases in rental single-family units occurred, the number of homeowners choosing to move decreased as well, with some of the most significant drops in household turnover in the nation.
The drastic change of single-family homes increasingly being rented versus owner-occupied is almost certainly a major contributing factor to the decline in homeowners choosing to move. And while it's definitely one of the most concerning negative changes for homebuyers across the U.S., it's not a problem occurring in every market. Declines in homeowner mobility and turnover have occurred even in areas where few homes transitioned to rental properties.
Consumer confidence, historically low inventory of housing and financial barriers to homeownership all play a significant role in homeowners' decisions to the length of homeownership. But there's one less commonly occurring factor across the U.S., and that's the age of the homeowners. More than half of the homeowners in the United States are of the silent or baby boomer generation. Some housing markets are unaffected by the age of their homeowner populations, but in states like Florida, aging homeowners are increasingly choosing to remain in their homes. They are also buying many new-build smaller homes that would be considered "starter" homes due to their size. Whether these are homes in purpose-built age-specific "senior villages" or merely a smaller residence than the one they raised a family in, the silent and boomer generations continue to represent the most significant percentage of homebuyers.
The Baby Boomer generation more than those before it leads the way with finding ways to remain at home as long as possible. New technology, advances in medicine, and the increasing availability of in-home medical care can make it possible for them to live at home longer before transitioning to a nursing or care facility. The process of retrofitting and remodeling homes for seniors is a growing market all its own. Economists hope that as these generations begin to age out of their homes in the future, their properties coming back on the market will ease some of the demand for housing.
The Economy
There are other economic and societal consequences to homeowners remaining in their existing homes longer. The typical progression of homeowners moving from a "starter home" to a mid-size home and possibly even to a bigger house has drastically slowed. With nobody moving out of lower-priced, homes, the housing supply remains limited, especially in urban and metropolitan areas. Construction has slowed, and starter homes just don't come on the market as often because first-time buyers are remaining in them longer. The economic boost that comes from buying and selling homes is diminished, and the real estate industry has taken a huge hit.
Other ripple effects from this rise in homeownership tenure can mean less mobility for homeowners that might otherwise move for job opportunities. Instead, they remain in less ideal employment conditions because moving is too expensive. This can affect economic growth for businesses who may find it difficult to attract talented employees due to the housing market conditions in the cities where they are located.
The current job market is seeing the highest percentage of jobs concentrated in urban areas. These metropolitan districts struggle to provide housing for the influx of new residents. Big cities like Seattle, Denver, and Phoenix are adding millions of jobs with high growth rates, but their housing inventory is scarce. Homebuyers face steep competition for properties that cost far more than elsewhere in the nation. The home values in these booming regions have made homeownership less affordable for many. Established residents are reluctant to sell their homes when faced with a much higher cost of buying something else in the same area.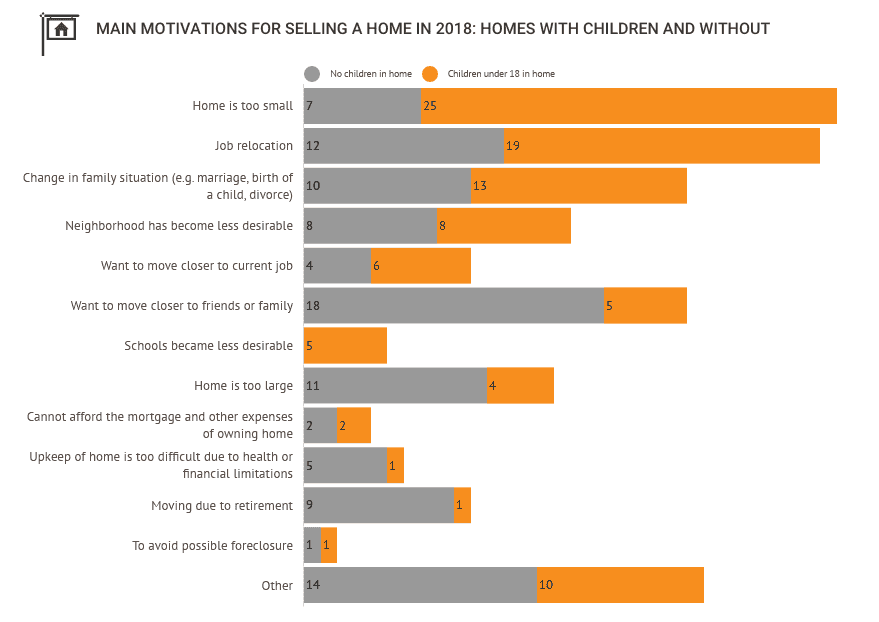 In some cities though, the long tenure of homeownership is declining. Nearly 23% of large metro areas are seeing a decrease in the length of homeownership, to include Tucson, Kansas City, Boston, Orlando, and Oklahoma City.
In the future, changes in homeownership rates will continue to directly affect the number of homeowners remaining in their existing homes. Changes to the U.S. economy as a whole could shift the entire market. One of the most prominent potential groups of buyers, millennials, are struggling to qualify to buy homes, often due to crippling student or personal debt. The housing finance sector is seeing changes with new companies like iBuyers entering the market. Foreclosure rates continue to decline in most markets. An optimistic outlook would be that the demand for housing could be eased with increased construction of new homes and the removal of bureaucratic and municipal barriers to rehabilitating distressed properties.
However, some economists fear a recession is coming within the next 18-24 months that will send the homeownership tenure rates even higher as owners buckle down to wait out the storms. While there are likely other factors that will influence a future recession, a housing market slowdown or collapse like we saw in 2008 is not expected to be the reason.
Regardless of where the economy goes, the housing market crash and the Great Recession have inalterably changed the perception of homeownership. Even as potential homebuyers and young adults frustrated about the obstacles in their way to achieving it, over 70% of Americans continue to perceive homeownership as a dream they'd like to achieve one day. Those who are already "living the dream" may find homeownership to be a challenge, especially in tough economic conditions. And those owners that have undertaken the endeavor responsibly tend to enjoy stability and protection from rising rents and the expenses of buying a new home. Increasingly, they are waiting to see what's next before making another move. As the housing market cools off, they are joined by potential buyers who are also sitting tight, apprehensive about what's ahead. Nearly 60% of prospective buyers in 2019 indicated they would wait until after 2020 to see how the market shapes up. Homebuying and homeowning is increasingly becoming a waiting game.
Sources