Owning a home is more than just part of the American Dream. Homeownership can be one of the biggest catalysts for the creation of wealth and economic stability for individuals and households.
In the best conditions, a home can lay the foundation for increased accumulation of assets, including the property itself. Equity in a residence creates a higher net worth. When comparing two individuals who make the same amount of money, but only one is a homeowner, the property owner will almost always have a higher net worth. It's no wonder that a majority of homeowners see their properties as an investment, especially in older generations.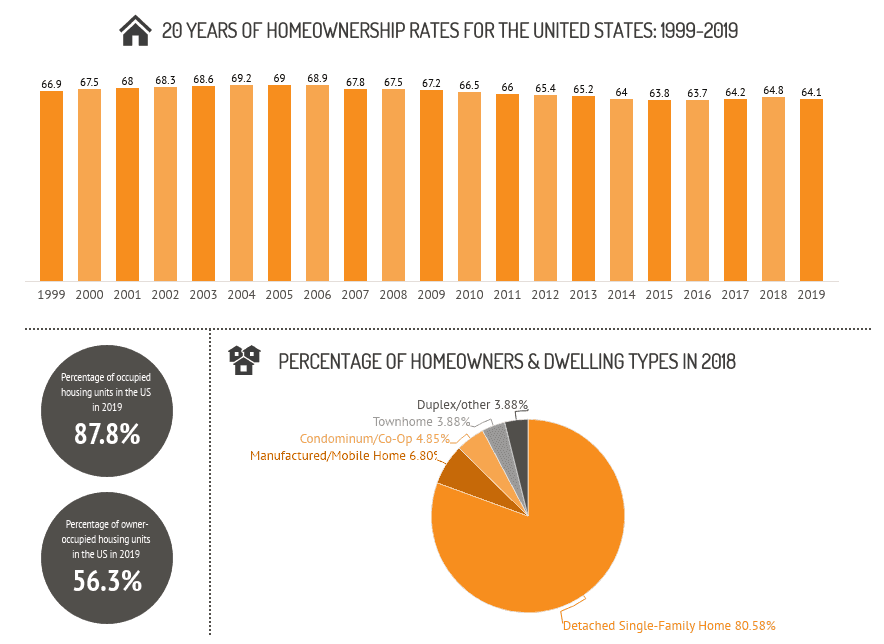 For now, the U.S. housing market is strong. Home values are still on the rise, growing three times faster than income. For those who are seeking to transition to homeownership, these conditions can represent a challenge. With most homeowners electing to remain in their homes for at least 16 years, real estate inventory is diminishing as demand grows. This is an excellent situation for homeowners, who are now enjoying the benefits of increased equity in their homes. As of the fourth quarter of 2018, Federal Reserve reported that home equity rates were at a level the U.S. had not seen since 2002. The market value of owner-occupied housing had increased by 5.3% from the beginning of the year to reach nearly $26 billion.
37% of homes in the United States are paid off and free and clear of a mortgage. This is largely because more than half of homeowners are older than 53. This age group has typically had more time to pay off their homes. For most Americans in 2019, their home is the largest financial asset, comprising an average of 52% of their wealth.
In a report by the United States Census Bureau, the U.S. homeownership rate in the first quarter of 2019 was shown to have decreased to 64.2%, down from 65.4% in the second quarter of 2012.
Since 1960, the highest U.S. homeownership rate was in 2004, with 69.2% of the American population owning a home. It's predicted that in the fourth quarter of 2019, the number will increase again to 64.8%, representing an increase of 0.6 percentage points.
In 1890, only 48% of Americans were homeowners. Remarkable progress towards increasing homeownership has been made in the early 20th century, but not for everyone. After World War II, homebuilding boomed, helped along by government initiatives such as the Federal Housing Authority (FHA) and Veterans' Administration (VA). These organizations guaranteed loans and introduced non-traditional lenders to the housing market. In the decade after World War II, veterans' loans accounted for over 40% of home loans. By 1950 it was estimated that that FHA and VA loans made up over half of new home builds in the U.S., and by 1957, nearly $3.6 billion had been invested in the programs with 15 million homes under construction. Construction predominantly took place in suburban developments, and lot size requirements guaranteed that more government-backed loans went to single-family residences than to urban development. These programs radically changed how homes were purchased and financed. The midcentury surge in housing construction and lending benefited almost exclusively white and middle-class families moving to suburbs. Careful language in zoning ordinances, redlining, and other unconstitutional practices set out to exclude minorities and the poor from the new neighborhoods being built and limiting development and improvement of urban and economically depressed regions.
Since 1960, not much has changed to make housing more affordable, and the numbers have not fluctuated much beyond the 60% homeownership range. Compared to other developed countries, the U.S. has actually fallen behind in homeownership rates.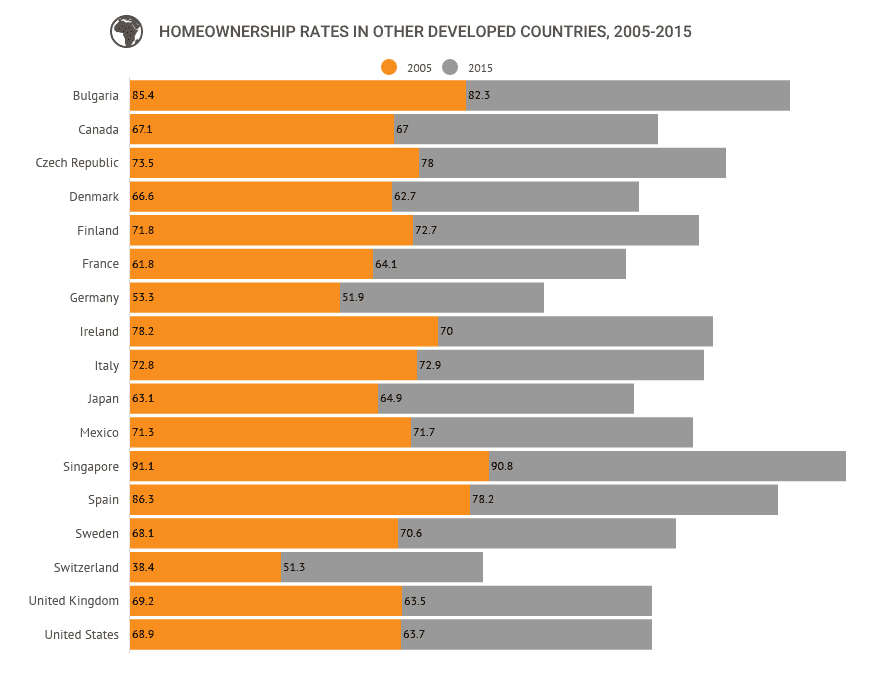 Homeownership rates in the United States continue to decrease as it becomes more difficult to buy and pay for a home. Meeting the conditions to be able to purchase a home can be a challenge due to economic and market conditions, especially for younger homebuyers. It was far easier to purchase a home in 1950 than it is in 2019.
More recently, homeownership rates were affected by the 2007-2009 recession and the accompanying unemployment and subprime lending crisis, but in 2019, there are other factors. Low inventories of homes for sale, slow growth of income that does not keep pace with rising home prices, and stricter lending practices have all helped to depress homeownership.
First-time buyers may find it difficult to put together the money needed for a down payment. Increasingly rigid creditworthiness standards and strict income requirements can disqualify many potential buyers. Student loans are a huge problem for younger generations, as these affect debt-to-income ratios and consequentially, interest rates, and creditworthiness.
Affordability and Homeownership
Renter households in particular struggle with transitioning to ownership. While homes do cost more in today's market, there are other factors making the transition seem insurmountable. Rising rents in the United States have continued to outpace income growth. As a result, renter households or single renters are more likely to experience financial difficulties if unexpected expenses or rent increases occur. In 2003, 36% of renter households were considered housing cost-burdened, where their housing costs exceeded 30% of their household income. In 2017, this number exceeded 43%.
The U.S. Department of Housing and Urban Development (HUD) estimated that the affordability for renting had dropped 24% from 2001. Since 2012, the affordability of purchasing a home declined nearly 26%.
These circumstances make it difficult to save for a down payment on a home, yet 46% of renters who moved from one rental accommodation to another this year indicated they wanted to buy a home if they were able to. For most housing markets over the short term and long term, buying is cheaper than renting. But the reality is that the goal of homeownership is likely still out of the reach of most renters, at least for the time being. While a majority of renters considered buying a home, only 24% believed it was likely they would ever own a home.
Renting is not always a bad thing. Many renters choose to rent because they enjoy the flexibility a lease gives them. And after years of disproportionate amounts of adult children continuing to live with their parents, the increase in younger generations choosing to move out of the family home into a rental property may be a positive sign that they feel confident enough to establish their own household and may eventually transition to homeownership.
Ralph McLaughlin, now the deputy chief economist at CoreLogic, has spent most of his career working in the real estate and housing markets. During his tenure at Trulia, he gave an interview about affordability in housing. His explanation for the four-year home affordability low that occurred in 2016 (and that we continue to see today) included several economic occurrences.
Dr. McLaughlin explained that many homes were scooped up during the economic downturn by investors. Because they are now rental properties, they will likely not come on the market again for sale. If they were investment properties to be resold (often after being renovated or "flipped"), they would enter the market at a much higher price than their purchase price paid by the investor. Additionally, many homes ended up in a situation often referred to as upside-down or underwater, meaning they are worth less than the mortgage or loan on them, leaving the owner with an asset that has no value. Many homeowners in this situation during the recession were unable to move because the sale of their home would not yield enough to pay off the mortgage. A "short sale" was common for these kinds of properties. Since 2012, the number of homeowners in an upside-down situation has decreased by nearly 82%. In many markets where homeowners were hit the hardest, property values have resurged. It's likely a homeowner who found themselves underwater will have the burden eased as their property increases in value.

The third problem causing affordability issues is that as demand for premium homes and "trade-up" homes go up, their prices go up, and consequentially, more homeowners living in a "start-up" home will be more likely to remain in that property and renovate or remodel vs. upgrading to a more expensive home. In 2017, it was estimated that the supply of "starter" or "start-up" homes was declining at around 17% year-over-year, three times faster than larger homes. In 2013 smaller single-family residences made up 29% of the U.S. housing inventory, and in 2017, they accounted for less than 24%.
According to HUD, home prices nationwide are now 19.9 percent above the previous peak in 2007 before the housing bubble burst.
Investors as Homeowners
Institutional investor purchasing continues to drive prices up and accounted for 17% of existing home sales in 2018. It has been a growing trend since the housing bubble burst. During the Great Recession, the government tried to influence demand for housing by launching a program that over time would create even more problems for the housing market. In 2019, smaller, more affordable homes are hard to find because, in many metropolitan areas, as many as 1 in 5 are already owned by an investor.
From 2011 to 2017 over $36 billion was spent on homes by large investment firms with impressive buying power. The government made it easy for these companies to purchase these foreclosed homes at rock-bottom rates and until 2018, continued to favor them with generous loan guarantees, interest rates, and other incentives. They make it tough for homeowners to buy their next home. Even individual investors looking to add a few rental properties to a real estate portfolio have found it difficult to compete with hedge funds and corporations.
The incentives for investors during the Great Recession was supposed to be a somewhat temporary fix to help the housing market recover. Yet even as the housing market began to recover, the government continued to financially support single-family rental companies, even as they merged, merged again, and burgeoned into giant entities that own entire neighborhoods in some areas of the U.S. These corporate entities benefit from lower interest rates than individual home buyers would ever have received and extremely favorable terms for loans. In August 2018, the government opted to discontinue the single-family rental "pilot programs." But the damage has been done to the housing market.
The ever-increasing reach of large institutional homeownership keeps the stock of available homes low and prices high. So low, in fact, that many of these giant single-family rental companies have begun buying new properties to rent because they already own tens of thousands of homes in existing neighborhoods. Homeowners who don't enjoy the incentives the single-family rental companies do are forced to compete against them. It's almost impossible to find a second property to produce a little passive income for individuals seeking to invest. And renters who have no choice but to rent from them will continue to settle for the kind of shoddy property maintenance, poor customer service, steep fees, and other disadvantages that come from having a hedge fund as a landlord.
Vacancy Rates
Homeowner or rental vacancy rates describe the proportion of housing inventory, which is vacant either awaiting a sale or a new tenant. In the housing market, lower vacancy rates indicate a high demand for housing with a low supply to meet it. These numbers may vary depending on the kind of neighborhood and region, such as in a college town where there is a high turnover rate of students, faculty and other staff coming and going vs. an older neighborhood with well-established households.
Renters usually move more frequently than homeowners, so rental vacancy rates will always be higher for those types of properties than homeowner vacancy rates. Low vacancy rates usually signal high demand low affordability for both renters and potential homeowners in an area, especially in densely populated and metropolitan areas.
In the second quarter of 2019, rental vacancy rates in the U.S. were approximately 6.8% and homeowner vacancy rates around 1.3%. The homeowner rate was 0.2 percentage points lower than the same quarter in 2018. The homeowner vacancy rates tended to be higher in cities than in the suburbs, likely because of how expensive most metro areas have become. Outside the cities, rental vacancy rates were much higher, as high as 9.1%.
Who's Living Where
As many as 83% of homeowners live in detached single-family homes, 7% own mobile or manufactured homes, and 5% live in condominiums, 4% live in townhomes, and 2% own a duplex or other kind of home.
In the United States, detached single-family homes are predominantly found in the suburbs, with 87% of homeowners living in these kinds of homes. Urban areas may not have as many single-family homes, with 11% of homeowners indicating ownership of condos, 4% owning townhomes, and 76% owning single-family dwellings.
Nearly 45% of homeowners are still occupying the first home they purchased, while 27% of homeowners have owned at least one home before their current residence. By generation, 78% of millennials still live in their first home. This is a big contrast to 51% of Gen-Xers, 36% of baby boomers, and nearly 20% of the silent generation homeowners.
While 8% of homeowners live alone with no people and certainly no pets, in the U.S., it's more common to enjoy a full house. Most homeowners do not live alone. 74% of homeowners in the U.S. live with a spouse or partner, 27% live with children under 18 years of age, 18% live with other family members, 5% live with their parents, and 2% live with roommates or tenants.
A huge advantage of owning one's home is the ability to keep pets without paying hefty deposits and fees. This is probably a huge reason why a high percentage of homeowners live with pets, to the tune of 65%. Of pet-loving homeowners, 47% live with dogs, 33% with cats and 10% have other pets.
In 2019, the homeownership rate for white households fell to 73.2%, for black households, ownership decreased to 41.8%, but for Hispanic households, the rate rose to 47.4%.
Sources