Homeownership rates describe the percentage of owner-occupied homes. The rates vary greatly within the United States, affected by regional, economic geographic, and national dynamics.
Nearly every survey of American consumers indicates that homeownership is a goal for over 85% of the population. Homeownership provides proven financial, economic, and social benefits. Owning a home satisfies for many the aspiration to own and have control over one's own living space. While not all consumers indicate they are ready or able to buy a home immediately, they would like to own a home later on in life.
According to the U.S. Census Bureau, homeownership has been on a continuous decline from about 2005. Contributing factors to this decline vary according to age group and region, but across the United States the biggest reasons for the decline include higher home prices, high demand, a shortage of housing, and debt. While household growth continues, the majority of new households formed in the United States are choosing to rent instead of buy.
Overall U.S. homeownership in the first quarter of 2019 was at 64.1%, marking a decline of 0.6 percentage points from the fourth quarter of 2018 . While this marks a slowdown from the steady increase in homeownership that's occurred since 2016's low of 62.9%, the fourth quarter of 2018 saw owner-occupied households increase by 1.7 million with an accompanying decrease in the number of new renter households. Even with lower mortgage and interest rates, record unemployment, the housing shortage cannot keep up and the demand keeps prices for both "starter" and mid-priced homes out of reach for many renters seeking to transition to homeownership. The median home price in the United States increased in 2019 by 4.3% to a record high of $285,700.
For some potential homeowners, it's just too difficult to save up for a down payment or qualify for a loan. In many regions in the United States, affordable "starter homes" just aren't there. Competition is fierce and with over a third of homes being bought up by institutional investors, it's hard to participate on a level playing field. A decrease in buying confidence for some may be attributed to recent reductions in homeowner tax incentives as part of the Tax Cuts and Jobs Act, passed in 2017.
The housing shortage, record high prices for homes, and the increasing numbers of households choosing to rent are also reflecting in housing vacancy numbers. In the second quarter of 2019, the U.S. Census Bureau indicated that national vacancy rates were 1.3% for owner-occupied housing units and 6.8% for rental housing units. These numbers continue to reflect a housing shortage throughout the United States. The rate of homeowner vacancy in the U.S. was highest in the South, at 1.7%. Vacancy rates tend to be lowest in urban and suburban areas, where demand for real estate is highest.
Even with the signs of a market slowdown, household formation is happening at a higher level than it's been in nearly ten years, primarily among millennials. This age group represents the largest group of potential homeowners in the U.S. Renters tend to transition to homeownership with significant life events such as marriage or the birth of a child. While these events tend to occur later for millennials, they are beginning to transition to homeownership in greater numbers than ever before.
Homeownership By Region
The homeownership rate of 68% in the Midwest was the highest in the United States in the second quarter of 2019, with existing home sales increasing by 1.6%. This is still less than 2018. Median home prices also increased in the region from 2018 by 6.7%, up to $230,400.
The South's homeownership was around 66%. Existing-home sales declined 0.4% from 2018. Median home prices increased from 2018 by 4.9% to $248,600. This is a great place for potential homebuyers to find a good deal, with West Virginia, Arkansas, and Alabama enjoying the lowest median home price rates and accompanying lowest property tax rates.
The Northeastern region's homeownership rate was at 61.2%, with existing-home sales decreasing 4.2% from 2018. The median home price increased 4.8% from 2018 to the second-highest number in the nation at $321,200. The Northeast has some of the states with the highest median home prices, such as Massachusetts, Washington D.C., New York, and New Jersey.
The Western region's homeownership rates were around 59.3%. Existing-home sales also decreased here, and while this region (especially California and the Northwestern areas) has the highest median home prices around, the increase was the lowest, up by 2.3% from 2018. The median home price for this region was $410,400. The priciest median home rates for states in this region include California, Washington, and Oregon.
Homeownership By State
States that have large concentrations of their population living in urban areas typically see much lower rates of homeownership, such as in California and New York. Areas such as Vermont, West Virginia and Mississippi tend to have higher rates. The median price of homes also plays a key factor. It costs more to buy real estate in more densely populated areas because of demand, so rural states enjoy lower home prices and higher rates of homeownership.
In the first quarter of 2018, the Census Bureau indicated the states with the highest rates of homeownership were West Virginia, Mississippi, South Carolina, New Hampshire, and Vermont.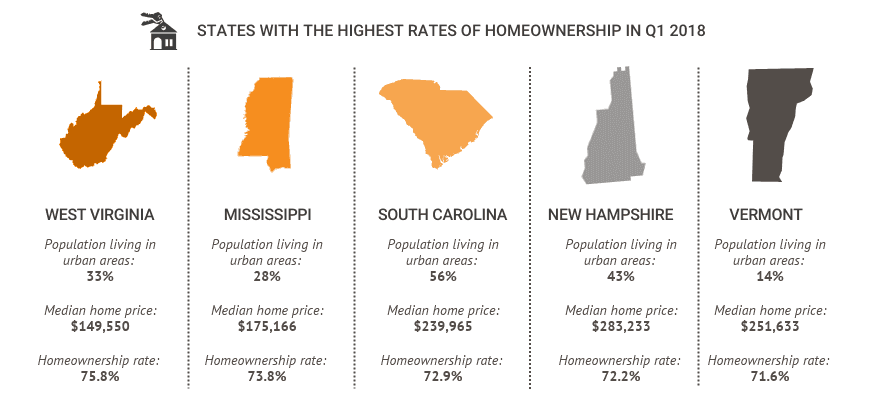 West Virginia's impressive homeownership rate of 75.8% sets it first on the list. Two-thirds of the population live in suburban or rural homes. The median home price is around $149,550. Economic conditions in West Virginia have not always been ideal due to changes in the mining industries, socioeconomic disadvantages, and population loss. The percentage of West Virginia's housing with severe housing problems is around 11.5%.
Mississippi's homeownership rates are also climbing, with less than a third of its population in urban areas. Median home prices are $175,166. Mississippi also has some significant disparities in housing affordability from one region to another. In the Mississippi Delta region, for example, housing costs for both the owners and renter are lower than anywhere else, but incomes are so low that few can afford housing. Over half of renters and a fifth of homeowners in this region are cost burdened, spending at least 30% of their income on housing.
South Carolina's homeownership rate of 72.9% ranks it third. The median home value of around $239,965 is higher than most of the South and Midwest. Just over half the population of South Carolina lives in an urban area, and 15.3% of its housing is considered to have severe housing problems.
New Hampshire's homeownership rate is approximately 72.2%, with 43% of its population living in urban areas. Interestingly, New Hampshire has both high home prices and high homeownership rates, which is uncommon in the United States. The median home price in New Hampshire is about $283,233, ranking in the top 50% of states for high home prices. The percentage of homes with severe housing problems in New Hampshire is 15.5%.
Vermont's homeownership rate is 71.6%. Its population ranks as the most rural in the United States, with only 14% of its residents living in urban areas. The home listing price is $251,633, a number likely due to housing shortages due to demand from out of state buyers purchasing vacation homes there. Surprisingly, 17.1% of housing in Vermont is considered to have severe housing problems.
On the opposite side of the spectrum are the states with the lowest homeownership rates:
District of Columbia, New York, California, Nevada, and Rhode Island. The median home prices in these states are on the higher end. Not surprisingly, severe housing problems go along with lower homeownership rates, with all five ranking within the top 20 states possessing the highest percentages of homes with severe housing problems.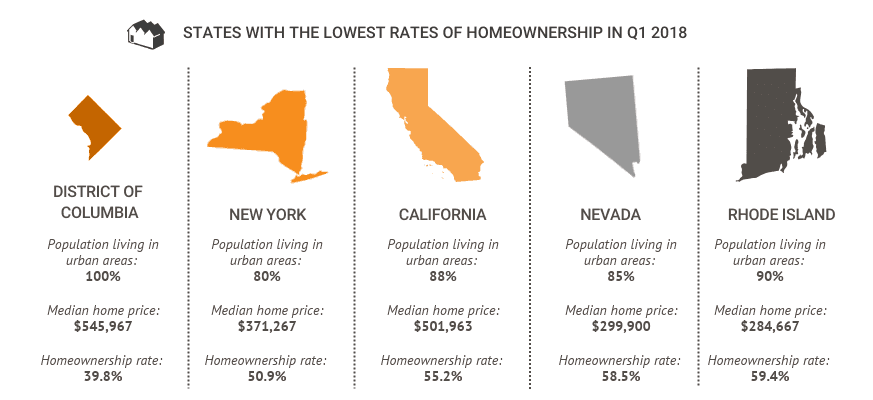 Best and Worst States for Homeowners
Some states are better than others to own a home in. Regions with high property taxes, weak housing markets, and higher occurrences of natural disasters and crime can make owning a home expensive. For example, Florida is considered the worst state for affordability with high mortgage rates, high insurance rates, and property damage from frequent natural disasters. States such as Wyoming, South Dakota and Idaho rank are at the top of the affordability scale. Lower median prices on homes, lower property taxes, and far fewer insurance claims make owning a home in those states much more affordable.
The density of population will almost always affects the livability, affordability, and housing market. Americans wishing to transition to homeownership have to weigh out the pros and cons. For some, quality of life is diminished by a rural lifestyle, and others love splendid isolation and wide open spaces. In some states the median home value is much higher than median income. This is good for established homeowners but for those seeking to buy, it represents an extremely challenging housing market.
New Jersey is generally considered to be one of the worst states to own a home in due to high crime rates, the highest rate of foreclosures in the country, and other economic challenges. Iowa is considered one of the best states in which to be a homeowner, with less crime, a greater percentage of homes in smaller towns or rural areas, lower insurance rates, and few natural disasters.
For first-time home-buyers, the ideal states look a little different. Established homeowners don't have to worry about market value or available housing stock, but these factors can make a potential homeowner into a renter. In states like California, that's exactly what happens and why the rates of homeownership is so much lower than a state like West VirginIa.
Accompanying Statistics for Homeowner Rates
In the most densely populated areas of the United States with low homeownership rates, the percentage of severe housing problems is almost always higher. In these areas with scarce housing, high rents, high demand, and low supply, severe housing problems are a problem among both homeowners and tenants in rental properties. Defined by the U.S. Department of Housing and Urban Development, severe housing problems can include lack of adequate kitchen and bathroom facilities (or inadequate for the number of occupants), hazards, and overcrowding. Substandard housing can include distressed properties, or properties with lead paint or asbestos exposure, water, and moisture problems, and inadequate heating or cooling. Severe housing problems also include residents who are severely cost-burdened, where a disproportionate or unsustainable amount of their income goes towards housing. Cost-burdened residents may have to decide between a rent/mortgage payment or their food, heating, and healthcare. Particularly in urban areas, these situations can affect the environment and health of both individuals and entire neighborhoods. In 2018, 18.4% of occupied housing was considered to have severe housing problems of some sort. The state with the highest level of severe housing problems in 2018 was Hawaii, with an eye-popping number of 27.6%. North Dakota had the fewest percentage of housing with severe housing problems, coming in at 11.2%.
States with higher homeownership rates also have higher percentages of homeowners who are non-white. The states in the U.S. with the highest percentage of homeowners who are Hispanic are New Mexico, West Virginia, Michigan, Texas, and Maine. States with the highest percentage of Native American homeowners are Vermont, Delaware, Louisiana, Mississippi, and West Virginia. Asian homeowners are in the highest percentage in Hawaii, Idaho, Maryland, Maine, and Florida. And the highest percentage of black homeowners are found in Mississippi, Delaware, South Carolina, Wyoming, and Alabama.
Homeownership, when undertaken responsibly, can improve the lives of owners and their families, and boost the economy. Homeownership and home improvement are significant portions of the U.S. economy. In 2018, nearly $400 billion dollars was spent by residential property owners modifying, improving, and upgrading their homes. The process of buying and selling homes also contributes to the economy through job creation and consumer expenditures that go back into the local and national economies.
Statistics show the quality of life improves for all Americans and their children who own their own homes. Economic growth, fewer disparities, and a healthier nation will follow if unnecessary obstacles to homeownership are diminished and removed where possible.
Sources