Our data science team reveals insights on the state of Homeowner's Associations (HOAs) in America, with roughly 8,000 new HOAs forming each year.
351,000
Total HOAs in the United States
Comprising 40 million households
53%
Homeowning Americans live under an HOA
Comprising 100+ million individual residents
$250/mo
Average HOA fee for a single-family home
Varies greatly by services offered + location
$95.6 Billion
Estimated yearly collections of all HOAs
Fees rose 32.4% between 2005-2015
What is an HOA?
Homeowners' associations – also known as HOAs or community associations – are governing organizations over neighborhoods and communities. These can include single-family homes, townhouses, condominiums, and other groups of homes in planned "covenant" communities. There are very few newly constructed neighborhoods without them, as local development planning processes typically mandate an HOA when approving a new community. Most HOAs are formed by real estate developers that then turn them over to an association board when construction nears completion on the new development.
Most HOAs govern single-family residences in planned communities, but there are also governing bodies over condominiums, retirement communities, co-op, and vacation timeshare communities. These are often referred to as common-interest communities or common-interest developments. A condominium owner owns his individual unit and shares joint ownership with other unit owners in the complex of common areas of the building. These shared facilities may include parking lots and garages, laundry rooms, community meeting spaces, dog parks, pools, and clubhouses. The owners of the individual units pay a monthly fee for the upkeep of the community's shared facilities. These communities are also governed by a group of the individual unit owners or a property manager, referred to as the condominium association. This group acts as a landlord to collect dues and maintenance fees needed to maintain the complex. The rules and regulations for condominium residents are often very restrictive as the proximity of units to one another requires consistency.
70% of all HOAs are completely managed by volunteers.
1-in-4 Americans live under an HOA.
Each year, as many as 8,000 new HOAs are formed.
There are 351,000 HOAs currently operating in the United States.
40 million housing units are subject to HOAs.
Over 100 million people occupy housing that is subject to an HOA.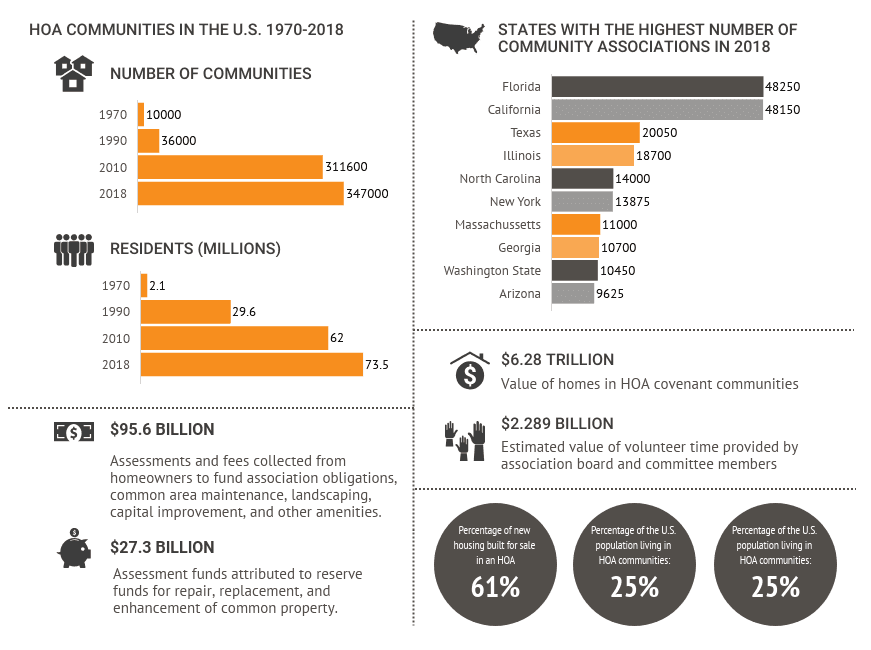 How Will the Mortgage Crisis of 2020 Impact HOAS?
Like most components of the real estate and property industries, HOAs stand to lose some revenue. Not only is the real estate industry as a whole more-or-less stagnate, but social distancing restrictions have limited HOAs' fundraising options in terms of hosting events and programs designed to build revenue and attract more members. In the long run, though, 2020 may have little impact on HOAs.
A 2.6% decline in revenue for HOAs is expected.
Average annual growth over the last 5 years was 1.9%
Most new homes are included in an HOA prior to purchase.
Why Join an HOA?
Since the 1970s, American neighborhoods have been increasingly governed by HOAs. Fifty years on, there are over 350,000 community associations in the United States. One of the most attractive aspects of belonging to an HOA is the idea that an HOA home has a higher value. Some of this is due to premium maintenance and upkeep, but the expectation of vetted neighbors and a quality neighborhood is the biggest draw for most people looking to belong to an HOA.
California and Florida have the highest number of community associations.
32% of Americans live in an HOA community.
On average, HOA homes are priced 4% higher than observably similar homes outside of HOAs.
9-in-10 HOA members call their experience positive-to-neutral.
In some communities, 94% of HOA members say their board's actions protect and enhance property values.
As many as 75% of homes in the south and western regions of the United States are governed by HOAs.
20% of HOA residents indicate the best aspects of living in a community association are the neighborhood's cleanliness and good maintenance
How Much Does it Cost to Belong to an HOA?
HOAs charge fees or assessments for membership and to enjoy their services. Fees are often based on the value of one's home, which means they can change along with the market. Unexpected upticks in fees, however, may be unpredictable, as data show increased fees over the past decades are inconsistent with the rise in house prices. One possible explanation is that as homes and properties age, the cost of maintaining them goes up. In communities where HOA fees pay for portions of maintenance on older structures and homes, this is justifiable. However, in many regions, the increase in fees doesn't always correlate with the age of the community, and many Americans bristle at the level of control an HOA board exerts over their properties.
$250 is the average monthly assessment for a single-family home.
$700 is typically the high-end cost for an HOA, but fees can vary drastically – into to the thousands – depending on amenities as well as the home's zip code.
Between 2005 and 2015, HOA fees rose 32.4%; home prices increased 15.1% during that time.
HOA homeowners in the south and western regions of the U.S. consistently pay higher premiums than those in other regions.
62% of homeowners say their assessments are "just right" or "too little."
Some associations add on even more one-time fees to the cost of a home such as transfer fees. Additionally, HOAs can levy fines on residents whose properties are noncompliant, put a lien on their home, and take them to court for unpaid dues, using lawyers paid with HOA fees. Membership is not optional in most communities as just about all new residential construction occurs in government jurisdictions where an HOA is mandatory.
HOAs can also impose "special assessments" to bankroll surprise repairs. A ruptured sewer line may require a special collection from members. Some states have laws prohibiting this, while others limit the amount of money an association can legally require of residents.
Imposition on residents is the most contentious point of the HOA concept. The American Association of Retired Persons (AARP) has publicly criticized HOAs for over a decade for suppressing the rights of elderly residents within their own communities and outside of them, as well.
In 2009, the Lincoln Institute of Land Policy determined that HOAs can be detrimental to adjacent neighbors due to their insulated nature. Because HOAs take care of so many of their members' needs, HOA residents are more likely to vote down municipal taxes and initiatives that would improve the lives of other city residents.
The Community Associations Institute (CAI) is the largest paid-membership organization for association board members and members of community management staff. One of their own published surveys indicated that in 2016, relatively few HOA residents purchased or rented their home based on its status as an HOA residence.
37% of residents surveyed indicated a neutral-to-negative experience with their community association.
38% didn't feel their HOA had any effect on property values.
32% of HOA residents surveyed indicated that the fact that a home was in an HOA community was a deciding factor in their choice to purchase or rent that home.
Should I Join an HOA?
HOA communities tend to be more concentrated in areas where local government doesn't provide as much oversight or services. It's a winning situation for local government when they can avoid the responsibility for maintaining the streets and other infrastructure but still collect taxes from a new community. Cities and counties pass the costs of new infrastructure on to developers and home builders who then pass on most of their expenses to homeowners through HOA fees. In instances when an HOA cannot charge enough to establish infrastructure to support a brand new residential community, residents often have to deal issues such as inadequate roads and bottlenecked traffic until development by the city or town they live in finally spends the money to bring their communities in line with the rest of the city or county. By paying HOA fees in these new communities, residents have to foot the bill for items they are often also paying taxes for as well.
Property tax issues are a contentious matter. Even as taxes go up, city and county governments continue to have a lousy track record in making those funds work to maintain public spaces, parks, and other amenities. This is where a properly organized HOA can come in and ensure that the people utilizing these amenities are the ones paying for them. The intention behind a community association is a good one, but implementing jurisdiction over something as unique as a person's home presents unique challenges.
CAI publishes resources including jobs, guides, and newsletters for their members, and just like the HOAs themselves, charges a handsome fee for doing so. For example, in addition to the members' fee, anyone curious about community association manager salaries must pay $99.00 for the 2017 salary survey. CAI's non-profit research arm, the Foundation for Community Association Research provides best-practices reports, analysis on communities, research scholarships, and statistics about members of its parent organization. The homeowner satisfaction surveys continuously seek to debunk the negative associations most Americans have with HOAs.
The covenants and laws governing these communities are often divisive. While the Community Associations Institute publishes positive statistics about levels of satisfaction among HOA community residents, there are a lot of negative stories.
One of the biggest reasons for the strict HOA laws is to protect property values, but this may not always be the case. In a recent study of sales of homes, the average return on investment is significantly lower in newer HOA neighborhoods. In the past, these kinds of laws resulted in discrimination based on race, religion, and other protected statuses. While most of these associations have been taken to court and forced to change their bylaws, the problems persist in some communities. HOA regulations can still result in residents needing accommodations such as a wheelchair ramp being unfairly targeted. Most homeowners do not have direct interactions with their HOA, but for many that do, the community association experience is not always a positive one.
One property developer/builder even went so far as to write into their covenants that homeowners were not allowed to use any "public medium" to disparage the building quality or practices of the builder. While KB Homes claims to have never enforced those rules, it is becoming common practice for developers and builders to include similar language in deed restrictions unobtrusively. When surveyed, Americans indicate that these kinds of practices are what underline their belief that the HOAs fail to represent their interests.
While HOAs can be a sore point for many property owners, there are definite benefits for the average property owner to having a home in an HOA community. The advantages of living in an HOA community may include services such as irrigation, certain utilities, common area maintenance, landscaping, waste collection, snow and tree branch removal. Most HOA communities have pools, parks, recreation centers, and clubhouses for the use of their residents. Some of these facilities are quite luxurious and greatly enhance the quality of life for residents. Many times the cost of these services would cost far more if paid by individuals because an HOA can usually negotiate group rates vs. individual rates.
It's essential when deciding whether or not to move to an HOA community to read all the fine print. Before deciding to purchase a property, a potential buyer should insist on getting a copy of the HOA contract and laws. Examine what the benefits are against the cost of monthly fees. Some property owners who feel strongly enough about their neighborhoods can even join a housing association board and volunteer their time to help make a difference in their community.
Sources