While Opendoor and Redfin helped to establish the iBuyer industry, Zillow Offers has rapidly gained ground in 2019 as it expands to new markets.
6.12M+
number of homes sold in the US in 2018
9.6%
percentage of homes sold to iBuyers in 2018
7,000
iBuyer homes sold by market leader Opendoor in 2018
786
iBuyer homes sold by Zillow in Q2 2019 (up from 414 in Q1)
Successful companies solve problems for people. Both new and established companies in the real estate business have been trying to find a way to solve problems the average consumer may encounter in the business of buying or selling a home. This has historically been one of the most complicated and frustrating experiences for individuals while being quite lucrative for real estate agents. Because most people don't buy or sell real estate very often, they enter the process apprehensive and nervous. There are so many fees, so much paperwork, so much hassle, and so much uncertainty.
Because most buyers are planning to buy another home with the equity from the home being sold, it could feel like a gamble on whether or not they'll find something suitable before it's time to close on the old house. This can be risky, especially in highly competitive markets where a property can sell within hours of being listed. Some home sellers end up spending more on a double mortgage payment or temporary housing due to the gap.
Selling a property in this housing market also comes with other risks and aggravation, such as the potential buyer's financing falling through or the buyer stipulating challenging terms/ timelines as a condition of the sale. Even worse, a seller may worry about not finding a suitable buyer at all. During the time your home is on the market, it can be maddening to have the phone ringing multiple times a week with a request to vacate the house. If you've ever been sitting at dinner with somebody still living in a home while it was on the market, you might have seen it. That 45 minutes notice because somebody is coming over to view can result in the entire family doing the flight of the bumblebee. It can be frustrating to do a mad dash multiple times a week to find the cat, get the dog into the car, and scramble to hide any evidence that people still live there. Repeated viewings mean rushing to get the property looking as beautiful and neutral as it did when it was first staged and photographed on short notice.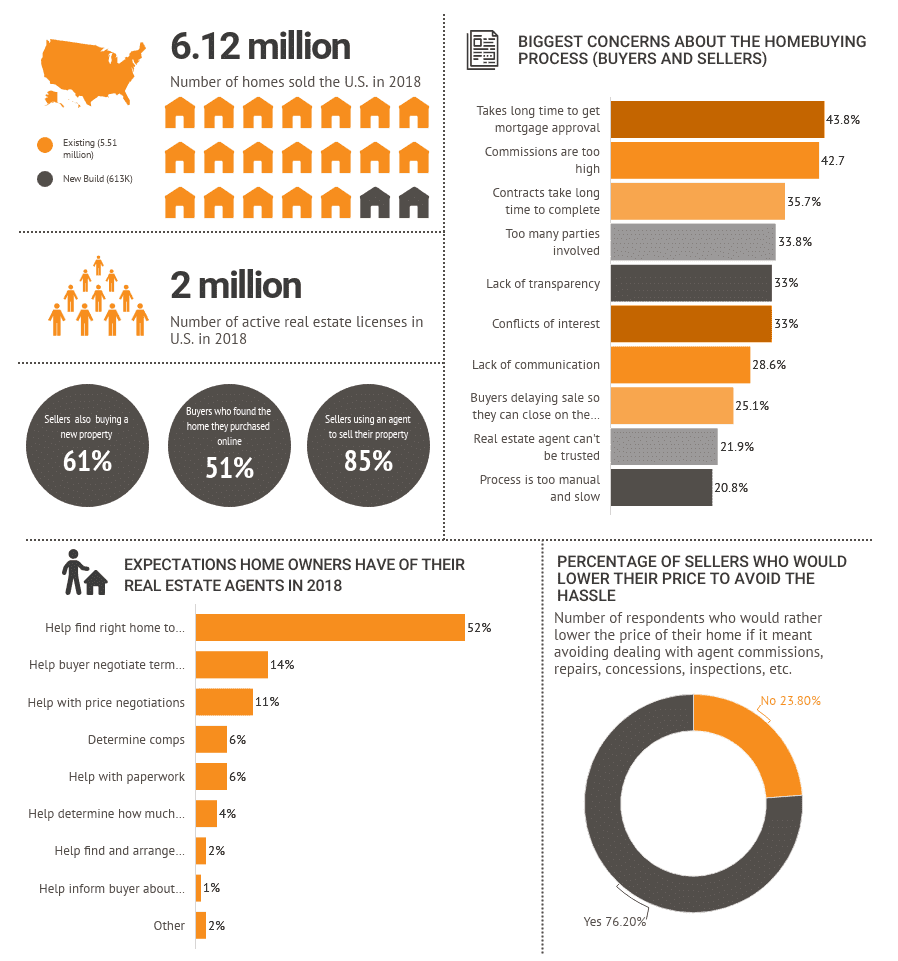 Enter the iBuyer, one of the most loathed figures among real estate agents. Often compared to house "flippers," these companies purchase homes from owners, clean and update them, and resell them. The iBuyer business model varies, but they are not flippers.
Home flippers tend to look for distressed properties in poor condition selling for rock bottom prices by banks, by people who are anxious to sell or individuals unwilling to put in the work to update or repair the property themselves. The flipper will then do extensive remodeling, repairs, and updates and sell the house for far more than what they paid. The profit margin on house flipping is much higher than the methods of selling the iBuyer companies use, but flipping is far more labor-intensive. The number of homes sold by flips was around 6.1% in 2016.
iBuyer companies tend to focus on homes that don't require extensive work. Rather than seeking to profit purely from the increased value due to the work they put into a property, the iBuyer company will usually offer the homeowner a number near their calculation of what the fair market value of the home is. But they are particular about what they will buy. For example, Opendoor typically only buys houses built after 1960, with a minimum value of $125,000. An iBuyer will usually not want a "unique" or custom home.
These companies utilize comprehensive data, algorithms, and technology to generate "comps" and offer the seller a price for the home. The business model and the procedure varies. Some iBuyer companies operate as a hybrid of traditional home buying/selling methods by leveraging new technology to simplify and shorten the process for the homeowner. Others make a cash offer and outright buy homes to resell once the owner is out and the home has been lightly remodeled.
The way most iBuyer companies generate a profit is by charging a fee for their services. Simplifying and speeding up the process for home buyers and sellers is a highly desirable service. More sellers are willing to pay for convenience, to the tune of 5% of home sales in the areas where iBuyers operate. That number is projected to climb steadily. When done in high volume, buying and reselling for a fee can be profitable. Even then, there's still more "money on the table" to be had for these companies.
Until its entry into the buying and selling business, Zillow's revenue came primarily from its impressive internet traffic and advertising for real estate agents. Zillow experienced issues with generating qualified leads for real estate agents who paid for the service. Because this model has not been as lucrative, Zillow is looking to expand their offerings and deliver more robust services to the millions of consumers who visit their website.
In November 2018, Zillow acquired Mortgage Lenders of America. Zillow can undercut real estate agents (and even other iBuyer companies) by charging a homeowner a lower fee to sell their house. In the process, they will likely also sell them a mortgage for the new home that will earn the company far more money in interest. It's like buying a dollar burger from a fast food joint that makes little profit off burgers but will pair the burger with fries and soda that generate insane profits.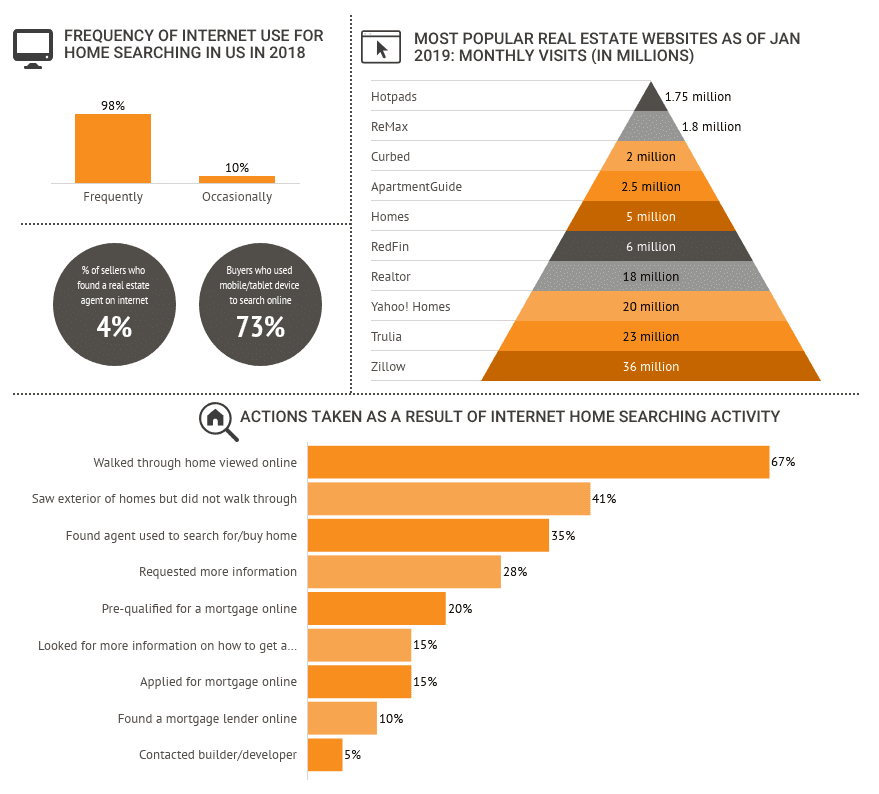 The Instant Billion-Dollar Market
One of the pioneering companies in the iBuyer market is Opendoor, which entered the scene in 2014. Since then, other big names joining the iBuyer business include Offerpad, Redfin, Zillow, and Knock.
Many big metro areas with hot real estate markets full of newer suburban "tract" homes and relatively affordable housing see an uptick in homes listed by these companies. Cities such as Atlanta, Charlotte, Dallas-Fort Worth, Houston, Denver, Las Vegas, Raleigh have seen considerable increases in sale prices and iBuyer activity. iBuyer companies expect to see more competition for market share in these regions as companies' foothold and portfolios of properties increase. They're getting a lot of venture capital, and the result has been remarkable growth.
iBuyers have particularly flourished in southern states in the U.S. such as Arizona and Texas. Phoenix was the place where Opendoor and Offerpad began operations and continues to see significant activity in the iBuyer market. Many homes being sold in the northeast and northern areas of the U.S. are not as easy to value and quickly flip. This may be because their characteristics not as consistent when compared to the cookie-cutter neighborhoods that iBuyers love. The values of unique homes in older or more rural areas that aren't typical suburban developments aren't as easy to measure and quantify. The algorithms iBuyers use to generate values on homes work best with more mainstream homes with common attributes.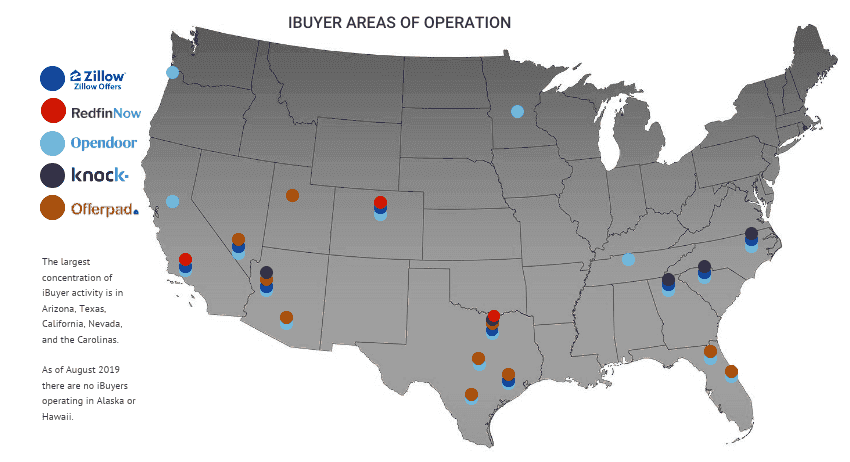 These companies often offer a complete package for the homeowner and streamline the process. If they don't buy your home outright, they will usually include the titling process, financing, and listing. Some even offer incentives like moving costs and the ability to live in your home until a new one is found. Others may allow you to move to a new home before the old home is sold. Some companies will sell your old house for you on the open market, allowing the homeowner to benefit from bidding and offers, and others will sell the home themselves to a buyer working directly through their company or to agents.
iBuyers are best for sellers looking to sell quickly. Their services are ideal for a scenario where the purchase of a new home is contingent on selling the old house, where a divorce is involved, for an owner with multiple properties, for an owner who inherited a property they don't want, or for a seller who is unwilling or unable to go through the home showing process. A company like RedFinNow will pay for an inspection and make an offer on a home within 48 hours, offering up to 60 days afterward to choose a closing day.
While the market and home price appreciation is no longer climbing as quickly as it was in many places where iBuyers operate, there is still considerable interest in these companies and their services. They are expanding their outreach. Sellers and buyers who are frustrated with realtors and the complexity of the traditional home buying process are discovering how easy it can be to utilize an iBuyer company to get what they want without the brain damage. These companies are investing a lot in advertising to change the hearts and minds of the American public about buying and selling real estate. The one-stop-shop approach is rapidly growing in popularity.
On a less positive note, a growing number of institutional entities such as rental companies are scooping up iBuyer properties, representing as much as 9.2% of sales from iBuyer companies in 2018.
Real Estate Agents and iBuyers
Many real estate agents are understandably angry about the traditional way of buying or selling a home coming under threat. Their websites bristle with scathing articles about the pitfalls of using an iBuyer to sell a home. On social media, iBuyer companies' ads are consistently trolled by old fashioned real estate agents proclaiming how much money a seller would "leave on the table" by using iBuyer services. However, for many sellers, the amount saved is significant enough to be the main reason they used an iBuyer vs. a real estate agent. And many realtors are discovering that once they can move past the sting of change, allying themselves with iBuyers can actually make the process quicker and more straightforward, allowing savvy agents to sell more, quicker.
Change can be scary, but real estate agents need not fear that their livelihood will completely disappear. Unless, of course, they refuse to adjust and adapt to the increasing use of technology and the expectation buyers and sellers have of integration between all the parties involved in a home sale. Realtors who reviled against and poo-pooed Zillow as a consumer-facing resource ended up being on the losing side when Zillow ended up being the place most buyers and sellers start.
The most significant contributor to the brain damage involved in selling a house is the disconnect between all the moving parts. Most home sales will include different service providers responsible for titling, appraisal, inspection, home insurance, HOA transfer paperwork, lenders, moving services, contractors or tradespeople involved with home repair and improvement, to name a few. In the past, savvy agents could often handle much of this and guide the seller and buyer through the rest. The downside would be that the seller or buyer would often be stuck with the choice of providers preferred by that realtor to meet deadlines and get it done quickly. Use of technology can streamline the process, give buyers and sellers more transparency and usually a better deal.
<pullquote>In 2018, as many as 87% of home buyers still chose to utilize a real estate agent, and most iBuyer companies are continuing to work with them. </pullquote>
There are lots of realtor incentives to bring sellers and buyers around. Most iBuyer companies will continue to offer a commission for a buyer whose agent showed them the property. For example, Opendoor pays agent commissions and will also pay referral fees to real estate agents. Zillow offers sellers two options- they will buy the house outright with a cash offer called a "Zillow Offer" or will connect sellers with a "Premier" agent if they want their home listed on the open market.
Many variables will dictate much money a homeowner selling a property will actually "leave on the table" when working with an iBuyer. Many homeowners think mainly about the percentage they'll be paying a real estate agent. Once the process of selling a home has started, there are often surprise expenses, such as things that have to be fixed when an inspector comes through and finds problems. This can drive up the percentage of what it actually costs to sell the home. Most iBuyers will cover the costs of any repairs or updates needed for the home.
What It's Like Working With an iBuyer Company
In 2018, we used an iBuyer service in Colorado to sell a home during the "off "season. Initially, we too were nervous about it, but the one-stop shop experience made us never want to utilize the traditional way of selling a home again. The use of technology to quickly give us real numbers and figures, and the transparency of the process immediately got our attention. As we explored the options of working with this company, we were impressed with how well all the members of the company's team worked together made the process efficient. Communication happened quickly, and we felt like all our questions were answered, every time. We were charged a flat fee, regardless of what the final sale of the home would be. This iBuying company put our property on the market within 24 hours of signing the papers.
We had seen real estate agents on the news and social media breathing in a bag about this company. We also saw the news stories about how the company's offices had been vandalized and their employees harassed by real estate agents. The hysteria of the real estate agents while at the same time trolling their used-car-salesman tactics was what made us want to learn more. We're going to come right out and say it. We've had some extremely negative experiences with real estate agents, and know first-hand from friends that have worked in the industry how much of a good ol' boy network it can be in some regions. iBuyers are breaking those glass ceilings, and we were extremely curious how different our experience would be then when we had purchased this property ten years prior.
We were warned by the company (and the three real estate agents that came unsolicited to our door, attracted by indications we were renovating) that most real estate agents would deliberately not include our property in what they showed their clients or would discourage these buyers from viewings. This was all because we had chosen to utilize an iBuyer type company. To prevent that from happening, we still opted to include a small commission for the buyer's agent. Because we were paying a flat fee, we did not have to pay both the buyers' agent and our own.
Plenty of interested buyers found our property anyway and were checking out the house day and night. While most homebuyers still use an agent, they typically don't rely solely on their real estate agents anymore to tell them what to consider buying. That's the old-fashioned way of doing business. With the rising popularity of websites like Zillow, Redfin, and other sites that maintain comprehensive MLS listings, many buyers are surfing properties themselves. They are the ones informing their real estate agent about what they want to see.
Real estate in Colorado is a hot market, but even so, we were impressed with the number of showings that happened within 24 hours of our property going live. It was clear that potential buyers shown the property did not care that an iBuyer-type company was selling the home. Our property sold within a week and closing happened soon afterward. Because the iBuyer company we worked with took care of so many of the processes in-house, the closing was fast and painless. We were on our way with the money wired to our bank account before we'd even left their offices.
The Wave of the Future
The American consumer has grown accustomed to immediate gratification in a world of same or next-day Amazon and grocery deliveries. The lack of patience for time-honored processes that everyone just dealt with- like spending weeks riding around with a coiffed real estate agent or 5-week closing periods on a home- has forced tremendous change in the real estate industry. Traditional real estate agencies like Keller Williams realize they are also "leaving money on the table" if they don't throw their hat in the ring as well. Many sellers want instant offers for their homes.
<pullquote>Knock's CEO has said he believes over 50% of sellers will be utilizing an iBuyer type company to sell their home versus a real estate agent. </pullquote>
In 1997, we were warned not to talk to strangers on the internet, much less get in cars with them, at night, in unfamiliar places. In 2019, we use the internet to bring strangers to our homes, businesses, and whatever strange place we happen to be- and get in their cars.
In spite of what the trends and the optimistic CEOs suggest, we know that consumers still value individualized services and customer experiences. This could mean that while the home selling and buying experience may evolve, the human factor may continue to be as important as the convenience involved in the transaction. It's likely that even as iBuying grows in popularity, the partnerships with real estate agents will continue to be a part of their business model for the foreseeable future.
Sources