Our Review
The Bottom Line: while we like the general affordability and comprehensiveness on past eviction history, e-Renter's limited information in other areas such as credit and income makes their tenant screening service underwhelming when compared to the competition.
E-Renter is a tenant screening service offering 3 different package options with simple formatting and easy-to-read reports. They do not provide any type of lease default prediction. They do offer a credit check with 2 of their packages. The credit check provides you with a simple pass/fail recommendation based off of what you chose as the minimum credit rating you would want from a tenant.
You do not get a credit score or credit report from the credit check. It is a hard inquiry that can impact your prospective tenant's credit. This is true even though E-Renter still requires your tenant to personally confirm the information you entered on their behalf. The eviction report received from E-Renter is thorough and provides plenty of details about individual cases when they are available.
Overall, the criminal reports from E-Renter are thorough for the jurisdictions they search and you are provided with all available information when records are found. However, they do exclude Delaware, Massachusetts, South Dakota, Wyoming, and Washington D.C. from the reports due to the way information is collected. Sex offender and OFAC searches are included for all states, though. You also get the tenant's SSN validated with each package.

E-Renter SSN Validation
All packages include a search for bankruptcies, judgments, and liens within the last 7 years. The premium package also includes E-Renter's Rent Check Advisor service. This provides you with a risk level assessment that suggests whether or not you should accept checks from that particular tenant based off of information such as that tenant's check-writing history.
Reports from E-Renter are received within one hour if you request the report within the business hours of 8AM – 5PM Pacific Time Monday through Friday. When requesting reports outside of this time, E-Renter still offers same-day service. Extra resources offered by E-Renter include a relevant blog and a myriad of free rental forms.
Lease Default Prediction
For many tenant screening software options, the lease default prediction feature is one of the most beneficial aspects of a screening report. Unfortunately, with E-Renter, there is no actual lease default prediction. For this reason, E-Renter gets a 0 out of 10 for lease default prediction.
Credit Report
The credit report in tenant screening is another one of the most important aspects as it provides you with information that can be vital when making a tenancy decision. In the case of E-Renter, you will get a credit check with two out of three of the offered packages. The information you receive from the report is quite limited, however. E-Renter gets a 2 out of 10 for the credit report.
The only information you actually get from the credit check is a pass or fail recommendation. The criteria required to pass is based off your choice of a minimum credit rating that you want from a tenant. When you request a screening with one of the two E-Renter packages that includes a credit report, you will need to enter your prospective tenant's personal information including their full legal name, social security number, present address, date of birth, and email address. You also have to provide consent from your tenant.
You can choose to provide hand-signed consent via email or fax. Alternatively, if you take a few extra steps in your sign-up process to do things like verify your identity, you will be able to provide paperless consent from your tenant. Additionally, your prospective tenant will receive an email asking them to confirm the information you provided before the reports are generated and viewable by you.

E-Renter Credit Check Sample
Will the Credit Check Impact the Prospective Tenant's Credit Score?
There are two different kinds of credit checks – what is called a hard credit inquiry and what is called a soft credit inquiry. Since a hard credit inquiry can negatively impact your credit score, it is an understandably common concern about whether a credit check will impact the credit score.
Hard credit checks are generally for things like applying for a loan or a credit card. In the case of E-Renter, they require you to input all of your prospective tenant's information and provide consent from the tenant that you obtained yourself. This ends up with the credit inquiry being a hard inquiry that can have an impact on your prospective tenant's credit.
Eviction History
One of the number one predictors of future evictions is past evictions. If a tenant has been unreliable in the past, it is reasonable to expect them to be unreliable in the future. E-Renter gets a 8 out 10 for eviction history because they provide a thorough national eviction report in each one of their package options.
E-Renter searches public records data of all 50 states to best find potential eviction data for each tenant screened. When a record is found, you are provided with all available information. This usually includes things like:
Defendant name
Court name
Case number
Defendant SSN
File date
Plaintiff name
Address
When you purchase the premium tenant screening package from E-Renter, you will also receive a previous address history for your prospective tenant including residency dates.
E-Renter Eviction Report Sample
Criminal Report
It is important to understand who you are renting your property to. You don't want a criminal in your property possibly damaging it, causing issues and possibly even posing danger to other tenants and/or neighbors. The criminal report that you get from most tenant screening services helps you avoid just that.
The criminal report you get from E-Renter is an instantly generated report. Due to the way that criminal data is stored and accessed in some areas, not all states are covered by this criminal report. So, while it is considered a national criminal report, the following states and areas are excluded from it completely: Delaware, South Dakota, Massachusetts, Wyoming, and Washington D.C.
Other than excluding those areas, the criminal report that you get from E-Renter is very thorough and detailed. The Administrative Office of the Courts, State Departments of Corrections, and the National Criminal Index are all searched. For any records that are found, you will receive all the available information for the offense. This typically includes:
State and county
Charge information
File date
Case number
Disposition date
Disposition
Sentence
Fine
Probation
As well as the regular criminal search, you will also receive a sex offender search and an Office of Foreign Assets Control (OFAC) search. The OFAC search will flag potential terrorists and those potentially involved in large organized crime such as drug trafficking. Both of these searches cover the entire United States. Overall, E-Renter receives a 5 out of 10 for criminal reporting.

E-Renter Criminal Report Sample
Income Information
When it comes to income information, E-Renter gets a 4 out of 10. They provide some information regarding the prospective tenant's income but it is relatively limited. With all package options, you will receive a report showing you any bankruptcies, judgments, and liens for your prospective tenant from the last 7 years.
This search includes all 50 states and provides you with detailed information when it is available. The premium tenant screening package from E-Renter also includes Rent Check Advisor. This is a service that provides you information about a prospective tenant's check-writing history.
You provide the prospective tenant's bank account number and routing number. Then, E-Renter reviews banking information and provides you with a risk level assessment suggesting whether or not you should accept checks as a form of payment from that particular tenant.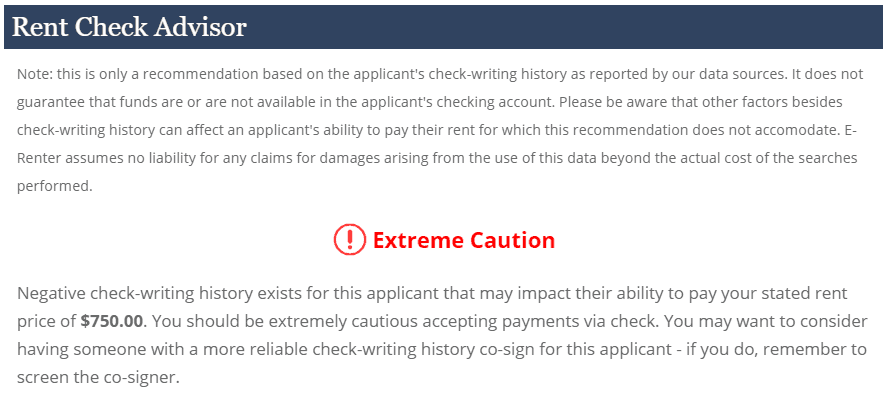 E-Renter Rent Check Advisor Service Sample