In order to properly accommodate your tenants, the accessibility of your property is imperative. People with disabilities and the elderly may require special assistance to navigate the property and enjoy certain features.
Table of Contents
Fair Housing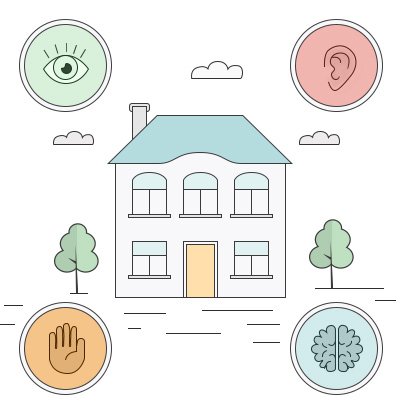 As the Fair Housing Act states, it is illegal for a landlord to discriminate based on race, color, national origin, religion, sex, disability, and the presence of children.
The Fair Housing Act considers people with disabilities to be:
Individuals with a physical or mental impairment that substantially limits one or more major life activities.
Individuals who are regarded as having such an impairment.
Individuals with a record of such an impairment.
People with disabilities may struggle with impairments that hinder them from everyday activities such as walking, breathing, communicating, seeing, hearing, caring for themselves, thinking, learning and much more.
Disabilities include but are not limited to: Mental/emotional disabilities, developmental disabilities, cancer, auto-immune deficiencies such as HIV, autism, cerebral palsy, multiple sclerosis, heart disease, diabetes, asthma, paraplegia, major depression, recovery from an addiction, and many other long-term medical conditions.
Rights and Responsibilities
Both landlords and tenants with disabilities have rights and responsibilities pertinent to the property.
Tenants with Disabilities
A tenant with a disability has the right to:
Be free from discrimination.
Request reasonable accommodations.
Request an accessible unit (but not necessarily receive it).
File a complaint with the Department of Housing.
A tenant's responsibilities include:
Paying for any special accessibility modifications to the unit.
Removing any modifications upon vacating the unit.
Maintaining the unit and paying a security deposit, if required.
Obeying the terms of the lease.
Paying for any damage caused by service animals.
Providing proof of a disability, if an accommodation is requested (it may be helpful to explain specifically why the accommodation is needed).
Landlords
A landlord has the right to:
Receive payment for any damages caused by a service animal.
Require a tenant with a disability to pay for the cost of accessibility modifications to their unit.
To have a tenant with a disability restore a modified unit to its original state upon leaving.
A landlord's responsibilities include:
Complying with Fair Housing laws and not denying an application to rent based on an applicant's actual or perceived disability.
Refraining from charging additional fees because the tenant has a disability.
Honoring reasonable requests to modify the unit.
Respecting tenants who exercise their legal rights.
Considering people with disabilities equally when offering the unit to applicants, including source of income—you may not discriminate against an applicant because their income source is Social Security disability benefits.
Refraining from asking the applicant or tenant if they have a disability, how severe it is, or requesting to see their medical records.
Reasonable Accommodations
Reasonable accommodations are changes in property rules, policies, or practices so that a person with a disability can live in or use a housing unit. Note that there are certain requirements all units must meet regardless of the presence of a tenant with a disability. All rental units must have:
An accessible route into and through the unit.
Accessible light switches, electrical outlets, thermostats, and other environmental controls.
Reinforced bathroom walls to allow later installation of grab bars.
Kitchens and bathrooms that can be used by people in wheelchairs.
Reasonable accommodations would be changes like waiving a "no pets" policy for someone who requires an assistance animal or designating an accessible parking spot for people who need to park closer to their units.
Reasonable Modifications
Reasonable modifications are physical changes to an apartment or house that make the unit accessible to someone with a disability, like installing ramps or handrails. The tenant must explain their need for such a modification and formally request for it to be made. If the modification is truly reasonable, meaning there is a clear necessity for it in relation to the individual's disability, then the landlord must allow for it. However, the tenant is responsible for paying for the modification. Reasonable modifications would be changes like widening a doorway for wheelchair access or installing grab bars in the bathroom.
A person with a disability may be asked to provide proof of a disability and/or verification of a disability-related need when asking for changes to be made. Housing providers and landlords do not need to know the details of the disability, the diagnosis, or the person's health history. The only information needed is that a disability is present and that the request is needed because of the disability.
How to Improve Accessibility
There are lots of ways you can upgrade your property and make it disability-friendly. Some appealing features may include:

Commercial Properties
Surprisingly, most commercial properties are not accessible. The federal Americans With Disabilities Act (ADA) protects the rights of people with disabilities and outlines specific compliance requirements. The ADA serves to ensure that people are provided with adequate accessibility in public establishments. The U.S. Department of Justice is responsible for enforcing the ADA requirements. They may do so through complaints, lawsuits, and settlement agreements. Private parties sometimes bring lawsuits under the ADA as well. The attorney general can also file a lawsuit when a pattern of alleged discrimination exists or when a situation is of public importance.
This is why, as a commercial landlord, you should make sure that your property is up to code. The smallest oversights can make for some of the biggest problems.
Existing Facilities
The ADA recognizes that existing facilities may have more difficulty accommodating people with disabilities; the ADA has requirements for existing facilities built before 1993 that are less strict than for ones built after early 1993 or modified after early 1992.
While it is not possible for many businesses, especially small businesses, to make their facilities fully accessible, there is a lot that can be done to improve accessibility. Therefore, the ADA requires that accessibility is improved without taking on excessive expenses that could harm the business. Businesses are required to make changes that are "readily achievable," meaning changes that can be easily accomplished without much difficulty or expense.
The "readily achievable" requirement is based on the size and resources of the business. In turn, larger businesses with more resources are expected to take a more active role in improving accessibility than small businesses.
New Facilities
The ADA requires that newly constructed facilities first occupied on or after January 26, 1993, meet or exceed the minimum requirements of the ADA Standards for Accessible Design. Alterations to facilities, spaces, or elements (including renovations) made on or after January 26, 1992, also must comply with the Standards. Refer to the Americans with Disabilities Act Title III Regulations to check if your property meets requirements.
Removing Barriers
Inspect your property and make note of any barriers. You may want to hire a Certified Access Specialist (CASp) to walk through the property with you to ensure that you are ADA-compliant. If not, try inspecting the area with a few other people so you don't miss anything.
Barriers to accessibility go beyond the physical realm. There are many different kinds of obstacles that make it difficult for people with disabilities to perform everyday activities with ease. You should assess all kinds of barriers, such as:
Attitudinal barriers, like assuming someone with a speech impairment cannot understand you or viewing people with disabilities as inferior.
Organizational or systemic barriers, like an inaccessible leasing agreement or a screening interview without proper accommodations.
Information or communication barriers, like print being too small in a document or not having clear signs around the property.
Technology barriers, like websites that aren't compatible with speech software
Architectural or physical barriers, like narrow doorways or lack of wheelchair ramps.
The ADA has a checklist of readily achievable barrier removals that would be useful during your property evaluation.
Tips for Renting to Elderly Tenants
When renting to elderly tenants, there are some special considerations to keep in mind. Reasonable accommodations and modifications apply to elderly tenants with disabilities. You should also remember that elderly tenants have certain protections in place. Here are some tips:

Elderly Resources
In addition to the tips above, here are a few resources that may help elderly individuals with certain difficulties:
Long-term care insurance carriers (if the tenant has a policy)
Local churches, synagogues, and mosques
Local offices of geriatric care
County health nurses
Know the Symbols
There are some important symbols for accessibility that you should get familiar with.

Frequently Asked Questions
Q: Do I, as the owner of a commercial property, have to pay for removing barriers?
A: Yes, but the business you are renting to also has certain requirements. It should be a group effort to meet all accessibility standards set by the ADA.
Q: One of the buildings that I own is a small factory with offices. Do I have to make that accessible?
A: No, strictly commercial facilities such as factories do not contain places of public accommodation, so accessibility standards do not pertain to them.
Q: What about my employee areas? Must I remove barriers in areas used only by employees?
A: No. The "readily achievable" requirement to remove barriers only applies to areas of public accommodation. An area used exclusively by employees would not need to be accessible. However, a reasonable accommodation may have to be made if an employee has a disability.
Q: Can I, as a landlord, require a higher or additional security deposit from a tenant with disabilities?
A: No. A landlord cannot include different provisions in leases and alter terms of agreement simply because the individual has a disability.
Q: Can I ask if a rental applicant has a disability?
A: Usually, no. You are however allowed to ask an applicant (as long as this is asked of every applicant) if they qualify for an accessible dwelling.
Q: What am I allowed to ask?
A: You may not ask a tenant if they have a disability nor can you require proof of one. However, if a tenant requests a reasonable accommodation or modification, then you may ask for proof of the need for one. You may not ask for any details regarding the disability, such as how frequently the individual visits the doctor, if they take any medication, if they have a caregiver, etc.
Q: If a tenant with a disability has a service animal, am I allowed to charge a pet deposit?
A: No. If a tenant has a service dog or emotional support animal, a landlord must accommodate them at no extra charge.
Q: When barrier removal is not readily achievable, what kinds of alternative steps are required by the ADA?
A: Talk to the tenant and assess what can be done to accommodate them. For instance, in a commercial property, assistance on-site may be required for things like retrieving items from inaccessible shelves or requiring home delivery of purchased products.