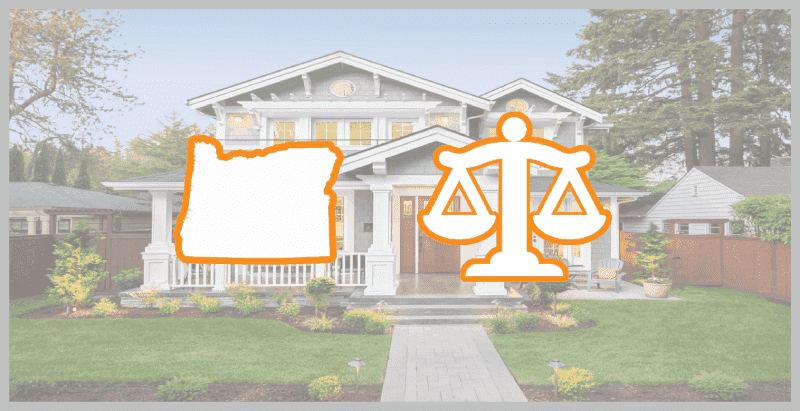 In Oregon, if rent is exchanged for inhabiting a property, then both tenants and landlords have obtained certain responsibilities and rights under law. Tenant rights include the right to a safe and habitable dwelling and landlords have the right for rent to be received in a timely manner.
Note: These rights exist with or without a written lease agreement and regardless of whether an agreement states otherwise.
Landlord Responsibilities in Oregon
In Oregon, all landlords for all kinds or properties must provide a habitable dwelling and must make requested repairs in a reasonable time frame, although the law does not specify a specific time limit. If they do not, then tenants may either withhold rent entirely or make the repairs themselves and deduct the cost from future rent payments.
Here is a list of the following amenities that landlords in Oregon are or are not responsible for.
| Item | Landlord Responsibility? |
| --- | --- |
| Dwelling structures | Yes |
| Sealed windows and doors | Yes |
| Electrical outlets and wiring | Yes |
| Plumbing/sanitation | Yes |
| Heating and air conditioning | Yes |
| Ventilation | Yes |
| Garbage removal | Yes |
| Water | Yes |
| Carbon monoxide detectors | Yes |
| Mold | No |
| Bed bugs | Yes |
Landlords are not permitted to evict tenants in retaliation for exercising their housing rights (i.e. filing a health or safety complaint).
Tenant Responsibilities in Oregon
Aside from paying rent regularly and on time, Oregon tenants must:
Keep the unit in a safe and habitable condition
Keep fixtures clean and sanitary
Make small repairs and maintenance
Not disturb other tenants or neighbors
Evictions in Oregon
Oregon landlords are empowered to evict tenants for the following reasons:
Nonpayment of rent – If an Oregon tenant fails to pay rent, then the landlord may issue a 72-hour Notice to Pay or Quit, after a 7 day grace period has passed. Oregon landlords may also opt for a 5 day grace period and then issue a 144-hour Notice to Pay. Either way, if the tenant does not pay, then the landlord may proceed with eviction.
Lease violation – If a lease violation occurs, then the landlord may issue a 30-Day Notice to Cure or Quit. If the tenant does not fix their behavior by then, the landlord may pursue legal eviction.
Illegal acts – Some illegal acts entitle landlords to evict within 24 hours, such as making or using illegal drugs, falsifying documents related to illegal activity, and prostitution on the property. The landlord may issue a 24-hour Unconditional Notice to Quit.
At-will tenants are entitled to receive at least 30 days' notice before being evicted without cause. It is illegal for landlords to evict as a form of retaliation or for discriminatory reasons.
Security Deposits in Oregon
Standard Limit/Maximum Amount – None.
Time Limit for Returns – 31 Days.
Penalty if Not Returned on Time – If an Oregon landlord wrongfully withholds rent then they may be liable to pay a fine equal to twice the value of the deposit.
Allowable Deductions – Unpaid rent, costs for damages the exceed normal wear and tear.
Lease Termination in Oregon
Notice requirements. If an Oregon tenant wishes to terminate a periodic lease, then they must give the following amounts of notice:
| Rent Payment Frequency | Notice Needed |
| --- | --- |
| Week-to-Week | No statute |
| Month-to-Month | 30 Days (<1 year), 60 Days (>1 year) |
| Quarter-to-Quarter | No statute |
| Year-to-Year | 60 Days |
Early termination. Oregon tenants may break a lease early for the following reasons:
Early termination clause
Active military duty
Uninhabitable unit
Landlord harassment
Domestic violence
Oregon landlords are legally obligated to facilitate the re-renting of a unit.
Rent Increases & Related Fees in Oregon
Rent control. Oregon is one of the few states in the US that has statewide rent control policies. However, this rent control does not necessarily apply to raw rental prices but rental increases.
Rental increases. Oregon landlords are not allowed to raise rent more than 7% annually, except for units that are less than 15 years old. Landlords must also provide at least 30 days' notice before raising rent as well.
Rent-related fees. Landlords may either charge a "reasonable" flat rate or up to 5% the missing rent value each day payment is late. Returned check fees are limited to $35 per check-instance.
Housing Discrimination in Oregon
Protected groups. The Fair Housing Act prohibits discrimination against tenants on the basis of race, color, sex, familial status, national origin, religion, or disability. These rules do not apply to owner-occupied homes or homes operated by religious organizations. Oregon state adds extra protections for tenants on the basis of marital status, income source, gender identity, or sexual orientation.
Discriminatory acts & penalties. The Oregon Bureau of Labor and Industries Civil Rights Division administers the state's civil rights laws. They have indicated the following behaviors as potentially discriminatory when directed at a member of a protected group:
Refusing to rent or sell on a bona fide offer
Falsely denying the availability of a unit
Offering different terms, conditions, or privileges
Steering tenants towards a certain neighborhood
Advertising that indicates discriminatory preferences for applicants
Failing to make reasonable accommodations
Tenants who believe that they are the victim of housing discrimination may submit a digital complaint to the state's Civil Rights Division. If the complaint is found justified, the process may result in a court ruling with case-specific penalties.
Additional Landlord Tenant Regulations in Oregon
Landlord Right to Entry in Oregon
Landlords in Oregon must provide at least 24 hours' notice before entering an inhabited property. They must also indicate the time and who will be entering. Landlords are not required to give permission to enter in case of emergencies.
Small Claims Court in Oregon
Small claims court in Oregon will hear rent-related cases valued up to $10,000. Each court handles eviction cases differently. Different areas also have different limitations on filing as well.
Mandatory Disclosures in Oregon
Oregon landlords must make 4 mandatory disclosures:
Lead-based paint. Landlords who own homes built before 1978 must provide information about concentrations of lead paint.
Authorized agents. Landlords must provide the names and addresses of all parties involved in owning and managing the property.
100 Year floodplain. Landlords must also disclose if the property lies within a 100-year floodplain.
Smoking policy. Landlords must clearly indicate smoking policies in the unit.
Changing the Locks in Oregon
Tenants may request landlords to change the locks if they have been a victim of domestic violence or abuse. Tenants must pay for this change. Landlords are forbidden from changing the locks as a form of eviction (i.e. "lockouts").
Local Laws in Oregon
Portland Landlord Tenant Rights
The city of Portland has a mandatory Renter Relocation Assistance program which requires landlords to help finance a renter moving out if they are moving because of a rent increase of 10% or higher.
Eugene Landlord Tenant Rights
The city of Eugene has a city-wide housing code that exceeds state standards and puts more obligation on landlords to provide habitable housing. More info can be found on the city's website.
It is best to check with your local county and municipality laws for additional rules and protections for both landlords and tenants.