Zillow is the most popular real estate website for those interested in "shopping around" for properties. The site is growing rapidly and generating lots of revenue. Check out the facts & figures.
110M 
total number of properties in Zillow database
$9.7B
market cap for Zillow as of July 2019
7B+
total visits to Zillow apps and websites in 2018
 31.56% 
percent increase for revenue year-to-year
The most successful companies set out to intentionally improve life for millions of people. Zillow.com was founded to make the real estate business easier to navigate for the average consumer and real estate transactions more transparent.
The principal catalyst for significant and lasting change in the business of real estate has been the use of the internet, and Zillow has been one of the innovators. Through the use of computers and mobile devices, individuals and businesses can view information on over 110 million homes in the United States in the Zillow database.
Owners, sellers, buyers, realtors, and banks are now online. Whether it's browsing home listings, seeking preapproval for financing, or finding an agent, 89% of people interested in the process head to online websites first for information about buying a home.
Created in Seattle by Rich Barton in 2004, Zillow.com was intended to revolutionize the real estate industry by putting the interest of the consumer first. They planned to do this through the use of technology to analyze data to offer real-time price estimates on properties. Capitalizing on the ordeal that the home-buying process had become and the public's perception of real estate agents, the founders felt there was a better way to do business. They were certainly right. Zillow's revenue climbed through selling advertising and technology solutions to real estate professionals. In the first 13 years of operation, Zillow easily bagged 10% of the total addressable market and revenue opportunity for real estate advertising. Until 2018, most of Zillow's revenue has been from advertising and generating leads for real estate professionals and mortgages, to the tune of over $1.3 billion.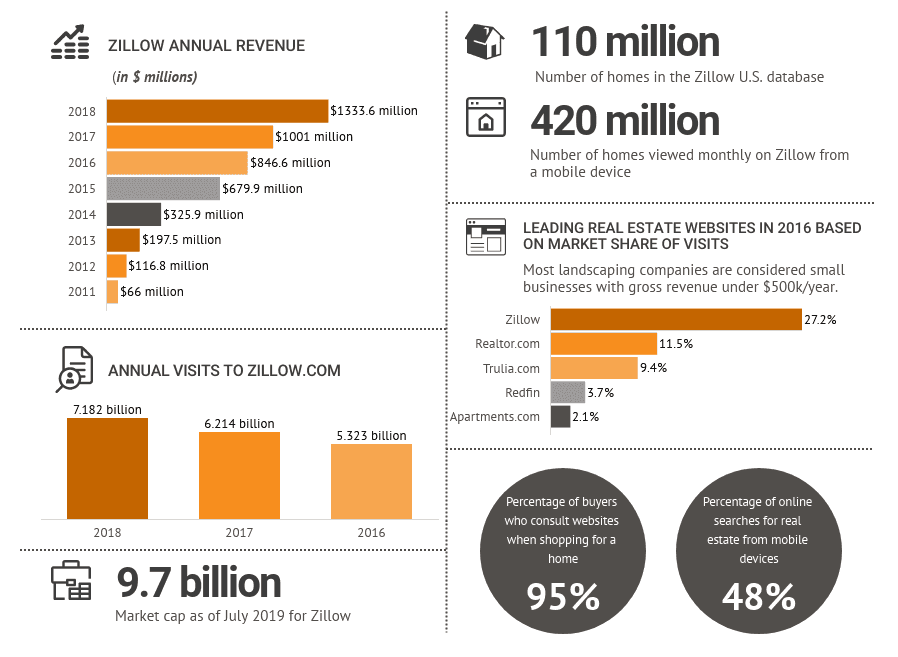 The Zillow group was founded in 2014 to encompass companies and various business segments operating under the Zillow brand. Zillow has acquired significant companies such as Trulia, Streeteasy, HotPads, NakedApartments, OutEast, and Bridge Interactive.
In 2018, the Zillow Group was structured into two reportable segments, IMT, and Zillow Homes.
Under the Internet, Media, and Tech (IMT) segment, revenue is earned for Zillow by sales of advertising, marketing services, and technology services to real estate professionals and businesses operating within the industry. Included in the IMT segment are the highly profitable Premier Broker/Agent marketing and advertising services on Zillow.com. Also under IMT, is Rentals. Zillow Rentals generates revenue through advertising for property managers and landlords and generates leads for them. Hotpads is a website for renters seeking new accommodations. With the acquisition of other rental-geared websites, Zillow Group now serves an even more significant proportion of the rental market. The main Zillow.com website also allows renters to filter out rental properties vs. properties that are for sale. And Zillow Research is "turning the lights on" for more individuals than just real estate companies to access their data and statistics.
Zillow Homes is the second segment and will provide revenue from reselling homes acquired through Zillow Offers. The company began selling homes in its inventory in July 2018.
Zillow Group added a third reportable business segment in November 2018, intending to become a lender instead of just providing leads to mortgage companies. Zillow Home Loans will
The new Zillow mission is to "Build the largest, most trusted and vibrant home-related marketplace in the world."
Zillow has long been the bane of real estate agents who up until recently had much more control over the process of buying and selling a property. Information was heavily guarded as if it were a trade secret. Zillow.com made it possible to browse a scope of real estate listings for homes that previously could only be accessed on MLS sites by real estate agents, sharing real-time information about homes, home sales, and values. Consumers could see the "Zestimate" of a home's value, the list price and sale price of a home instead of what a real estate agent chose to tell them. Online mortgage calculators helped home buyers get an immediate estimate of what they might be able to afford and filter out results that they couldn't. Helping buyers make good decisions is quite the departure from the common practice of relying on a buyer's emotional response while viewing a property to get them to agree to something that may not be a smart buying decision long term.
And as of March 2019, over 80% of homes in the United States have been viewed on Zillow.com, whether they are for sale or not. Everyone likes to Google themselves on the internet, and now they can look up their homes as well and update their property's profile.
Real Estate 1.0 vs. 2.0
Before companies like Zillow made it easy for buyers to browse real estate listings themselves, realtors would choose homes for their prospective buyers to view, not the other way around. Maybe a buyer would find a home in a newspaper advertisement. A buyer would have to take a real estate agent's word for it that "comps" they were shown (comparable home values) were accurate. Before the days of Zillow's "Zestimate" of a home's value, transparency in real estate transactions was rare. It was not uncommon for real estate agents to mutually agree on a sale price that could be higher than a home's actual value to increase their commission. The process of looking for homes usually meant driving around with a real estate agent looking at and walking through homes rather than browsing them online virtually.
Many websites had begun offering potential home buyers access to MLS listings and data, but Zillow stood out, particularly with its use of satellite maps and ease of navigation. And then Zillow discovered it could make money by doing far more than advertising on its site by offering a program called "Premier Agent." This allowed it to charge real estate agents for prominent placement of their photo and information next to properties being viewed. And even if the agent was not the one working with the seller of that particular property, they could have their photo up next to it for the right price. In 2016, there were over 2 million real estate professionals with profiles and listings on Zillow.com.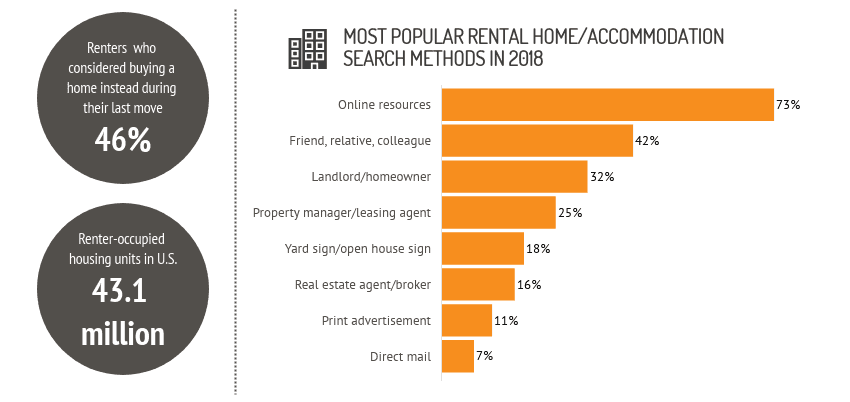 In this business, that's ripe for change, customer satisfaction is the low-hanging fruit. The long-standing way of doing real estate business is so broken that anything that makes it easier will be wildly successful, as Zillow has demonstrated in the past 13 years. The Zillow Group certainly has a bright future ahead of it. As of July 2019, Zillow Group ranked 17th in market cap of leading consumer, internet, and online service companies with a market cap of $10.5 billion. Coming in behind behemoths such as Amazon, Alibaba, eBay, Expedia, and Wayfair, Zillow will likely not remain 17th for long. In the real estate sector, nobody comes close to Zillow Group.
Among real estate websites in the United States, Zillow.com was the most visited, with over 36 million monthly unique visitors. Close behind is its formal rival and new sister company, Trulia, with 23 million unique visitors. Zillow receives the most traffic and therefore has the greatest audience for the new business ventures like Zillow Offers and Zillow Mortgage. This will only enhance every other business segment within the group.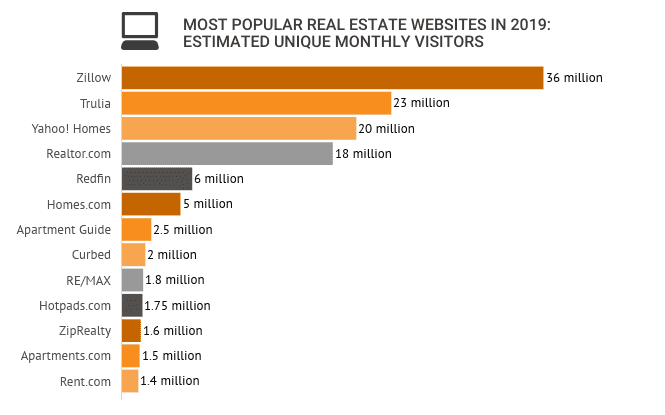 As much as agents and brokers dislike Zillow and its new Zillow Offers iBuyer-style business segment, there are still many opportunities for real estate professionals to make good money leveraging the growth and unprecedented internet traffic these companies enjoy. Zillow Group has opportunities for collaboration with brokers and agents with generous incentives. Savvy professionals may have to change tactics and adopt technology differently, but statistics show that between 75% and 87% of buyers still want to work with an agent. While the iBuyer business model does not offer an agent the unfettered high commissions they may have enjoyed in the past, aligning with a company that sells more houses with a slightly lower commission could be just as profitable. Through the use of technology, commissions may also require a little less work.
The Zillow Group Business Segments
Zillow intends to be there for consumers who are looking for a new home every step of the way. They have spent immense sums of money acquiring other companies and investing in new technology to make this end-to-end approach possible. The corporate mindset helping more Americans achieve the dream of homeownership will make it ever more likely that they will remain in the Zillow Group transaction funnel. Whether they are renting, selling, buying, or needing to borrow, Zillow will be there to help.
When the outcry against Zillow's Premier Agent advertising model began to reach a fever pitch, and New York labeled it illegal, it seemed likely that Zillow's largest source of revenue would dry up. Of course, that was until Zillow decided it would enter into the iBuyer world, starting a new service called Zillow Offers. In November 2018, Zillow also acquired a major mortgage business, Mortgage Lenders of America. This will allow them to offer mortgage services under the same roof as the buying/selling business.
Loosely based on the business model pioneered by Opendoor in 2014, Zillow Offers has indicated their business model will include the purchase of at least 5,000 homes every month. This will capture nearly 1% of the national real estate market within the next three to five years. Estimates would offer a potential revenue of $20 billion per year, a stark contrast to the $2 billion in revenue currently rolling in from the real estate agent ad business and the $52 million generated from the 686 homes purchased by Zillow Offers in 2018
Zillow Offers is planning to be operating in over 20 markets by 2020. It works by giving prospective sellers the chance to ask for an offer on their home. Within 48 hours, they will receive an offer based on Zillow's "Zestimate" calculator, algorithms, and the estimations of local experts. If the house passes a subsequent inspection by a Zillow inspector, the entire transaction could be wrapped up within a week with the seller receiving a cash payment for the property. While Zillow keeps a slightly higher percentage of what most real estate agents may ask for, the convenience, speed, and avoidance of the entire home-selling experience can be avoided.
Zillow could potentially be left holding the bag with a lot of houses it could take a significant loss on, and the profit margin may not always be a high one. Its acquisition of mortgage business will offset these potential losses, opening doors to another source of revenue. The decision to enter the mortgage industry indicates its intention to build that "marketplace" and offer buyers and sellers an all-in-one solution. While Zillow may not necessarily turn a considerable profit buying and reselling homes, if they can provide those customers mortgages as part of the seamless one-stop-shop transaction, they will stand to make much more money in interest over time. Zillow Home Loans indicated in December 2018 they hoped to achieve a 33% "attach rate" of secondary services like loans to Zillow Offers.
The growing iBuyer market indicates this is not beyond the realm of possibility as consumers are increasingly willing to pay more for the convenience of a more straightforward transaction. By streamlining the ponderous, mind-numbing process of buying a home, Zillow Offers and other iBuyers like them will continue to attract more sellers and buyers. Offering a 7-day turnaround for a home purchase or sale with money in the bank would have been unthinkable even five years ago. The days of waiting weeks for a closing date and completing mountains of paperwork for eight different companies could soon be in our past.
The Zillow Offers process allows sellers not to have to go through the hassle of selling a home the traditional way, with viewings, open houses, and the anxiety about being able to align a closing date on the home being sold with the purchase of a new property. The iBuyer business model makes it possible for sellers to simultaneously sell the old house and buy a new one, with wiggle room for moving out and closing dates. In highly competitive markets where a home can go under offer within hours of hitting the market, the iBuyer process gives sellers the peace of mind to make better decisions rather than impulsive ones. Many buyers indicate that they ended up spending more on a home than they intended because of the rush to get out of the old one and therefore had fewer options regarding a new property. Until recently, the urgency of this situation in fast-moving markets and lack of transparency allowed unscrupulous real estate agents to take advantage of buyers. In the last 15 years, countless buyers found themselves in unfavorable situations that benefitted the lenders and agents short term but left the buyer either "house poor" or at risk of foreclosure. A high number of Americans lost homes when they got a bad mortgage and could not afford what payments actually were.
Consequentially, the horror stories and collapse of the real estate market in 2008 are still fresh in the memory of the American public. There is a distrust of anything not put in writing. Many sellers and new homebuyers turn to the internet for advice on buying homes, on financing, or even to prequalify for financing.
Zillow and its competitors already share comprehensive information about selling and buying homes on their websites. Educating the consumer is also good business practice because by becoming a virtual clearinghouse of information, Zillow has become a trusted name and authority in the real estate world. Consumers that come to Zillow to learn more about buying a home will likely end up browsing homes there and taking advantage of the new services being offered.
Making Renters Into Homeowners
In Zillow's annual report of 2018, the CEO indicated his interest in empowering and "unsticking" consumers who remained on the fence about buying a home. A whopping 180 million unique visitors to Zillow Group's websites and apps only translated to 32 million individuals actually indicating they intended to buy a home. Out of this same group, only 6 million purchased a home. Ten million became renters instead because purchasing a home was out of reach for them.
The main reasons non-homeowners indicated they didn't own a home in the United States in 2018 are: being unable to afford it (43%), needing the flexibility of renting (16%), and not wanting the responsibility of homeownership (8%).
However, 84% of non-owners indicated they hope to be a homeowner in the future.
The rental market is also increasingly online. In 2018, 73% of renters looking for accommodation in the U.S. used online resources during their search. Renters are increasingly looking to complete transactions related to the rental process online such as signing a lease or paying their rent online, but just over a third of property management and landlords offer those options.
Most renters move frequently. In 2018, as many as 46% of renters that had moved within the last year were planning to move again. Affordability and fluctuating rates in today's market can make it difficult to find an ideal long-term rental residence. In the same 2018, survey, 30% of renters indicated that they were paying more than what their original budget was for rent and fees on a property.
Zillow is poised to take a big chunk of the revenue in the property rental business sector. The Zillow Group has acquired HotPads, StreetEasy and NakedApartments. Enhanced search capacities on Zillow.com's website as well make it an outstanding resource for renters looking for accommodation.
HotPads is a website geared towards the renter segment, with 1.75 million unique visitors a month. While Zillow owns HotPads, it maintains it as a separate company. Just as in the home buying and selling business, Zillow's shift towards creating a seamless end-to-end solution for renters will simplify the process for everyone. Zillow will continue to make it easier for renters to find the best rentals and for landlords, good tenants. Stored rental applications, profiles, credit checks, and other information will help match tenants with landlords and property managers. For the convenience, the nominal fees charged will be more than worth it to stressed-out renters and owners.
Making it easy to do business and complete transactions has been the defining achievement of the most successful companies. Whether it's buying new curtains from Amazon or buying a new home, consumers increasingly expect to be able to do business quickly and without hassle. Companies who were complacent and accustomed to a captive market for the last few decades or so now have to scramble and innovate to stay profitable. Zillow has been both loved and hated for years, but as with Amazon, the web traffic and consumers just keep coming, with little sign of slowing. We look forward to seeing what innovations they'll offer next in the world of real estate.
Sources