Zillow is the most popular real estate website for those interested in "shopping around" for properties. The site is growing rapidly and generating lots of revenue. Check out the facts & figures.
110M
total number of properties in Zillow database
$9.7B
market cap for Zillow as of July 2019
7B+
total visits to Zillow apps and websites in 2018
31.56%
percent increase for revenue year-to-year
Launched in Seattle in 2006, Zillow.com makes the real estate business easier to navigate for the average consumer and real estate transactions more transparent. Owners, sellers, buyers, realtors, and banks are now online, using Zillow to find each other. Capitalizing on the ordeal that the home-buying process had become and the public's perception of real estate agents, the founders felt there was a better way to do business. They were certainly right. More and more home buyers trust their own internet research.
89% of people interested in the process of buying a home research the process online first.
52% of home buyers find their home online; 29% find their home through their realtor while only 6% respond to a yard sign.
Real estate web sites collectively record over 120 million visits each month.
196 million unique users accessed Zillow last year.
The Zillow app has been downloaded over 10 million times on GooglePlay.
4.4 million Apple users give the app 4.8 stars out of 5.
Every Zillow app has a user score of 4 stars or above.
Zillow's stated mission includes "empowering consumers with data, inspiration, and knowledge." Real estate agents who once had a monopoly on information no longer have that leverage, and people embrace the DIY approach to home-buying Zillow seems to offer. People even log on to Zillow just to check out what their neighbor's house is worth.
80% of homes in the United States have been viewed on Zillow.com regardless of their market status.
A "Zestimate" includes a home's value, the list price and sale price of a home instead of what a real estate agent chose to tell them.
Zillow's mortgage calculator gives an immediate estimate of what a prospective buyer might be able to afford, filtering out results that they can't.
Current owners are able to update and add information to their property's profile, making their home more attractive to prospective buyers.
In 2014, the Zillow Group was founded to encompass companies and various business segments purchased and now operating under the Zillow brand. The Zillow Group is structured into multiple reportable segments, including The Internet, Media, and Tech (IMT) segment, Zillow Homes, Zillow Research, and Zillow Home Loans.
Zillow Homes lists homes for sale and resells homes acquired through Zillow Offers.
Bridge Interactive is just for real estate professionals and brokers, offering software and technology solutions for data management.
Zillow Home Loans is the latest segment of Zillow Group and is a matching service for prospective home-buyers and lenders.
Zillow Research gives individuals and real estate companies/professionals access to Zillow's data and statistics.
Zillow Rentals generates through advertising for property managers and landlords and generates leads for them.

Trulia, once Zillow's greatest rival, is now a Zillow brand with 23 million unique visitors each month.
HotPads offers real estate listings with a map-based user interface.
Streeteasy and NakedApartments are exclusive to New York City.
OutEast caters to upscale prospective second home-buyers in the Hamptons.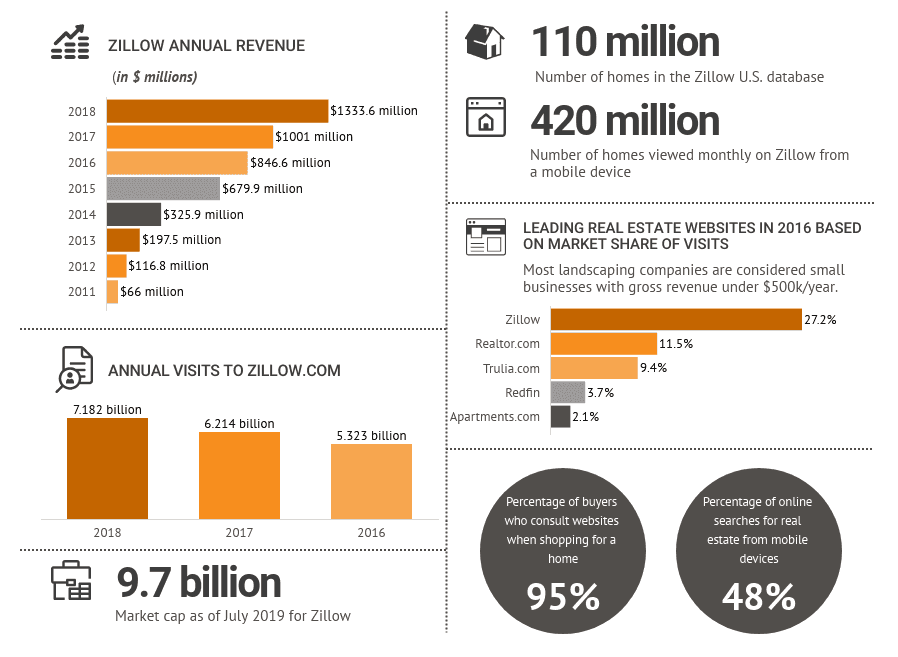 Real Estate 1.0 vs. 2.0
Before the days of internet accessibility, transparency in real estate transactions was rare. realtors would choose homes for their prospective buyers to view. Maybe a buyer would find a home in a newspaper advertisement. A buyer would have to take a real estate agent's word for it that "comps" they were shown (comparable home values) were accurate.
It was not uncommon for real estate agents to mutually agree on a sale price that could be higher than a home's actual value to increase their commission. The process of looking for homes usually meant driving around with a real estate agent looking at and walking through homes.
When real estate web sites first appeared, most offered potential homebuyers access to MLS listings and data. What made Zillow stand out was how user-friendly it was with its use of satellite maps and ease of navigation. In this business that's ripe for change, customer satisfaction is the low-hanging fruit. The long-standing way of doing real estate business is so broken that anything that makes it easier will be wildly successful.
As of July 2019, Zillow Group ranks 17th in market cap of leading consumer, internet, and online service companies.
Zillow's market cap is $10.5 billion.
Zillow.com is still the leading real estate web site with a current usership of 36 million unique visitors monthly.
Because Zillow received the most traffic, it has the greatest audience for its new business ventures like Zillow Offers and Zillow Mortgage.
Zillow Group as a whole attracts 200 million unique visitors monthly.
Zillow has maintained at least 10% of the industry's total addressable market and revenue opportunities since its founding.
Most of their $2.7 billion annual revenue comes from advertising, generating leads, and offering technology solutions to real estate professionals.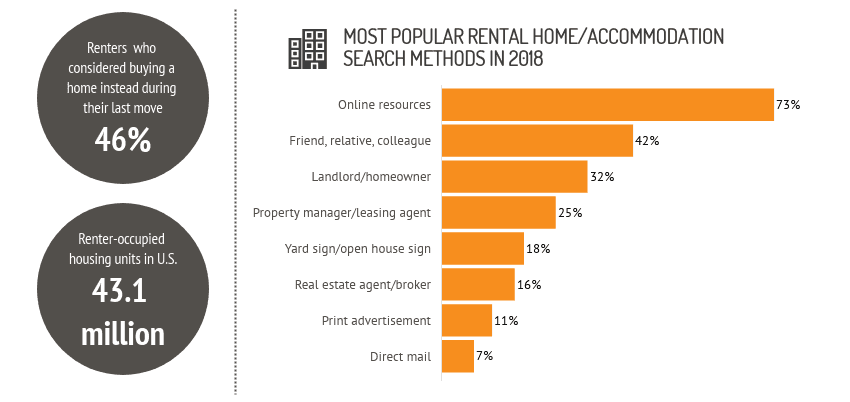 Zillow found their big moneymaker, though, after the launch of their "Premier Agent" program. This allowed it to charge real estate agents for prominent placement of their photo and information next to properties being viewed. And even if the agent was not the one working with the seller of that particular property, they could have their photo up next to it for the right price.
There are still many opportunities for real estate professionals to make good money leveraging the growth and unprecedented internet traffic these companies enjoy. Zillow Group has opportunities for collaboration with brokers and agents with generous incentives. While the iBuyer business model does not offer an agent the unfettered high commissions they may have enjoyed in the past, aligning with a company that sells more houses with a slightly lower commission could be just as profitable.
Between 75% and 87% of buyers still want to work with an agent.
37% of the web site's audience has an annual income exceeding $100k.
2 million real estate professionals have listings on Zillow.
Through the use of technology, commissions may also require a little less work.
On Google, more people enter the search term "Zillow" than "real estate."
42% of Zillow.com visitors find the web site through a search engine; 98% of these searches are organic referrals (as opposed to paid advertisements).
Each visitor to Zillow.com looks at an average of 22 listings.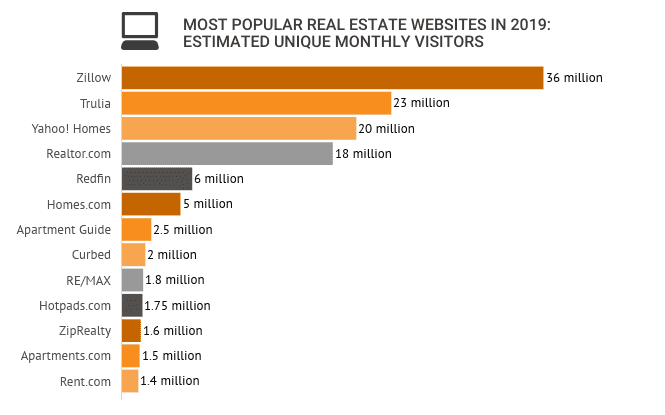 The Zillow Group Business Segments
Zillow's horizontal integration means they intend for consumers to use their services every step of the way whether they are renting, selling, buying, or needing to borrow. Zillow Group has spent immense sums acquiring other companies and investing in new technology to make this end-to-end approach possible. The corporate mindset helping more Americans achieve the dream of homeownership will make it ever more likely that these companies will remain in the Zillow Group transaction funnel.
When the outcry against Zillow's Premier Agent advertising model led to New York labeling it illegal, it seemed likely that Zillow's largest source of revenue would dry up. To survive, the company redirected and entered the iBuyer world, starting a new service called Zillow Offers.
Zillow Offers' business model is loosely based on the one pioneered by Opendoor.
Offers aims to purchase at least 5,000 homes each month.
This buying rate will capture nearly 1% of the national real estate market within three-to-five years.
Estimated potential revenue is $20 billion annually.
The 686 homes Zillow Offers purchased in 2018 generated $52 million.
Zillow Offers gives prospective sellers the chance to ask for an offer on their home. After making an offer based on their Zestimate system, a local inspector assess the property on behalf of the company. If the house passes inspection, the seller may accept a cash payment from Zillow Offers. The company keeps a higher percentage of the sale then most real estate agents ask for. Many sellers are willing to accept this condition, however, in order to avoid a traditional home-selling experience and all the stress that comes with it.
Zillow Offers operates in 24 markets.
48 hours is the maximum amount of time sellers wait for an offer.
Sellers have received cash payment for their home from Zillow Offers within a week.
Closing timelines are flexible after contract finalization.
Sellers pay 7.5% of the average sale price to Zillow Offers; this is about 2% above the typical commission fee.
Some states require the inspection within 7-10 days of the offer.
In 2019, Zillow Offers purchased over 6,500 homes from sellers.
Also in 2019, homebuyers purchased over 4,300 homes from Zillow Offers.
While Zillow may take losses on some houses that simply won't sell, its acquisition of mortgage businesses offsets these potential losses. Zillow Home Loans has opened doors to another source of revenue. While Zillow may not necessarily turn a considerable profit buying and reselling homes, if they can provide those customers mortgages as part of the seamless one-stop-shop transaction, they stand to make much more money in interest over time. Again, consumers are eager to keep their experience hassle- and worry-free.
77% of homebuyers acquire a mortgage.
57% of buyers with a mortgage said one of their top concerns was misunderstanding the mortgage process.
15% of buyers with a mortgage use an online financer like Zillow Home Loans.
Zillow Home Loans (formerly Mortgage Lenders of America) operates in 44 markets.
In the U.S., the mortgage industry represents $44 billion in annual revenue.
The Origin of the iBuyer
In the real estate market collapse of 2008, many Americans lost homes when they got a bad mortgage and could not afford what payments actually were. Those horror stories are still fresh in the memory of the American public. There is a distrust of anything not put in writing. Many sellers and new homebuyers turn to the internet for advice on buying homes, on financing, or even to prequalify for financing.
Zillow and its competitors already share comprehensive information about selling and buying homes on their websites. Educating the consumer is also good business practice because by becoming a virtual clearinghouse of information, Zillow has become a trusted name and authority in the real estate world. Consumers that come to Zillow to learn more about buying a home will likely end up browsing homes there and taking advantage of the new services being offered.
The Zillow Offers process allows sellers not to have to go through the hassle of selling a home the traditional way, with viewings, open houses, and the anxiety about being able to align a closing date on the home being sold with the purchase of a new property. The iBuyer business model makes it possible for sellers to simultaneously sell the old house and buy a new one, with wiggle room for moving out and closing dates. In highly competitive markets where a home can go under offer within hours of hitting the market, the iBuyer process gives sellers peace of mind to make better decisions rather than impulsive ones.
Many buyers indicate that they ended up spending more on a home than they intended because of the rush to get out of the old one; they therefore had fewer options regarding a new property. Until recently, the urgency of fast-moving markets and lack of transparency allowed unscrupulous real estate agents to take advantage of buyers. Countless buyers found themselves in unfavorable situations that benefitted the lenders and agents short-term but left the buyer either "house poor" (spending a significant portion of their income on payments) or at risk of foreclosure.
The growing iBuyer market indicates consumers are increasingly willing to pay more for the convenience of a straightforward transaction. By streamlining the ponderous, mind-numbing process of buying a home, Zillow Offers and other iBuyers like them will continue to attract more consumers, both sellers and buyers. Offering a 7-day turnaround for a home purchase or sale with money in the bank would have been unthinkable just a few years ago. The days of waiting weeks for a closing date and completing mountains of paperwork for eight different companies may soon be a memory.
Making Renters Into Homeowners
Zillow's annual report for the 2019 fiscal year noted that twice as many leases are initiated each year than homes are sold. In other words, the rental market is twice the size of the home-buying market in terms of population. The Zillow Rentals network was developed to take advantage of that revenue.
10.6 million leases are executed each year while 5.3 million homes are sold.
84% of renters indicate they hope to own their own home someday.
43% of renters cannot afford to purchase a home; 16% enjoy the flexibility of renting while 8% don't want the responsibility homeownership necessitates
18% of Zillow Group's visitors indicate that they actually intend to buy a home.
3% of Zillow Group's visitors actually purchase a home while 6% become renters.
Renters are increasingly looking to complete transactions related to the rental process online such as signing a lease or paying their rent online, but just over a third of property management and landlords offer those options. Additionally, affordability and fluctuating rates in today's market can make it difficult to find an ideal long-term rental residence. This means renters move a lot; it also makes shopping around online more attractive, letting renters view more potential units relatively quickly.
73% of renters looking for accommodation in the U.S. used online resources during their search.
46% of renters who moved in the last year plan to move again.
30% of renters say they pay more for rent and fees than they originally budgeted for.
Zillow Group acquisitions HotPads, StreetEasy, and NakedApartments are all high-traffic databases with unique interfaces and markets. Zillow.com has also enhanced its search capabilities to include rental accommodation, as its acquisitions still operate as independent entities. HotPads, for example, has 1.75 million unique visitors of its own in a month. Falling under the umbrella of the Zillow Group, however, it functions within a greater network to offer seamless end-to-end solution for renters. Stored rental applications, profiles, credit checks, and other information help match tenants with landlords and property managers. For the convenience, the nominal fees charged are more than worth it to stressed-out renters.
This history with Zillow helps keep renters within their service funnel when they're ready to become buyers. Following the onset of COVID-19, the U.S. Government mandated that unemployed homeowners may defer mortgage payments for several months. Renters, however, didn't get a similar deal. While most landlords honored eviction moratoriums, the financial burden of rent debt – or just the risk of it – is the type of thing that makes renters consider buying.
On average, 20-50% of renters have defaulted on rental payments.
70% of renters are at risk of eviction; this represents 22.5% of all households.
30% of renters receive some form of federal assistance, such as low-interest loans and subsidies.
Some states and cities have initiated local assistance programs.
Seven states never enacted eviction bans.
There are many advantages to homeownership, but almost everyone rents before they own. By integrating with the rental property market, Zillow has made that transition from rental to ownership easier than ever, with all the resources and information a potential buyer needs to feel they've made an informed decision.
Conclusion
Making it easy to do business and complete transactions has been the defining achievement of the most successful companies. Consumers increasingly expect to be able to do business quickly and without hassle. Companies that were complacent and accustomed to a captive market for the last few decades or so now have to scramble and innovate to stay profitable. Zillow has been both loved and hated for years, but the web traffic and consumers just keep coming, with little sign of slowing. We look forward to seeing what innovations they'll offer next in the world of real estate.
Sources