The home security industry is growing at a remarkable rate. With the massive influx of smart home and IoT devices, the market size is expected to grow significantly over the next few years.
$27 billion+
global home security market revenue in 2019
*This is projected to surpass $75 billion by 2023
10.4%
compound annual growth rate for 2019-2023
*Smart home security market has a CAGR of 15.56%
In 1949, most Americans had never thought about the possibility that they may be observed electronically. Until they learned about Big Brother, that is. The publication of a somewhat controversial but increasingly relevant book by George Orwell introduced the American public to the idea of video surveillance. The very first security system to protect homeowners is found in the illustrious history of the famous ADT (American District Telegraph) company. The founder created a means for a homeowner in distress to utilize a telegraph to signal a central location for help. His network of homes connected to his primary office constituted the first security network for residences. ADT built on this success with a burglar system invented in the 1940s, and an accompanying automated fire alarm system. In 1989 the company began to place the famous blue signs in the yards of those homes protected by ADT, a visual deterrent.
In 1966, Marie Van Brittan Brown patented the modern home security system. She felt unsafe in her apartment and designed a closed-circuit system based on military technology that allowed her to see visitors through a series of peepholes outside her door, projected onto a television monitor. Her system would also enable her to utilize two-way microphones to talk to a person outside her apartment, and remotely lock or unlock her door.
Many companies built on Marie's ideas and starting in the 1970s, the home security industry began a period of strong growth and innovation that has not slowed since. In 2019, the global home security market has already seen revenues exceeding $27 billion. The industry is expected to reach $75 billion by 2023 at a CAGR (compounded annual growth rate) of 10.4% between now and then. Increasing crime rates in the United States favor the industry, meaning higher demand for security systems.


After adopting home security technology much earlier than the rest of the world, most Americans view a security system as just one more component of a well-appointed home. In 2019, consumers from the U.S. made up the largest segment of home security system buyers. Additionally, most of the major players in the home security industry are American companies. Telecom companies have begun to enter the market, realizing how much money was being left on the table. AT&T, Verizon, and Comcast are all vying for market shares, each offering various home security bundles and options that integrate with their services.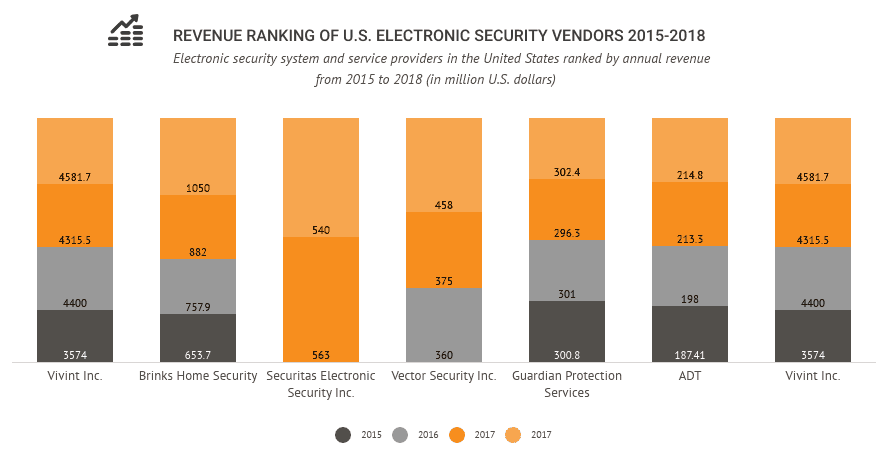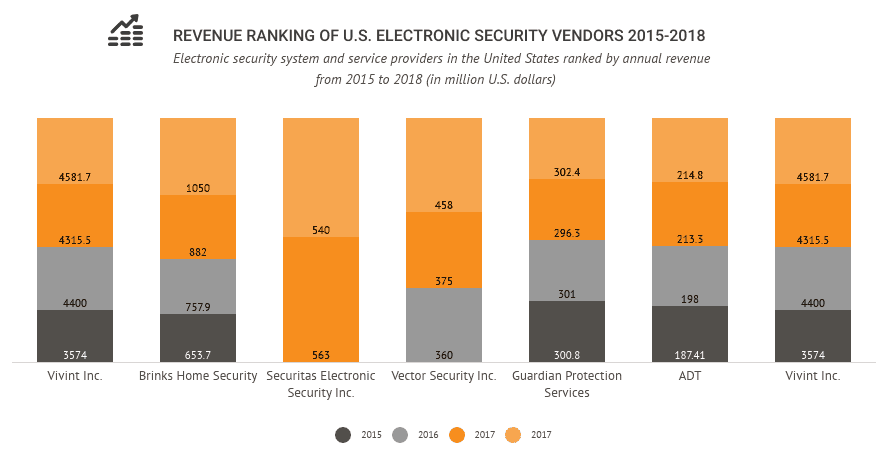 We've gone from telegraph machines, grainy video screens and finicky cameras to high-resolution cameras on our doorbells that allow us to watch everything that happens in and around our homes. We can, in realtime, yell at people trying to steal packages off our porches and capture every incident of the day in crisp, full-color high definition or infrared for sharing online with the neighbors and the occasional police report. Companies like Ring have established neighborhood communities online where alerts, errant children playing outside, and suspicious activity can be shared among neighbors.
Today, the home security industry encompasses these three major areas:
Residential Security Alarm System: Installed with ongoing services and monitored
Residential Security System: Self-installed but professionally monitored
Residential Smart Security Technology: Self-installed and monitored (DIY)
Popular services and features consumers are looking for in a home security system include home monitoring (door/window/ glass break/motion sensors) and access (doors and garage door) control. All of this would ideally be professionally monitored. Additional popular options include elderly family monitoring/emergency button, remote monitoring, and remote control. They are also looking for sensors that can be added or integrated to detect harmful levels of carbon monoxide, smoke, moisture, and water shut off capabilities.
Video surveillance capability is the largest selling point of a home security system and has been since 2017. Some of the video capabilities commonly found on the most popular systems may include a doorbell camera, motion-activated spotlight camera, pet camera/interactive feature, and the ability to visually monitor nannies, caregivers, or elderly family members in their homes remotely. The best home security systems will allow for real-time monitoring. In the event of a security incident, recorded and stored footage can assist with police investigations.
Smart residential home security technology could also be as simple as an electronic keypad that can be programmed and controlled remotely. These are extremely useful for short term rental properties. There are even smart locks utilizing fingerprint biometrics reader technology to really be certain the right people are gaining access to the home.
Most services connect using the internet connection or cellular device in the home, but some still offer landline security systems. These connect using a home's phone line and are ideal for rural homes where cell-phone or internet service is irregular. These may be considered old fashioned by some, as they can be tampered with. Consumers who are renting their homes or facing the possibility of moving soon would want to consider a self-installed system as they are much easier to take along and re-install elsewhere.
In 2018, the home security market saw a lot of advances and changes in technology. As the market changes to meet the demands of customers who love their smart technology, Increasingly, consumers want their home security systems to integrate with the smart technology in their home and on their wireless devices like tablets and cell phones. Wireless integration adds to the convenience of smart technology we're already using in our homes, and the new features and capabilities keep coming. As the most prominent security companies reexamine and change their business models to include additional services and technology, there is even more opportunity for growth and profit.
An expanding economy with more disposable income means consumers are more likely to buy a home security system of some sort than in years past. The housing market is also extremely positive, and this directly impacts the home security industry. With the extremely high demand for new housing and the corresponding rise in new builds of both single-family and multi-family homes, alarm contractors see more work than ever. Consumers are anxious to protect their new investment and family.
In previous years, one of the most notable barriers to growth in this market has been the cost of installation, the equipment and the high cost of ownership, along with monthly monitoring fees. Technology has become more advanced and now costs much less. The affordability and user-friendliness have had a direct impact on the number of users who are buying this technology, using it, and a few years down the line, upgrading it and replacing it. Affordability goes a long way towards brand loyalty.
DIY vs. Professional Installation
One of the most significant segments of homeowners and renters are millennials. They are driving the demand for new technology in the home security industry and leading the way in finding ways to implement smart technology to keep their homes, families, and possessions safer.
This generation is more tied in than any other to use of technology, and their preferences drive demand for home security systems. Smart technology is being widely implemented in millennials' homes, both rental and owner-occupied. The customer base under the age of 45 tends to be the most excited about DIY home security solutions. While it's not as popular now, growth in the DIY sector is expected to surpass 60% by 2025. Increased connectivity to a consumer's alarm system using their smartphone engages them much more. The DIY/smart home aficionados enjoy the explosion of smart technology that allows them to tweak and fine-tune security systems themselves. We know because we've visited a few. As we got out of our vehicle, we were greeted in the driveway by their home assistant before we even reached the sidewalk to the house. Their home security system politely reminded us to look clearly into the doorbell, to please remove our shoes and most importantly, leave our stress at the door. Along with a smart house that controls thermostats, learns schedules, plays the right music with mood lighting and turns off the tv with a voice command, the new home security technology will have something for every smart technology enthusiast.
But the large companies offering monitoring services aren't worried about DIY competition. The services portion of their market share (the technicians, installation, maintenance, and contract) will continue to be highly profitable. More comprehensive home security solutions for companies like ADT and Vivint require a consultation where the consumer will discuss preferences and budget with a company salesperson. After that, they will have an installation and set-up appointment.
Not surprisingly, fewer than 40% of Americans in 2018 were as excited about installing their own home security systems, and for consumers over the age of 50, the numbers are even lower. So the likelihood of the market size for electronic security systems installation services decreasing is highly unlikely. Since 2006 it has steadily risen. As affordable as home security systems are becoming, the DIY (do-it-yourself) installation hasn't completely surpassed the convenience of having a professional installation carried out. Americans like convenience. Even when setting up systems like SimpliSafe, Honeywell, Link, Frontpoint, Nest Secure, and Ring, which arrive with the programming mostly done, many consumers choose to have it set up for them.


The big subscription-based companies market peace of mind a consumer can enjoy. Just like the blissful folks in the commercials, we'd rest easy too with the knowledge that the home is protected by a fully operational, professionally installed, and monitored system.
Companies offering monitoring services also know that they can cut costs when consumers are more involved in the response process. For example, if an alarm triggers a response in error, and a customer can easily go in and cancel a response themselves, the level of false alarms and accompanying expense is cut down. Customer service for alerts that do require a response will be enhanced by using technology to interact with the consumer through text messages, for example. Artificial Intelligence (AI) is hard at work for home security companies. There is no longer a team of beautifully coiffed 1950s ADT switchboard operators poised to answer every single call with a human voice. As home security companies expand operations, look to cut costs, and maximize profit, AI is here to stay. And we may be closer to Big Brother than we realized back in 1949 but in a less sinister way.
The internet has billions of devices connected to it, often referred to as the Internet of Things. From a home security standpoint, the cameras and other monitoring devices are all generating an insane amount of data. Most of the data being generated by the Internet of Things (IoT) is, in fact, video surveillance footage. We live in a day and age when we can be tracked from the moment we set foot outside our homes. The U.S. and other governments and militaries already utilize AI to analyze and use their video surveillance footage for law enforcement and intelligence use, and the day is likely not be far off that home security companies too will utilize video footage for safety purposes. Increased safety concerns may necessitate it in some parts of the United States.
Home security systems already reward their users with a heightened level of vigilance and advantage over would-be criminals. Companies selling them find ways to penetrate the market even further. One of the most effective means for winning brand loyalty from smart-technology-loving millennials is to make it easy to bring all their favorite components together in one smart house. Adding financial incentives to purchase a home security system doesn't hurt either. Most home insurance companies now reward consumers with rate discounts as high as 30% for utilizing a qualifying home security system.
Sources