New analysis from our data science team reveals numbers for the end of 2019 of an industry with healthy, consistent growth. (Updated: November 2019)
4.6% 
annua industry growth since 2014
$99B+
landscaping industry's total revenue in 2019
39M+
homeowners who did landscaping in 2016
74%
percentage of business from returning customers
Business owners and workers surveyed reported that the state of the landscaping industry is better than ever. According to market research reports and industry statistics from IBISWorld, by market size, the landscaping services industry is ranked third among administration, business support, and waste management industries. It is the 113th largest industry in the U.S., with a market size that's increased faster than the U.S. economy.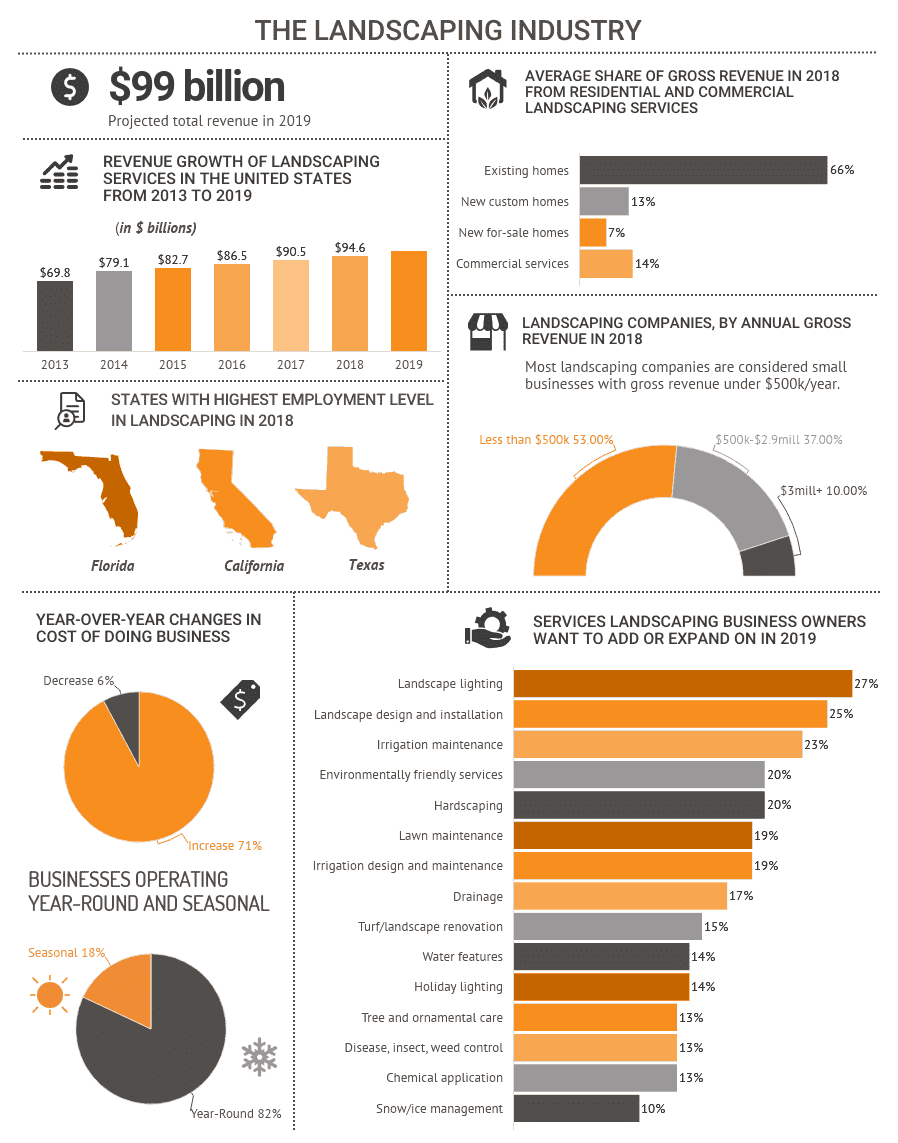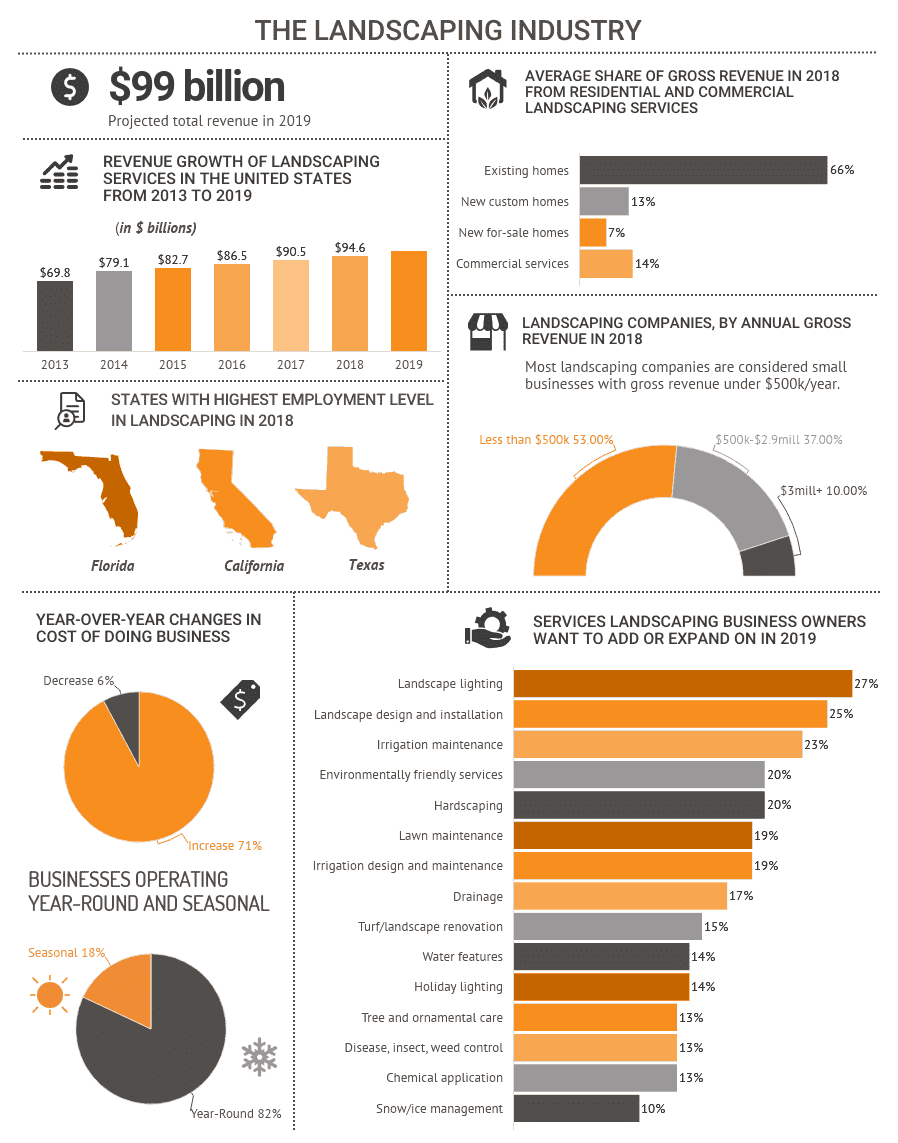 This is an industry where, except large contracts, small business owners can compete with the big guys and succeed. Only 15% of total revenue is generated by the largest 50 companies in the landscaping business. Smaller companies producing between $100,000 to $500,000 gross annual revenue are making the most money.
The landscaping industry includes landscape planning, landscape architecture, construction, and maintenance. Some examples of these services might be building irrigation systems, landscape lighting, decks, walkways, retaining walls, lawn décor, water features, patios, and other outdoor structures.
Landscaping services include planting trees, flowers, and shrubs, installing gardens and beds, and laying turf for lawn and green areas. Once these landscape features are in place, there is a need for constant maintenance, and in some regions of the U.S., this happens year-round. Many landscaping companies plant and water flowers and lawns in the summer and shovel snow all winter. Maintaining these landscapes by mowing, trimming, tree care/arborist work, fertilizing, pest control, and seasonal care keeps a landscape looking healthy and attractive.
The demand for landscaping services is no longer driven only by construction spending in the United States. Discretionary spending on home improvements on existing properties has surged in the last five years. Landscaping is one of the areas where homeowners and property owners are spending the most. In the U.S. there is a critical shortage of housing and home prices are climbing. Homeowners are increasingly staying in place and choosing to improve their existing home. The longer they have spent in a home, the more likely they are to fix it up rather than look elsewhere. After six years, 61% of homeowners would rather stay and fix up their home rather than move.  And for those who do choose to sell their home and plan to move to another, landscaping is critical for curb appeal and added value to their house. In 2016, the National Gardening Survey saw 39 million homeowners participating in a landscaping project of some sort.
The landscaping industry services homeowners, property managers, commercial, institutional, and municipal clients.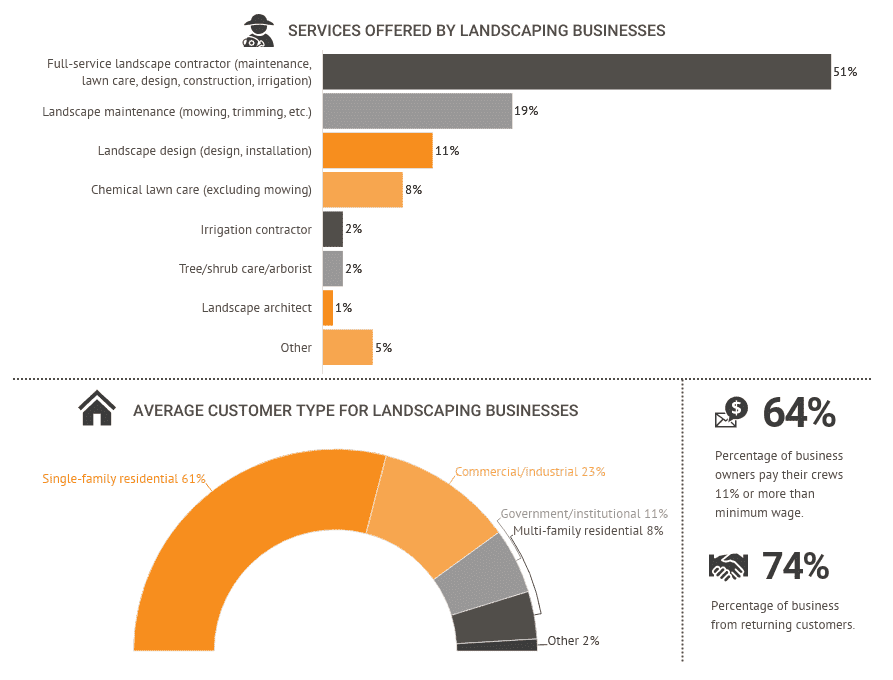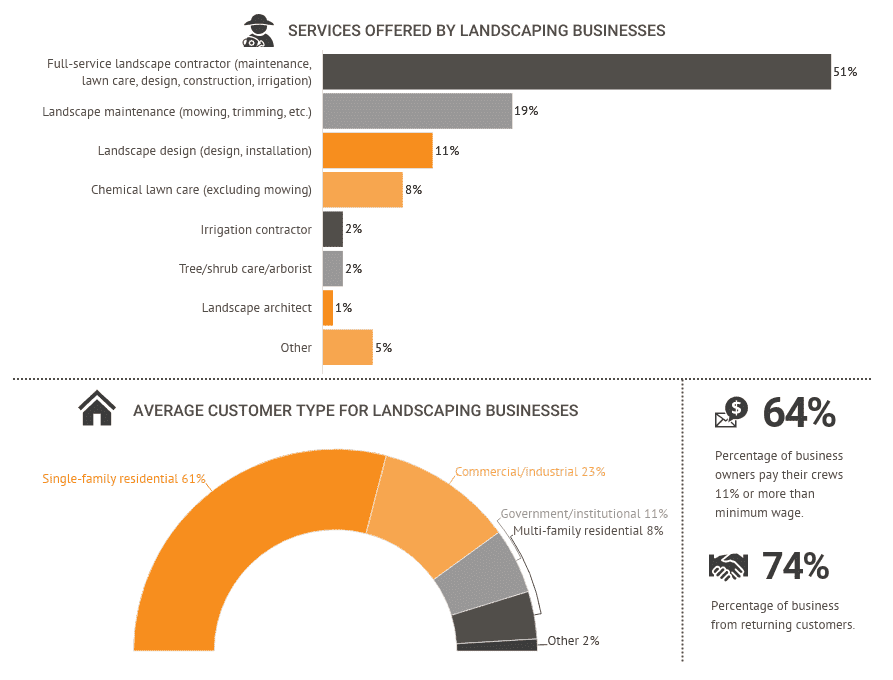 Most contractors and business owners in the landscaping business are doing well, with 78% indicating they are very confident the industry will continue to grow. In spite of setbacks to companies in this industry that come with new regulations, there is a lot of work to go around. Many business owners indicating one of their biggest challenges is not having enough employees to take on the amount of work they'd like to do.
Changes in the Landscaping Industry
Property owners of all ages are discovering they don't always have time to care for their landscapes and properties. There is an increase in homeowners hiring landscaping professionals and groundskeeping workers to complete the work for them.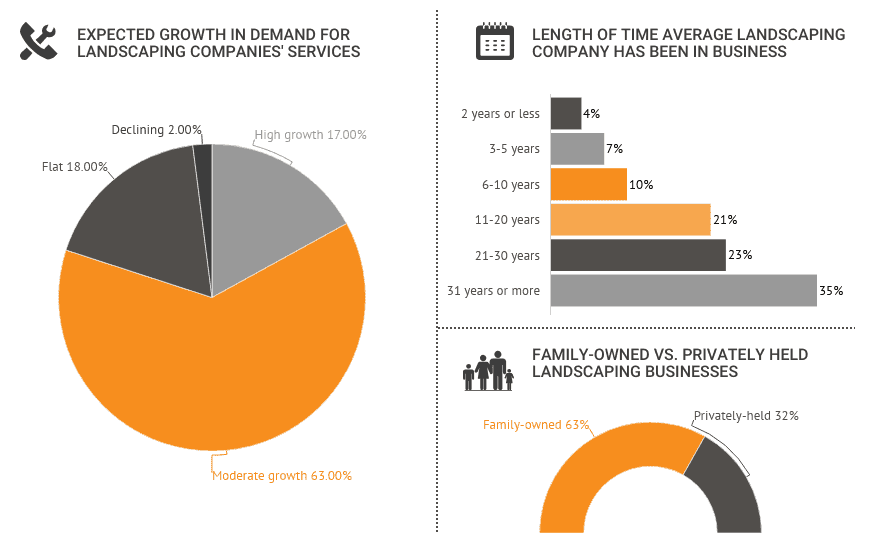 As the largest population of homeowners grow older, they are less inclined to be ambitious with yardwork but still want to stay in their homes. Many baby boomers prefer "aging in place," where a homeowner chooses to remain in their home instead of a retirement community. They will generally outsource more of the work needed to maintain their homes and properties, and as the demand for retirement communities also grows, for these properties.  Older generations also have higher spending power. They will continue to represent a large percentage of clients hiring professionals for lawn care and landscaping services.
Younger generations are also contributing to the growing need for landscaping services. As many are now becoming homebuyers, they bring their unique trends, culture, and principles with them. These homeowners are prompting a substantial shift towards more environmentally-conscious practices. They are also avid gardeners. In 2019, realtors reported that 36% of their clients felt that sustainable landscaping for water conservation was important.
While not the leading indicator for the industry, new construction means more landscaping, especially in large new residential neighborhoods. New residential construction for larger developments almost always is under the jurisdiction of an HOA. Outdoor landscaping is a big part of these HOA communities, and both single-family residence and multifamily communities require a lot of it, both during the construction phase and on an ongoing basis. Keeping community assets like parks, trails, pools, clubhouses, and other public areas beautiful and appealing to residents requires constant upkeep.
In HOA communities where maintaining properties is mandatory, hefty fines can be levied if a property's landscaping is not up to the community standards. Increasingly, homeowners are turning to landscaping companies to help them stay in compliance with these rules.
With water shortages in many regions looming, there is less demand for chemical application and excessive or wasteful irrigation systems. These services are necessary to maintain vast expanses of non-native green grass. Homeowners want to spend time and entertain outdoors. Along with these shifting preferences are changes in what services and features property owners are requesting. It goes beyond lawn service. New trends in 2019 include more environmentally friendly services such as smart irrigation controllers, low-maintenance or native landscapes, pollinator gardens, secluded outdoor spaces for meditation, and organic fertilizer. According to the National Association of Landscape Professionals,  homeowners are increasingly preferring to invest in outdoor living and entertainment spaces.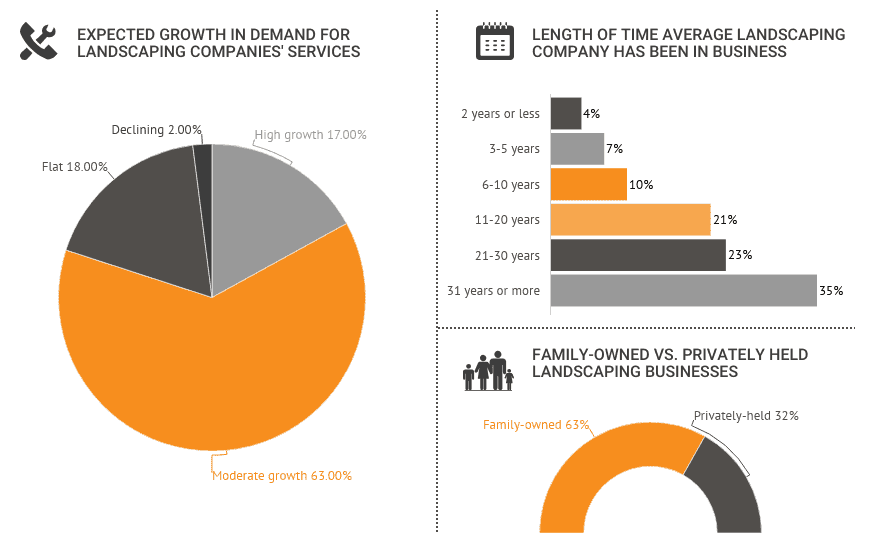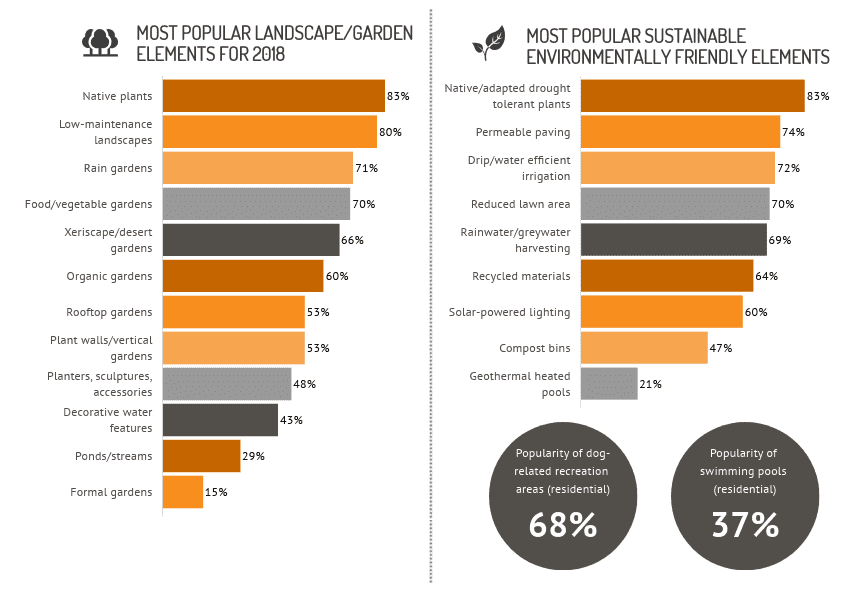 Landscaping and Technology
Smart technology is increasingly popular in the landscaping industry. Manufacturers and business owners are adapting both tools and tech that will replace or augment manual labor and streamline services.
Younger customers prefer to do business differently, with many wanting to pay online and communicate electronically. Landscaping companies that might have in the past utilized a tear-off receipt book, and ledger for bookkeeping are now using tablets and business management software to handle leads. Technology makes it easier to invoice their customers, track time, and schedule jobs and crews.  Automating these processes can help landscaping businesses with smaller full-time crews to work smarter,  grow their business, and offer outstanding customer service to stand out against the competition.
Savvy landscaping business owners are also utilizing the internet to get their business seen where their customers are, which is increasingly online. Use of websites like HomeAdvisor allows them to promote their businesses. Companies like Thumbtack, Angie's List, Home Advisor, and Handy help match homeowners with individuals and companies to complete work for them. Recruiting employees and seasonal labor is also becoming more prevalent through online websites to help connect businesses with workers.
And technology isn't just used in the office. Digital and laser technology allows landscaping designers to create estimates and work more efficiently quickly. The equipment is getting smarter too. Battery-powered tools are increasingly popular, and manufacturers are producing more powerful batteries to compete with gas-powered devices. Devices that run on fuel are becoming more efficient. Most businesses do not commonly use robotic, remote-controlled, and GPS-equipped mowers, but the technology is advancing. Concerns and ordinances in residential areas are growing about noise, particularly with leaf blowers and mowers. Residents increasingly have unrealistic expectations. They want landscaping work carried out but are unwilling to tolerate noise or temporary inconveniences while a crew is working. There's a push for manufacturers to make quieter engines to address the issues landscaping crews have when they are harassed by property owners while working.
At the top of many customers' lists for what they'd like to add to their landscaping is smart irrigation technology. Sprinkler controllers that are compatible with Google Home or Alexa are growing in popularity, but the technology is still new. These allow the user to develop schedules, make adjustments based on weather (skip the watering when it's raining outside) and control the system remotely using zones.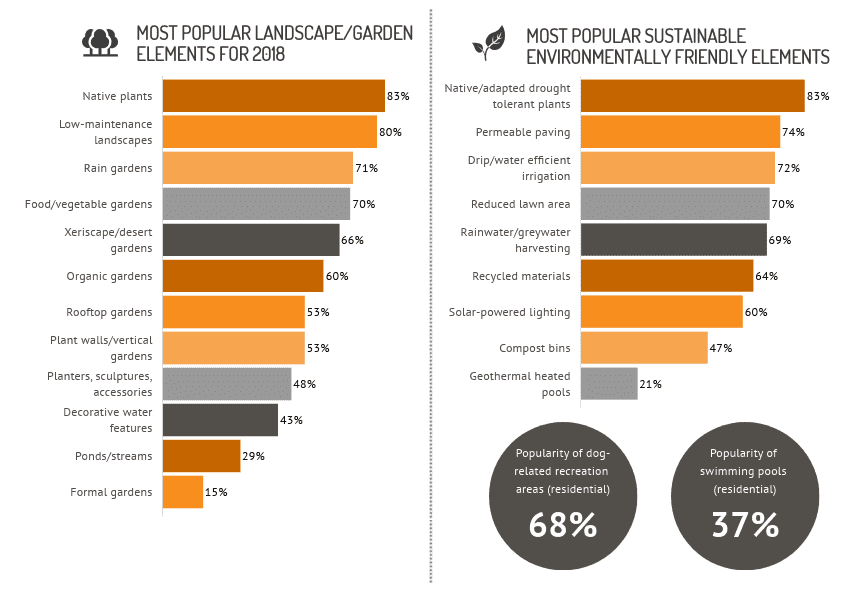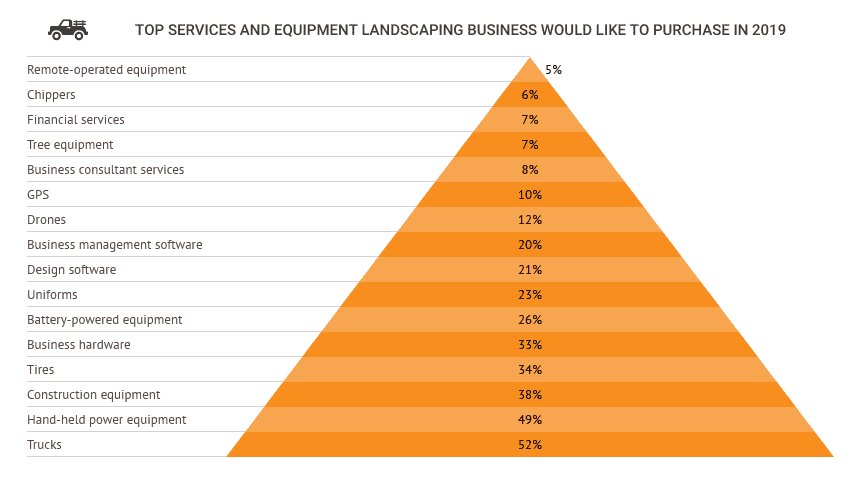 Green, Green Grass, and Communities
Encompassing over half of the landscaping industry, lawn care is a big deal in the United States. A well-maintained, lush green lawn devoid of any weeds, dandelions or pests signifies a lot in a community. Whether or not an HOA or community organization is stipulating it, most Americans feel having a good lawn is essential. It may increase the value of their home, but it also signifies that the lawn owner cares about their home, community, and property values in the neighborhood. Nothing sticks out like a sore thumb more than a crunchy, yellowish patch of sickly grass full of dandelions and thistles on a street of beautifully manicured front lawns and gardens.
It is estimated that green lawns (including residential and commercial lawns) in the U.S. cover an area more prominent than the size of Texas. This staggering number represents the biggest crop grown and the most substantial amount of irrigated land under cultivation in the country. It comes with a steep and unsustainable price tag. U.S. households spend over $6.6 billion on lawn and garden supplies and $17 billion on lawn care service.
Outdoor water use already accounts for between 50% and 75% of residential consumption of water. The growing population in the U.S. and increased development is putting a strain on the water supply. In regions where a lawn would shrivel up and die within days if not generously watered every night, the green lawn is a battleground. Developers of residential areas are pitted against farmers and agricultural interests over water rights. Developers in the western and southwestern states are notorious for making deals and using political means to divert water. Actions like these can have far-reaching consequences for decades to come. Regions that have used water for decades for agricultural purposes may find they are suddenly facing drought conditions as their sources of water are sent elsewhere to irrigate the lush lawns and golf courses of suburban neighborhoods.
According to the U.S. Bureau of Labor Statistics, nearly 40% of U.S. households utilize professional lawn care services. Seventy-eight million pounds of pesticides were applied to lawns and gardens in the U.S., with 50% of homeowners reporting they do it themselves and 28% utilizing a contractor or lawn care professional to do it for them.
Beautiful landscaping can add as much as 15% to a home's value. When trying to weigh out the benefits of a healthy, thriving landscape against the increasing cost of irrigation, homeowners are increasingly looking at native plants or drought-resistant grass, shrubs, and other plants. 37% of business owners indicated they felt the native landscape trend would become more important in 2019, and nearly 7% of landscaping business owners reported they felt their clients would be interested in artificial turf installation.
Green areas are not all bad for the environment. When maintained sustainably, a healthy landscape can help offset pollution and improve air quality. Designers are creating landscapes and gardens explicitly designed to attract and sustain pollinating insects like bees around the country. These are one of the most requested features in new garden designs.
Building and maintaining beautiful parks and public areas can improve the quality of life for people as well as wildlife.  Attractive landscapes within communities go a long way towards encouraging people to get outside more, especially in urban areas where the "concrete jungle" can overwhelm nature. Doctors are even prescribing outdoor time for many patients. Beautiful landscapes
In newer urban and even suburban residential communities where sustainability is a crucial factor in planning, lawns are smaller.  Instead,  the public areas have more green grass in the form of parks, sports fields, gardens, and dog parks. Residents enjoy the balance of having outdoor spaces without having to maintain vast swaths of lawns individually.
There are many nonprofit organizations sponsored by landscaping companies dedicated to increasing quality of life in distressed or urban areas where blight and litter have taken over. An attractive, clean environment can go a long way towards contributing to positive change in a community. Nonprofits like Keep America Beautiful plan nationwide events to encourage people to plant trees, renew public spaces, and clean up their neighborhoods.
Challenges for Landscaping Business Owners
Rapid growth in the landscaping business is a double-edged sword. Increased demand for services can mean needing to hire more crews and purchasing more equipment to do the work. This can create cash flow issues for companies that suddenly need to be several places at a time and cannot do so. Some landscaping companies are reporting they'd make more money if they only had reliable labor. Overbooking can be a problem with part-time labor.  Many business owners would rather leave the money on the table than risk not being able to complete a job on time because their crews did not show up to work.
Nearly 54% of landscaping business owners indicated one of their biggest challenges is labor. Increasing concern over immigration laws and the red tape involved with the H-2B program can make it difficult for a landscaping business that relies on temporary workers to do business. Over 50% of H-2B visas issued each year go to individuals working in the landscape industry.  There is a growing need for the government to make it easier for business owners to navigate the problematic system to stay compliant with the laws. Many business owners choose not to participate in the H-2B program because of how complicated and unreliable the system is. Only 12% of business owners have actually utilized it in the past, with only 5% still using it in 2018. According to the U.S. Department of Labor, the top three states in the U.S. utilizing H-2B are Texas, Maryland, and Louisiana.
Negative perceptions about the industry can make it challenging to hire and keep domestic help for a landscaping business. Many younger individuals entering the workforce look down on manual labor and end up choosing to begin their careers in retail or fast food jobs instead. Even for owners who offer competitive pay and benefits, there is still a shortage of reliable individuals willing to show up consistently for work. Some owners are utilizing intern programs and leveraging their connections in the community to hire high schoolers looking for part-time or summer jobs and recent graduates.
With the state of the industry being as profitable as it presently is, many landscaping companies are also deciding to attract better employees by offering to pay their employees a salary higher than minimum wage requirements. 87% indicated they pay their crews at least 6% above the minimum wage, and over 50% pay their crews 11% or more than the minimum wage.
Water restrictions can impede operations by a landscaping company whose primary service offerings are irrigation can also cause issues. The companies experiencing the most significant problems with water restrictions are typically doing business in drought-prone regions such as West, South Central, and Southwest regions of the United States. In these regions, many HOA communities mandate lush green lawns even in semi-arid and desert climates.
Other challenges for landscape business owners include increasing concern by property owners and citizens. Standard practices such as use pesticides, use of leaf blowers, and mulching tree waste by arborists have all come under intense scrutiny. While some of the resulting complaints and regulations are not as troublesome as others, some cities and counties are so restrictive that many business owners choose not to accept work there when they are unable to adjust their practices accordingly.
Fuel costs continue to rise. A landscaping company's vehicles, tools, and equipment are rarely all-electric or propane powered. Unfortunately, for a business that has not budgeted to absorb increasing fuel costs, this might mean higher costs passed on to customers. In many instances, this could mean higher prices for services or a fuel surcharge, especially if there's a long distance to travel for jobs.  Many companies have begun using technology and GPS tracking for fleet management to monitor the usage of their trucks by crews. Buying gas in bulk (fleet services) is another way to help offset the higher costs at the gas pump.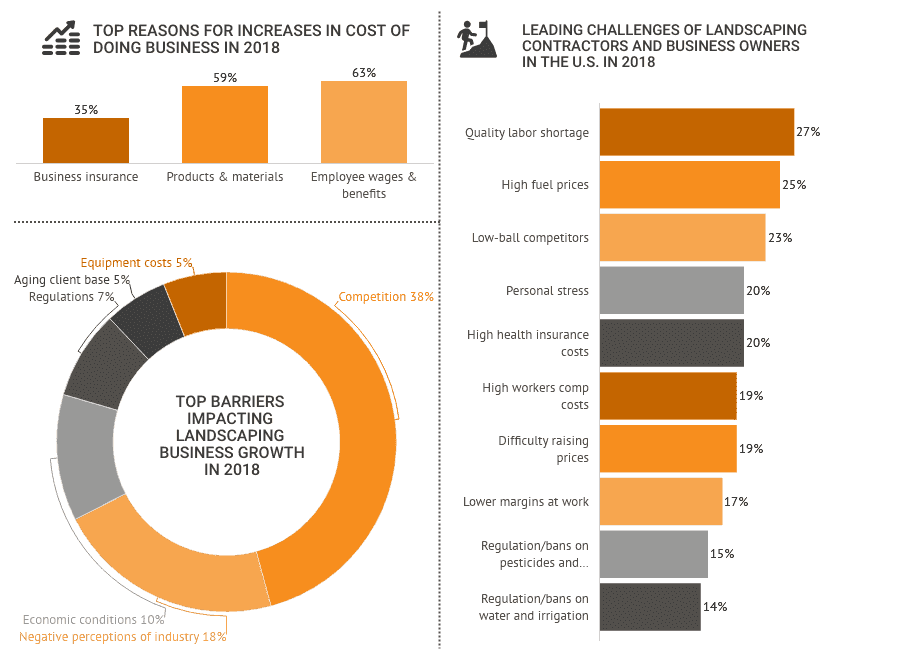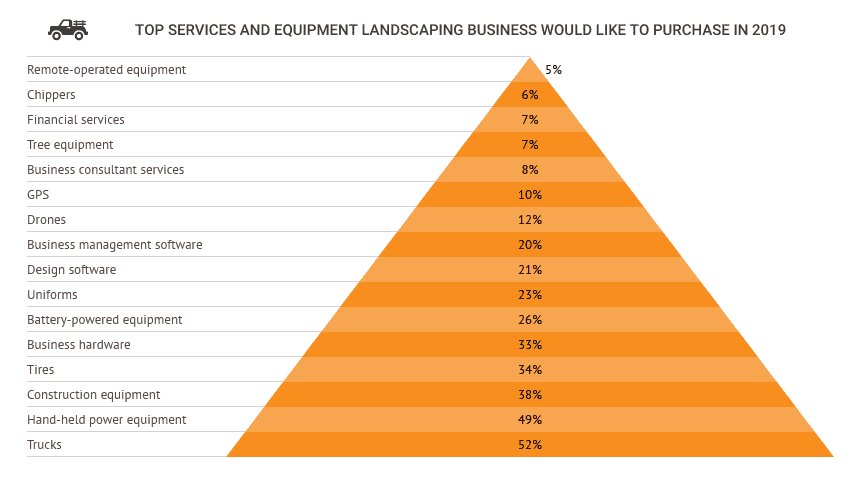 The landscaping industry may be challenging to break into. Low barriers to entry for this industry include the amount of cash needed to purchase the right equipment to be competitive and professional. Even some smaller businesses report this as being a challenge as they may struggle with the cash flow to upgrade to more efficient equipment and tools. Having enough equipment to send out with multiple crews can be an issue as well. Some business owners may subcontract out to crews who own personal trucks and equipment, but this practice comes with its own risks.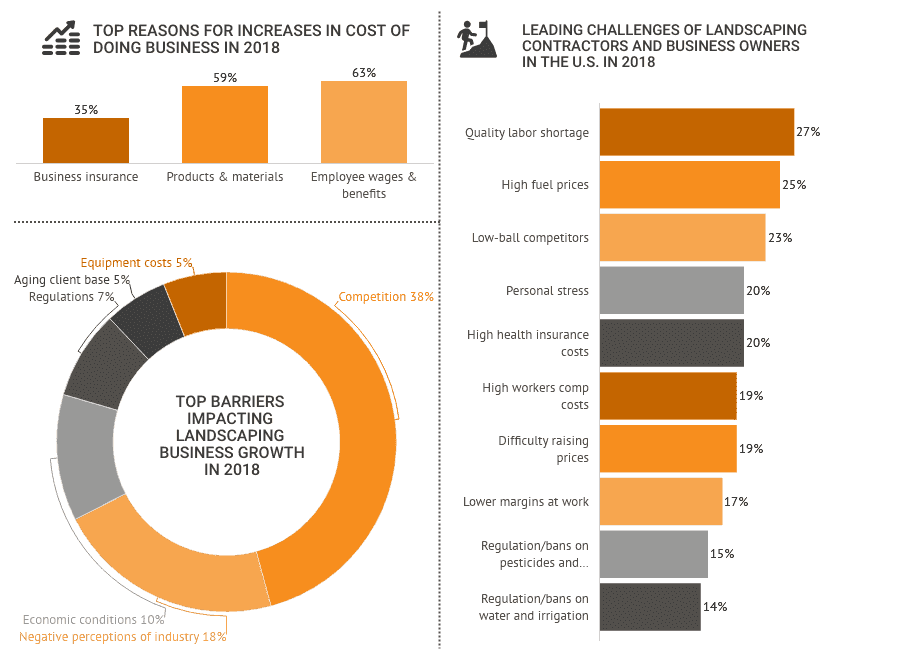 The landscaping industry does face its challenges. Continuing construction, the need for maintenance and service, and increasing interest in entrepreneurship among younger generations will ensure it stays healthy for years to come.
Sources